I just finished this pillow cover set with the words Unending Love Amazing Grace.  I am selling this set of  two 18 x 18″ pillow covers in my Etsy shop.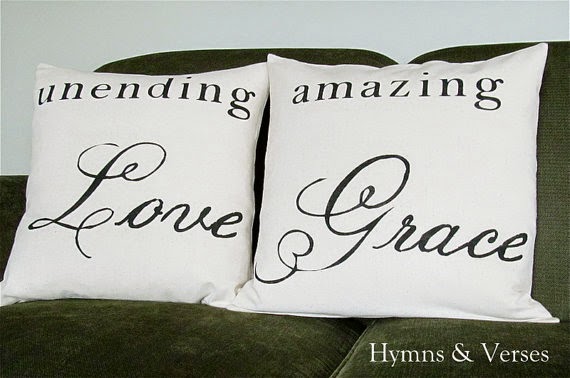 I've had this design in mind for a while now and I'm so happy to finally have the finished product.   The pillow covers are made from a "linen like" cotton fabric with natural imperfections for a vintage look.  Each pillow cover has a hidden zipper closure on the reverse.   The pillow covers are washable.  Please use cold water on gentle cycle and hang to dry to prevent shrinkage.
The following song by Chris Tomlin was my inspiration for this pillow cover set –  Amazing Grace (My Chains Are Gone).   This is such a beautiful rendition of the much beloved classic hymn.
Amazing Grace
Amazing grace!  how sweet the sound
That saved a wretch like me!
I once was lost, but now am found —
Was blind, but now I see.
'Twas grace that taught my heart to fear,
And grace my fears relieved;
How precious did that grace appear, 
The hour I first believed!
Chorus:
My chains are gone
I've been set free
My God, my Savior has ransomed me
And like a flood
His mercy rains
Unending love, Amazing Grace
The Lord has promised good to me
His word my hope secures;
He will my shield and portion be,
As long as life endures.
The earth shall soon dissolve like snow
The sun forbear to shine
But God, who called me here below
Will be forever mine!
Thanks so much for stopping by today!