Recently, I've been taking stock of my blog – how far I've come in the past three years and where I want to go.  In that process, I've been looking over my blog posts to see which posts were your favorites.   I was so surprised to see a post that I did featuring a friend's baby shower was the most viewed!  It was a simple post with not so great photos – I still had a point and shoot camera then!  But, the thing that made this particular post so POP – ular was this little tag I made.  Ready to Pop popcorn favor tags.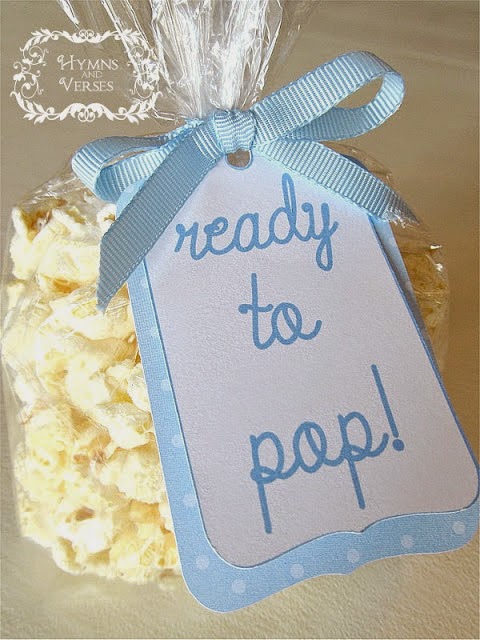 Who knew a little tag would go viral on Pinterest!  But, it has!  For a while, I tried to ignore the emails asking if I made these tags for sale in my Etsy shop. I had opened my Etsy shop to sell home decor items – not popcorn favor tags.  But, the demand grew and I decided – why not.   And, I'm so glad I did!  These little tags are what I sell most!  Not a week goes by that I don't have orders for these little popcorn favor tags.  My husband even helps me fill these orders when I have a lot!
*PLEASE NOTE*  I CAN NO LONGER SELL THE "READY TO POP" TAGS BECAUSE THE PHRASE "READY TO POP" HAS BEEN TRADEMARKED BY ANOTHER ETSY SELLER.   I DO SELL THE SAME STYLE TAGS THAT READ "ABOUT TO POP" HERE. 
It's really funny to me that of all the things I have done and posted about – these little tags are the most POP – ular!