Happy Monday!  How was your weekend?  Mine was great! Sarah and I went for pedicures on Saturday – so relaxing. Then, Sunday we attended the wedding of our nephew, Ryan, in Princeton, NJ.  The wedding was held at the Princeton Theological Seminary Chapel and was gorgeous!  If you want to see some pictures from the weekend – I've posted them on Facebook and Instagram. You can follow me on Facebook
HERE
and Instagram
HERE
.  But, can you spy what's new in my living room?  Yes, I finally got my Ikea Ektorp sofa!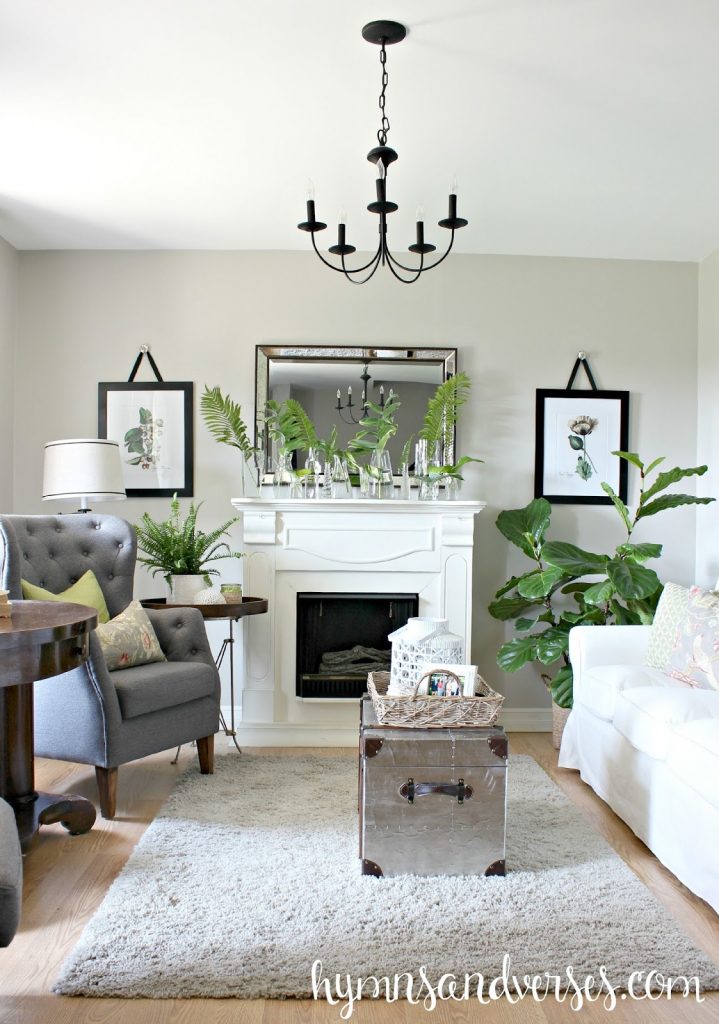 Why the Ikea Ektorp Sofa?
I listed my green sofa on Craigslist and it sold!  I was able to use the money from that sale to purchase the Ikea Ektorp sofa.  I chose the basic Bleking white slipcover, which is a heavy, white canvas.   I'm sure you've seen it all over blog land!  For the price, the quality is great. The slipcovers are well made and are washable.   Since this sofa doesn't get a lot of use,  I don't think it will need to be washed more than once a month to keep it fresh.  The Ikea Ektorp sofa with the Bleking white slipcover is an affordable option at $399.   The PB Basic Slipcovered Sofa is a very similar style, but sells for $1699.
I just love how it brightens up the room!  Even my husband, the skeptic, couldn't stop saying how nice it looked and he even said "you were right" more than once!  Since making the purchase, I've washed the slipcover and recommend washing with Oxyclean on cold.  The Oxyclean will help to keep the white bright and the cold water will help prevent shrinking.   I also pretreat any stains with Shout with the scrubber brush and really work the stain remover into the fabric.  For drying, I just fluff the slips in the dryer with no heat and iron before putting them on the sofa.  When the weather is nice, I may hang them outside to dry in the sun, which will also help with brightening.
Dressing up a Sofa with Pillows
Of course, I had to make a few new pillow covers to make my new Ikea Ektorp sofa pretty.  I purchased this linen botanical fabric a while back and it was just waiting for the perfect project!
I changed up a few of the accessories in the room as well.
Adding Flowers and Plants to Brighten a Space
I picked up the orchid at
Costco
for $16.99.  I originally went there for a bouquet of flowers, but when I saw the orchid, I knew it would be a better choice since it will last longer – if I can keep it alive!
I topped the small metal French Guéridon table that I picked up at
Marshall's
with my
Mary and Martha Ampersand Tray
.  It has a larger top and holds more.  The wood is also a nice contrast to the white and gray in the room.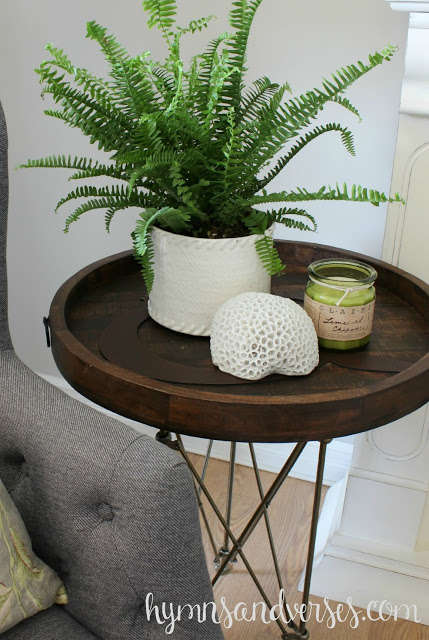 I 
picked up a new candle at Marshall's – the fragrance is Glazed Chipotle Lime.  It smells sooo good and is the perfect shade of green to compliment the rest of the space! 

Thanks for stopping by today!  I'll be back Wednesday to share my hanging basket herb garden on the porch.