What a weekend!  I hope yours was great!  I'm popping in quickly this morning to announce the giveaway winner for the Your Love Makes Me Sing pillow cover.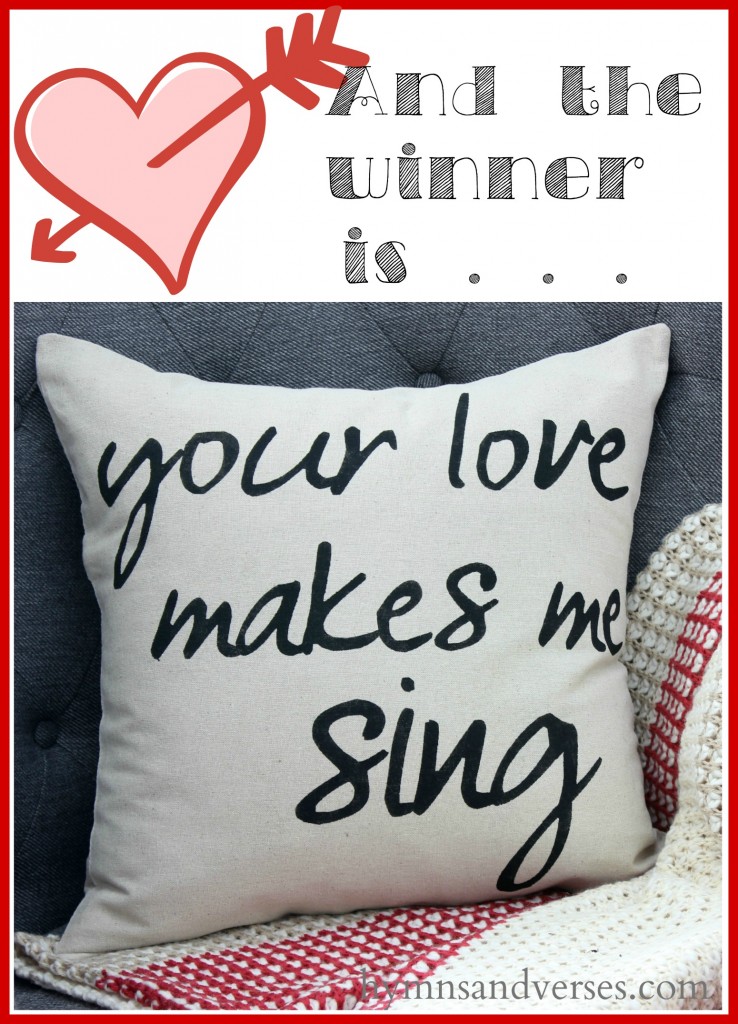 I absolutely loved reading all your comments!  Here are some of my favorites!!!
"My husband buys the candy conversation hearts at Valentine's time and then leaves little messages for me the whole year 'round. I might find them on my pillow, in my makeup bag, on my sewing machine. When I go on a trip (usually a quilt retreat) without him, I find them in my luggage. We make handmade paper Valentines for each other and always have a special Valentine's dinner with just the two of us. Sometimes it is a 14-course tasting dinner (our favorite). We have been married 50 years this past August!"
"My best gift was a beautiful orchid from my son delivered to the preschool where I taught. All the young moms were so jealous and hoped their sons would do the same for them when they became"big boys"."
"Our 9th grandbaby is due February 13, but the 14th would be amazing! (But I won't tell her mom–she probably would not agree!!)"
Thank you to all who entered this last minute giveaway!  And, the winner  chosen by random.org is .  .  .
Linda #14
"I would just like to find a note taped to the bathroom mirror that says :After 47 years together,I still love you!" That would make my whole day!"
Congratulations, Linda!  Send me an email with your mailing address and I'll get your pillow cover in the mail today!
Thank you to everyone that entered and I do hope you all have a wonderful Valentine's Day later this week!!!