Hi, friends!  If you are like me, you may already be thinking about Christmas (just a bit) and that includes gift giving.  Mary and Martha came out with a new catalog recently for fall and winter and I absolutely love some of the new products.  You may have spotted some of these in my own decor and you'll be seeing more in the days to come!  So, I decided I would create a little Mary and Martha gift guide for you with some of my favorites!  I hope you like them as much as I do!  To order,  just click the bold link below each image.    At the end of the post, you'll see information about a giveaway I'm having as a way to say "thank you" for your support of this little blog of mine!
This post contains some affiliate links for your convenience.  I do receive a small commission from each sale from my Mary and Martha online shop.  This helps support my blog and  family.  See my full disclosure policy at the bottom of this page.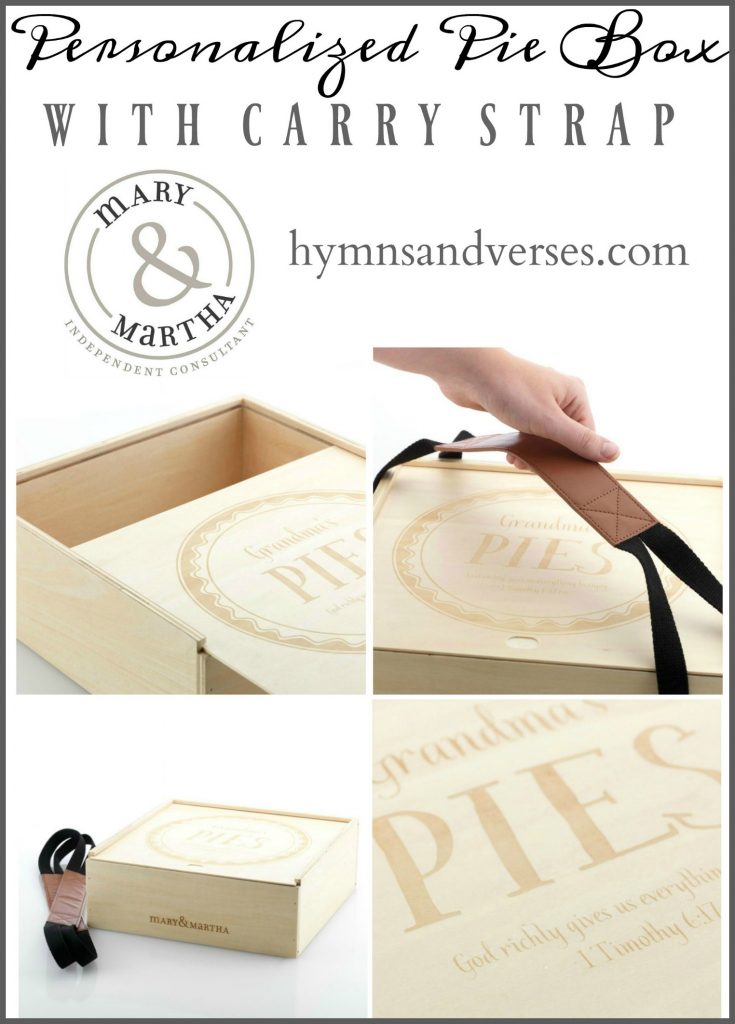 Did you get a copy of the premiere issue of Magnolia Journal?  In the issue, there is a Chip and Jo Gift Guide.  In Joanna's Picks, there is a wooden pie box.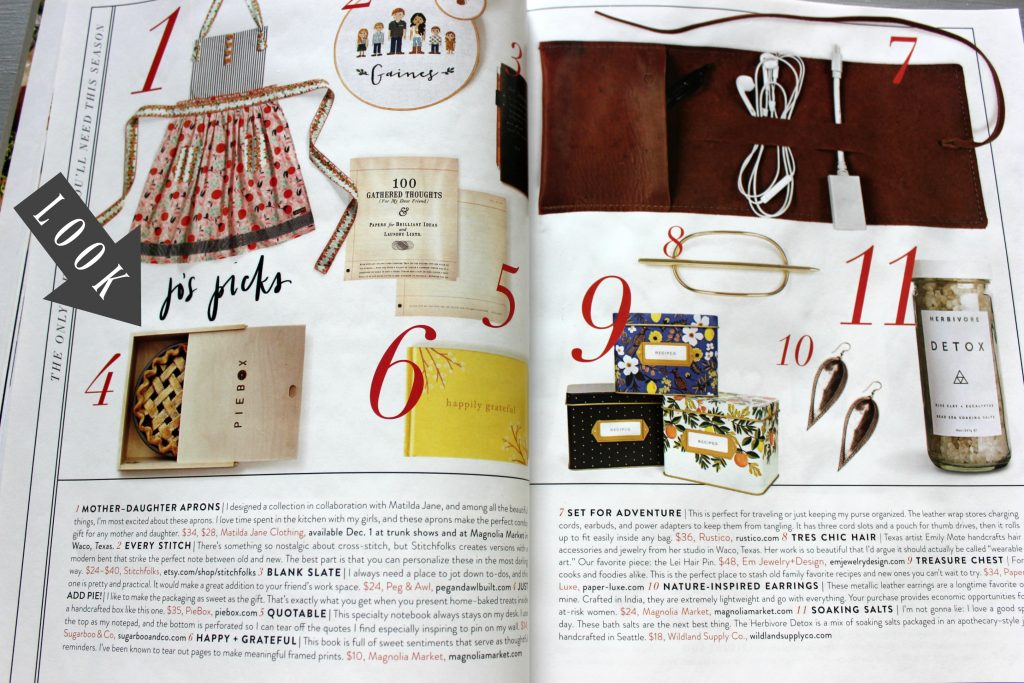 It's nice, but the Mary and Martha Pie Box is personalized and comes with it's own carry strap!  You can personalize it with a name, like Sarah's Pies, or keep it generic with Mom's Pies or Grandma's Pies, etc.  If you like this one, you may want to stay tuned for the giveaway below (hint, hint)!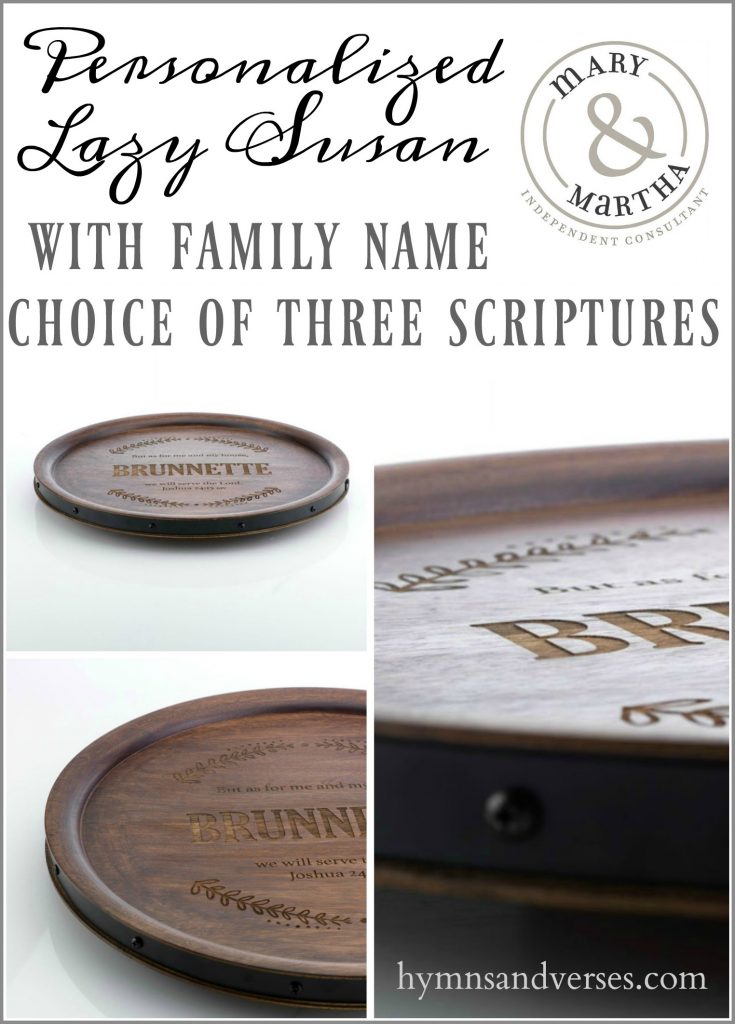 This is such a great gift idea!  It's large and you not only personalize it with a name, but you can choose from three different scripture verses:  
"You feed them with abundance of Your own house."  Psalm 36:8
"But as for me and my house, we will serve the Lord." Joshua 24:15
"The Lord surrounds His people both now and forevermore."  Psalm 125:2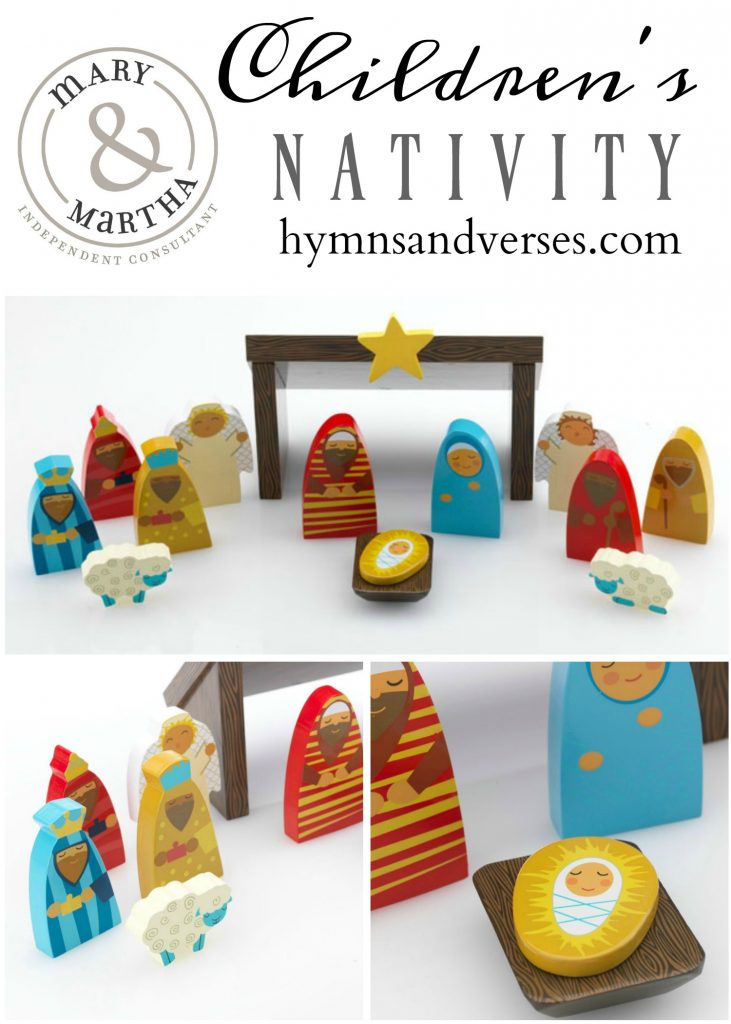 Isn't this the most adorable, wooden nativity set for kids!  I absolutely love it!  There are a total of 14 pieces, including the stable.  This children's nativity is recommended for ages 3 and up.
As I've mentioned with the Mary and Martha tea towels, Lindsay Letters has partnered with M&M on several products!  This is one of them – a solid wood pizza tray (I think it looks more like a large bread board personally)!  Bread boards are so hot in decor right now and this one with the Lindsay Letters artwork is extra special!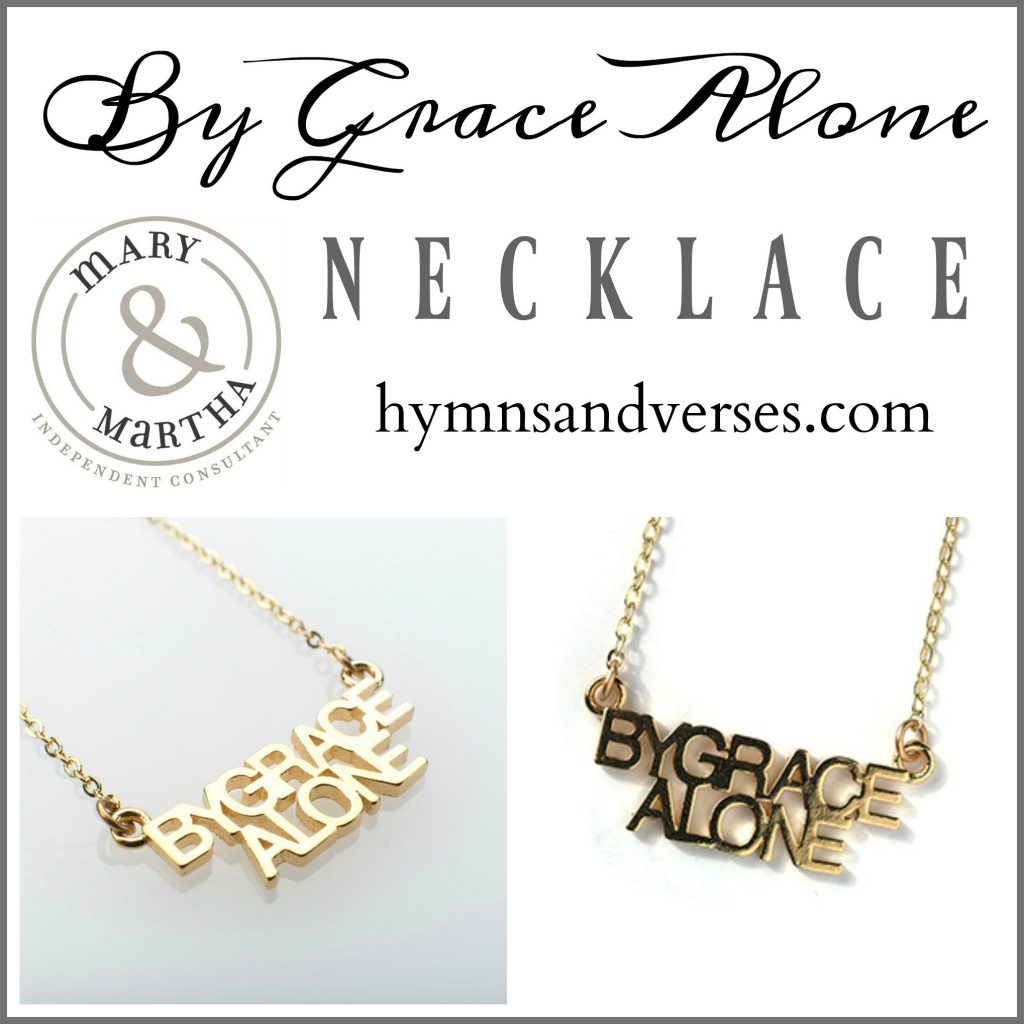 Mary and Martha also has some nice, faith based jewelry.  This "By Grace Alone" necklace is one of my favorites!  It is gold plated and has an 18″ chain.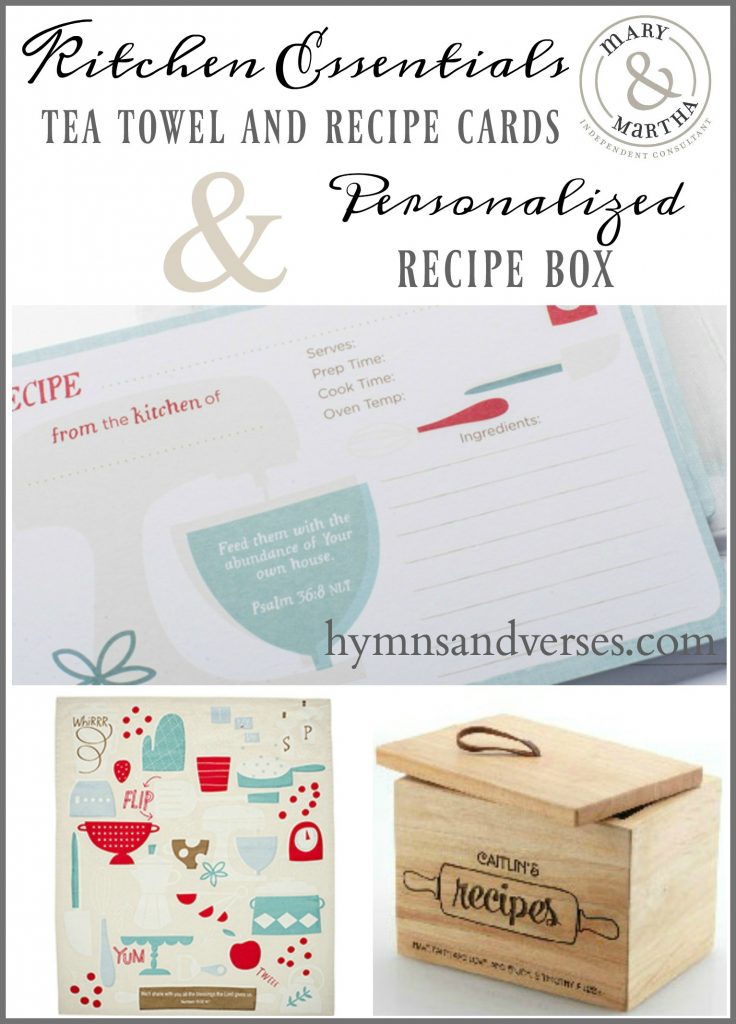 KITCHEN ESSENTIALS RECIPE CARDS     ITEM #89276
KITCHEN ESSENTIALS TEA TOWEL     ITEM #88972
PERSONALIZED RECIPE BOX     ITEM #16217
I Put these three items together because I think they would be a perfect gift for a special baker!  You know, the one who always has her KitchenAid mixer out and making delicious treats!  She collects recipes on Pinterest and blogs needs a special place to store them!  Put these three items in a gift basket with a few inexpensive kitchen tools and you've got a great gift for that special baker in your life!  The message on the recipe cards reads:   "Feed them with the abundance of Your own house."  Psalm 36:8.  The message on the tea towel reads:  "We'll share with you all the blessings the Lord gives us."  Numbers 10:32.   And, the recipe box can be personalized with a name and the message at the bottom reads:  "Have Faith  and Love and Enjoy"  2 Timothy 2:22.
HIS ABUNDANCE WOODEN TIERED SERVER
I have this three tired server and love it.  It's not large, but I love the size for desserts or displaying smaller decor items.  What makes it different from other servers?  Well – the message of course!  On the bottom tray, written around the rim, it reads:  "From His abundance we have all received one gracious blessing after another."  John 1:16.   Here's a shot of it in my own home.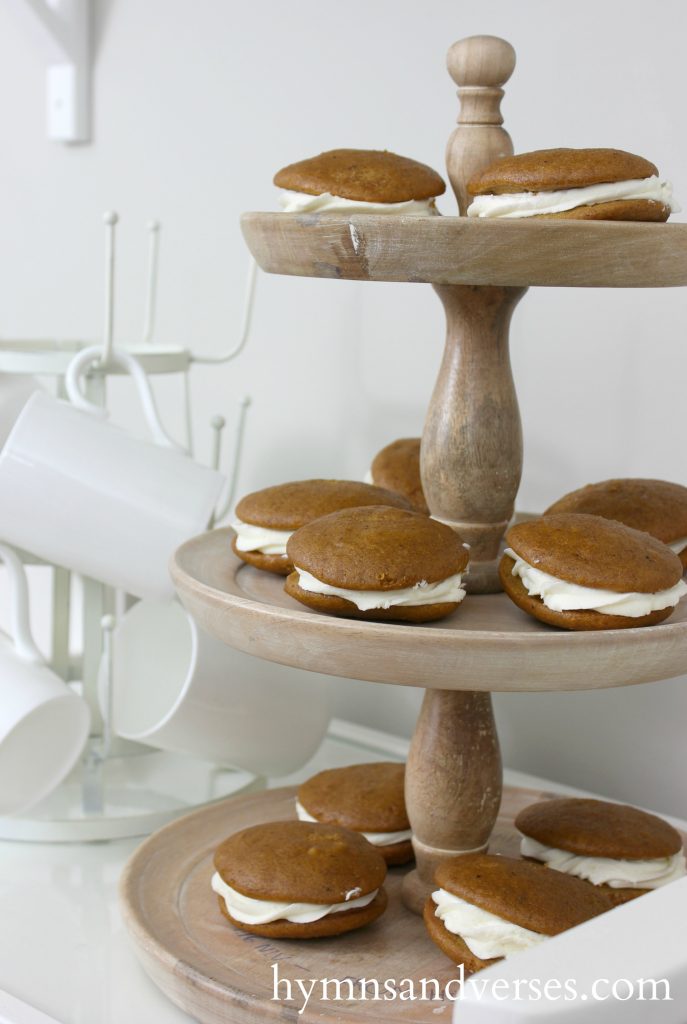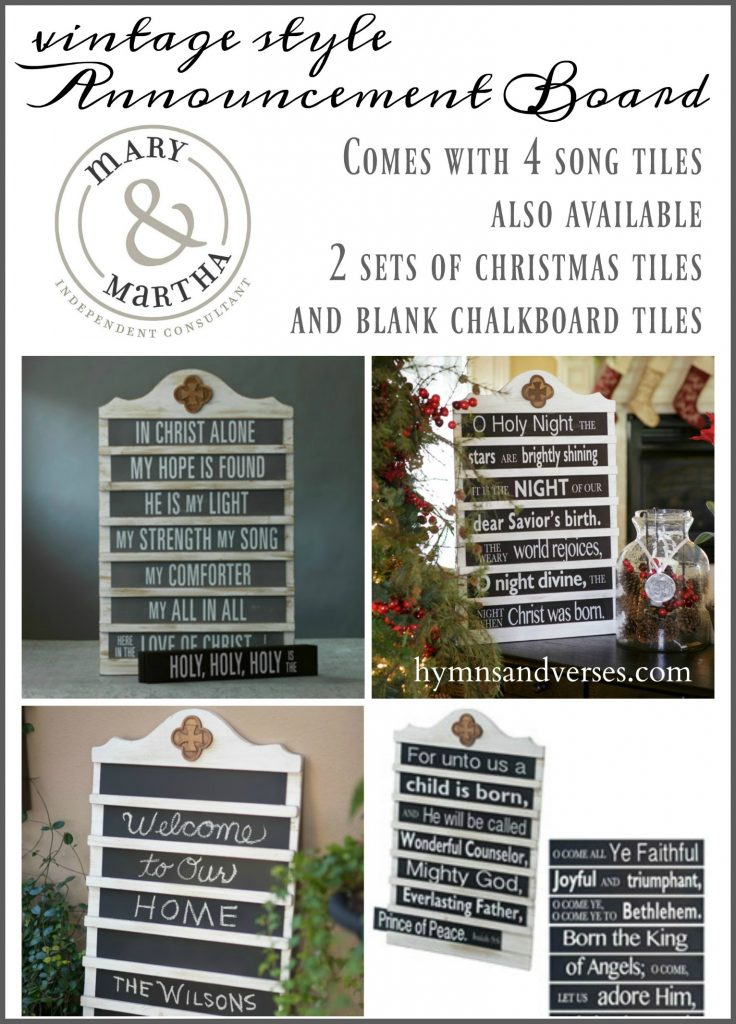 ANNOUNCEMENT BOARD AND FOUR MESSAGE TILES     ITEM #86194
Tiles included:  "The Doxology", "Blessed Be the Name", "In Christ Alone", and "Revelation Song"
SET OF TWO CHRISTMAS TILES     ITEM #60129
Tiles included:  "Silent Night" and "O Holy Night"
SET OF TWO CHRISTMAS TILES     ITEM #60128
Tiles included:   Isaiah 9:6 and "O Come All Ye Faithful"
PERSONALIZED  TILES     ITEM #82420
7 tiles to personalize your own custom message and the reverse are blank chalkboard tiles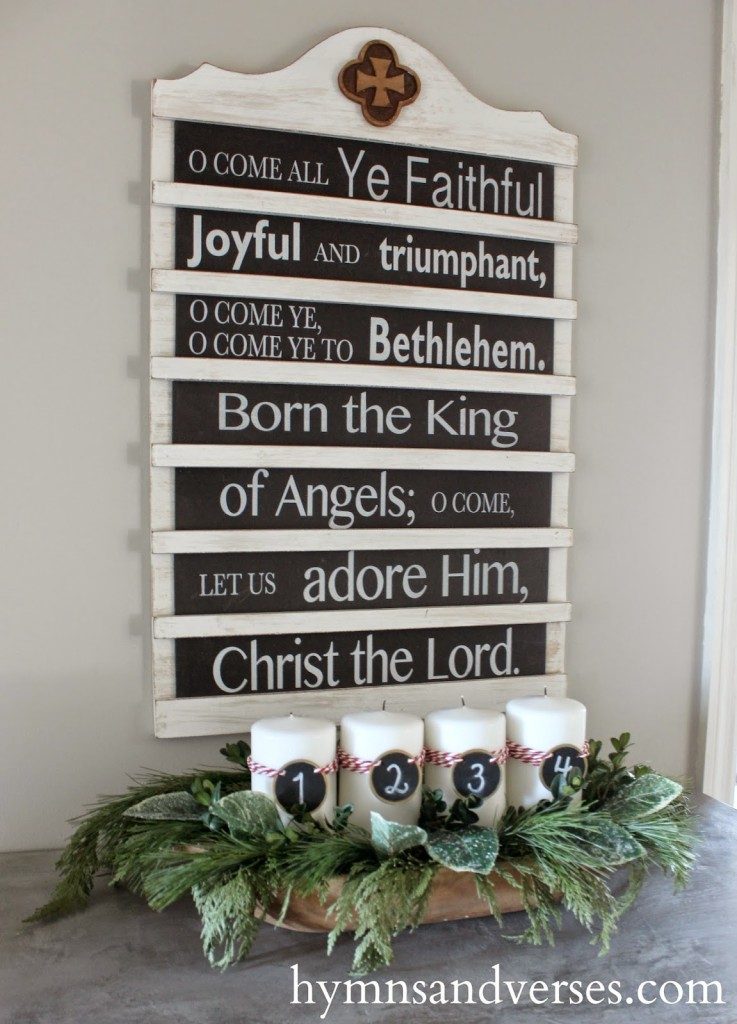 This is another item I have in my own home!  I love the hymn and Christmas carol tiles and now you can even have tiles customized and printed by Mary and Martha.  The process is amazing – it formats your personal message to have the look shown in the other printed tiles.  Then those personalized tiles have a blank, chalkboard finish on the reverse – so you can even write your own impromptu message for a special occasion!

I hope you enjoyed seeing this Mary and Martha gift guide and were able to check a person off your list.   Now for the really fun part!  I'm giving away one of the personalized wooden pie boxes!  The winner can let me know how they would like the pie box personalized and it will ship directly to them from Mary and Martha!  So, who wants their own personalized pie box or one to gift?
There are four ways to enter. 
Leave a comment telling me which Mary & Martha product is your favorite.
Follow me on Instagram HERE.  Leave a comment saying "Instagram".
Follow me on Facebook HERE.  Leave a comment saying "Facebook".
Share this post on Facebook, Instagram, or Pinterest.   Leave a comment saying "shared".
The giveaway will last for one full week October 19 – 26!   The winner will be announced next Thursday, October 27!  The winner should receive their pie box the first week of November!  Good Luck!
THIS GIVEAWAY IS NOW CLOSED