Hi.  I wanted to share my experience with Mary and Martha sales for those who may want to know more about this opportunity.  A few years ago, I was contacted by a Mary & Martha consultant, who was a reader of my blog. She felt that Mary & Martha would be a great fit for my blog.  I have to be honest, I had never heard about Mary & Martha.  If you've never heard of the company, here's a great introduction video.

Here's what I like about Mary & Martha.
 I share the products I love.  Mary and Martha has a wide range of products.  Do I love every single item in the catalog – no.  But, there are always things that I do fall in love with and want to order for my home. Those are the items I share in my blog posts.  I don't necessarily do a blog post featuring that product.  I just share it organically in my home photos.  Of course, I link to the product, and that's how I get the majority of my sales.
Mary & Martha sets up your own personal website for you.  It costs $10 a month for the website (deducted automatically each month), but it makes it so easy.  The site is professional and easy for customers to place their own orders.  Check out my website HERE.  So, to clarify, customers order directly from my Mary & Martha website.
Once a customer places their order, Mary & Martha does the rest.  They ship the item directly to the customer.  I do nothing.  Their shipping service is outstanding.  Most orders ship within just a day or two and I've never had an item received damaged.
Commission – for any item purchased on my Mary & Martha website, I receive a 25% commission!  Seriously, you can't beat that!  Most affiliates don't give you that kind of commission!  And, for me, it's passive income!  You get paid EVERY Thursday for the previous week's commissions.  Your payment is automatically direct deposited into your bank account.  Is this my primary blog money maker, no.  But, it is another income stream that IS a good one for me!
Sales Challenges and Bonuses.  Mary and Martha gives their consultant's opportunities to earn more by offering challenges.  These challenges are crazy good.  For example – in January 2017, if you sold $300 from January 1 – 17, you not only earned the $75 in sales commission (25% of the $300), but also a bonus $110 in free product!  I didn't do anything differently and easily got my $300 in sales for that time period.
Social Media.  Because we as bloggers have been building our social media following, it's only natural that when we feature a pretty photo on Pinterest, for example, that people are going to come to our blogs to check it out.  Also, you can now include affiliate links directly to your pins – even better!  I have a post with some gorgeous lavender topiaries that I purchased at Costco last year.  I styled the Mary & Martha Ampersand Tray with the topiaries.  That pin has done incredibly well and has resulted in sales for the Ampersand Tray.
The Products.  Great quality and collaboration with popular artists.  We all know about the popularity of Lindsay Letters.  Did you know that Lindsay Letters has exclusive products with Mary & Martha.  Many of them are very affordable too!  My best seller is a $22 Tea Towel featuring the artwork of Lindsay Letters. I got creative and attached the tea towel to an artist canvas, made a simple frame for it, and pinned it!  That pin is one of my most popular pins of all time.  There are not many weeks that go by that I don't get at least one sale for that $22 tea towel.  Yes, the commission for a $22 item is only $5.50, but a lot of $5.50's add up!  So, by getting creative with an inexpensive product, I've sold hundreds of those tea towels.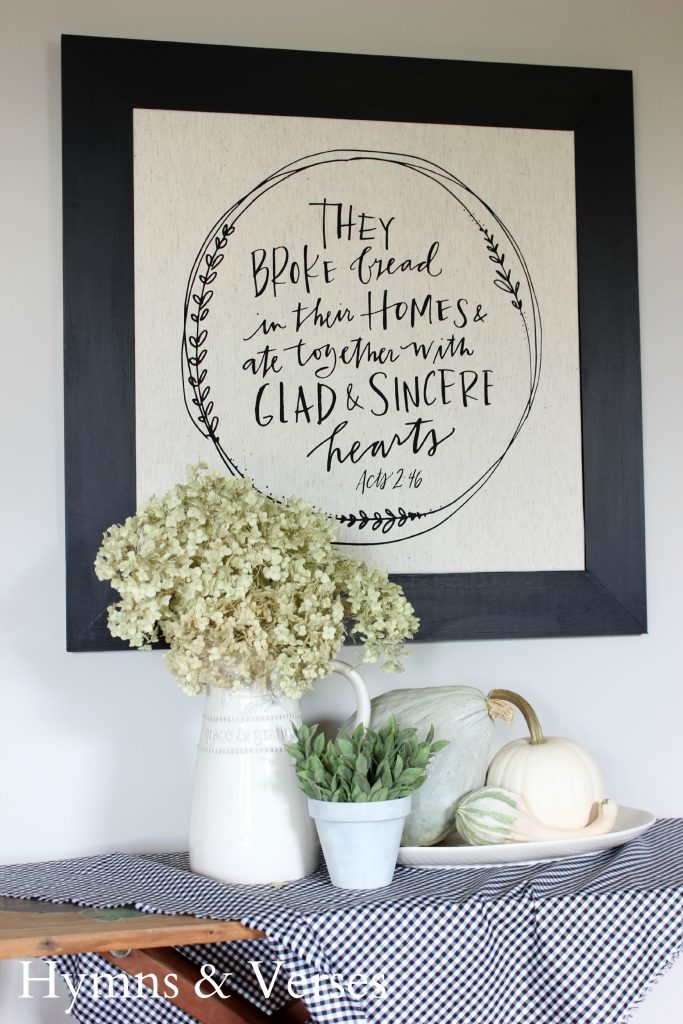 In addition, the products just keep getting better and better.  When I first started, there were just a few things that I really liked and I focused on those and made sales.  I have to say with the latest catalog, there are a lot of items that I really like and can't wait to get!   Take a look for yourself at the NEW catalog!
Mary & Martha Spring 2017 Catalog
If you join as a new consultant in January, you get the Wherever You Go Weekender Tote (a $138 value) for FREE!  If you want to join the Mary and Martha team as a consultant, it's so easy.  Just follow this LINK.  If you have any questions, please feel free to email me at hymnsandverses@gmail.com.    I'd love to help you in your journey with Mary & Martha!