Today, I'm sharing my favorite room over at
Savvy Southern Style
! I hope you will stop by Kim's and see my dining room all ready for spring! While you're there, you will want to stay a while – so, grab your favorite morning beverage and get ready to be inspired by Kim's beautiful home!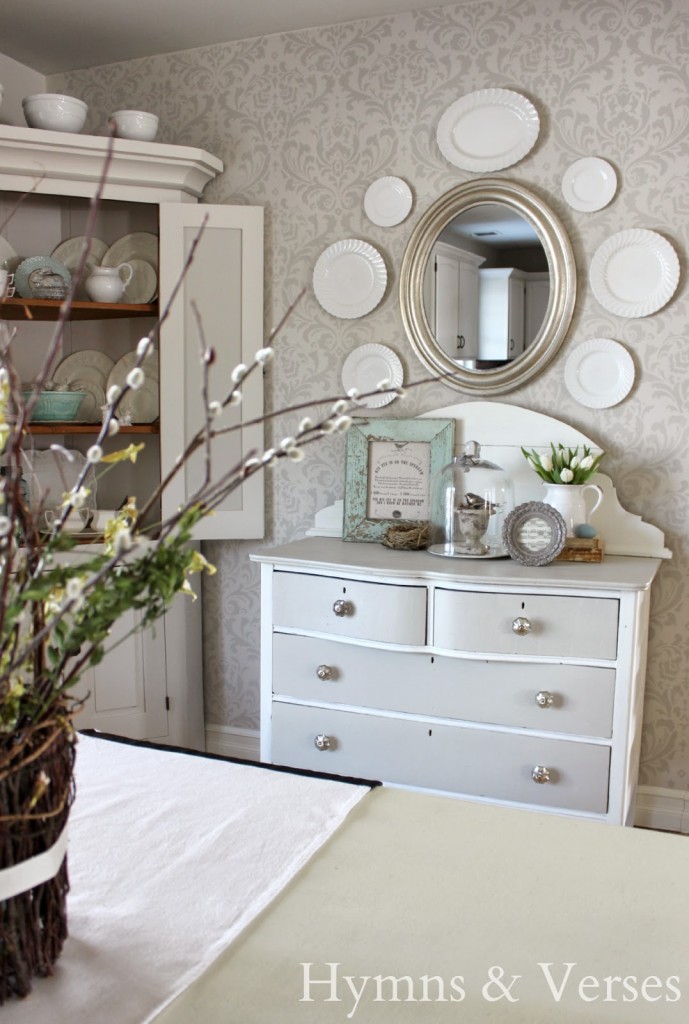 There's a new addition to the dining room – an old dresser that we turned into a dining room buffet. This is a Cinderella story if there ever was one! Last summer I picked up this poor dresser for a song at my favorite stand that sits along the side of the road. I brought it home, but my husband had a hard time seeing the beauty that I saw. He thought it would be great firewood for an evening campfire!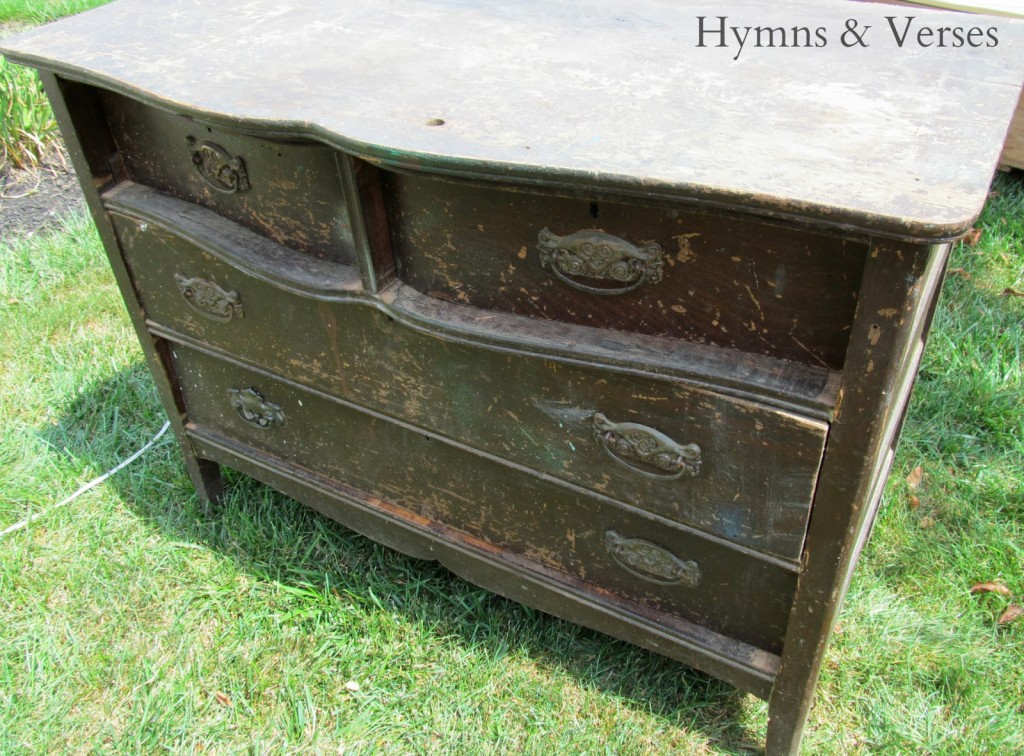 Look at the top! Mark thinks it was used as a work table top. There was even a hole drilled completely through. Yet, it is a solid piece with a pretty shape and dovetail drawers that I felt deserved a second chance at life! Initially, I was thinking of converting it into a kitchen island. We tried different things. Mark removed the top and made a farm table style top for it with an overhang, but it just didn't look right. Then I thought about converting it into a hutch or adding a shallow plate rack above it . . . but nothing I tried seemed quite right.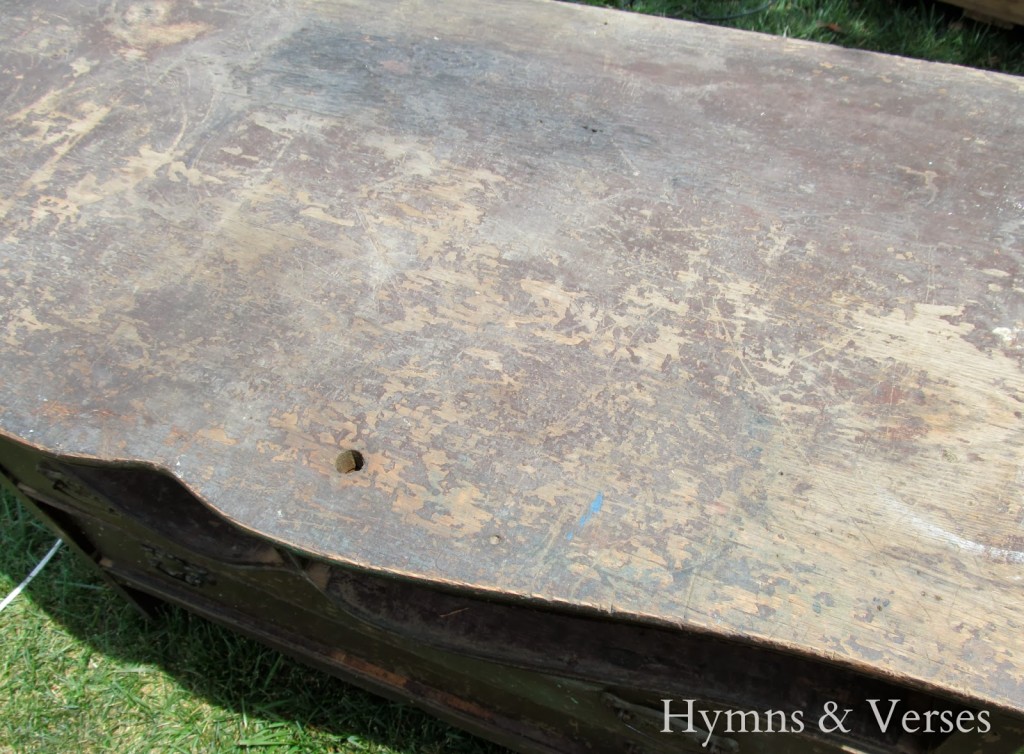 Then, I went out into the garage to get something and walked past my little stash of other things I've brought home ( much to my husband's dismay) and saw this curved architectural piece. I brought it in and sat it on top and that was it! I could see it – a pretty, cottage style buffet. Mark attached it to the back of the dresser with metal brackets.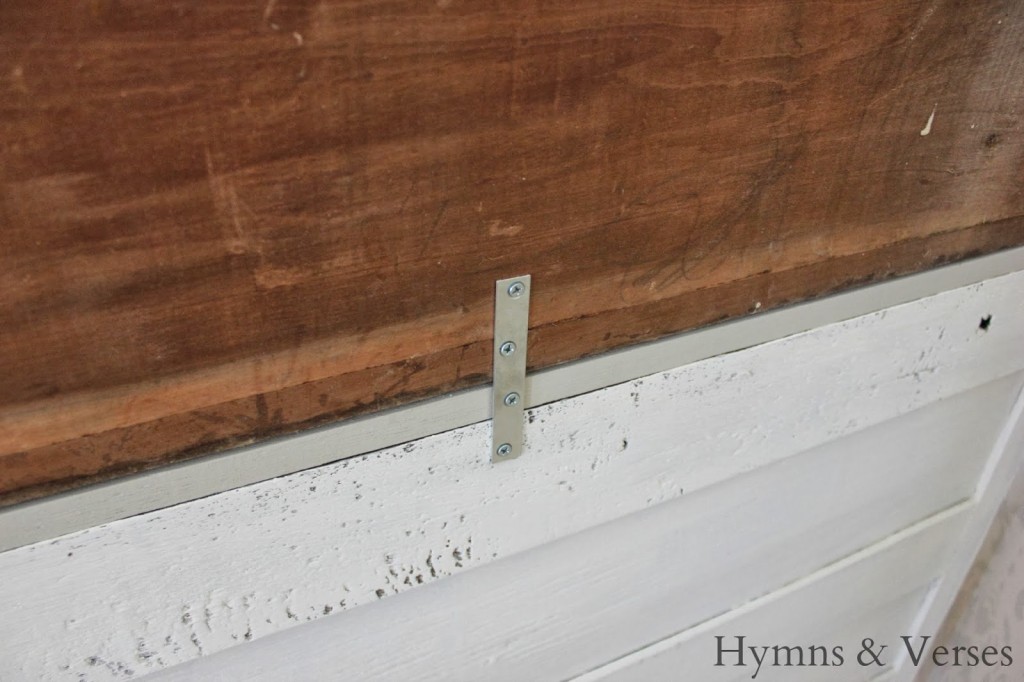 The drawers and top of the dresser got sanded, the hole in the top was filled with a piece of wooden dowel, the old hardware was removed (it was not a matching set unfortunately), and the holes filled in with wood filler and sanded. Then, it got a good cleaning with TSP solution. Finally, it was ready for paint.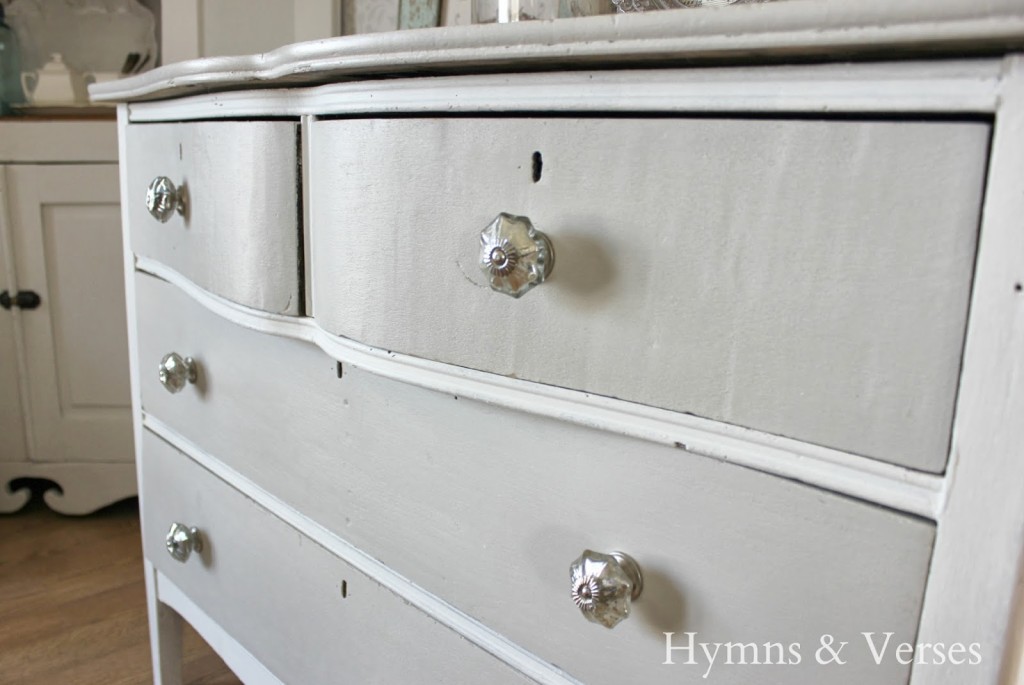 I used chalk paint, which makes it so much easier because you don't have to use a primer. I decided to paint the top and drawers gray against the white background of the main dresser. It only took two coats of paint to complete and then was finished off with some clear wax. I found the mercury glass pulls at Home Goods.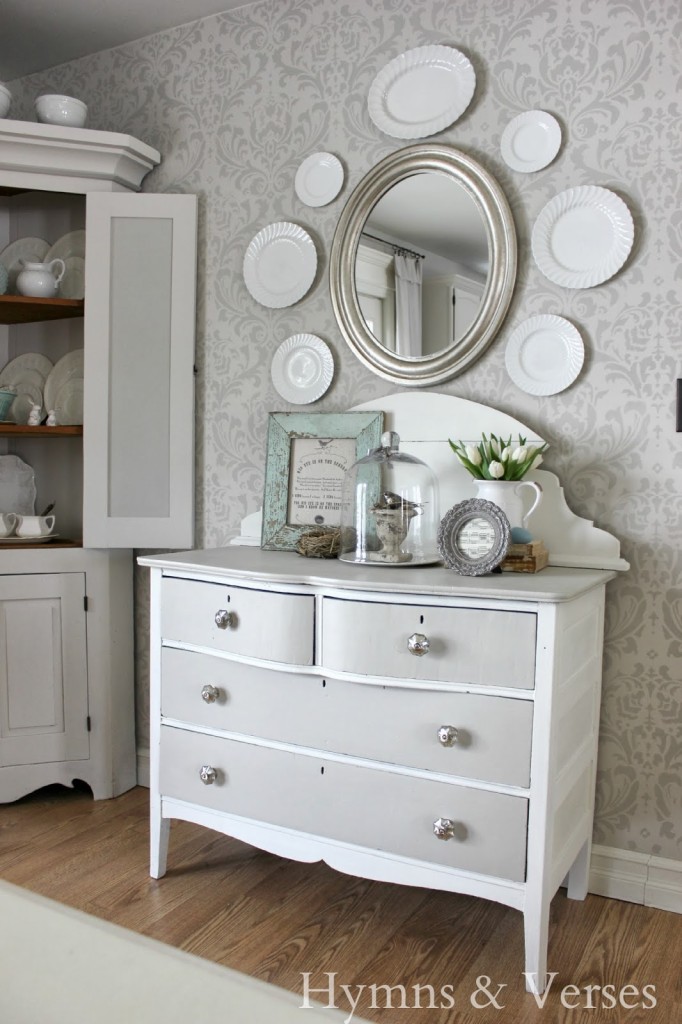 I did paint the interior of the drawers and still want to line them with a pretty paper. In the process, I decided to move my water bench to another wall in the kitchen and replaced it with this piece. The finishing touch was a $25 oval mirror from TJ Maxx and some ironstone plates placed around it on the wall.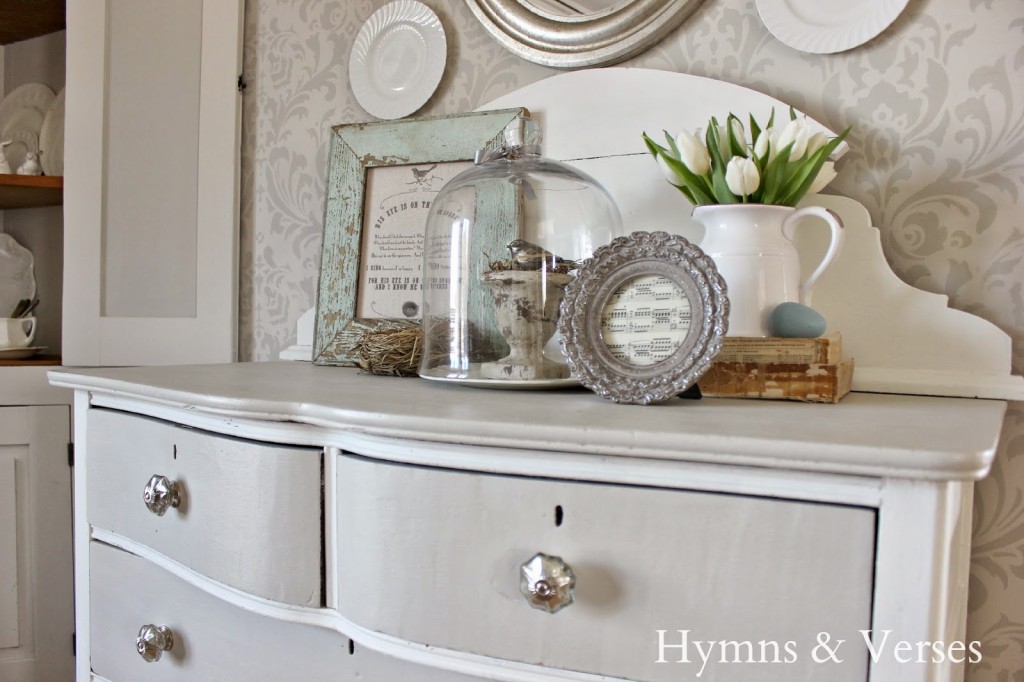 So, what do you think? If you saw this dresser in it's before state, would you have given it any hope? I'd love to hear what you think!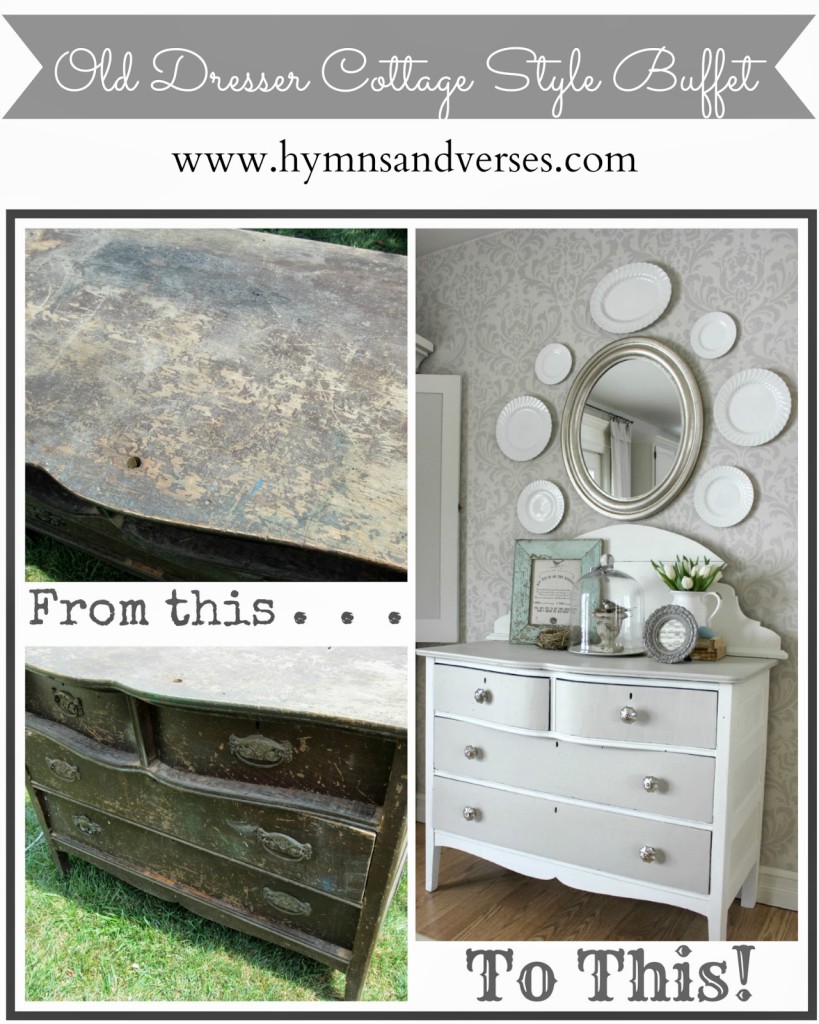 Have a great weekend!
Sharing today at: