5 Fun Facts About Ann!
1.  Ann is an ahhh mazing seamstress!  Click 
HERE
 to see some of her sewing tips and 
HERE
 for sewing projects that you can try!
2.  Ann's favorite decorating colors – Blue & Yellow!   When I see an awesome combination of blue and yellow, I think of Ann!
3.  Ann has a shop – Sutton Place Designs – handmade textile furnishings for your home.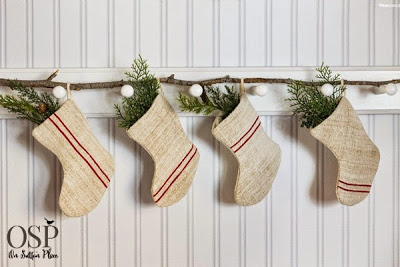 I recently purchased these petite grain sack stockings from Ann!  I can't wait to use them this Christmas season!
4.  Ann's work was featured in Miss Mustard Seed's Book – "Inspired You".
5.  Ann has the most adorable miniature schnauzer named, Kelly.  Stop by and see the cuteness 
HERE
.
Hello everyone here at Hymns & Verses. I'm Ann from the blog,
On Sutton Place
and I'm so happy to be here! Today I'm sharing a recipe for Apple Oatmeal Cookies. These little cookies are moist and have the best, sort of nutty taste. The bottoms crisp up a bit so that adds to the texture as well. These are perfect for after school snacks or to pack in a lunch. They stay moist for days as long as they are in a sealed container or ziploc bag.
Apple Oatmeal Cookies
Ingredients
1/2 c. butter softened (1 stick)
3/4 c. sugar
1 egg
1 t. vanilla
1 c. flour
1 t. baking soda
1/2 t. baking powder
1 t. cinnamon
1/2 t. salt
1 1/2 c. quick cook oats
1 large apple finely chopped (I used Honeycrisp and did not peel it)
1/2 c. walnuts
Instructions
Preheat oven to 350 degrees.
In the bowl of a standing mixer combine the sugar and butter. Beat 5 minutes.
Add eggs and vanilla.
In a separate bowl combine flour, baking soda, baking powder, cinnamon, salt and oats.
Whisk gently to combine.
Slowly add to butter/sugar mixture and beat on medium speed until combined, scraping sides of bowl when needed.
Fold in chopped apples.
Drop by small scoops onto cookie sheets. (About the size of a golf ball.)
Bake 15-20 min. Watch closely the last 5 minutes so bottoms of cookies don't overcook.
Makes about 30 cookies.
Adapted from The Sauder Village Apple Lover's Cookbook
This recipe could easily be doubled and you can certainly leave out the walnuts if you are not a lover of nuts…or are allergic. It's the oatmeal that gives them such a great texture.
I have been known to eat these little cookies for breakfast…they are amazing with that first cup of coffee. Thank you again to Doreen for having me over…enjoy!