Hi, Friends!  I'm back today to share my Christmas dining room &  kitchen spaces.  In both areas, you will see a lot of red, black and white in various forms and patterns.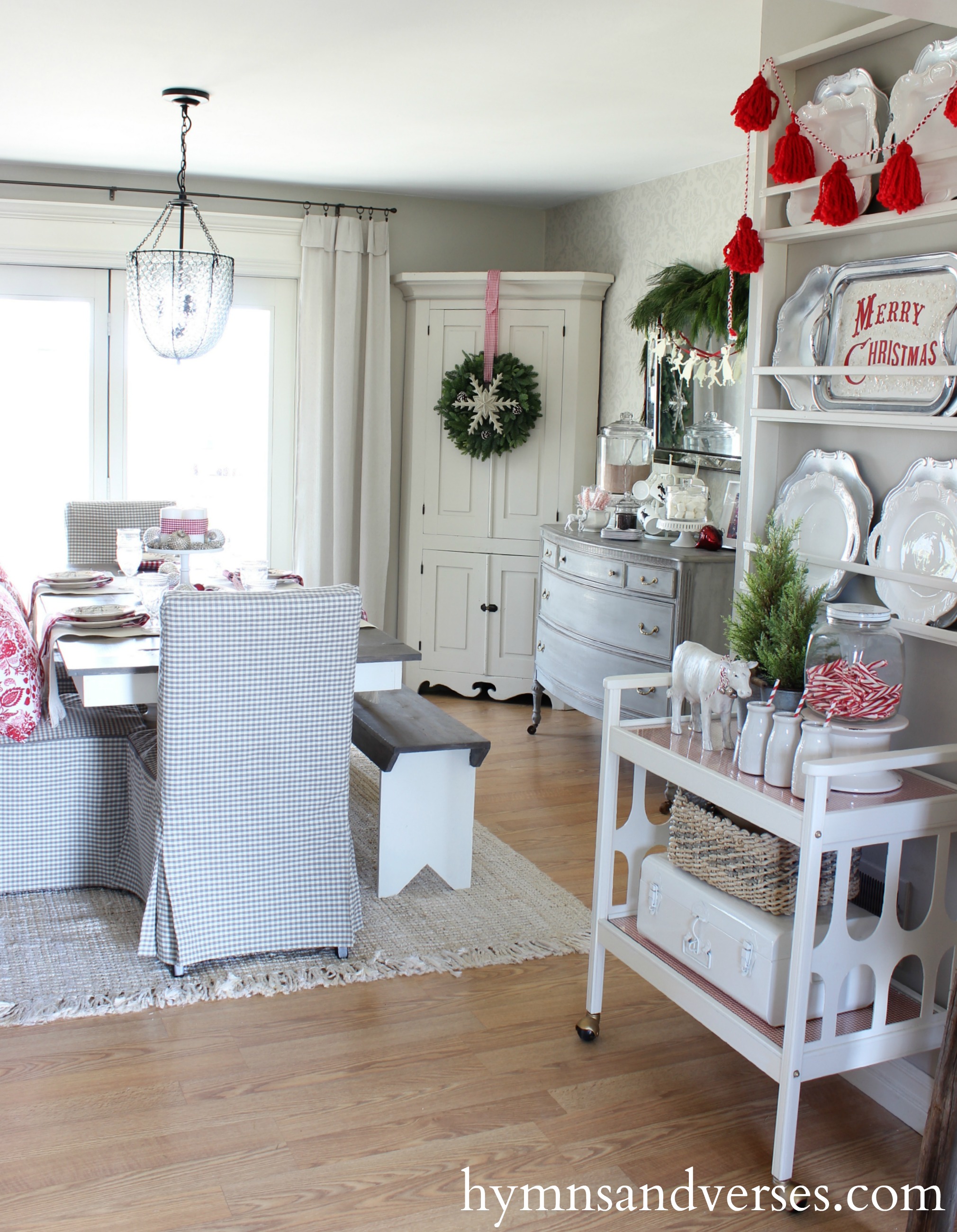 I also continued the use of real greens this year with a few faux mini cedar  trees mixed in.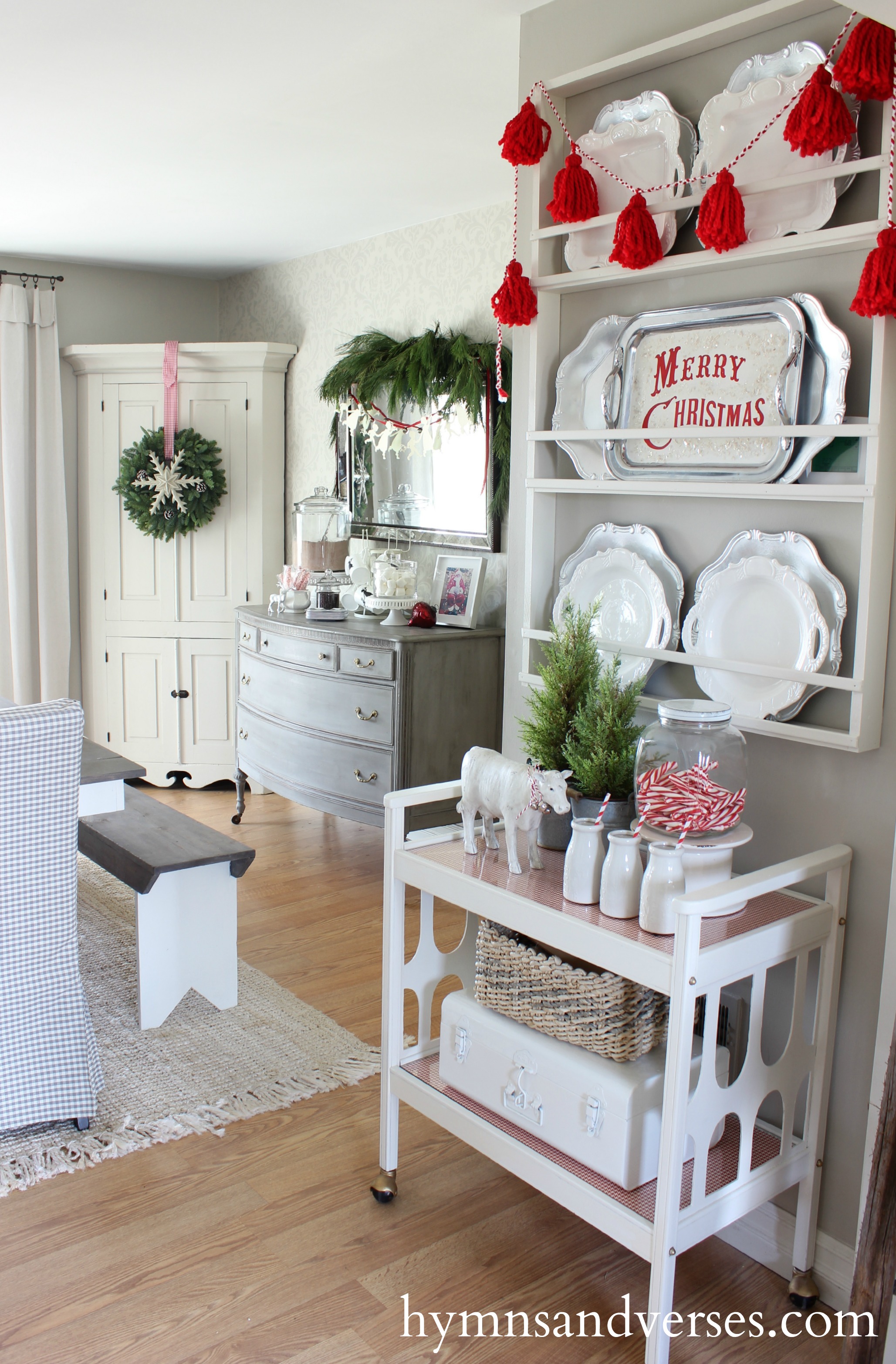 I had fun re-using some things from my decorating stash like the red tassel garland that I made last Valentine's day and the Merry Christmas silver tray from last Christmas.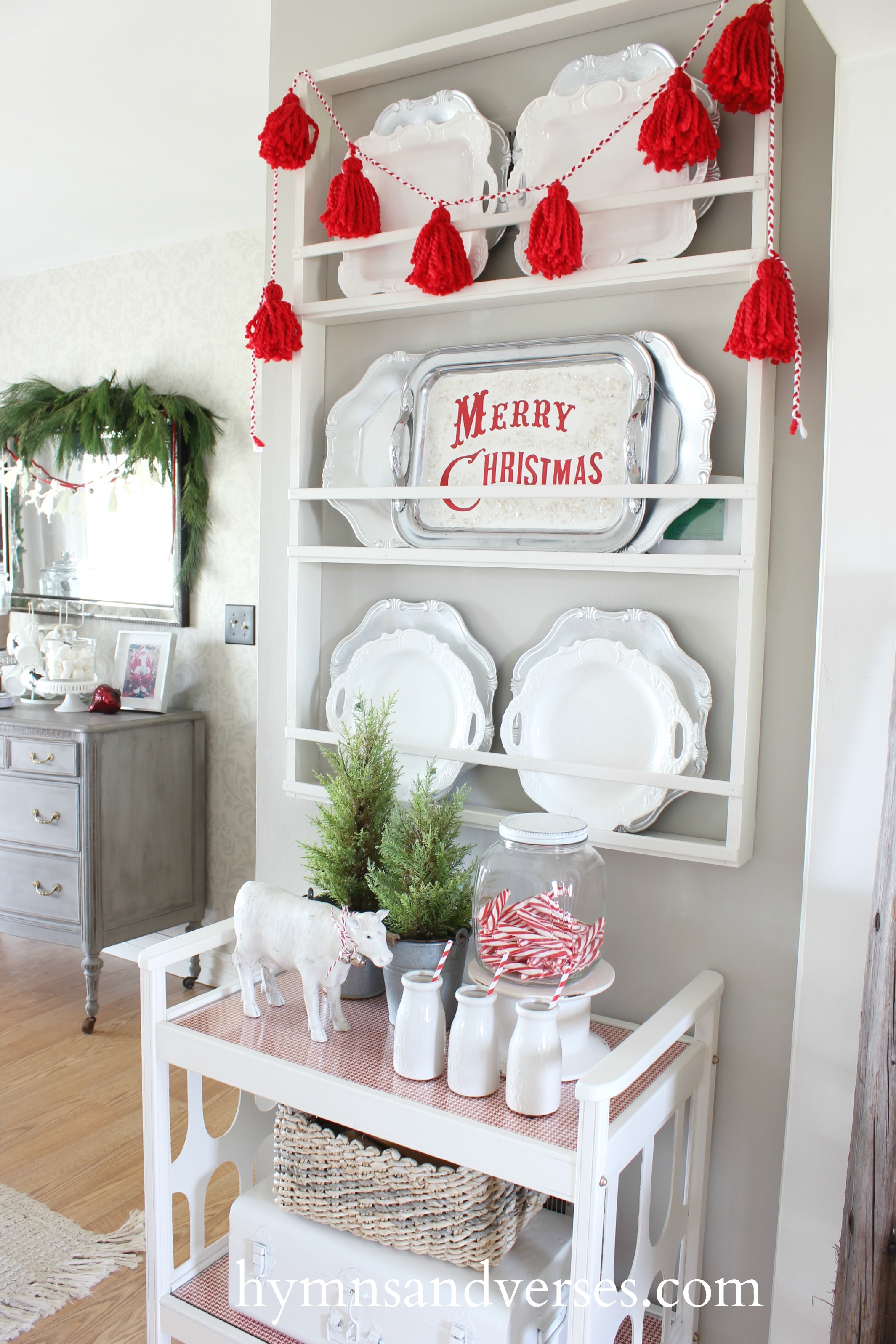 Something I did buy new – this white cow!  I just couldn't resist and to make her festive, I tied some red and white twine with jingle bells around her neck.
I tucked some white pine and cedar branches behind my mirror to create a swag and then a simple pine wreath hangs from a red and white gingham ribbon on my corner cupboard.  I wired the wooden vintage style snowflake to the front of the wreath.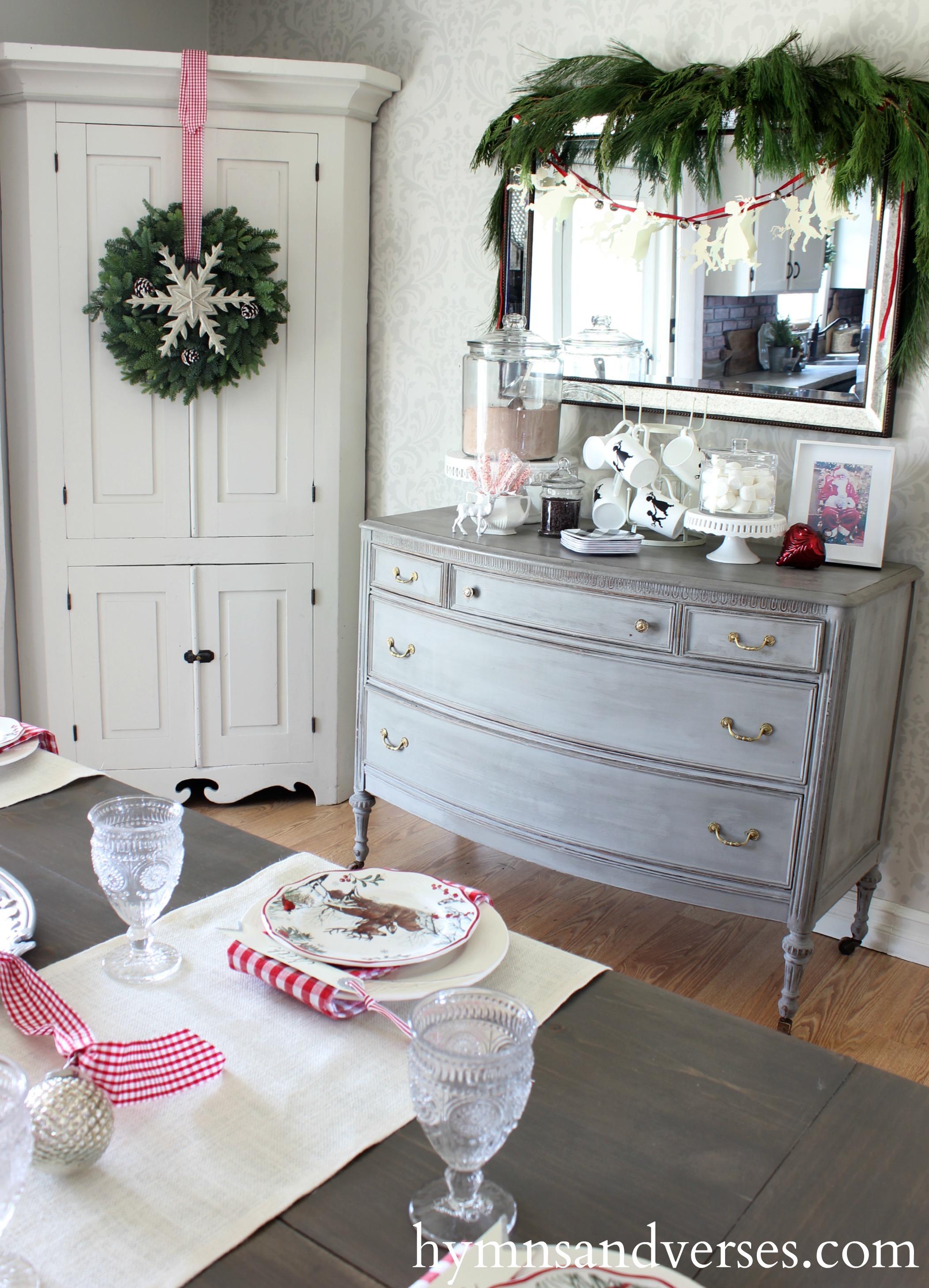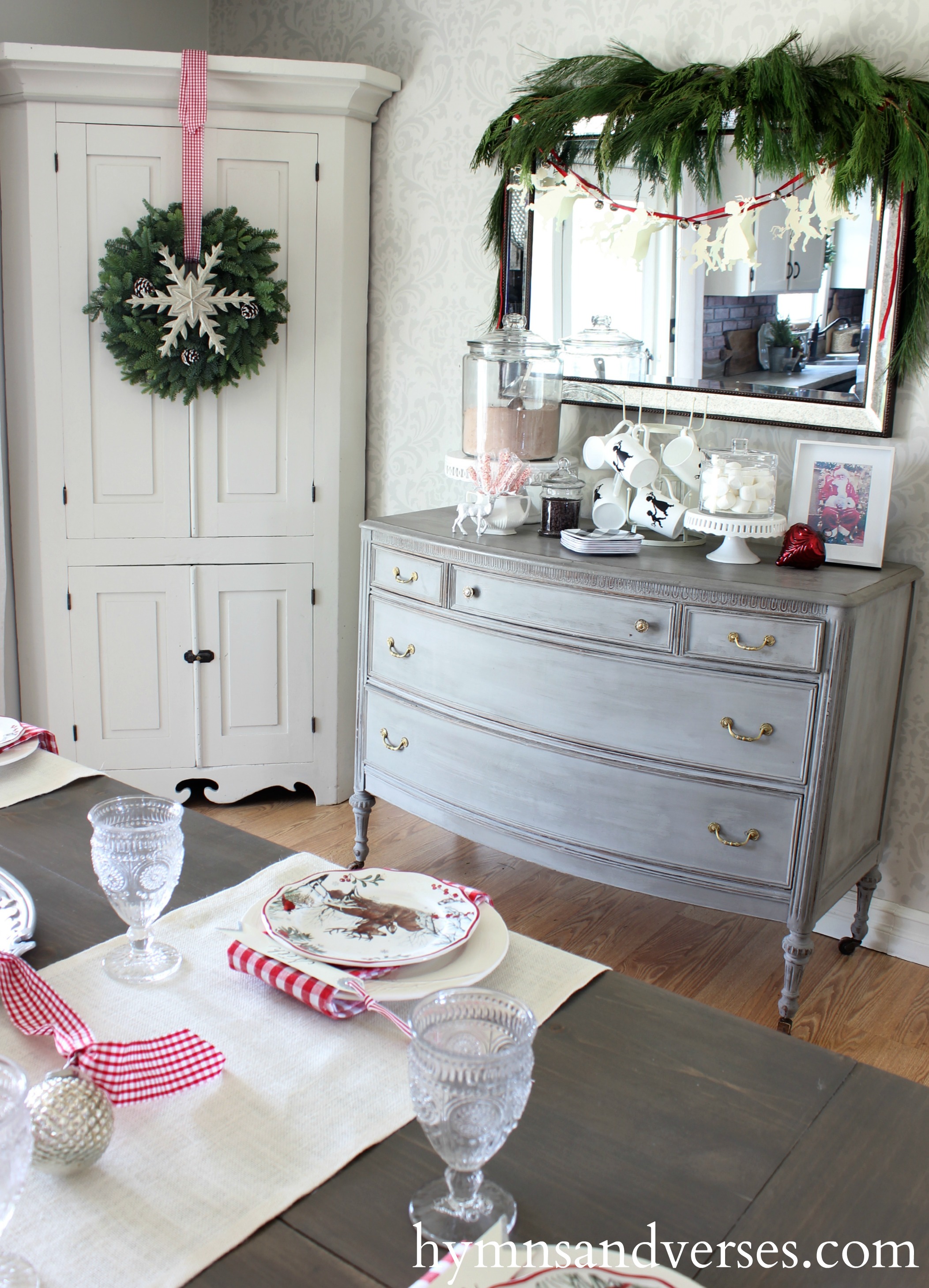 A hot cocoa station is a must at Christmastime in my house.  I made a garland with a festive boy and girl cut out that I made with  my Silhouette.  I loved it so much that I also used the same cut outs on our church Christmas tree and I made a smaller version in black vinyl for the white mugs below.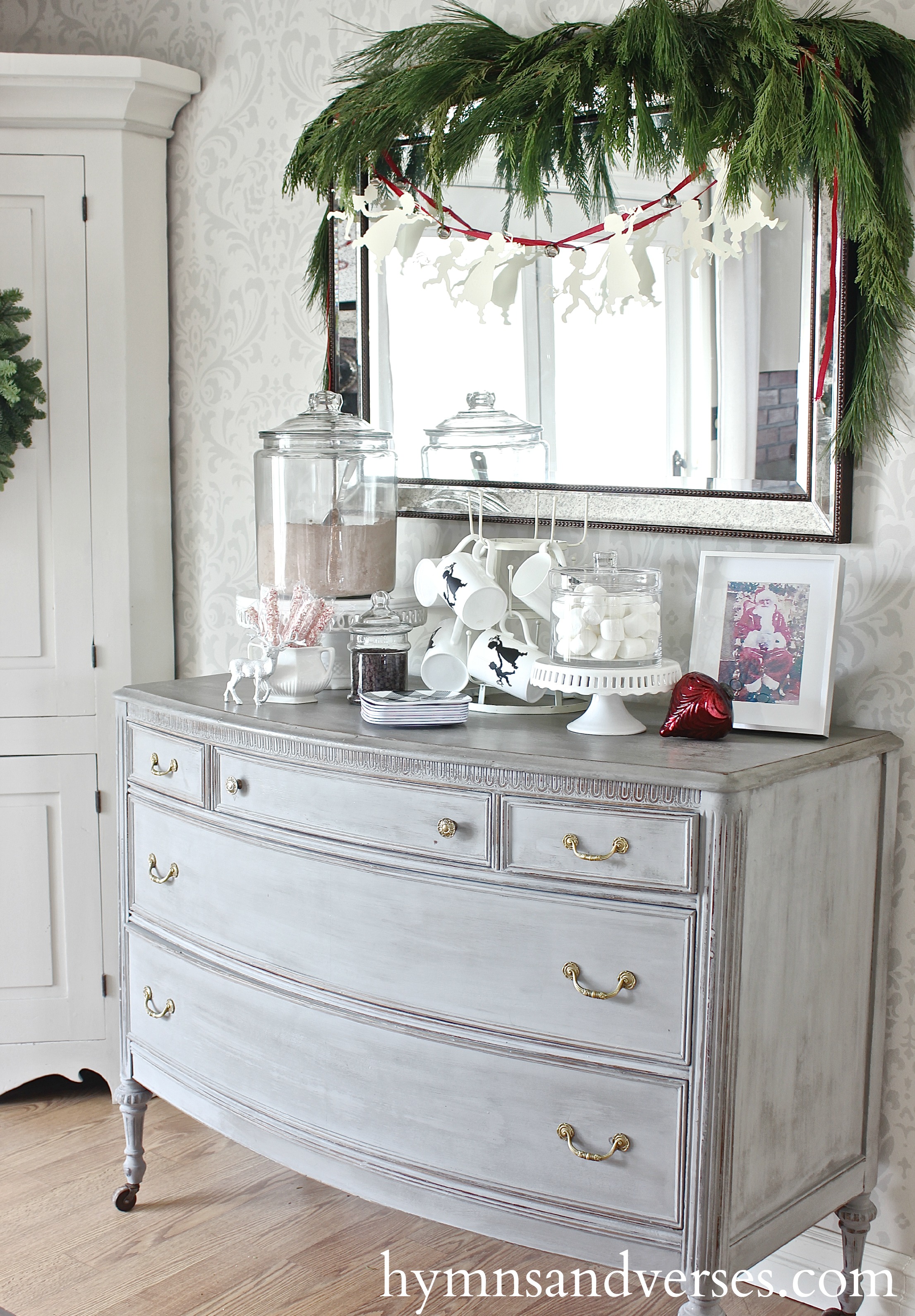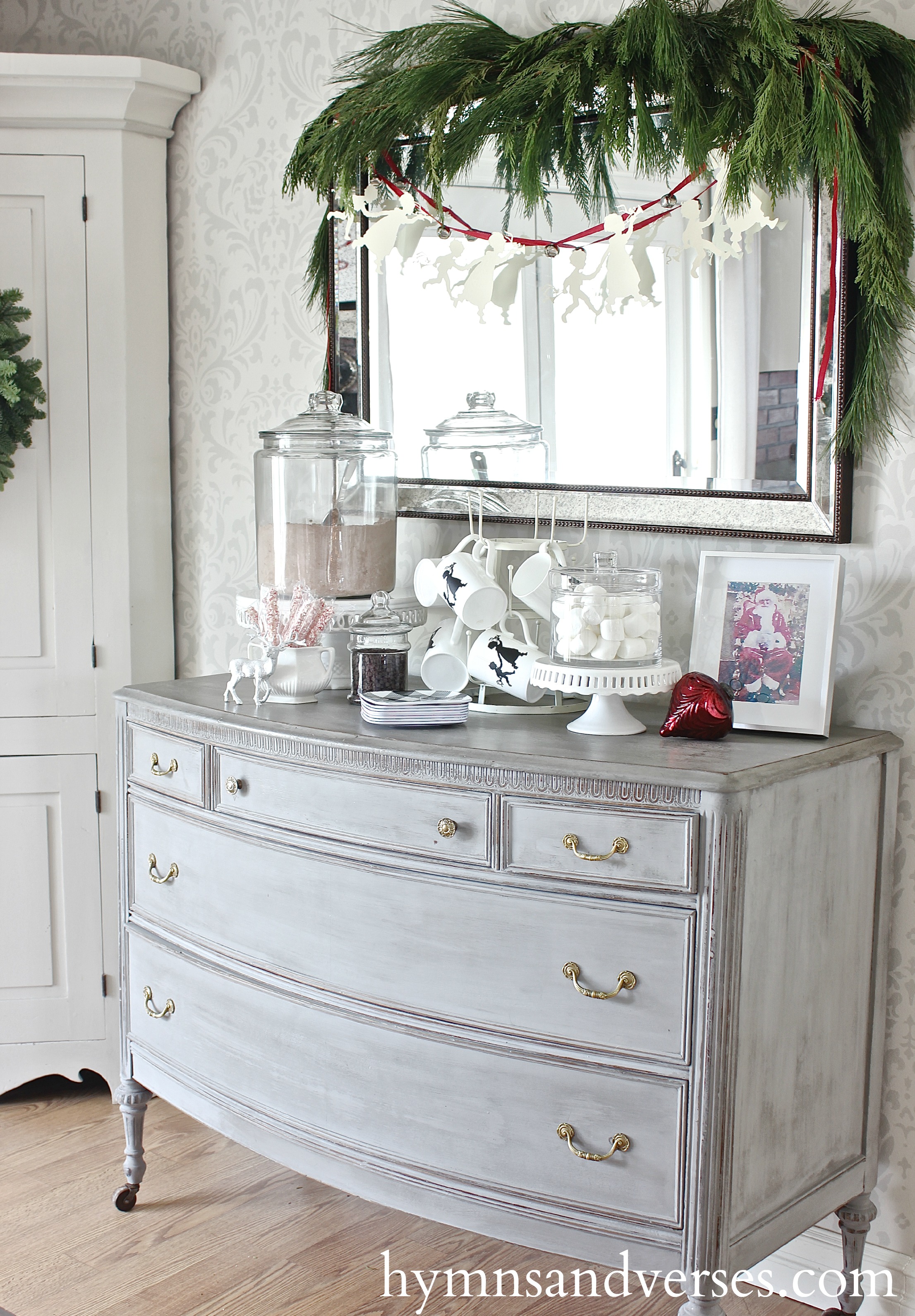 A hot cocoa station is pretty quick to pull together – just use glass containers to hold the hot cocoa mix (recipe found HERE), marshmallows, mini chocolate chips, and white chocolate and candy cane stirrers (DIY version found HERE).   Can you believe I got those little plaid dessert plates for $3 at Target!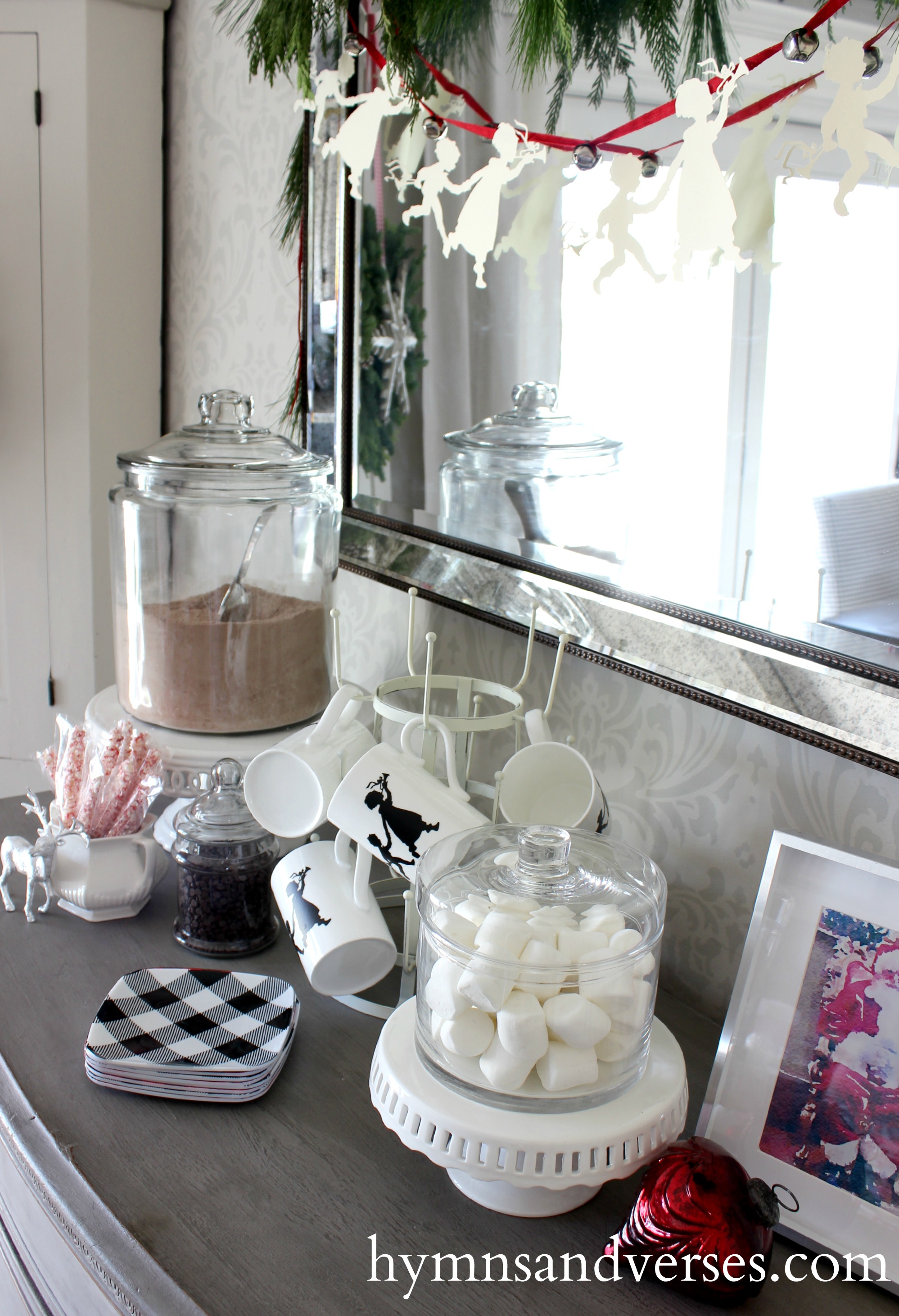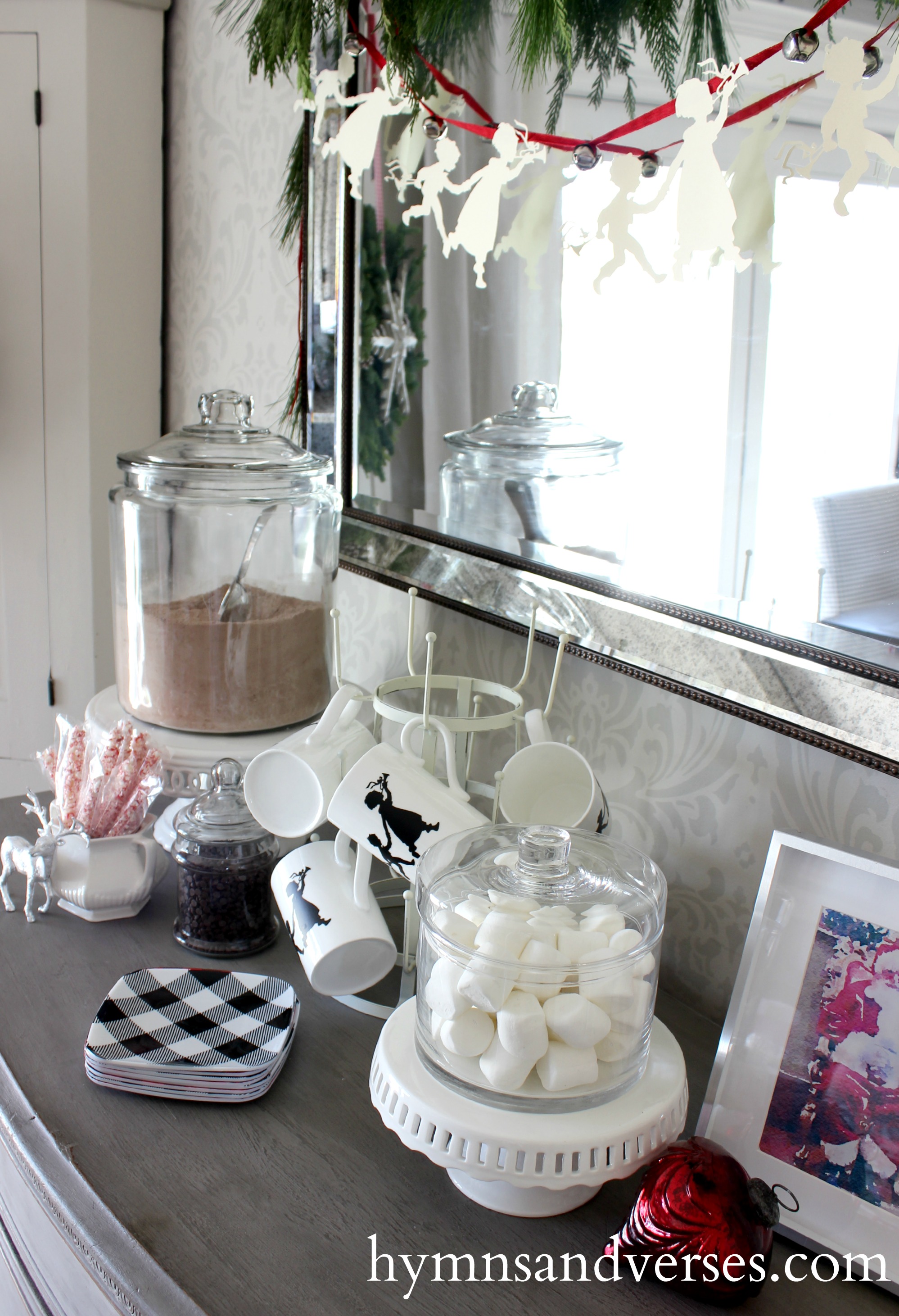 Here's a better look at the mugs with the vinyl silhouettes.  Surprisingly, I've used vinyl in the past on mugs and have put them through the dishwasher without any damage!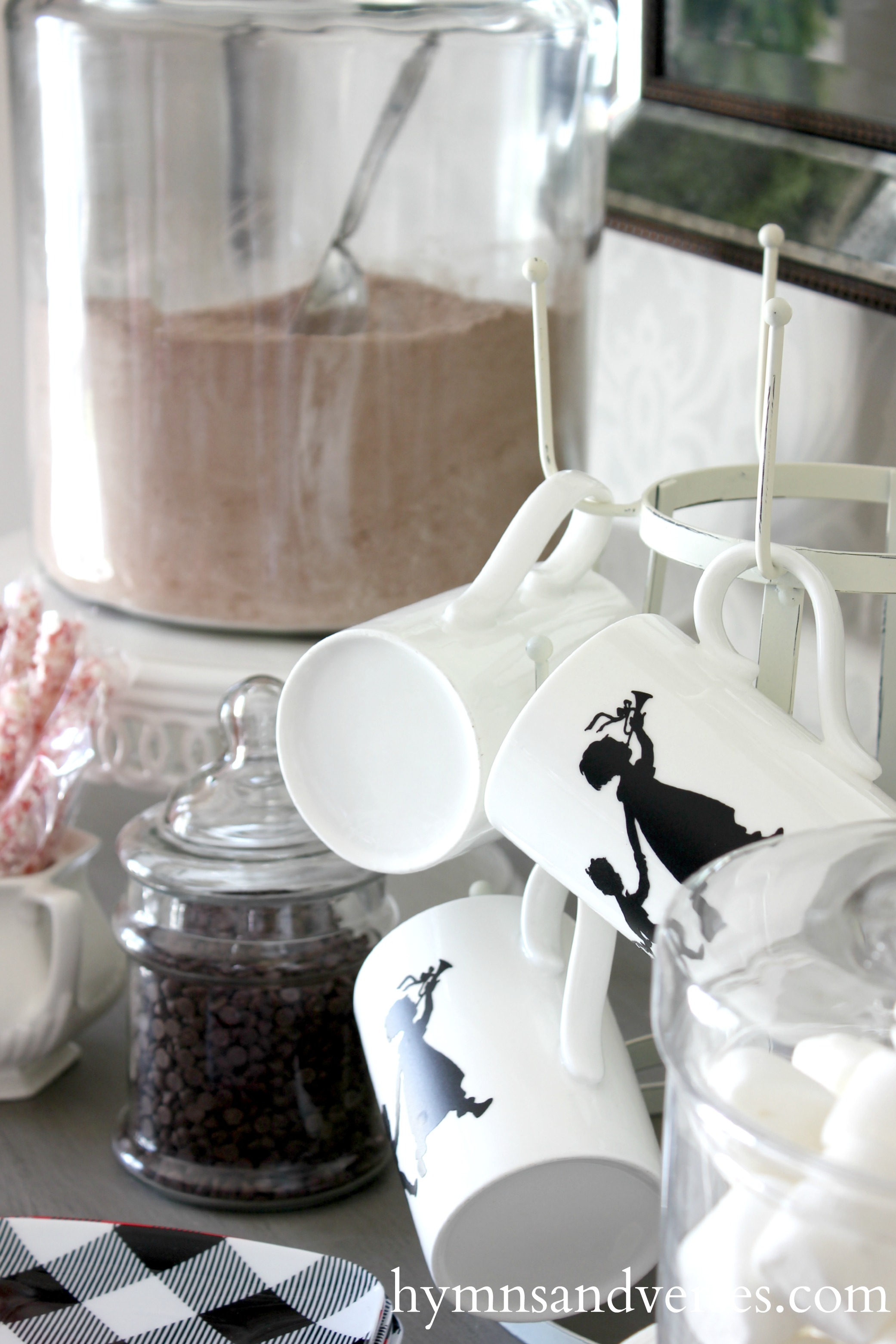 I found the cute silver reindeer last Christmas – such a small piece, but I love it!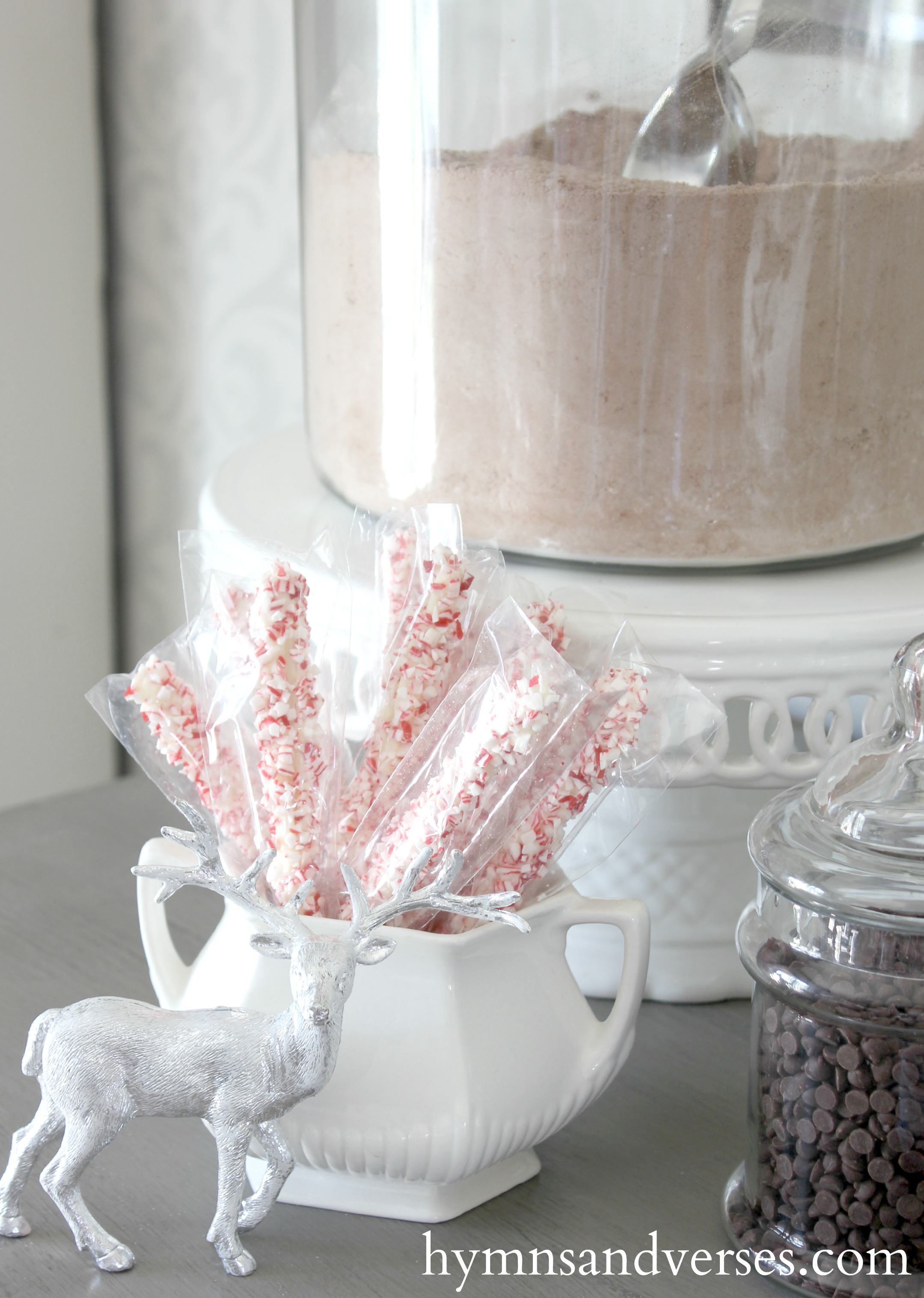 This watercolor Santa was made using the free Waterlogue app on my Iphone.  It was a really poor photograph of Santa from a few years ago that  I put through the app and it looks so much better as a watercolor – and adds more color to my hot cocoa station.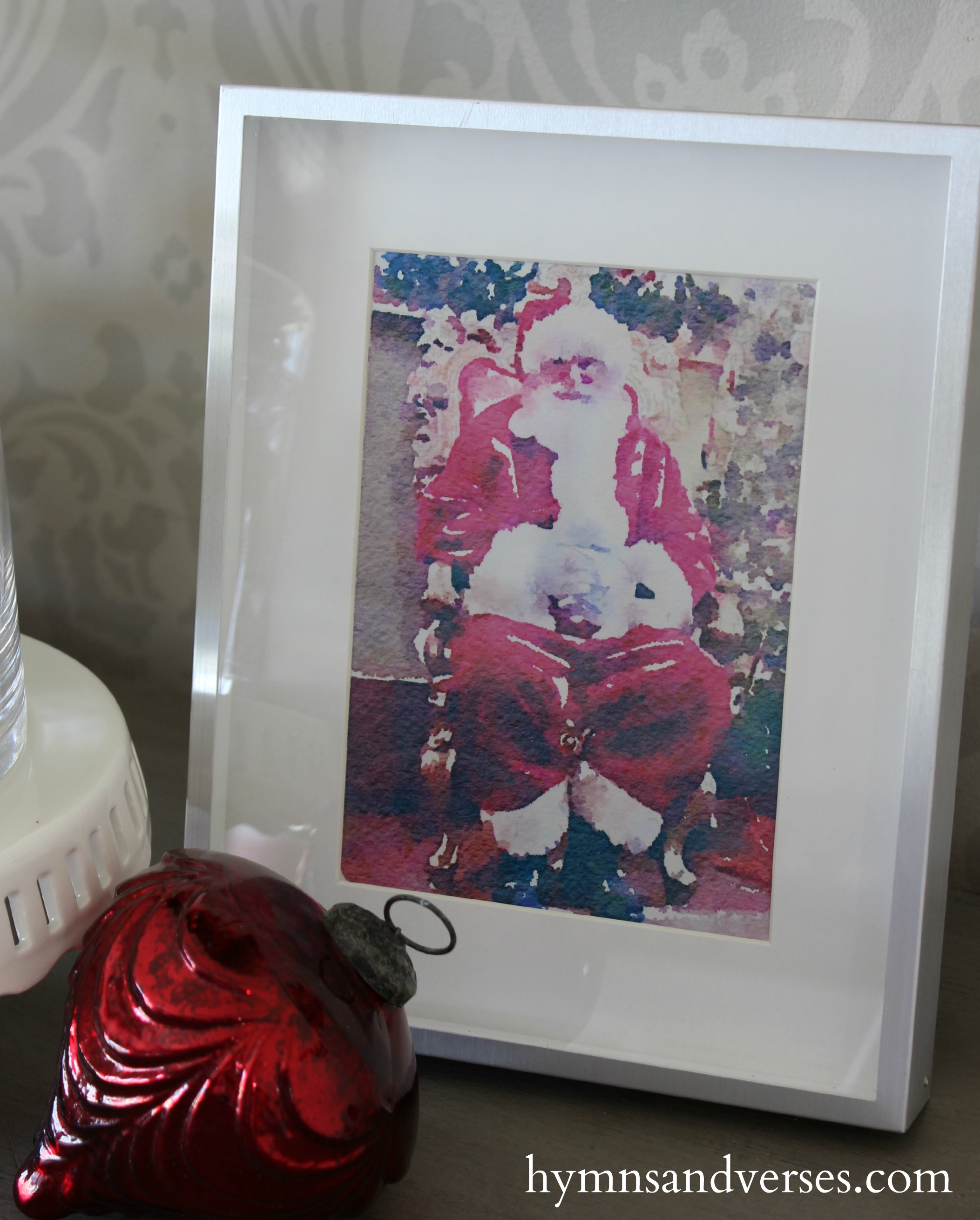 Here's a look at my dining table with a peak into the kitchen.  Yes, the red and white checked reindeer silhouette art is back for a third year – see THIS post to make your own!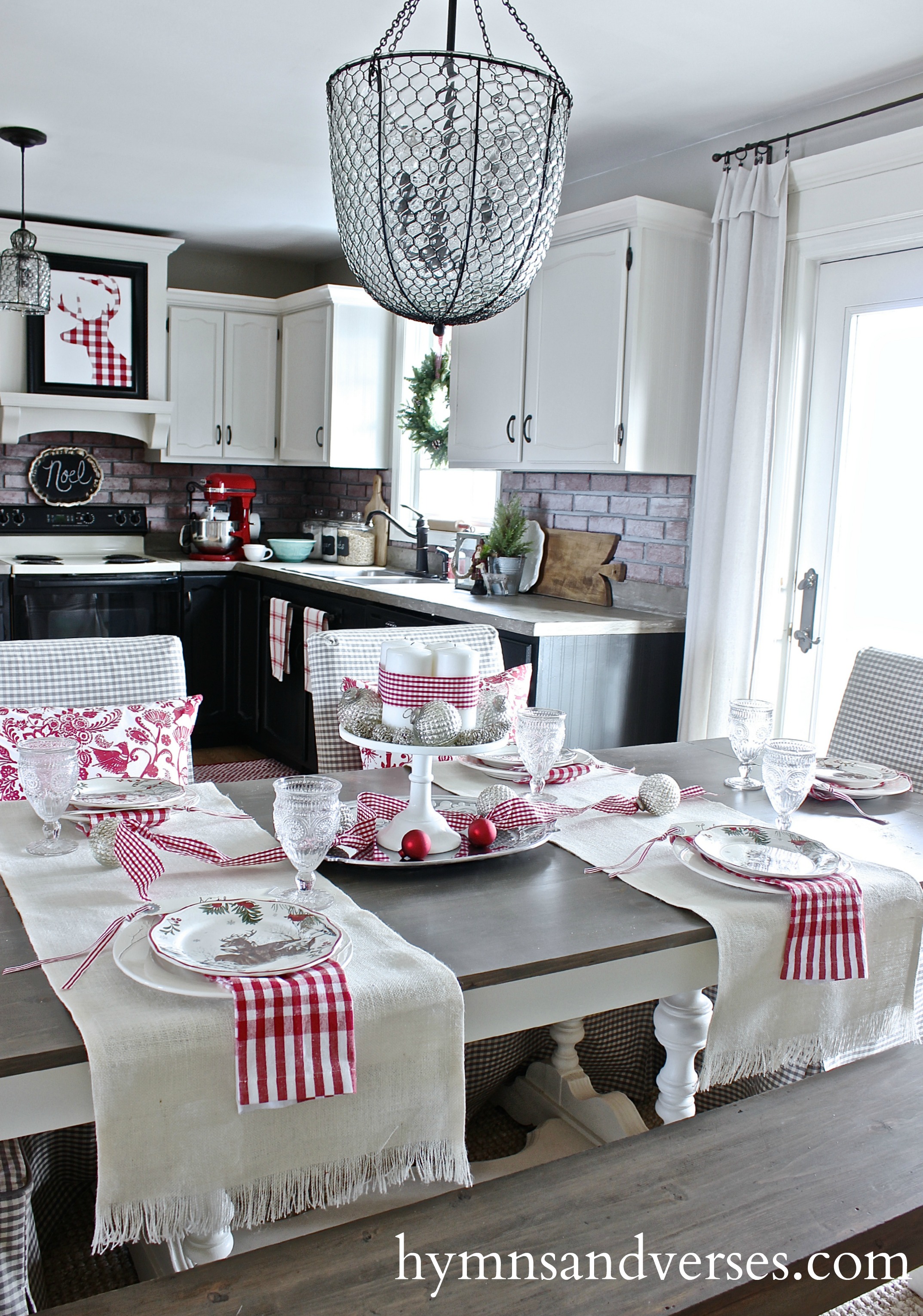 My table sports more red and white with a gingham ribbon and cloth napkins I found after Christmas last year on clearance.  After Christmas is the perfect time to shop for next year's decor!  My centerpiece is  simple with white advent candles on a milk glass cake stand surrounded by mercury glass ornaments.  I used double sided tape to attach the gingham ribbon to the candles.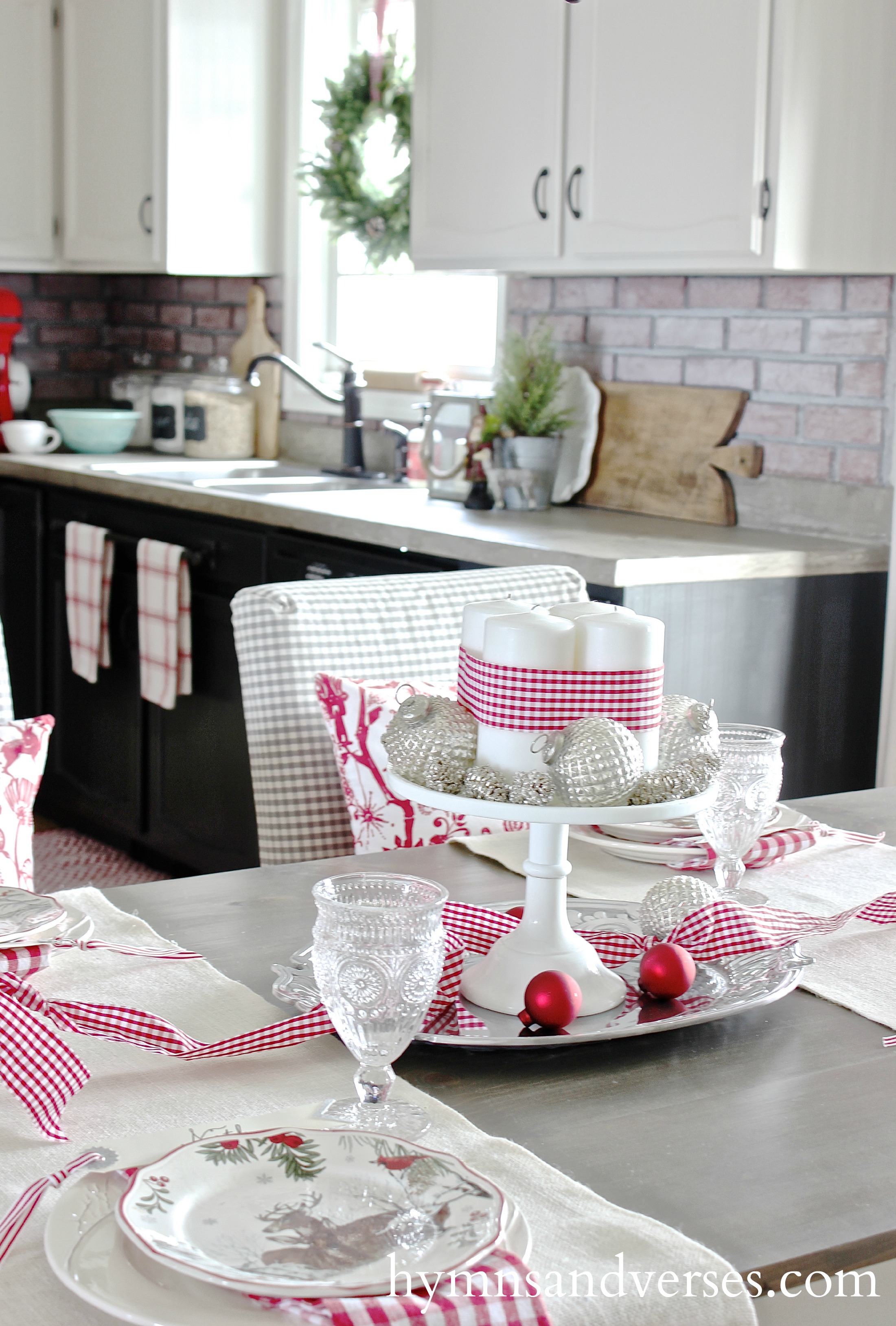 My table place settings have some new this year – these deer salad plates are from the Better Homes and Gardens collection at Walmart and were about $3 each!  They layer perfectly with my pinecone dinner plates that my kids got me years ago.  Then, I found these pressed glass goblets from the Pioneer Woman's collection at Walmart – about $4 each.  Seriously – Walmart is stepping it up!  Each setting has a place card tag made from a set of Michael's dollar bin tags that I purchased last year.  To give them more color, I added a red and white striped ribbon.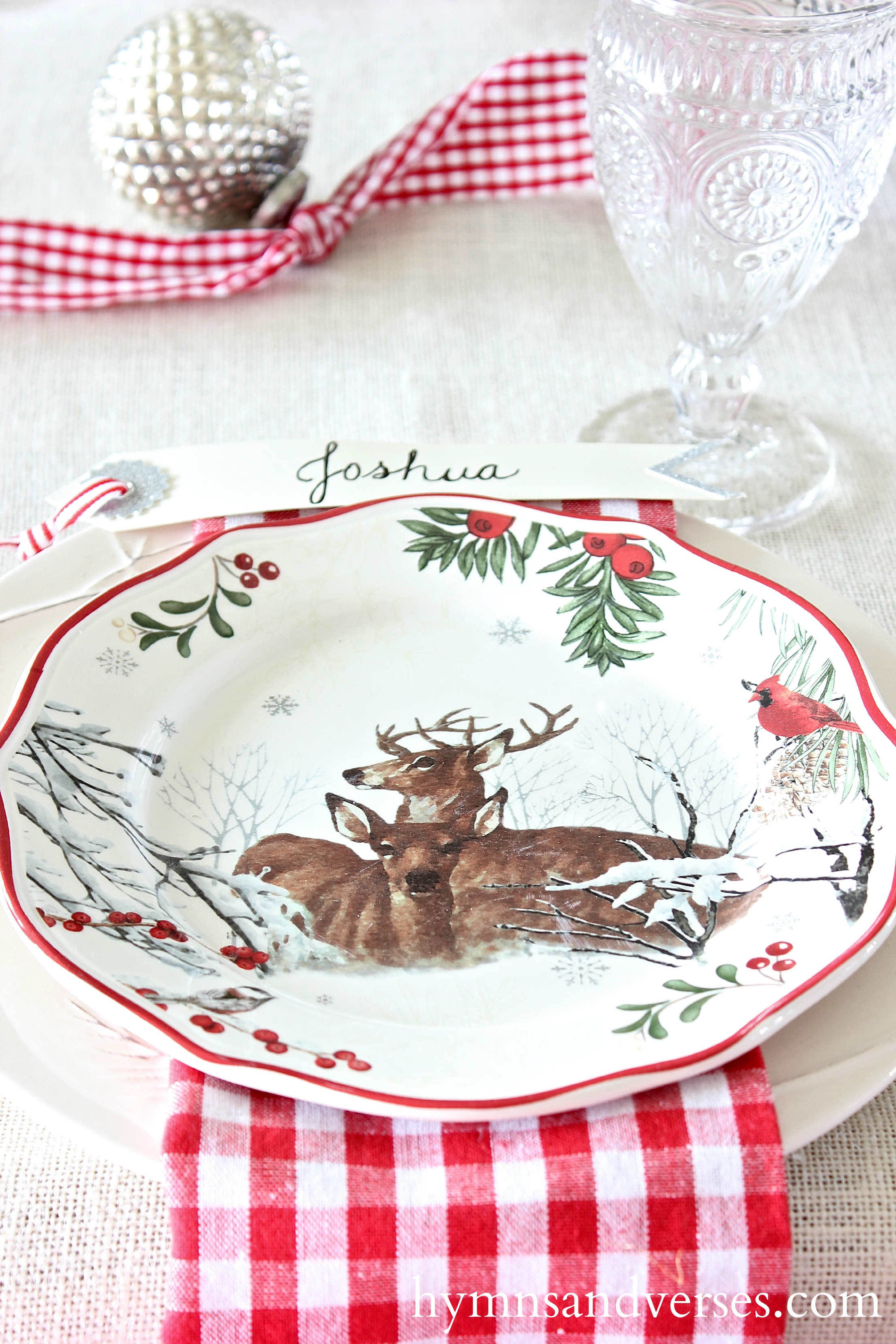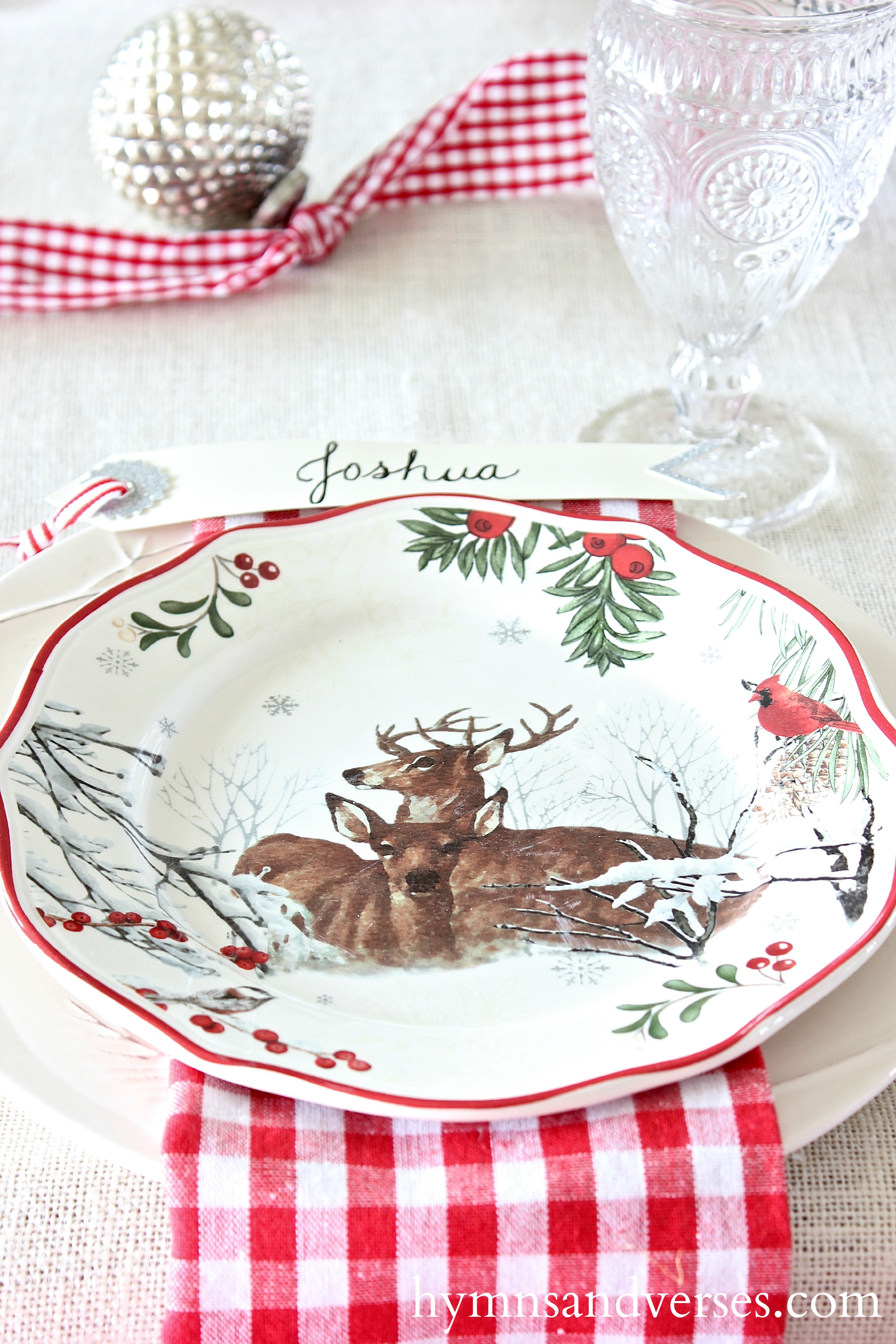 Another pine wreath hangs from  my kitchen window.  More red and white plaid in the form of dish towels hang at the sink.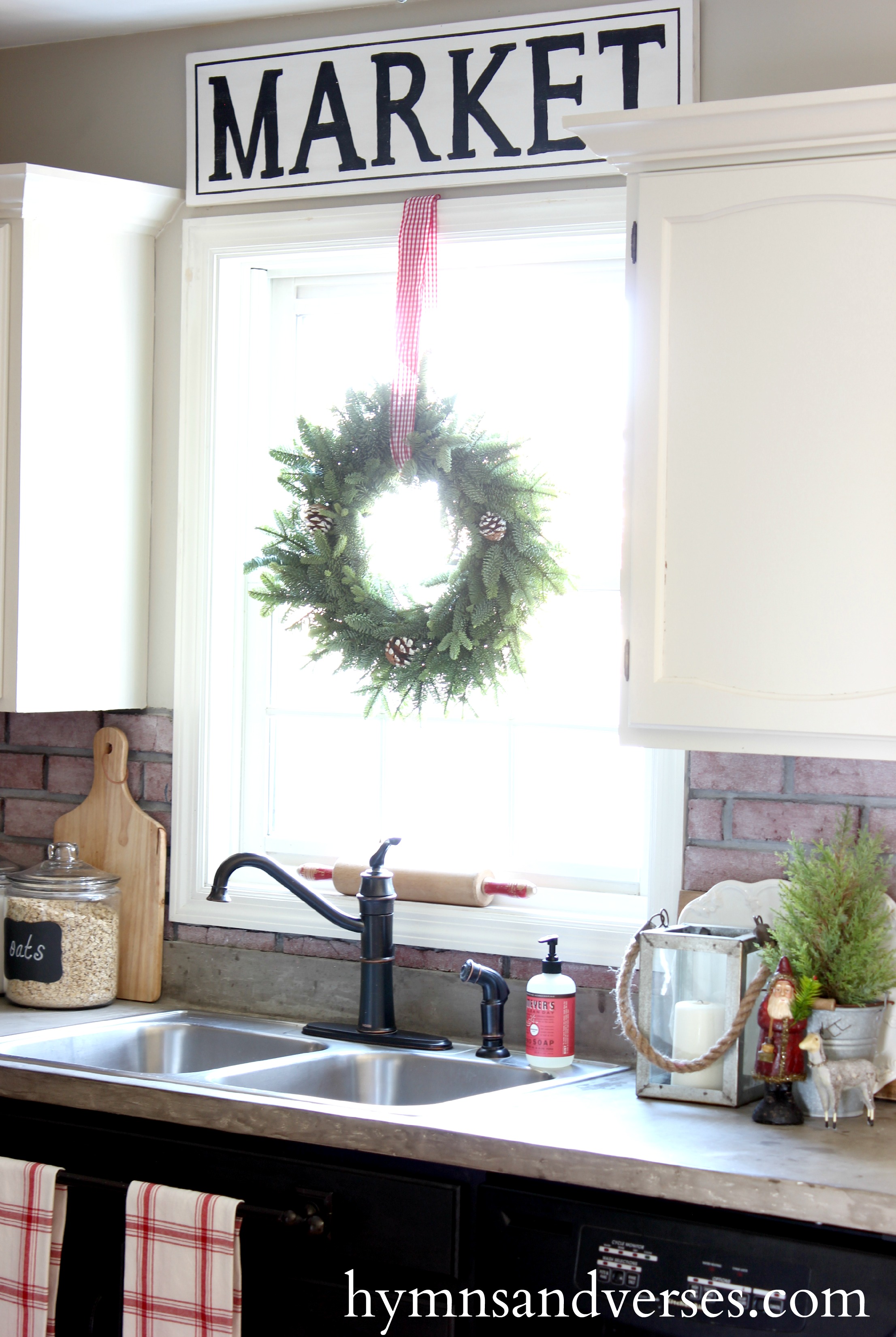 Here's a little vignette that sits on my kitchen counter – a primitive Santa and reindeer with a faux mini cedar tree.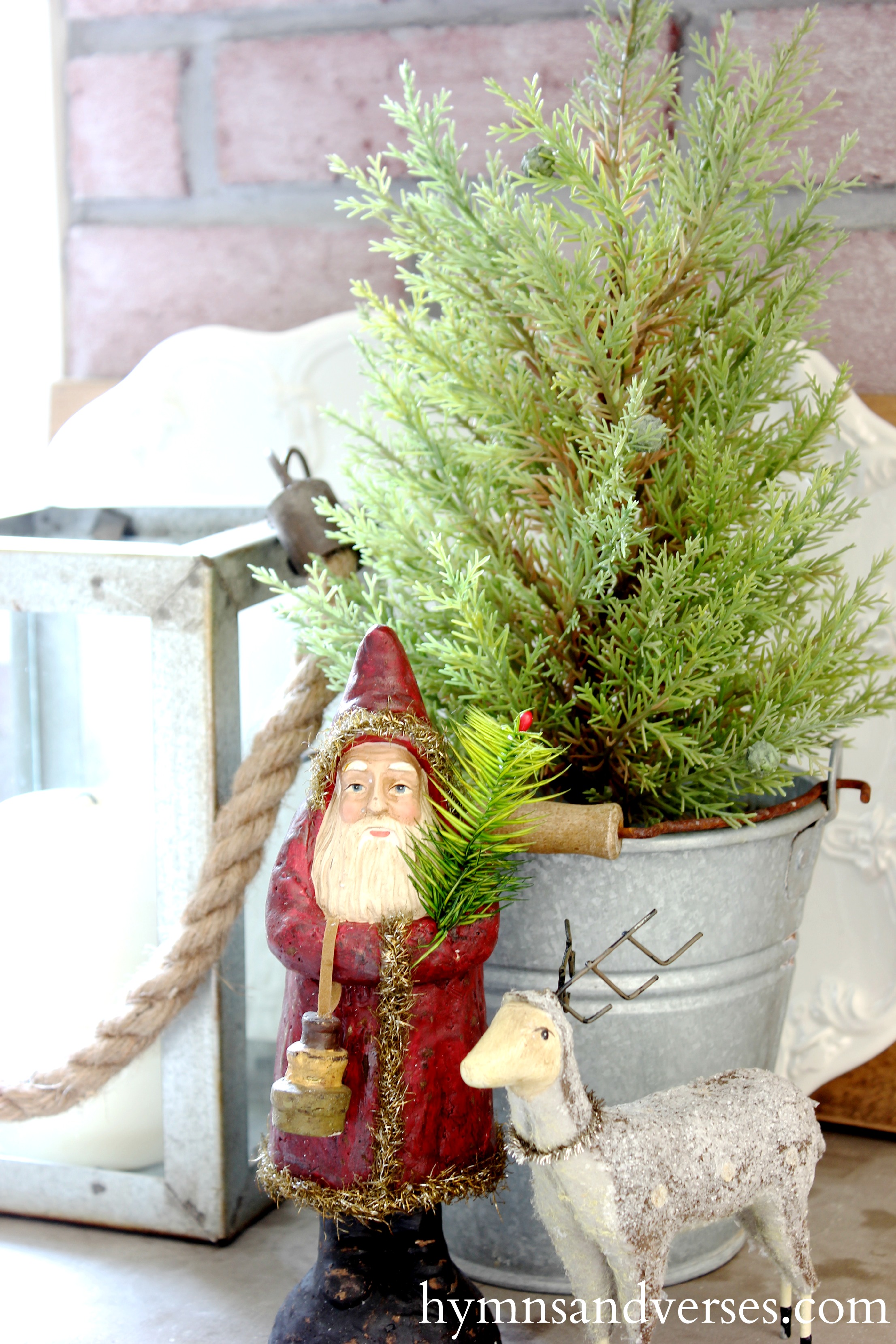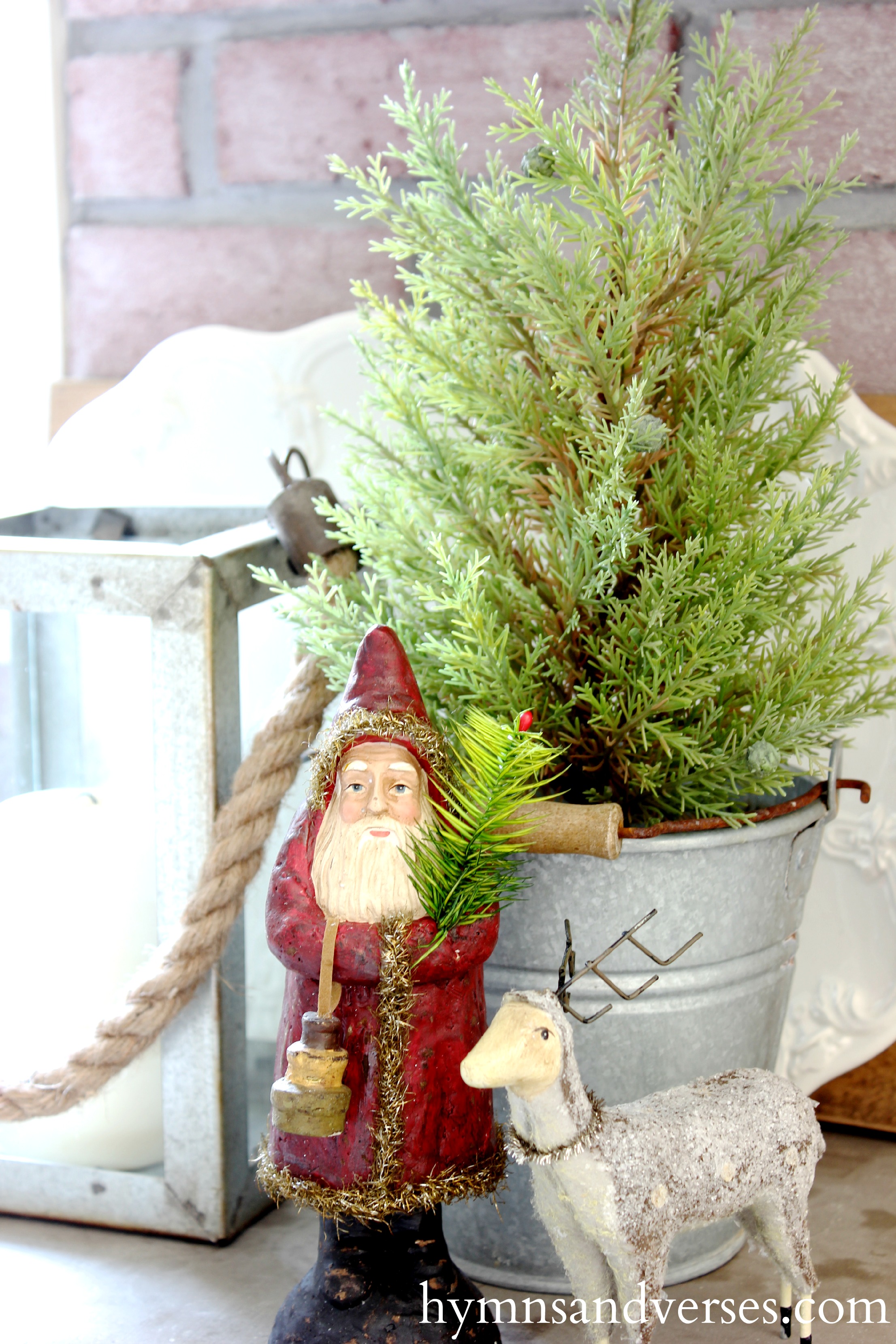 And, here's a big reveal – I painted my one kitchen wall in chalkboard paint!  This spot has always been hard for me to photograph and is a small wall, so I thought – why not make the whole wall a giant chalkboard!  In the great furniture move, to make room for the Christmas tree, – my antique bucket bench was moved in front of the chalkboard wall.  I free hand wrote "Dashing through the Snow" and then filled the upper wall with lots of random dots  – "snowflakes".  Then I used the side edge of the chalk to create swirling mounds of snow underneath.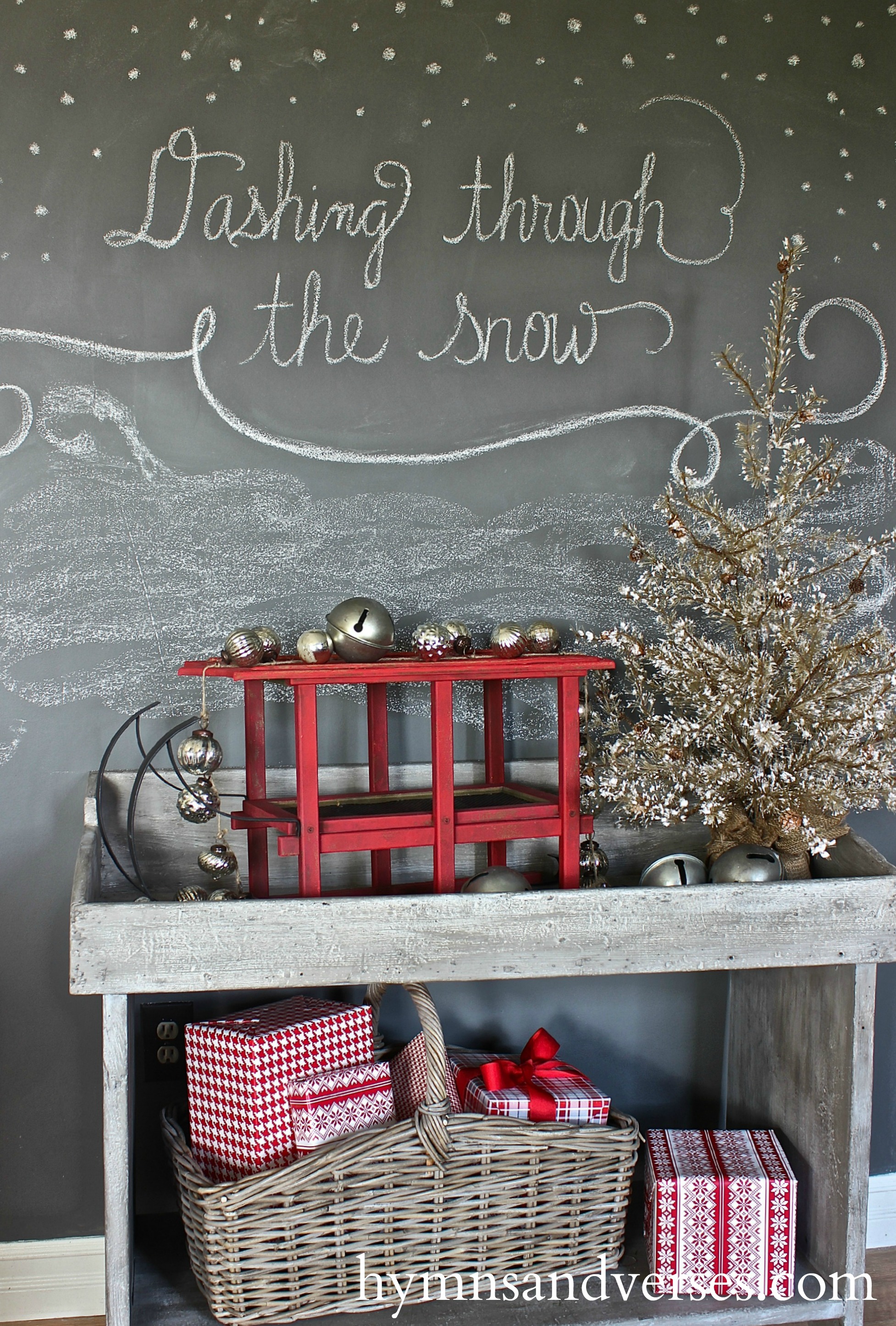 The red sled is a decorative sled that I've used in different spots for many years.  The wood was starting to look pretty worn out from being outside some years.  So, I decided to give the sled a quick facelift with some simple acrylic paint in "Santa Red".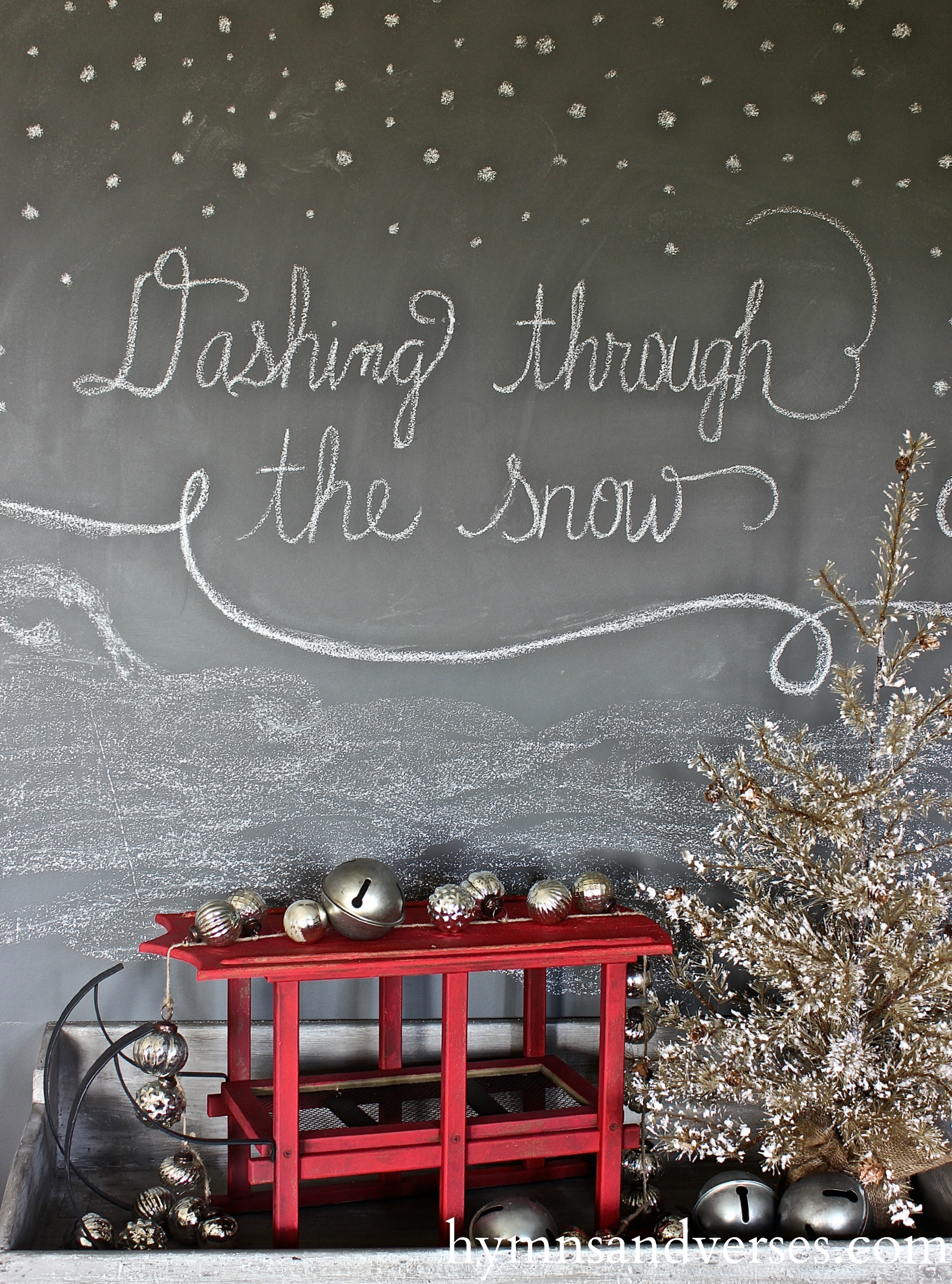 Thanks for stopping by today!  I hope you've enjoyed Part 2 of my home tour.  Still to come – Part 3 – the master bedroom and Part 4 the front porch!  And, don't forget that the 2015 Christmas Home Tour series hosted by A Stroll Thru Life is still going on.  If you missed any of the tour, the links are below!    Also, tomorrow you can link up YOUR holiday home right here to cap off the week's tours!