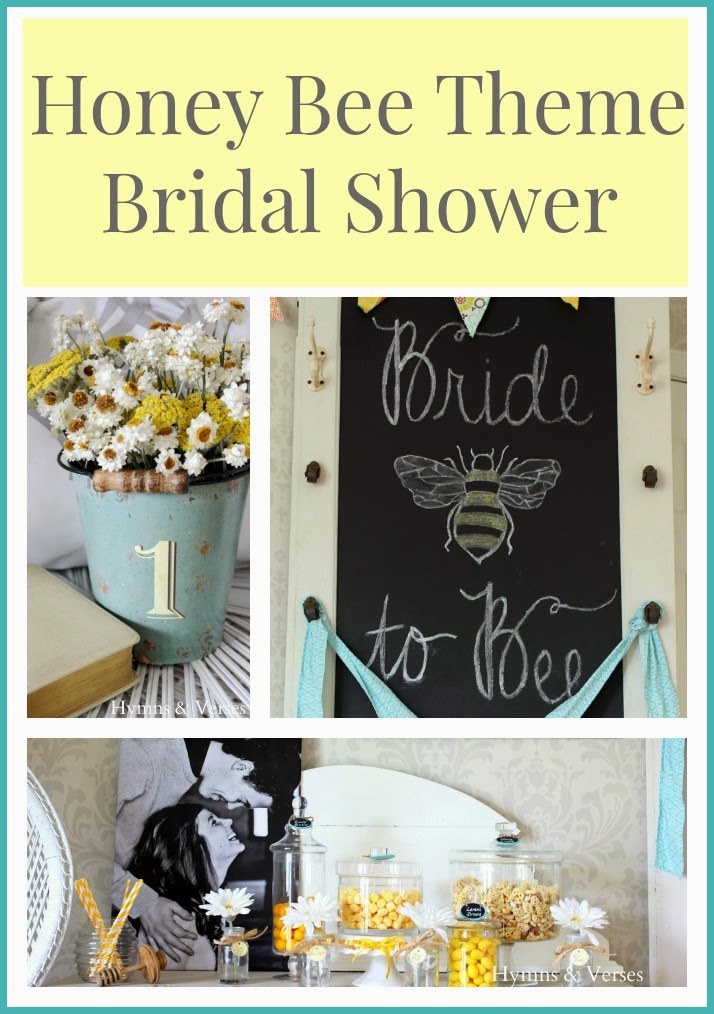 Today I'm here to share a bit more about the bridal shower I hosted for Sarah this weekend! Because I was so busy with the shower, I really didn't get any good photos of the decorating details – so I just set some things up in my dining room today and did a little photo shoot!
The shower had a "honey bee" theme. I used my door organizer chalkboard to do a little bee chalk art! I found the cute, vintage style apron at Marshall's and tied it to the hooks on the door. Not only did it add a bit of whimsy to the decor, but it was an additional gift for the bride!
I made the fabric bunting with coordinating fabrics. I'll be sharing a tutorial for this later on. The colorful bunting doesn't scream bridal shower so it can be used for other parties!

I had several of Josh and Sarah's engagement photos enlarged to 18″ x 24″ engineering prints at Staples for $1.79 each. Then I purchased sheets of foam core board at The Dollar Tree and just taped the prints to the foam core board. We placed the prints around the space and it made a big impact for a small price!

I made a little candy and snack bar with yellow gum balls, butter mints, lemon drops, and a Honey Comb Snack Mix. The cute chalkboard tags were purchased at Michael's in the dollar bins this summer.

The "Bride to Bee" sat in my wicker peacock chair as she opened her gifts!

I used the floor mirror that Mark made me for our bedroom
HERE
. I found this vintage white dress this summer and had to get it to use at the shower! I hung it over the chippy mirror frame and made the bouquet from dried wildflowers and tied it up with some lace, braided jute, and pearl trim purchased at Michael's in the dollar bins.

I also used more of the dried flowers to make an arrangement in this painted tin bucket. The Bible is the one that my Mom carried the day she was married.

And I had my Mom & Dad's wedding photo sitting nearby with Mom holding the same Bible.

I'll be back tomorrow to share more from the day – including a fun and "Sweet" game that we played and a few "honey" themed recipes too!
Sharing today at: