As we were finishing up our kitchen refresh, I began looking at the space with a critical eye. I love the kitchen, but something about the space was bothering me. After some contemplation, I realized what it was! Everything was black and white. Now, you know that I love black and white, but I felt like there needed to be some color to enhance the black and white. I didn't want to paint the vintage dresser/buffet in the dining room. So, that left the primitive corner cabinet, which is the largest piece in the room and somewhat of a focal point! Here's a before shot taken at Christmastime!
*This post contains some affiliate links for your convenience. Please see my full disclosure statement HERE.
Primitive Corner Cabinet Before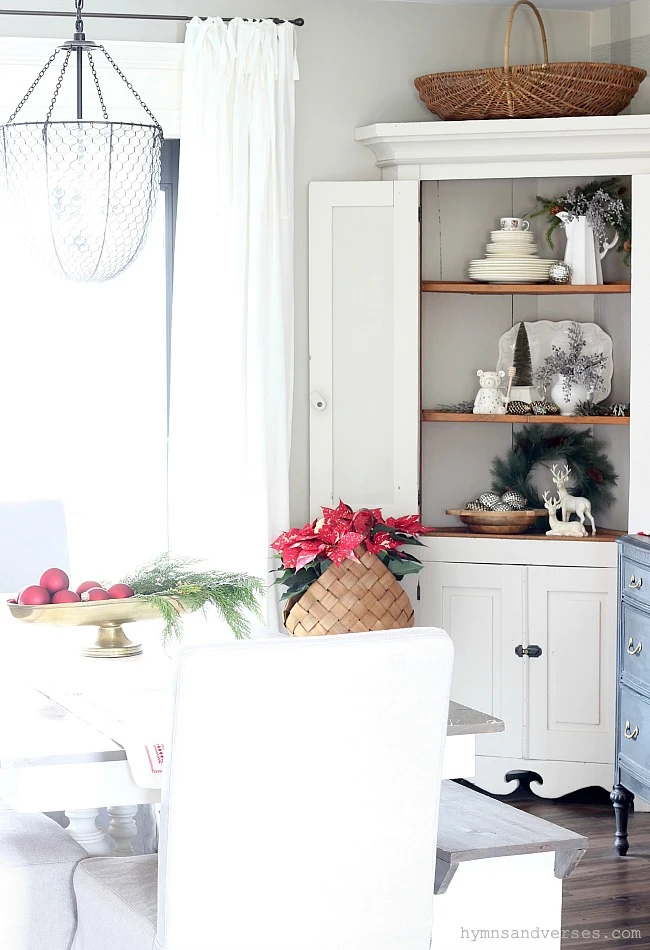 I sat down in my gray tufted chair in the living room and looked at the cabinet, trying to decide what color to paint it. Then, I glanced over at the painted shiplap and knew the color! I painted the shiplap last fall and have fallen in love with this gray/green moody shade! The color is called Luxe by Magnolia Paint and is available at Ace Hardware. Are you ready to see the after?
Cabinet After
I just finished painting it last evening and couldn't wait to share it. So, this morning I quickly styled the interior shelves with some things I had in other areas of the house. I didn't touch the cabinet interior. It is painted with Benjamin Moore Revere Pewter.
Cabinet Interior
This primitive antique cabinet is really old. I'm not sure what year it was made, but it was built by my grandmother's father or grandfather – I'm not sure which. It's pine and is heavy! The back of the cabinet is made up of rough vertical pine boards. You can see a break in the boards in the above photo and in the one below.
I'm so glad I never painted the original pine shelves. Pine does turn this orange hue over time. But, I don't mind it. The raw wood adds some warmth to the piece. Below is a close up of the carved out wood for the interior door closure.
I hope you can see what I mean when I call this a primitive antique corner cabinet! Even though it looks roughly made, it is so smooth and worn from time. These mini cottage roses are from Valentine's Day. I broke down my original arrangement from Mark and cut the rose stems short to use them in various small glass bottles. They've dried out naturally this way. I think I might make a small wreath with them!
it's just paint!
So, what do you think of my color choice? If you are concerned about me painting an antique piece, I'd say my parents did the most damage when they had this cabinet stripped of the original paint from my Grandmother's home. That was it's original, antique state at least as I remember it. Funny, as I think about this piece in my grandmother's kitchen, guess what color it was painted – white with black accents on the doors! And, who knows, it may have been painted before it was white and black? I hope to keep this old cabinet in our family, so I'm not particularly concerned about devaluing. The value it holds for me is purely sentimental!