It's snowing big, puffy flakes here today – the kind you want to stick your tongue out to catch!   And, I'm doing a little Christmas shopping online.  I found some real bargains and thought I'd share some of these fantastic Saturday Sales with you!  The first few items are from Crate & Barrel.  Then, there are some Saturday ONLY sales from H&M, so you need to get those today to score these great sale prices!  And, finally, a few fun items I found at Walmart!  Now, that's variety ladies!!!
*This post contains some affiliate links for your convenience.  Please see my full disclosure at the bottom of this page.
I love this cozy knit garland.  I got a few strands for my mantel.  It's a great price right now at just $7.95 – but only the red color is left in stock to order online and quantities are limited.  The Crate and Barrel website says to check your local store for the ivory color shown below.  I don't have a Crate & Barrel nearby, but if I did, I would call to see if they had any of the Ivory color left in stock!
I've shared before that Lititz is a town with strong Moravian roots.  At Christmastime there are Moravian stars lit up outside up and down the small town streets.  It's really beautiful.   I found this glittery Moravian star tree topper on sale for $15.97.  It comes in silver and gold.  This could be used as a tree topper, of course, but would also be very pretty as part of a vignette with some greens , twinkle lights, and ornaments or as part of a holiday tablescape.
Silver Glitter Moravian Star Tree Topper
Gold Glitter Moravian Star Tree Topper
These faux fur quilted pillow covers are stunning!  They look expensive with a gold zipper and decorative pull.  And, they are on sale for just $9.99!  A set of these would be a great gift!   There's a matching throw blanket too for $49.99.
This reindeer jewelry stand would be a great stocking stuffer at just $7.99!
Do you make Christmas treats to share with neighbors, bus drivers, teachers, etc?  How pretty would they be on this porcelain serving plate with the words – "from my kitchen".  The 10.5″ plate is just $7.99!
"From My Kitchen" Serving Plate
I saw these two items from Walmart and loved them!  The Better Homes and Gardens line at Walmart has some really nice things and these wax warmers with church scenes are lovely!  The larger one is just $7.99 and the plug in one is just $5.00.  Again, a great stocking stuffer and get some of the wax melts too!  I'm getting the plug in one for my bathrooms!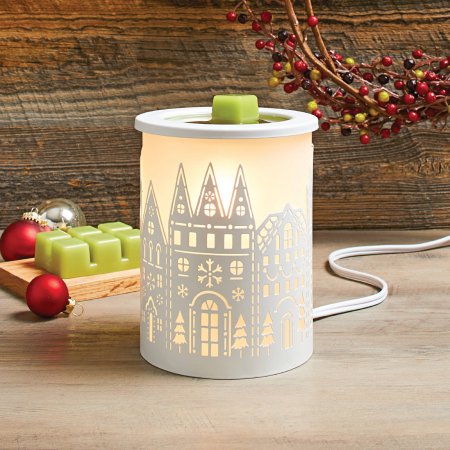 Better Homes and Gardens White Church Scene Wax Warmer
Better Homes and Gardens White Church Scene Accent Wax Warmer
I'm off to my local Walmart to pick up a few of these wax warmers and then may visit a few other local shops to see if I can find any more great Saturday Sales!  Have a great weekend!  And, don't forget to join me tomorrow evening at 8 p.m. EST on the Hymns & Verses – Behind the Scenes facebook group  to discuss the Advent Bible Study!