Hymns and Verses, the blog, began in 2012 from love for home decor, and the discovery of decorating and DIY blogs, which helped create the tagline "inspiration fro your home and life"
You can find many home and DIY projects documented here, as well as recipes, art, decor, and inspiration tips.
Love Grows Best in Little Houses
With fewer walls to separate where you eat and sleep
So close together, you can't help but communicate
If we had more room between us, think of all we'd miss
Love grows best in little houses – Just like this!
Hymns and Verses In Print
Projects from Hymns and Verses have been seen in print by Country Sampler Magazine's Special Christmas Issue, Country Woman Magazine, and This Old House Magazine. These spaces and projects have also been featured on many online sites including Apartment Therapy Houzz, Country Living, and Better Homes and Gardens, to name a few.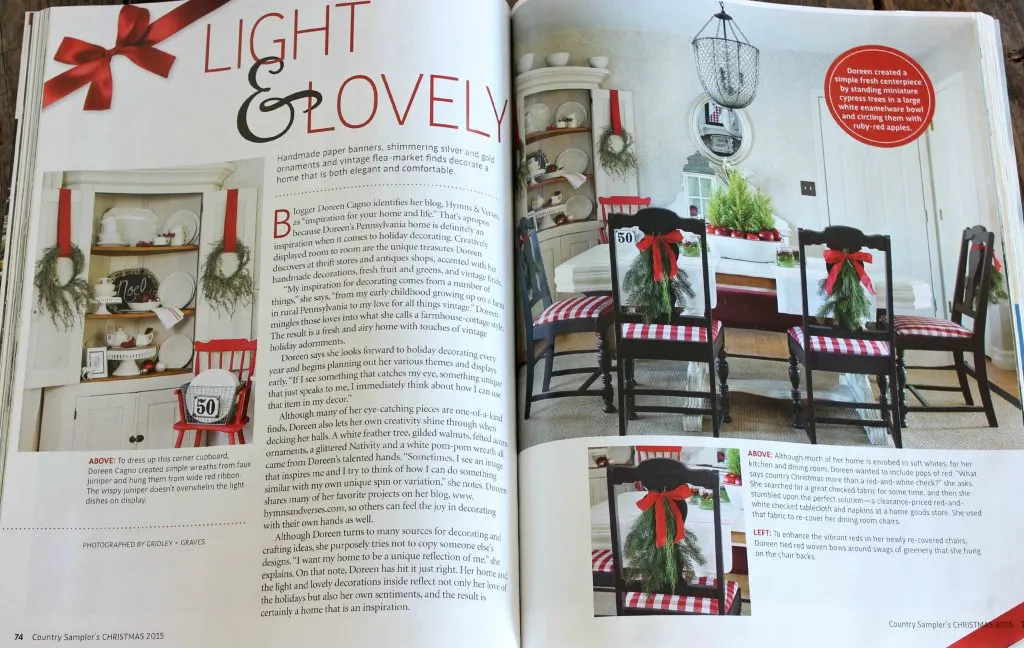 At hymnsandverses.com you'll find decor that mixes vintage finds with new to create a fresh and unique style. I'm passionate about learning and creating, and I love to share new skills I learn and projects that I complete with my readers.
In addition to home decor and DIY projects, I also share gardening tips and outdoor spaces, recipes from my kitchen, and printable designs that I create for my readers. Here are some posts that reflect my decorating style and projects that I've shared here at Hymns and Verses – you can click each photo to view the full blog post.
I love to work with brands and collaborate in many different ways! Here are a few of my favorites:
Sponsored Posts
Reviews
Giveaways
Brand Ambassador
Would you like to collaborate or sponsor a project for hymnsandverses.com? I'd love to hear from you! You can email me directly at:
Please Note: Unsolicited guest posts are not accepted or published on this website.
Thanks so much for stopping by! I'd love it if you'd come and say hi on my social media channels!
Why tHe name Hymns and Verses?
I love music and the feeling of being transported to a different time or place when you see or hear it!