Happy Thursday! I'm here today to show you the nursery decorated for Christmas! I did decorate in this space last year, but just didn't get it documented here on the blog! So, I was determined to do that this year!
I put up this 5′ pink ombre Christmas tree in the corner of the tiny room and just love it! It's the perfect soft pink in an ombre that works so well in here. The tree doesn't come with lights, but I actually prefer that. That makes it easy to add the kind and amount of lights that you want. For this small tree, I just added one strand of battery operated fairy lights and it's just enough for a nursery – not too bright.
In the photo above, you can see that I placed the trip up on this round storage ottoman that I had previously in the living room. And, the teddy bear and fluffy bunny are ready for a tea party! Daphne and I have a LOT of tea parties in this room!
This is a closeup of the two pieces of art on the vintage shelf. I created this "Visions of Sugarplums" for the room. It's free to download and print in my Free Printable Library under the category: Christmas. The canvas Fa La La print is from Lindsay Letters.
nursery doll house bookshelves
Here's the doll house shelves with a few Christmas accents. Most of these items were found at Target. I really loved some of their children's Christmas decor and vintage style toys this year.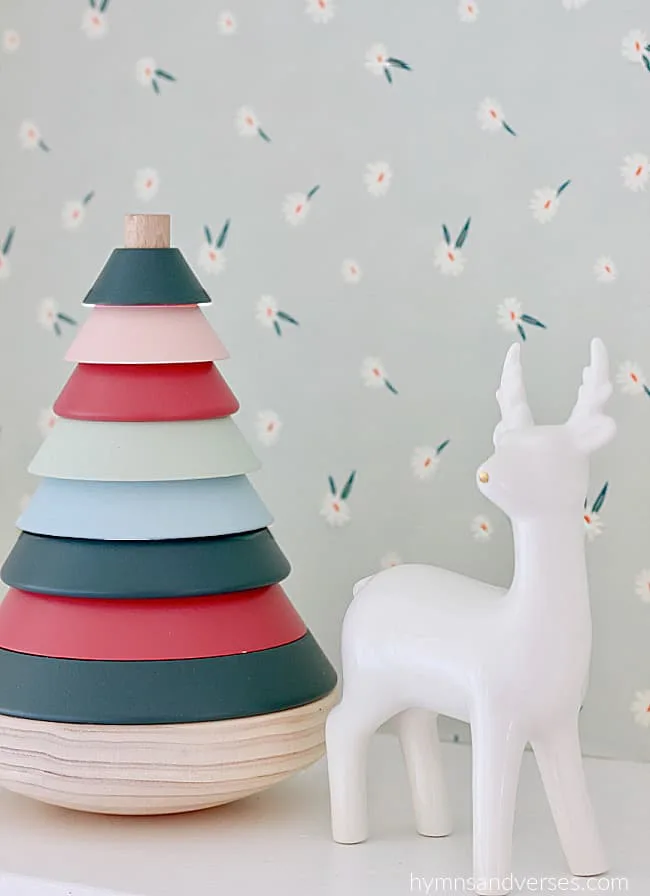 I particularly love this stacking Christmas Tree toy from Hearth and Hand by Magnolia.

nursery reading nook
The reading nook is a favorite spot in this room. It's so cozy and for Christmas I covered the cushion with an inexpensive sherpa throw blanket. The large euro pillows have soft corduroy pillow covers that I found on Amazon. They have zipper closures and are such good quality and a great price for such a large size! The reindeer pillow is from Target. And, the "Be Merry" banner is also from Target, but I can't find a link, so it may be sold out online.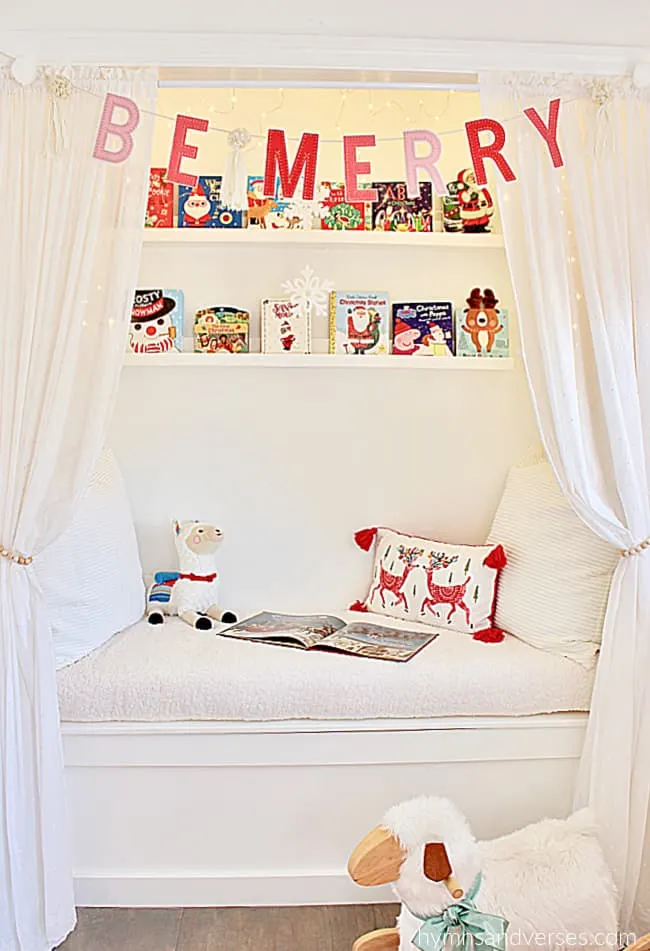 The book shelves are stocked with some fun, toddler approved Christmas books.
And, to make it more fun, I added some hanging snowflakes and battery operated fairy lights in the reading nook.
It's a very small room, but packed with lots of fun! Here's one last look at the vintage table and chairs all set for tea.
And, a little close up of the Christmas tree top with a few of the fun ornaments!
You can see a little bit of the paper lunch bag snowflakes that I made and hung over both windows in the room! I've made them before, but they are so fast and fun to make! You can see when I used them on the porch for Christmas a few years ago in this post.
I hope you enjoyed this look at the nursery decorated for Christmas! And, don't forget to visit my Free Printable Library for the "Visions of Sugarplums" print!