Finding solace at the end of a long day can sometimes be challenging, but turning to bedtime Bible verses offers a comforting embrace to calm the mind and soothe the soul.
These verses, steeped in wisdom and love, provide a gentle reminder of God's unwavering presence, ensuring a peaceful transition into restful sleep.
Whether you're seeking guidance, reassurance for anxious thoughts, or simply a moment of tranquility, these bedtime Bible verses are the perfect companions to guide you through the night.
Bedtime Bible Verses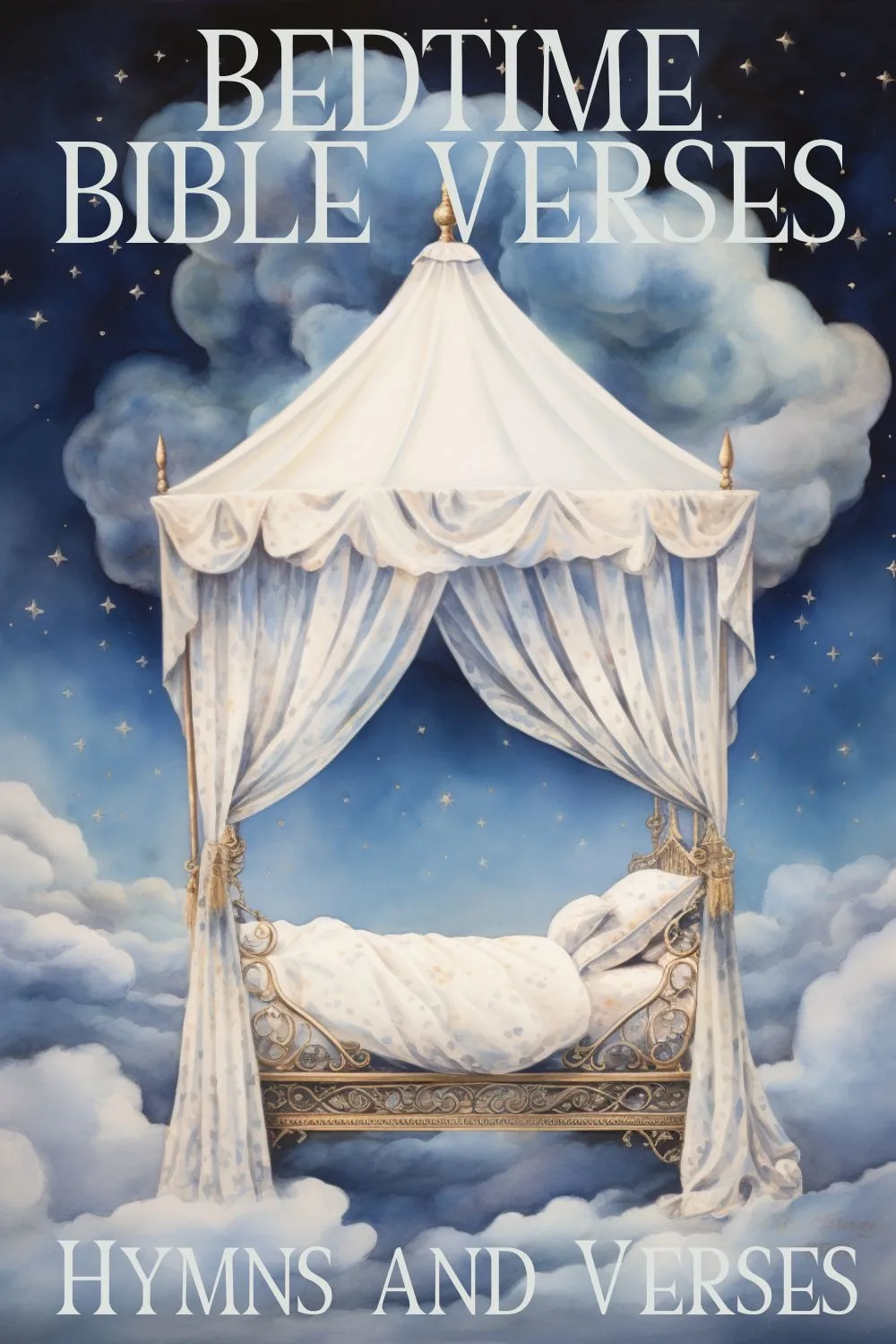 1. In peace I will lie down and sleep, for you alone, LORD, make me dwell in safety. (Psalm 4:8)
This verse beautifully captures the essence of God's protective nature. When we place our trust in him, a profound sense of peace and security envelops us. This divine assurance allows us to lay down each night, free from the burdens of fear or anxiety, knowing that in his hands, we are safe and sound.
2. When you lie down, you will not be afraid; when you lie down, your sleep will be sweet. (Proverbs 3:24)
The presence of God has the power to alleviate all our fears. For those who place their trust in his wisdom and love, sleep becomes a serene escape. They can close their eyes and drift into dreams, confident in the knowledge that they are under his watchful care, leading to a sleep that is both restful and sweet.
3. He will not let your foot slip— he who watches over you will not slumber; indeed, he who watches over Israel will neither slumber nor sleep. (Psalm 121:3-4)
The unwavering vigilance of God is a comforting thought. He stands as a sentinel, constantly watching over and protecting his people. No matter the hour, his eyes never close in slumber, ensuring that those under his care remain safe, secure, and free from harm.
4. Come to me, all you who are weary and burdened, and I will give you rest. (Matthew 11:28)
In this verse, Jesus extends a heartfelt invitation to all those weighed down by life's challenges and burdens. By turning to him, one can find a sanctuary of true rest and peace. His arms are open, ready to provide solace and relief to the weary.
5. In vain you rise early and stay up late, toiling for food to eat— for he grants sleep to those he loves. (Psalm 127:2)
The futility of overworking oneself becomes evident without God's blessing. He, in his infinite wisdom, knows our needs and provides for them. For those he cherishes, He grants the gift of restful sleep, a reminder that with his love, there's no need for endless toil.
6. The LORD is my shepherd, I lack nothing. He makes me lie down in green pastures, he leads me beside quiet waters. (Psalm 23:1-2)
Depicting God as our shepherd, this verse paints a picture of his unwavering care and guidance. He ensures that we are never in want. Guiding us to places of peace and refreshment, symbolized by the lush green pastures and the calming quiet waters, he offers a haven from life's tumult.
7. Whoever dwells in the shelter of the Most High will rest in the shadow of the Almighty. (Psalm 91:1)
Those who seek refuge in the embrace of God find a fortress of protection and peace. His omnipresent shadow acts as a shield against life's adversities. Within this shelter, one can find solace, rest, and a profound sense of security.
8. I lie down and sleep; I wake again, because the LORD sustains me. (Psalm 3:5)
The sustaining power of God is a beacon in our daily lives. Even as we surrender to sleep, his vigilant care continues. Each morning, as we wake up rejuvenated, it stands as a testament to his loving watchfulness that ensures our well-being.
9. But whoever listens to me will live in safety and be at ease, without fear of harm. (Proverbs 1:33)
Embracing God's wisdom paves the way for a life of safety and tranquility. Those who heed his words and follow his guidance can navigate life's journey with confidence, free from the shadows of fear, knowing they are on a path of divine protection.
10. The angel of the LORD encamps around those who fear him, and he delivers them. (Psalm 34:7)
The protective embrace of God's angels is a comforting thought. These divine guardians surround those who respect and honor him. Their presence ensures a shield of safety, delivering believers from potential harm and guiding them through life's challenges.
11. I will praise the LORD, who counsels me; even at night my heart instructs me. I keep my eyes always on the LORD. With him at my right hand, I will not be shaken. (Psalm 16:7-8)
This verse speaks to the constant guidance and counsel provided by the Lord. Even in the solitude of the night, when the world is silent, the heart finds wisdom and direction from him. With unwavering focus on the Lord, there's an unshakeable confidence, knowing that his presence ensures stability amidst life's uncertainties.
12. When I am afraid, I put my trust in you. (Psalm 56:3)
Fear is a natural human emotion, but this verse emphasizes the power of trust in God. When faced with challenges or uncertainties, placing trust in God becomes the anchor, transforming fear into faith and providing a foundation of courage.
13. The LORD gives strength to his people; the LORD blesses his people with peace. (Psalm 29:11 )
God is the source of both strength and peace for his people. In times of turmoil or adversity, he provides the fortitude to persevere. Simultaneously, he bestows a peace that calms the spirit, reminding believers of his enduring presence and care.
14. You will not fear the terror of night, nor the arrow that flies by day. (Psalm 91:5)
This verse offers assurance against the fears that lurk in both daylight and darkness. With trust in God, one can navigate life without succumbing to the terrors of the unknown, confident in his protective embrace.
15. If I rise on the wings of the dawn, if I settle on the far side of the sea, even there your hand will guide me, your right hand will hold me fast. (Psalm 139:9-10)
No matter where one goes or how distant they may feel, God's guidance and protection are omnipresent. Whether soaring to new heights or venturing into unknown territories, His guiding hand remains steadfast, ensuring safety and direction.
16. You will keep in perfect peace those whose minds are steadfast, because they trust in you. (Isaiah 26:3)
Perfect peace is a gift bestowed upon those whose trust in God remains unwavering. A steadfast mind, anchored in faith, experiences tranquility and calm, reflecting the depth of trust in God's promises.
17. Consider the blameless, observe the upright; a future awaits those who seek peace. (Psalm 37:37)
Observing the righteous and the blameless provides a blueprint for a life of peace. Those who pursue righteousness and peace are assured of a promising future, underpinned by God's favor.
18. The LORD your God is with you, the Mighty Warrior who saves. He will take great delight in you; in his love he will no longer rebuke you, but will rejoice over you with singing. (Zephaniah 3:17)
God is portrayed as a mighty warrior, ever ready to defend and save his beloved. His love is so profound that he not only protects but also rejoices in his people, celebrating them with songs of delight.
19. On my bed I remember you; I think of you through the watches of the night. Because you are my help, I sing in the shadow of your wings. (Psalm 63:6-7)
In the stillness of the night, memories of God's faithfulness become a source of comfort. These reflections lead to songs of gratitude, as one finds solace under the protective and nurturing shadow of God's wings.
20. Bring joy to your servant, Lord, for I put my trust in you. (Psalm 86:4)
In the stillness of the night, memories of God's faithfulness become a source of comfort. These reflections lead to songs of gratitude, as one finds solace under the protective and nurturing shadow of God's wings.
21. Let your face shine on your servant; save me in your unfailing love. (Psalm 31:16)
This verse is a heartfelt plea for God's radiant presence and unwavering love. The request for God's face to shine symbolizes the desire for his favor, guidance, and protection. The servant seeks salvation, not based on their merit, but trusting in the boundless and unfailing love of God.
22. Let the morning bring me word of your unfailing love, for I have put my trust in you. Show me the way I should go, for to you I entrust my life. (Psalm 143:8)
The dawn brings with it a new day and new hope. The psalmist eagerly anticipates a fresh reminder of God's steadfast love each morning. This trust in God's love is also a foundation for seeking direction. Entrusting one's life to God means seeking his guidance in every step and decision.
23. Keep me as the apple of your eye; hide me in the shadow of your wings. (Psalm 17:8)
The imagery of being the "apple of your eye" signifies a cherished position of deep affection and importance. The psalmist desires to be treasured by God and to be under his protective care, much like a bird shelters its young under its wings. This is a profound expression of wanting to be close to and protected by the Divine.
24. The LORD bless you and keep you; the LORD make his face shine on you and be gracious to you; the LORD turn his face toward you and give you peace. (Numbers 6:24-26)
Often referred to as the Priestly Blessing, these verses encapsulate a comprehensive blessing for protection, favor, and peace. The repeated emphasis on the Lord's face shining upon or turning towards someone denotes divine favor and presence. This blessing is not just for physical well-being but also for inner peace and spiritual prosperity.
25. By day the LORD directs his love, at night his song is with me— a prayer to the God of my life. (Psalm 42:8)
God's love is not confined by time. During the day, his love guides, protects, and sustains. At night, when the world is silent, his comforting song—a reminder of his presence and promises—accompanies the believer. This verse beautifully portrays a continuous relationship with God, where his love and comfort are ever-present.
26. Truly my soul finds rest in God; my salvation comes from him. Truly he is my rock and my salvation; he is my fortress, I will never be shaken. (Psalm 62:1-2)
This verse emphasizes the profound peace and assurance found in God. The soul, often restless due to life's challenges, finds genuine rest and solace in God's presence. Referring to God as a "rock" and "fortress" underscores his unwavering strength and protection. The believer, anchored in this divine security, stands firm, unshaken by life's adversities.
27. Therefore do not worry about tomorrow, for tomorrow will worry about itself. Each day has enough trouble of its own. (Matthew 6:34)
Jesus, in this verse, encourages a present-focused mindset, advising against excessive worry about the future. Worrying about tomorrow adds unnecessary burdens to today's challenges. By trusting in God's provision and guidance for each day, one can navigate life with a more peaceful heart, knowing that tomorrow is in God's hands.
28. Then people go out to their work, to their labor until evening. How many are your works, LORD! In wisdom you made them all; the earth is full of your creatures. (Psalm 104:23)
This verse paints a picture of the rhythm of daily life, from work in the morning to rest in the evening. It's a reminder of God's intricate design in creation, from the vastness of the universe to the minutiae of daily life. Every creature and every aspect of nature is a testament to God's wisdom and creativity. As one reflects on this at bedtime, it's a reminder of being part of a grand, divine design.
29. The fear of the LORD leads to life; then one rests content, untouched by trouble. (Proverbs 19:23)
Reverence and respect for the Lord lead to a life filled with contentment and peace. This "fear" is not about being scared but about having a deep sense of awe and respect for God's power and love. Those who live with such reverence find themselves in a state of contentment, shielded from many of life's troubles. This verse assures that a life aligned with God's principles is a life of peace and satisfaction.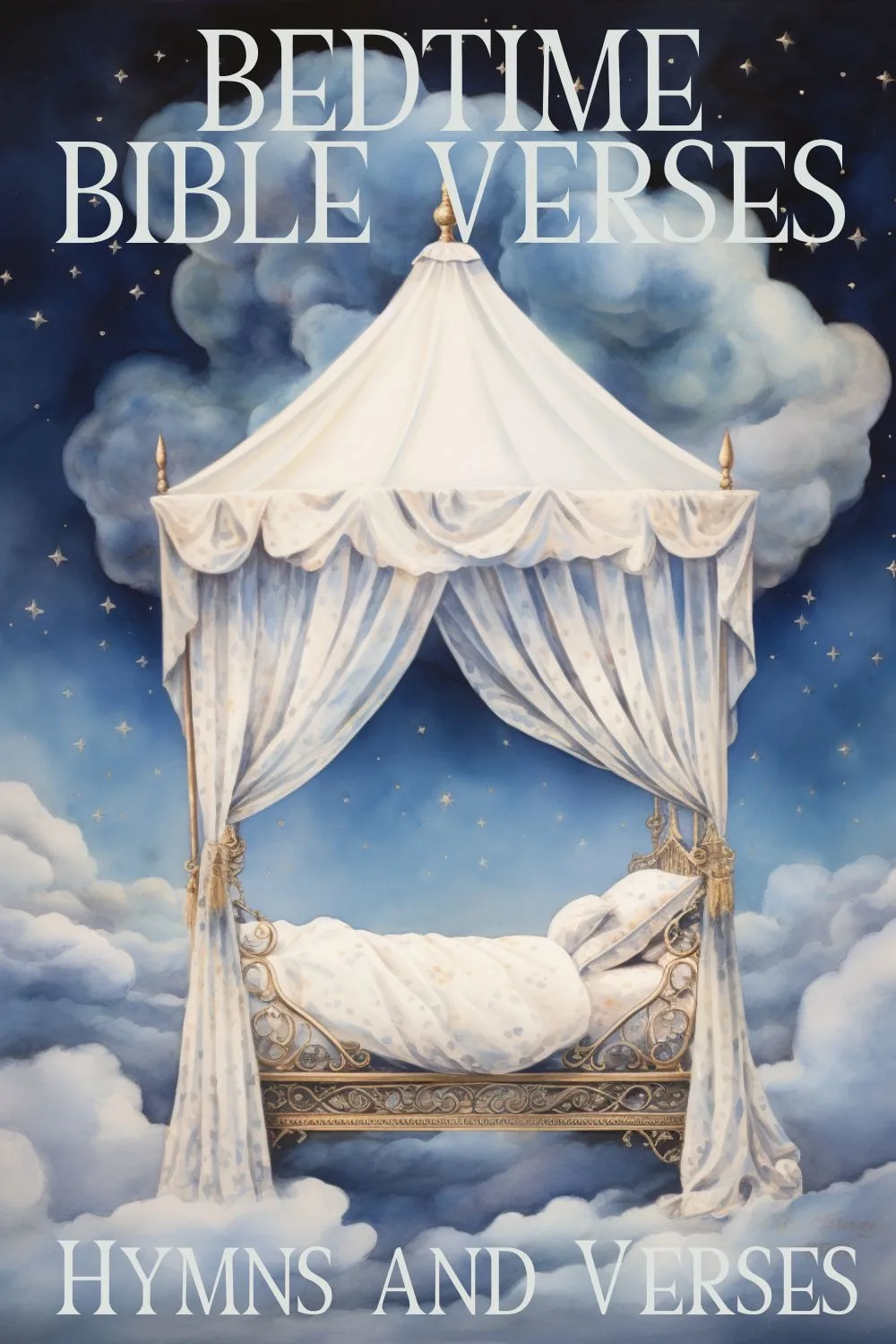 Looking for more encouraging verses?