Birthdays are significant to many of us, promoting us to reflect on the past year and envision what's to come. Amidst the celebration, it's important to embrace the spiritual aspect of our special day.
Do you find yourself wondering if it's appropriate to prepare a birthday prayer for myself? You're in luck. Birthday prayers are the perfect way to connect with the divine, express gratitude, and seek blessings for our journey.
In this blog post, we explore the beauty and power of personalized birthday prayers. These prayers are crafted to align with our desires for happiness, financial blessings, love, success, good health, and a deeper connection with the divine. They serve as heartfelt expressions of faith, inviting divine intervention into our lives.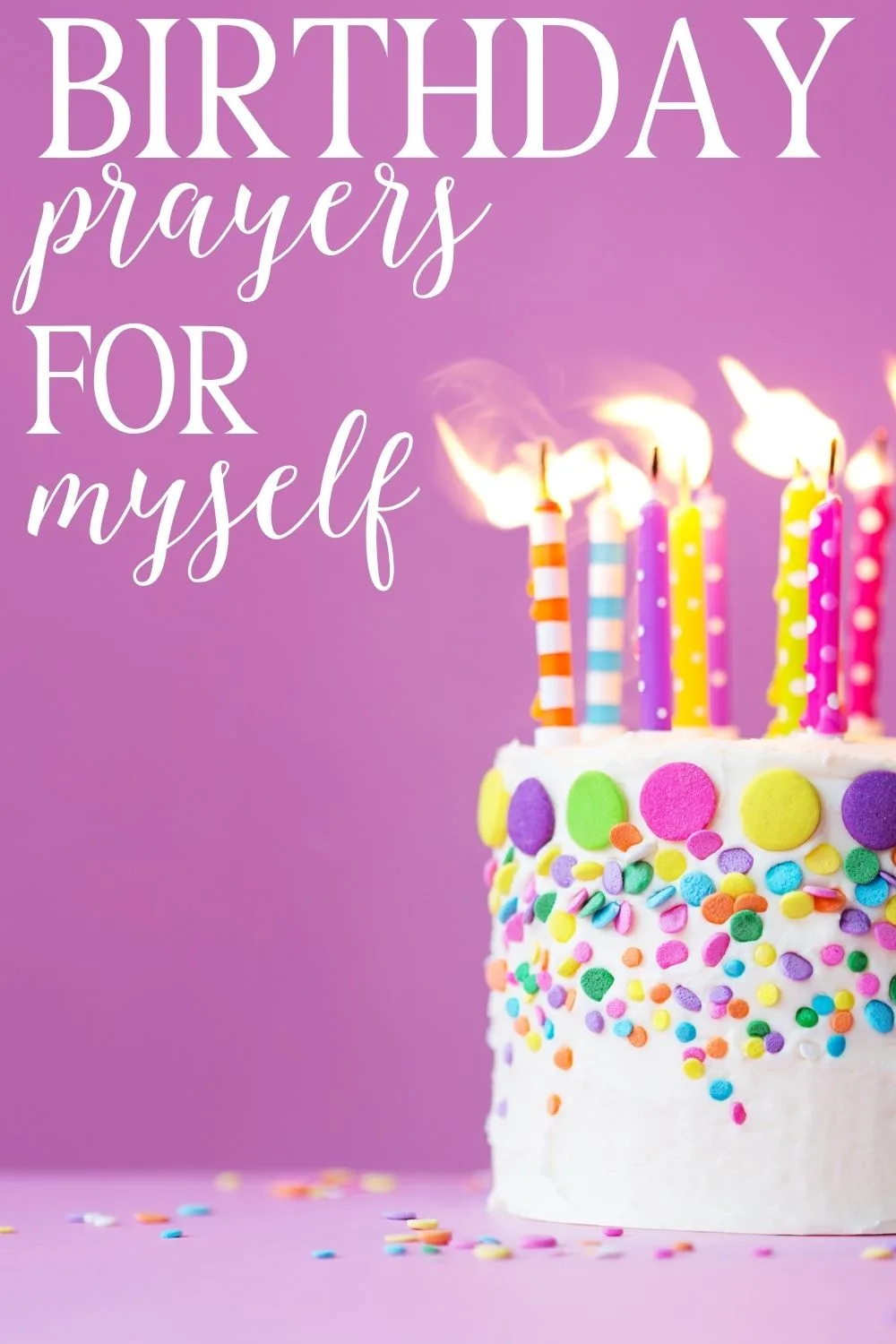 Birthday Prayer for Myself
New to the concept of birthday prayers? No problem, we've come up with a few samples that you can adapt fo your own special day with a variety of different focuses:
1. Focus: Happiness
Loving and gracious God, I thank you for the abundant blessings that have graced my life and for the moments of pure joy that have illuminated my path. In this new year, I ask that you grant me the insight to recognize that true happiness resides not in fleeting pleasures or material possessions but in the profound appreciation of the simple joys that surround me.
Help me to cultivate a spirit of contentment and gratitude, finding fulfillment in the beauty of nature, the warmth of human connections, and the precious moments of stillness and reflection. Guide me to invest my time and energy in nurturing these relationships, fostering growth, understanding, and harmony.
Help me to trust in your divine plan, knowing that even in the face of difficulties, there is a purpose and a lesson to be learned. Fill my heart with boundless gratitude, kindness, and compassion. Open my eyes to the needs and struggles of those around me, and inspire me to be a source of happiness, comfort, and inspiration.
As I journey through the days ahead, may your divine light shine brightly within me. Illuminate my path with true and lasting happiness, guiding me towards a life of purpose, peace, and joy. With deep reverence and gratitude, I offer this prayer, trusting that you know the desires of my heart.
May the year ahead be filled with an abundance of happiness that surpasses all understanding.
2. Focus: Financial Blessings
Heavenly Father, on this special day, I humbly seek your divine guidance and blessings in matters of financial stability and prosperity. I acknowledge that you are the ultimate provider of all good things, and I am grateful for the abundant blessings you have bestowed upon me.
Grant me the wisdom to manage the resources you have entrusted to me. Help me develop a clear understanding of financial matters, enabling me to make sound decisions that align with your will. May I be a good steward of the blessings, using them wisely to support my needs, honor my commitments, and pursue my aspirations.
I entrust my financial journey to you, knowing that you have a plan and purpose for my life. Help me to rely on Your wisdom and guidance, rather than solely on my own understanding, as I make financial decisions.
With a heart filled with faith and gratitude, I place my trust in Your divine provision. I believe that You are able to do exceedingly and abundantly more than I can ask or imagine. As I seek Your will and align my actions with Your plan, I trust that You will bless me with financial stability, prosperity, and peace.
3. Focus: Health
With a heart filled with gratitude, I offer thanks for the precious gift of life and for the good health I have experienced thus far. I am grateful for the vitality that has allowed me to navigate life's journey and experience its wonders.
Heavenly Father, I ask for your strength to fortify my body, mind, and spirit. Grant me the resilience and endurance to face each day with enthusiasm and gratitude, even in the face of challenges.
Help me to cultivate habits that promote optimal health, such as nourishing my body with wholesome food, engaging in regular exercise, and prioritizing rest and self-care. Guide me to make choices that honor and preserve the temple You have entrusted to me.
As I offer this prayer for my own well-being, I also intercede for the well-being of others. May your healing grace extend to all those who are afflicted, granting them relief from pain, restoration of health, and the gift of a vibrant life. May they experience the transformative power of Your love and find solace in Your divine embrace.
With deep reverence and trust, I offer this prayer, knowing that you hear the cries of Your children. May your healing touch be upon me and all those in need.
4. Focus: Success
Heavenly Father, on this sacred day of my birth, I come before Your presence with a heart filled with gratitude and a deep longing for your divine guidance and blessings in my pursuit of success. I acknowledge that every good and perfect gift comes from you, and I am grateful for the unique gifts, talents, and passions you have instilled within me.
Lord, I pray for the wisdom to recognize and develop these gifts fully, that I may utilize them to their fullest potential. Grant me clarity of vision as I set meaningful goals that align with your purpose for my life. Help me to discern the path that leads to success, and grant me the determination, perseverance, and resilience to overcome any obstacles that may come my way.
Fill me with a spirit of creativity and innovation. Inspire me to think beyond the ordinary, to dream big, and to embrace a mindset of possibility. Open my mind to new ideas, fresh perspectives, and innovative solutions. Guide me in discovering new and impactful ways to make a positive difference in the world around me.
In my pursuit of success, I humbly ask for your favor to be upon me. Open doors of opportunity that align with your divine plan and purpose for my life. Grant me the courage to step out in faith, knowing that you are with me every step of the way.
As I embark on this journey towards success, I surrender my plans and aspirations to you. I trust in your wisdom and goodness, knowing that your plans for me are greater than I can imagine. Align my desires with your will, and grant me the discernment to make choices that honor and glorify Your name.
In faith and anticipation, I offer this prayer, trusting that you hear the desires of my heart. May my pursuit of success be a reflection of your love, grace, and purpose. May it bring glory to your name and be a blessing to others.
5. Focus: Finding Love
Loving and Gracious God, on this sacred day as I commemorate my birthday, I bring before you a heartfelt prayer, seeking your divine guidance and blessings in my pursuit of finding true love in the year ahead.
You are the author of love and the knower of the deepest desires of my heart. I humbly lay this longing at your feet, trusting that you understand what is best for me and that you will lead me according to your perfect plan.
I pray for your divine intervention in orchestrating the meeting and connection with the person who will cherish, appreciate, and compliment me on this journey of life.
Grant me the patience to wait for the right timing, understanding that your timing is always perfect. Bless me with discernment, that I may recognize the person you have lovingly prepared for me, someone who will share in my dreams, support me, and walk alongside me through life's joys and challenges.
As I open my heart to the possibility of love, I ask for your transformative work within me. Help me to grow into the best version of myself, ready to give and receive love with a selfless and compassionate spirit. Mold me into a vessel of love, kindness, and understanding, that I may nurture and foster a healthy, enduring relationship.
Guide my steps, O Lord, and align my path with that of my future partner. May our connection be founded upon trust, mutual respect, and shared values, creating a bond that will withstand the tests of time.
I also ask for your divine healing and restoration from any past hurts or disappointments in relationships. Heal the wounds that have caused pain and grant me the courage to approach this new chapter with an open and receptive heart.
It's in your divine wisdom and grace, I place my complete trust. I surrender my desires and dreams to you, acknowledging that your plans for me are far greater than my own.
Grant me the faith to patiently await your timing and the strength to persevere through any challenges that may arise. Help me to remain steadfast in my devotion to you, knowing that as I seek your will, you will lead me to the love that is meant for me.
With faith and anticipation, I lift this prayer to you, trusting you'll hear my heart's cry. May your divine blessings and guidance be upon me as I embark on this journey of love.
6. Embracing the Year Ahead
Dear God, as I step into this new year of life, I humbly come before you, surrendering my fears, uncertainties, and worries into your loving hands. I acknowledge that you are the source of all wisdom, strength, and guidance. I ask that you fill me with courage, resilience, and a spirit of gratitude.
Grant me the courage to step out of my comfort zone and embrace new experiences, challenges, and opportunities that come my way. Help me to approach each day with a sense of wonder and openness, knowing that you have a purpose for every moment.
Fill me with a spirit of gratitude, that I may appreciate the blessings that surround me. Open my eyes to the beauty of everyday life and the wonders of your creation. Help me to cultivate a heart of thankfulness, even in the midst of difficulties and trials.
Use me as an instrument of your love and grace. Grant me a compassionate heart, that I may be a source of comfort and encouragement to those around me. Help me to extend kindness, forgiveness, and understanding to others, reflecting Your character in my words and actions.
As I embark on this new chapter, may this year be filled with your abundant blessings, both big and small. Help me to recognize and appreciate the gifts you bestow upon me each day.
In your infinite love and mercy, I place my trust, my hopes, and my dreams for the year ahead. May your presence be my constant companion, and may your grace sustain me through all seasons of life. In Your holy name, I pray.
Looking to celebrate more birthday prayers?
How to Personalize a Birthday Prayer for Myself
Finding a personal birthday prayer for yourself is a great way to round out your year. But that prayer will be more meaningful if it's personalized and reflected on your unique journey. If you're new to birthday prayers and need a few tips on how to personalize your own, you're in luck. Here's what we recommend:
Reflect on Your Journey: Consider the past year, its challenges, triumphs, and lessons. Identify areas where you seek growth, healing, or guidance.

Express Your Desires: Be honest about the blessings you desire in the year ahead. What do you long for in terms of peace, relationships, career, or health?

Use Personal Language: Make the prayer intimate by using "I" and "me." Speak from your heart, expressing hopes, dreams, and gratitude.

Be Specific: Include details that resonate with your journey, such as names, situations, or qualities you want to cultivate.

Adapt the Language: Modify the prayer's language to align with your beliefs and spiritual practices.

Embrace Your Authentic Voice: Be genuine, passionate, and vulnerable. Let your true self shine through in your prayer.

Personalizing your prayer is about creating an authentic and meaningful connection with the divine. Trust your intuition, speak from your heart, and invite the divine presence into your personalized prayer. May it become a profound expression of your aspirations and gratitude on your birthday and beyond.