Showering a soon-to-be mother with love and special gifts is a centuries-old tradition. Baby boy showers are a great way to celebrate the impending arrival of a new baby boy into the world. Whether you're planning for an intimate gathering or a larger party, here are some ideas to help make your baby boy shower one to remember. From decorating tips to game suggestions, use these tips to plan the perfect baby shower for the special mom in your life.
When you are planning a baby shower or any party, I think you should try to pick any of the cute baby shower themes.
Previously, I hosted a baby shower for a couple with the perfect baby shower theme, Raggedy Ann and Andy. It was such a fun themed baby shower that I wanted to carry some of the ideas on through this set of baby shower ideas.
Although, any of these ideas can be customized to fit any unique baby shower themes that you have come up with with just a little imagination.
​Some of the best boy baby shower themes include:
A sports theme, complete with decorations in a favorite sports team's colors. You can also consider having themed games and activities to go along with the theme like "Pin the Diaper on the Baby" or "Baby Home Run Derby."
An animal theme, like zoo animals or safari animals. The decor for an animal themed shower should focus on a specific type of animal, or use a variety of jungle and safari animals. You could even serve snacks that fit the theme like gummy bears or cupcakes decorated to look like animals.
A fairy tale theme such as Prince Charming and Cinderella. Use your imagination to decorate in a way that fits the storybook look while still honoring the mom and royal prince. Consider using props at this type of shower like crowns, thrones, glass slippers, knight's armor and more!
A nautical sailor theme is perfect for a baby boy shower with its traditional blue and white color scheme. Opt for decorations such as anchors, ships, buoys and other sailboat symbols – plus you can add some fun activities related to sailing too! You can have everybody write notes to the little sailor and have them in a treasure chest or a glass bottle to "send off to sea".
If the parents-to-be are into the outdoors, why not throw an outdoor camping themed shower? You can set up tents and sleeping bags around your space and use camping items like cookware, lanterns and compasses as decor.
Once you've decided on your baby shower date, venue, made a guest list, and have chose a theme for the celebration for the mama to be and little boy, it's time to pick out some cute baby shower invites.
For this baby boy shower, the theme was based on these adorable shower invitations from Tiny Prints! You can see them
HERE
. The cards were embellished with
baby blue and white baker's twine
at one corner of the hammock!
Once you have the cute theme picked, date and invitations sent out, it's time to get the party planning details figured out. Depending on your party guest of honor and your guest of honor demographics, some guests may respond better to a physical invitation while others would do better with digital invitations.
For a physical invitation, you can use the Tiny Prints cards or design your own cards to send out. You'll need to factor in the cost of mailing and postage as well as how much time it would take for all guests to receive their invitations.
Digital invitations tend to be cheaper. You can use Evite or Paperless Post to send out the invitations. Whichever great theme you chose to go with, you can create invitations. both physical and digital that wil go along with the theme.
​​​​​​​​​​​​​​​
​​​​Create a welcome sign for the building or venue entrance
Here's the entryway to the old factory building where the shower was held. My friend used a real tree branch and attached it to the post rail. Then she added some white and blue balloons, and hung the blue hearts and red birds from the tree branch.
I made the framed chalkboard that hung from the tree. This vignette was a great way to mark the entrance to the building.
How to Make A Chalkboard Sign for a Shower
You can make a chalkboard with any frame you have on hand by cutting a piece of thin plywood or even foam core board to fit the frame and then paint it with chalkboard paint.
I have used both the brush or roll on type of chalkboard paint and the spray chalkboard paint.
For both chalkboards in this post, I used the spray paint. Search yard sales for old frames or dresser mirrors that can be used for larger chalkboards.
I found both frames used in today's post at yard sales this past year and each were about $5.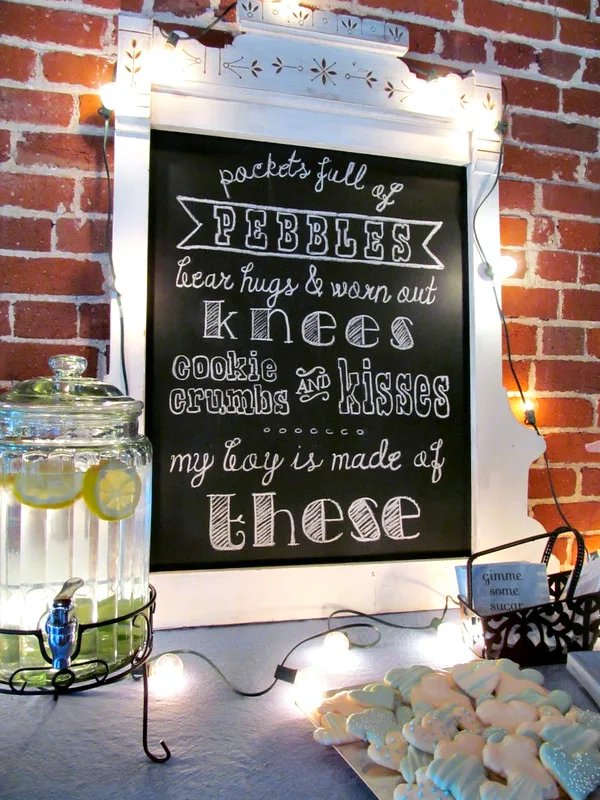 Here is the larger chalkboard I made for the shower. My friend gave me the words she wanted me to use to make the chalkboard and I designed it on my computer. I printed the design on a transparency and used an
overhead projector
to project the image onto my large chalkboard.
This is the easiest way to do a detailed chalkboard because you are just tracing the projected image! Office Max can make a copy of an image on a transparency for you.
I also decided to make the design available to you as a printable. You can have this printed at your local office supply store as an oversized engineering print for under $5. Frame it and it looks just like a chalkboard.
Cookie Cutter Frosted Cookies
My friend's older daughter and auntie to the new baby boy made these adorable cookies for the dessert table. You can make your own cookies by making your favorite sugar cookies and then covering them in a frosting or melted chocolate that goes along with the colors of your baby shower theme.
If you want to make them kind of neutral to go with any theme you can, you can also go with different shades of blue colors. These can also be wrapped up in cellophane and can double as baby shower favors!
Additionally, you could decorate the cookies with the baby name written on them. It's an easy way to give them an extra personal touch. Other sweet treats
There are many options for creating a memorable sweet table at your baby shower that everyone will enjoy! Have fun getting creative and coming up with unique treats that your guests won't forget!
​Other sweet treats or desserts to serve at a baby boy baby shower:
Cookies (shaped like teddy bears, onesies, strollers, and more!)
Cake pops (decorated with blue, white and silver sprinkles)
Caramel apples and chocolate dipped strawberries
Candy bars (in different shades of blue)
Ice cream sundaes with blueberry and raspberry toppings
Churros with a creamy blueberry dip
Mini donut holes with white frosting and blue sprinkles
Mini cupcakes (in baby boy themes)
Chocolate covered pretzels with royal blue sugar
Marshmallow pops decorated with blue and white candy melts.
No matter what type of sweets or treats you choose for the baby shower, be sure to include name tags on each one so that guests know what they are.
Drinks
Don't forget the drinks to help wash down all of the sweet treats. You can provide a variety of juice flavors, punch, or even sparkling water if you want to keep it simple. A signature cocktail would also be a fun addition to your baby shower!
Here are some more options you can serve at the little prince celebration!
Lemonade
Fizzy fruit punch
Baby blue mocktail with raspberry and lime juice
Raspberry soda floats with vanilla ice cream
White wine spritzers with a splash of blueberry syrup
Blueberry lemonade slushies
No matter what type of treats you serve at the sweet table, make sure that they are safe for all of your guests. Check with any food allergies or sensitivities before serving them. Have fun with it and create a memorable taste-filled experience for everyone at the baby shower!

Finger Foods
Here are some tasty finger food ideas for the baby boy shower:
– Mini tacos with baby corn, black beans, and cheese: Perfectly bite-sized and full of flavor, these mini tacos are sure to be a hit at the baby shower.
– Pulled pork sliders: A classic barbeque sandwich in a smaller form factor! The smoky, delicious flavor of pulled pork pairs nicely with any side you choose to serve.
– Veggie skewers with bell peppers and onions: These colorful veggie skewers can easily be customized based on the guest's preferences or dietary restrictions.
– Mini quiches with turkey bacon and spinach: These bite-sized quiches are filled with savory flavors that everyone will love. They are also a great source of protein that can help keep guests powered up during the celebration!
– Fruit cups with honey yogurt dip: Fruity, sweet and tart all rolled into one – these are sure to be a hit at any party! They also make for a healthy snack option.
– Mini pizzas with pepperoni and vegetables: These mini pizzas are full of flavor and are a great way to get picky eaters to enjoy their veggies.
– Cheese platters: These cheese platters are perfect for any occasion and can be customized according to your taste. Guests will love sampling all the different varieties of cheese!
– Hummus and veggie trays: A classic pairing – hummus and crunchy veggies are sure to please everyone

My friend's older daughter and auntie to the new baby boy made these adorable cookies for the dessert table.
Use gifts as decor
You can use things like onesies to make a banner or hang diapers from clothespins to make a banner for decoration while doubling as a gift for mom and the sweet baby on the way. You could also have any guests that want to make a diaper cake, bring one and set that up as a piece of decor that doubles as a gift!
The flowers for the centerpieces were cut from the gardens of friends and family and assembled in Mason jars. They were beautiful and economical. It's a great way to decorate and can go with any baby boy shower theme.
Also, think beyond traditional decorations and use items like stuffed animals to create a whimsical setting. This is sure to be a hit with the little ones attending!
The flowers for the centerpieces were cut from the gardens of friends and family and assembled in Mason jars. They were beautiful.
Create a focal point

At the center of the room was the gift table and the focal point of the room's decor. My friend made an oversized version of the baby in the hammock from the shower invitation.
First she drew the hammock image on heavy paper and then draped and hot glued white fabric with blue polka dots to the hammock part of the drawing. She then carefully cut around the edges, leaving just the fabric edges of the hammock.
She then used watercolors to paint the baby's face and hands and attached them to the hammock – soo adorable! The hammock was hung between two posts with real tree branches attached to each post – again, just like the invitation. Hanging from the tree branches with string were red birds and blue hearts.
Other focal point ideas
Recent trendy ideas that you may want to use may vary depending on your shower theme. If throwing a woodland animal baby shower theme, you may want to make a teepee, or have some trees and cute little forest animals around the chair for the mother.
Other trendy ideas are the clear boxes that spell out baby, or baby boy that you can put balloons or confetti in. This is a great idea to set up for mom and guests to take pictures together by.
You can also make a balloon arch, which is done with an arch of balloons in multiple colors. This looks great for a photo opportunity for the mom to be and her guests.
Whatever your theme, there are many fun ideas to create the perfect baby shower chair focal point. With just a few decorations you can make it special for the mother to be.
We made these favors for each guest. We assembled clear bags of kettle corn, but you could use any kind of popped corn. I made the tags that said "ready to pop" and we tied them to the popcorn bags with blue ribbon. I used to sell these tags in my Etsy shop. You can find similar ones on Etsy from other sellers!
Baby shower games
Baby shower games can really add to the event atmosphere and provide enjoyable activities for guests.
Here are some fun game ideas that everyone will enjoy:
Guess the Baby Food: Place multiple baby food jars in a row, fill out cards with the flavor of each jar (without telling anyone), and have guests guess what flavor is in each jar.
Baby Word Scramble: Create a list of words related to babies, scramble them up, and have guests unscramble the words as quickly as they can.
Baby Trivia: Test your guest's knowledge on baby facts like how much a baby weighs at birth or what size clothes fit newborns.
Musical Chairs: Set up chairs in a circle and have the guests race to sit when the music stops. The person left standing is out of the round!
Name that Tune: Play snippets of popular nursery rhymes or children's songs and have your guests guess what song it is!
Baby Gift Unwrap: Have guests unwrap baby gifts and guess what the item is before they open it. Whoever guesses correctly first, wins the gift!
Pass the Bib: Fill a bib with tiny items like baby socks or toys. Have your guests take turns passing around the bib while music plays. When the music stops, the person holding the bib has to take an item from the bib.
Baby Charades: Split your guests into teams and have them act out popular nursery rhymes or baby items for their teammates. The team with the most guesses wins!
Diaper Derby: Have guests race each other while wearing diapers! Whoever finishes first, wins a prize.
Name That Tune: Play snippets of popular nursery rhymes or children's songs and have your guests guess what song it is!
Baby Picture Quiz: Show guests photos of famous people as babies and have them guess who it is. The one with the most correct guesses wins!
Easy Baby Shower Favors
We used a super cheap idea, a cellophane bag with popcorn and a cute cut out tag to go on it that said ready to pop- this is insanely easy and will go with any theme out there!
It's so much fun to create homemade baby shower favors and baby shower centerpieces!
Here are some more ideas for baby shower party favors:
– Mini soaps with a decorative ribbon.
– Candles with a personalized label.
– Homemade cookies with the name of the mother to be or the baby written on them.
– Mason jar favors with individual items like lip balm and bubble bath inside.
– Personalized photo frames with the parents' names written on them.
– Seed packets with the baby's due date written on them.
– Knitted items with the baby's name knitted into them.
– Mini mason jar vases filled with fresh flowers. White flowers would be easy, classic, and can go with any theme you had chose
– Sweet smelling candles or essential oil blends in glass jars.
– Personalized keychains with a special message for close friends.
I hope these boy baby shower ideas help you plan the perfect party to celebrate your guest of honor. With a ton of baby shower ideas we shared above, I hope you found an adorable idea or two to use in your upcoming baby shower.
What are you most excited to do at your party? What fun baby shower themes have you thought of? Share your ideas with us in the comments below!
Here are a few other showers that I've planned or helped with!