This past weekend I had the privilege to help with a special baby shower.  It was held for my friend and  neighbor's daughter.   Yes, she's having a baby boy!  When you are planning a baby shower or any party, I think you should try to have a theme.  Last year I held a shower for a couple in our church and their nursery theme was Raggedy Ann and Andy – so I carried that  theme over to the shower.  You can see more about that shower here.  Today, I want to share some of the details for this fun boy baby shower!
For this baby boy shower,  the theme was based on these adorable shower invitations from Tiny Prints!  You can see them
HERE
.  The cards were embellished with
baby blue and white baker's twine
at one corner of the hammock!
Here's the entryway to the old factory building where the shower was held.  My friend used a real tree branch and attached it to the post rail.  Then she added some white and blue balloons, and hung the blue hearts and red birds from the tree branch.   I made the framed chalkboard that hung from the tree.   This vignette was a great way to mark the entrance to the building.
You can make a chalkboard with any frame you have on hand by cutting a piece of thin plywood or even foam core board to fit the frame and then paint it with chalkboard paint.  I have used both the brush or roll on type of chalkboard paint and the spray chalkboard paint.  For both chalkboards in this post, I used the spray paint.   Search yard sales for old frames or dresser mirrors that can be used for larger chalkboards.  I found both frames used in today's post at yard sales this past year and each were about $5.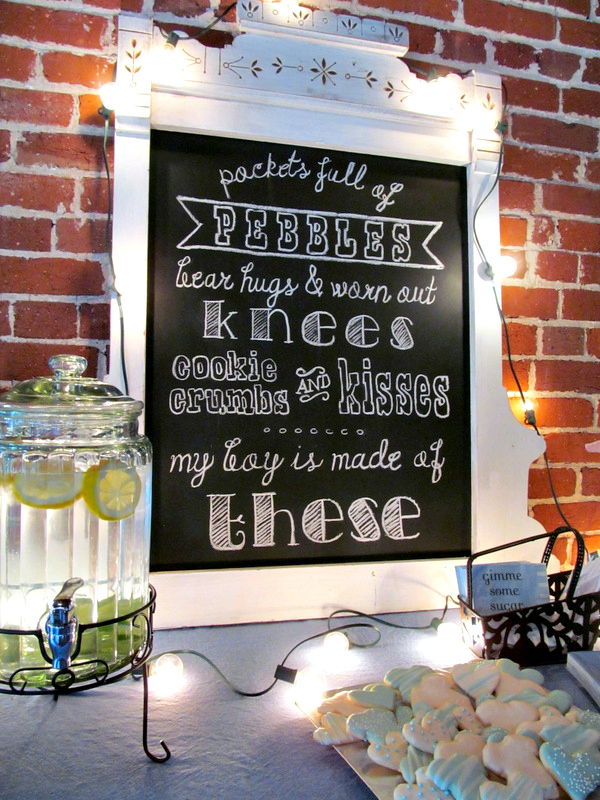 Here is the larger chalkboard I made for the shower.  My friend gave me the words she wanted me to use to make the chalkboard and I designed it on my computer.  I printed the design on a transparency and used an
overhead projector
to project the image onto my large chalkboard.  This is the easiest way to do a detailed chalkboard because you are just tracing the projected image!  Office Max can make a copy of an image on  a transparency for you.

I also decided to make the design available to you as a printable.  You can have this printed at your local office supply store as an oversized engineering print for under $5.  Frame it and it looks just like a chalkboard.  You could also print this as an 8 x 10″ or 11 x 14″ and add a white mat and nice frame for a gift.  I sell the baby boy chalkboard as an art print in my Etsy shop
HERE
and as a downloadable file for enlargement
HERE
.

My friend's older daughter and auntie to the new baby boy made these adorable cookies for the dessert table.

The cupcakes were so good!  They were lemon cupcakes with blueberry frosting and each cupcake was topped with a blueberry!

Hanging from a ribbon clothesline on the front of the dessert table were adorable baby boy onesies!   Great as decor, but useful as well!

The flowers for the centerpieces were cut from the gardens of friends and family and assembled in Mason jars.  They were beautiful.

At the center of the room was the gift table and the focal point of the room's decor.  My friend made an oversized version of the baby in the hammock from the shower invitation.

First she drew the hammock image on heavy paper and then draped and hot glued white fabric with blue polka dots to the hammock part of the drawing.  She then carefully cut around the edges, leaving just the fabric edges of the hammock.    She then used watercolors to paint the baby's face and hands and attached them to the hammock – soo adorable!  The hammock was hung between two posts with real tree branches attached to each post – again, just like the invitation.  Hanging from the tree branches with string were red birds and blue hearts.

And, finally we made these favors for each guest.  We assembled clear bags of kettle corn, but you could use any kind of popped corn.  I made the tags that said "ready to pop" and we tied them to the popcorn bags with blue ribbon.   I used to sell these tags in my Etsy shop.  You can find similar ones on Etsy from other sellers!
Boy Baby Shower "Ready to Pop" Popcorn Favors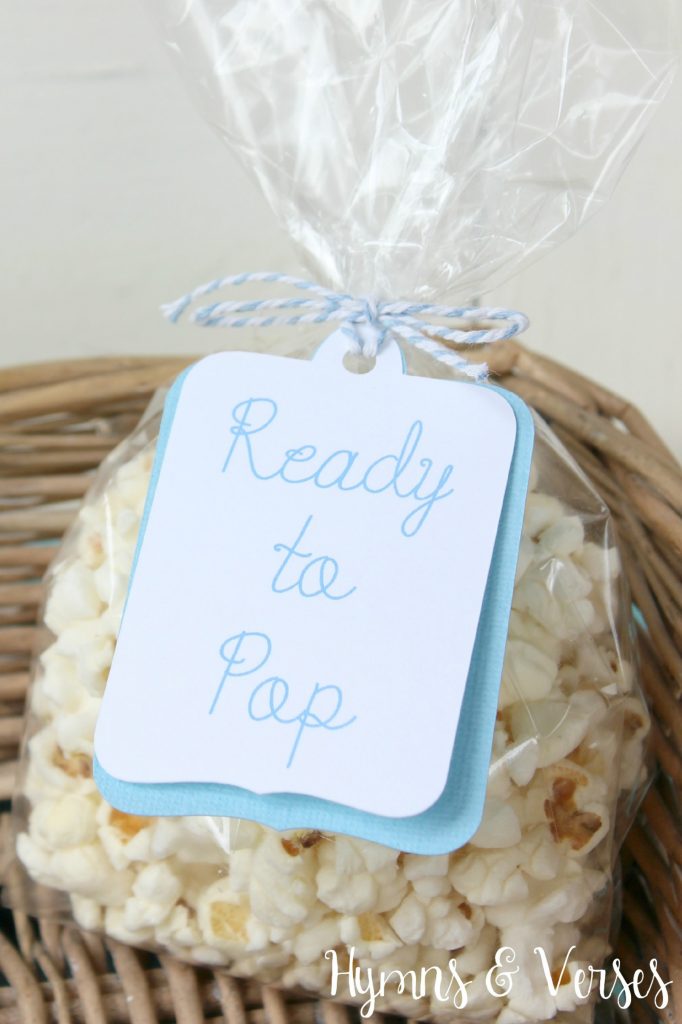 This boy baby shower was a huge success!  It was a fun day and the soon-to-be Mom went home with several SUV's loaded down with gifts for her baby boy!   A baby is a blessing from the Lord and a baby shower is a way for us to bless a first time Mom!

Here are a few other showers that I've planned or helped with!