Hi, Friends!  As promised, I'm back today to show you how to make a statement – "Count your Blessings, One by One" – on your Thanksgiving tablecloth.  I chose the words Count Your Blessings, but you can do this with any words or phrase you like.
*This post contains some affiliate links for your convenience.  Please see my full disclosure statement HERE.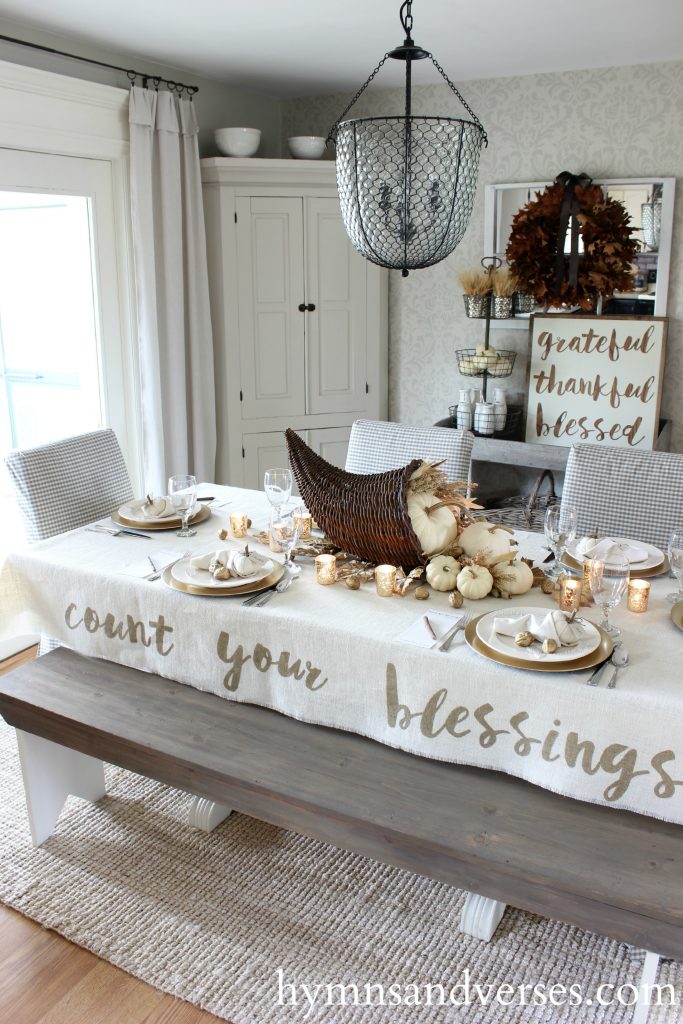 Count  Your Blessings Burlap Tablecloth
SUPPLIES
The width of the fabric is 58″, which works well for most tables.  For the length, measure your table and be sure to add for the drop you want off each end.  My table measures 7 feet and I added 1 ft. for each end – so a total length of 9 ft. or 3 yards of fabric.  If you don't want a burlap tablecloth, you could do this technique on any tablecloth. However, you will need to be able to see the words through the fabric so they can be traced – so choose a light color.
Next, you will need to download and print the lettering pages below.  They are already enlarged to fit a 7 ft. table.







Now you want to lay out the pages to spell "count your blessings" on the long side of your table and "one by one" on the end of your table.   Of course, you could just do the "count your blessings portion on the sides and skip the one by one end pieces.  Overlap the letters as needed to form the words without breaks (shown below) and tape them to your tabletop with Scotch tape.

Next, lay your burlap fabric or tablecloth on top of the lettering – lining up the edge of your tablecloth with the edge of your table.  Make sure you have your tablecloth centered over the words where you want them to be.  Make sure you are working in a well lit room and you should be able to see the lettering thru the fabric.  Now,  use your marker to trace the lettering.  I used a metallic gold color paint pen, but you could use whatever color you want.

I traced both long sides first and then both ends.  Once all the lettering is traced, use your paint pen or Sharpee to fill in the letters.  Make sure you have something underneath the burlap in case of bleed through.

I created a fringed edge on each side by pulling out a few rows of the burlap fibers.  You will want to iron your fabric to set the paint once you are finished.

I hope you'll give this a try for your Thanksgiving table!   You may want to visit the following related posts too!
Cornucopia Thanksgiving Tablescape
Felted Wool Pumpkin Place Cards