Today I'm teaming up with 24 other bloggers for the "Cozy Winter Home Tour". When I think of cozy, the words that come to mind are . . . warmth – comfort – soft. To make my home cozy for the cold and blustery winter months, I began by focusing on the textiles that bring that cozy feeling!
First, I like lots of pillows in varying textures, but all cozy. On my sofa there are gray, brushed cotton pillows with down inserts – nothing is more cozy than a squishy down pillow! Next, there are popcorn textured winter white pillows that remind me of soft winter snow. The plaid fabric on the third set of pillows is reminiscent of a soft plaid flannel. A faux fur throw is at the ready in a basket near the sofa – perfect to snuggle up on an extra cold winter evening.
My fireplace mantel holds a simple winter vignette. I used more of the plaid fabric to create a "C" monogram initial and tied it to the windowpane mirror using black gross grain ribbon. I kept the glass hurricanes on the birch slabs because there's nothing like candlelight to create a cozy environment and those birch tree slabs bring in some added texture. And, a fun pom pom garland draped from the mantel top adds another soft, textural element! See how easy it is to make this pom pom garland
HERE
.
Large snow tipped pinecones, a branch of white pine, and a pair of tiny ice skates keep the winter spirit alive.
This photo is one of Josh and Sarah's engagement shots of them standing in the snow – perfect!
On the other side of the fireplace is a side chair draped in a soft, wool throw and another pillow made from a recycled sweater. As you can see – this is a favorite cozy winter spot for someone in the family!
I hope you enjoyed how I used various textiles and texture to create my cozy winter living room. Thanks for stopping by today – stay warm and cozy!
You might also like these cozy posts: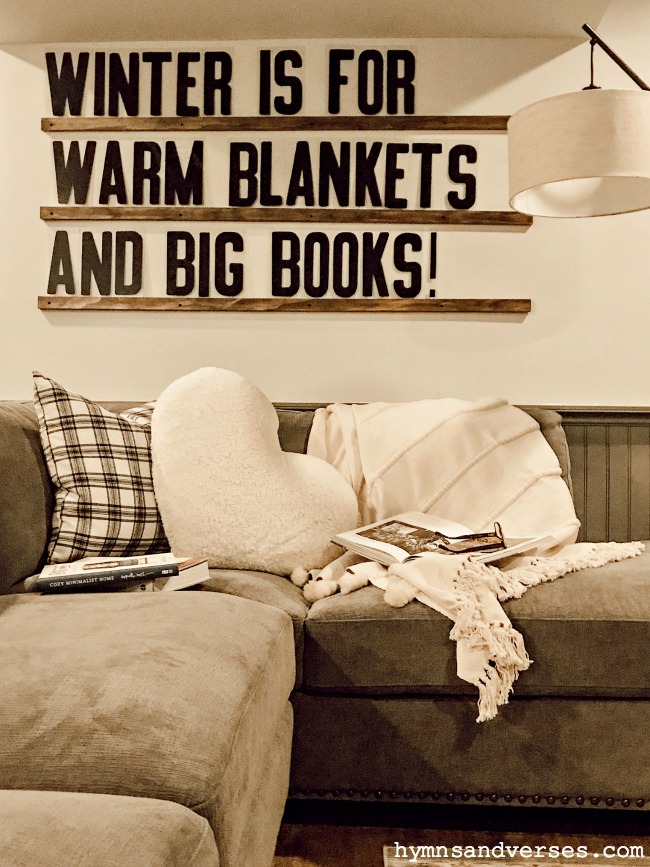 Creating a Cozy Corner For Winter Reading