What do you do when the ground is still frozen outside, but you can't wait to get your hands dirty in the garden? Why not bring the garden indoors and make a DIY terrarium for spring. Here is everything I used to put together a mini indoor spring oasis from the cold outside!
supplies for a diy terrarium
You will need a large glass container with an opening to prevent condensation. Once you have your container, make sure you choose plants that are size appropriate for the container. Since fairy gardens are so popular, I found it quite easy to find miniature plants for my terrarium. The mini orchid was the first thing I chose and then my secondary plants were chosen to compliment the orchid.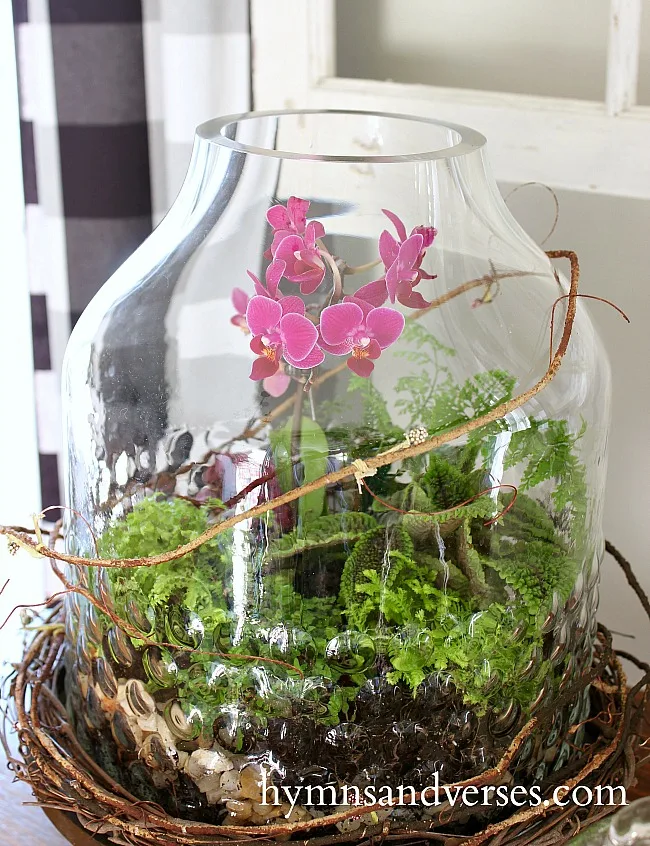 First, begin with a layer of gravel for good drainage. I used the dark brown gravel at the base. Then, I added about 1 inch of soil. The soil should be 1 part sand and 2 parts potting soil. Next, I added a layer of the lighter colored stones around the edge of the glass.
Now, it's time to get your hands dirty and start placing the plants inside the glass container. I wanted the orchid to be in the center, so I used my fingers to make a small hole in the soil and put the orchid in place. Don't worry at this point that you don't have enough soil. After you place all the plants, more soil can be added as needed. I kept the taller fern to the back and then just placed the other plants around the orchid with the moss and baby tears up front. Then, I used one of the mini plant containers from the nursery to add soil around the plants where needed.
Creative Display
A tin cake stand elevates the terrarium and I placed a I placed a Dollar Tree grapevine wreath at the base. Then, I added some faux vines to wrap up and around the terrarium. I had a baby angel's tears plant leftover and planted it in a vintage ironstone teacup and placed it under a small cloche.
This DIY terrarium was easy to make and relatively inexpensive! It would be a fun project to make with kids too. I placed it on my library table in the living room, which sits between two windows, so it should get plenty of sun! For watering, I'll use a spray bottle to mist it every couple days.