In January, I announced that instead of a word of the year, I was going to claim a hymn of the year. The hymn I chose is one of my favorites – Great is Thy Faithfulness. I shared a printable the beginning of January with Great is Thy Faithfulness lyrics. In case you missed it, you can find it HERE.
A few days later, I was humming/singing Great is Thy Faithfulness and these lyrics jumped out at me – "morning by morning new mercies I see". I had just put away the large "NOEL" sign that was hanging above our headboard and decided to create a new sign with these special lyrics! What a great reminder to see each morning!
This size is perfect to hang over a sofa, buffet, dresser, or headboard. This size sign is now priced at $120. I've adjusted my price a bit lower to keep in line with other sign makers. The sign measures 12″ x 48″ plus a 5/8″ frame.
Currently, I have three signs for sale in this size.
"Rise & Shine and Give God the Glory Glory"
"Our Cheeks are Nice & Rosy and Comfy Cozy are We"
"As For Me and My House, We Will Serve the Lord"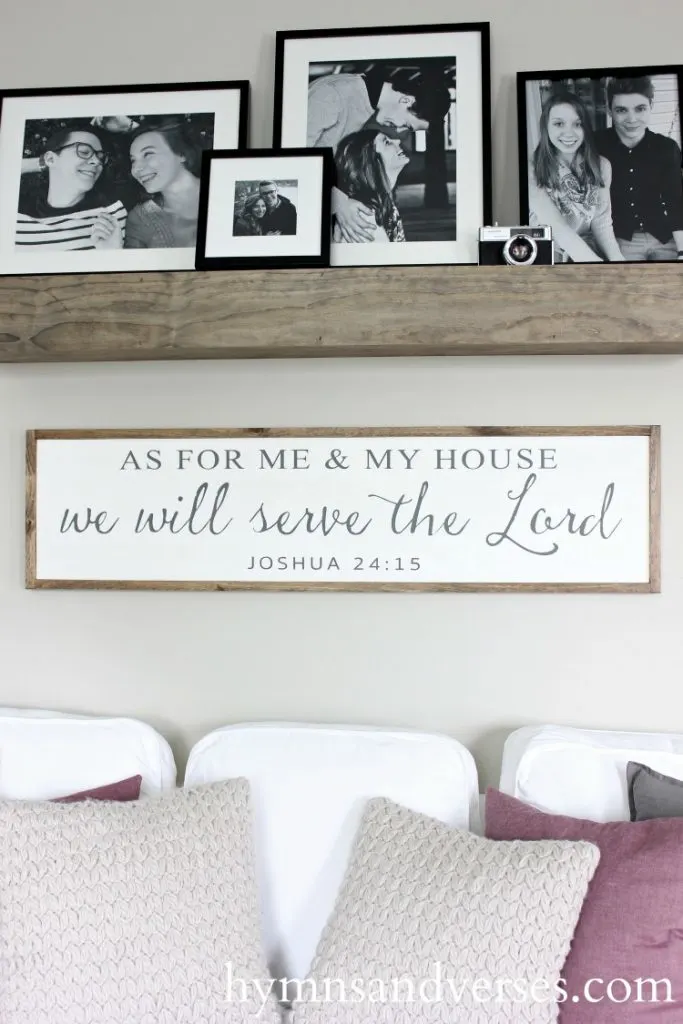 Even though I like these large "statement" signs, I know many have asked if I would consider making these signs in a smaller size. So, I have decided to do just that. I am now making all of these signs available in a smaller size – 9.5″ x 24″ plus a 5/8″ frame. This size sign is priced at $50. Here's the smaller size of Morning by Morning New Mercies I See.
If you'd like to purchase a sign or any other products I sell in my Hymns & Verses Etsy Shop, just click on the image below! Thanks so much for all your sweet comments about this sign. I'm so glad you like the design! Have a great weekend, friends!