You won't believe how easy it is to make this no sew fabric banner that I used on my patriotic screen porch. Plus, it's No Sew and won't fray!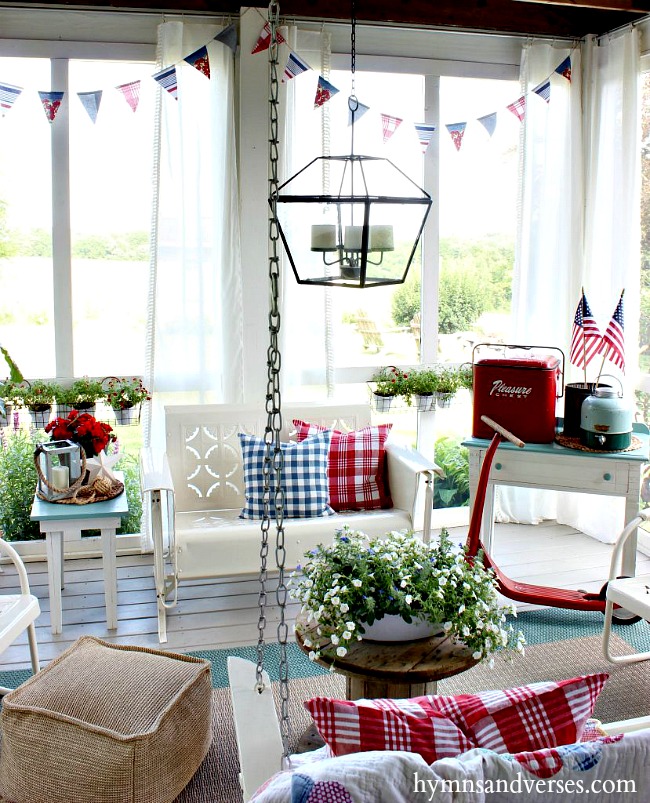 There's nothing more festive than a pennant banner at a party? But, what if you want to use your banner outdoors for a summer picnic? Why go to the trouble of making a paper banner that won't last long. I like to make banners from a few different types of fabric. Today, I'll show you how easy it is to make a fabric banner that won't fray! And, you don't need a sewing machine!
First, you need to choose fabric for the pennant banner. If you're a long-time reader, you know I love to use inexpensive tablecloths from HomeGoods for my sewing projects. Honestly, a 9.99 large tablecloth is more cost effective than buying 2 or 3 yards of fabric at the fabric store. And, I've found I can get prints that I like more often in a tablecloth than searching and searching online for the perfect check or plaid. I've also used cotton tea towels and napkins. Tea towels are typically 2.99 – 3.99 for two. And, a set of four or six 20″ x 20″ napkins is typically under $10. Again, this is much more cost effective than buying a yard of fabric.
Also, as a long time seamstress, the fabric quality is often so much better than what you can buy at the fabric store (unless you are custom ordering designer fabric). If you want to make a neutral banner, pick up a cheap drop cloth from Home Depot or Lowe's and use it the same way. You could even stencil letters onto each pennant!
So, here's what's perfect about using these specific fabric items to make a no sew banner – they already have a seam around all the edges that you will use to feed your twine through to hang the banner!!! This post contains some affiliate links for your convenience. See my full disclosure policy in the bottom of this page.
Supplies for Banner
Tea Towels, Napkins, Tablecloth, Sheet, Drop Cloth . . . (any fabric that has a seam around the edge)
Paper for Templates
Printable Templates Below
Step 1
Download the banner template page below by clicking on the BOLD title above the template. Once the banner template has been downloaded, print and cut out the pennant template you would like to use. I used the triangle one for the banner I'm sharing today.

Step 2
Iron your fabric so it's not wrinkled. Align your template along the seam edge of your fabric. Now that you can see the height of the pennant template, cut a piece of Heat n Bond to cover that area of your fabric. Now, using the instructions on the Heat n Bond package, iron the Heat n Bond piece you cut to the reverse side of your fabric.

Step 3

Trace your template on the paper backed Heat n Bond multiple times along the seam length – get as many pennants out of the side seam as you can. Leave the paper attached and cut out the pennants. Once cut, peel away the paper. The Heat n Bond makes the pennants a little sturdier and will keep the fabric from fraying.

Repeat this step with multiple colors or you can do all the same fabric if you wish. Just continue to make pennants until you have enough for the length of your hanging banner.

Step 4

Measure the twine to the space where you want to hang your pennant banner and add a little extra to allow for draping and then cut. Tie one end of your twine to a safety pin and begin feeding your pennants through the end seams.

Leave some space in between each pennant, but you don't have to be specific with spacing at this point. Once you are finished threading the twine through all the pennants, you can hang your banner and then adjust the spacing between each pennant.

That's it! Of course, if you like to sew, you can sew your own seam into your fabric before applying the Heat n Bond. I am going to be making more of these pennants for an outdoor July 4th picnic and string some lights with them! These pennant banners are really great to use at any party – just choose fabrics that go with your theme. I used one like this at the bridal shower I held for Sarah a few years ago. You can see it HERE.