Happy Wednesday!  Yay – we've made it half way through the work week!  Today I'm so excited to share my summer screen porch with you!  This year my focus for this space is vintage Americana and was inspired by a few vintage treasures I picked up earlier this spring!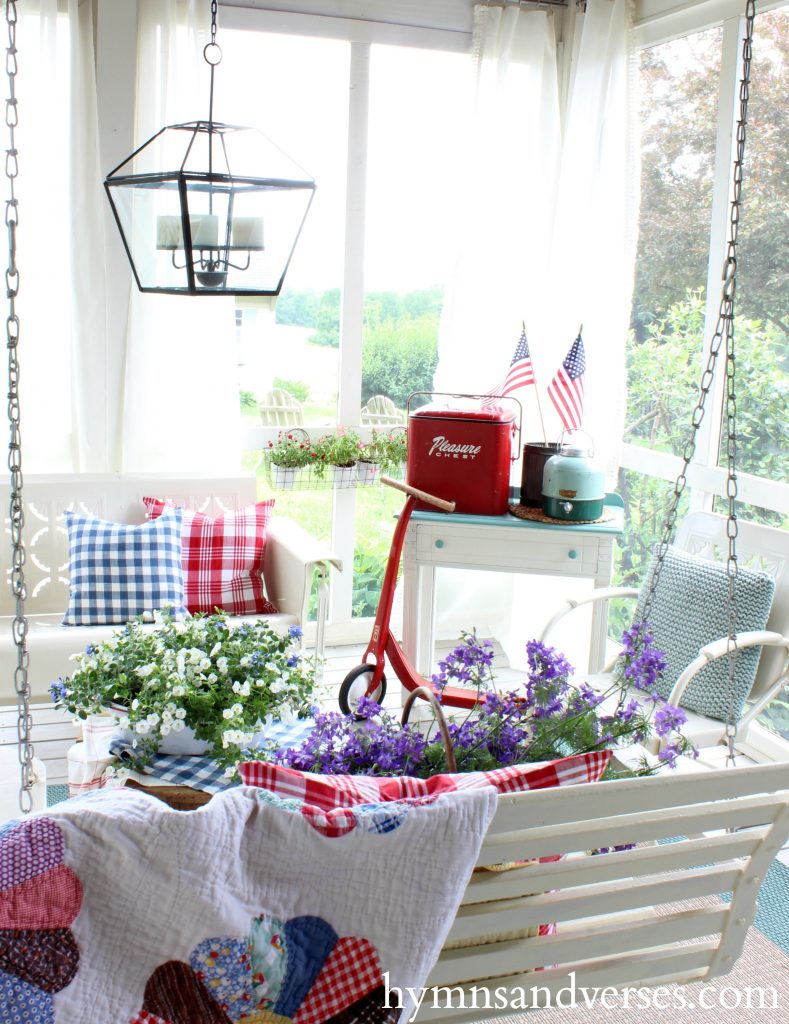 I love to decorate this porch for each season.  It's not a fancy porch, but I love it just the way it is.  My furniture on the porch is all vintage.  I found the metal glider on Craigslist and the chairs at a local antique shop.  You can see the before pics of them HERE.  The swing is from my grandmother's home, and I used to swing on it all the time when I was little – it was dark green then!!!  The other tables were picked up along the way – at yards sales, etc.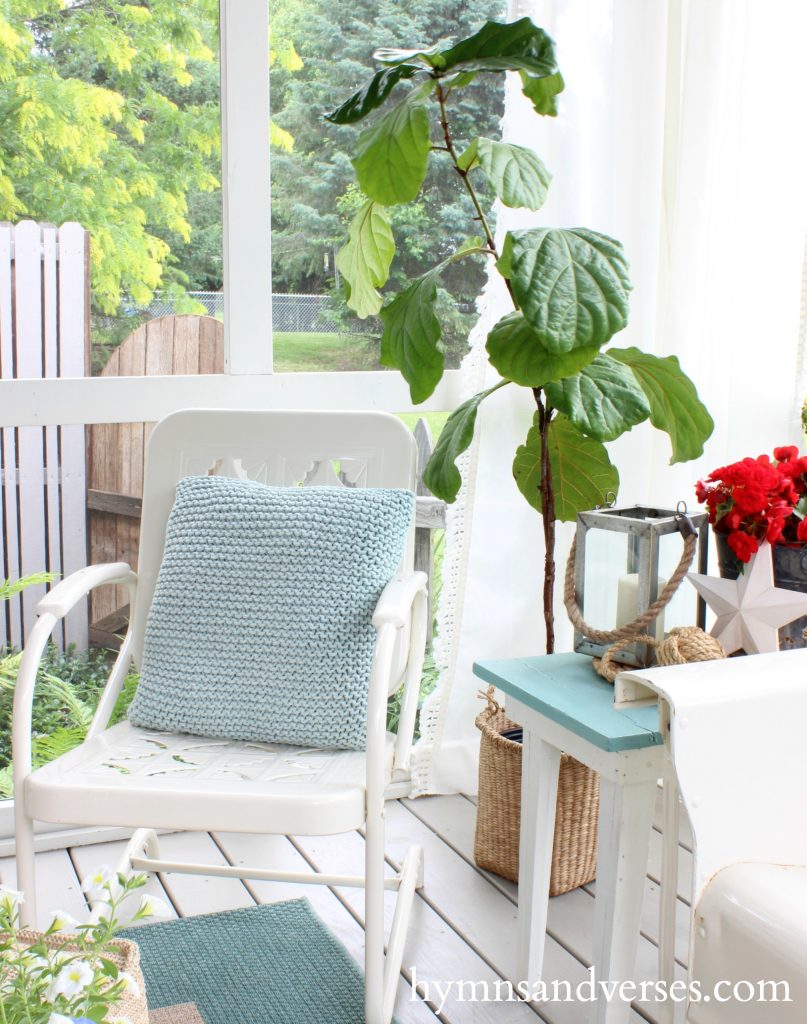 I moved my fiddle leaf fig outdoors and it is thriving out there.   The aqua pillows seen out here I picked up earlier this spring at TJ Maxx.
So, here are the main pieces that inspired me!   I picked up this adorable vintage, red Radio Flyer scooter from a local antiques mall for just $10!  I grabbed it and took it immediately to the checkout!  I know I can use it often!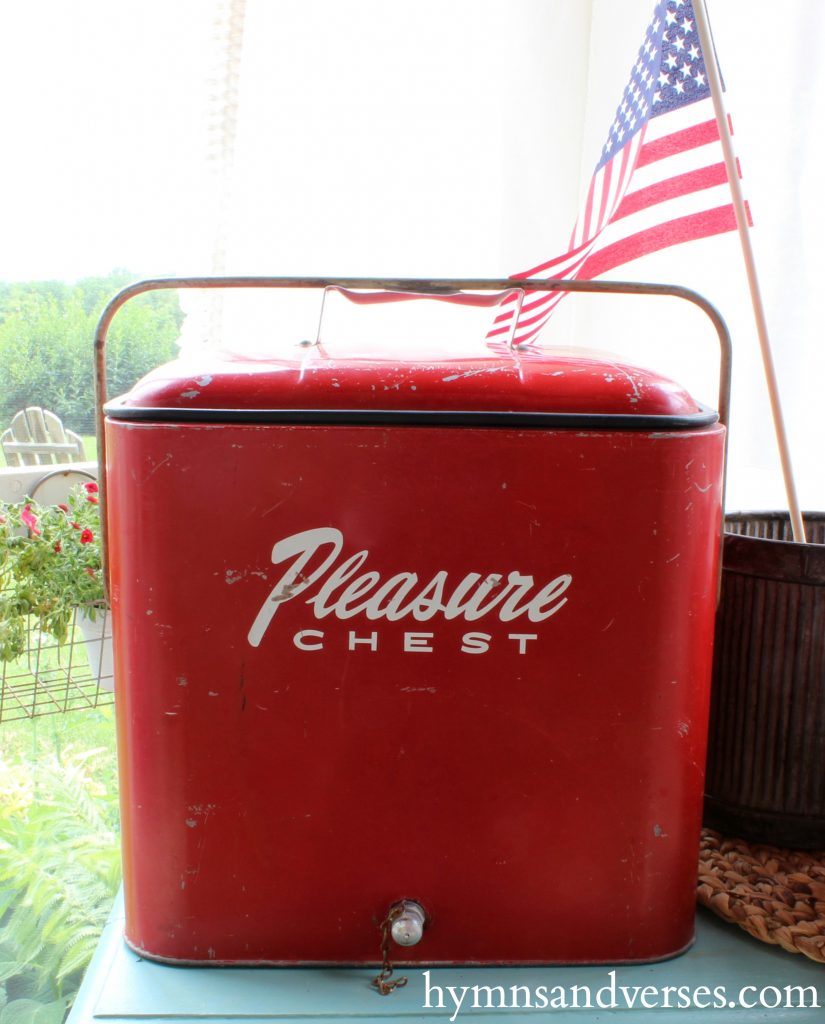 And, then I saw the vintage, circa 1950's, red Pleasure Chest!  First, that name just about cracked me up!!!  I loved the white words on the bright red ice chest!  So fun!  It's really clean inside and I can use it to serve up cold drinks this summer!   The smaller vintage Vagabond drink cooler is something I picked up last fall and you can see how I used it HERE at Christmastime.
As you can see, I couldn't stop taking pictures of this little corner vignette.  You can't really see it in the photo below, but I used my wooden industrial spool as a small table between the swing and the glider.  Sitting on top of it is my vintage enamelware basin filled with pretty blue and white flowers!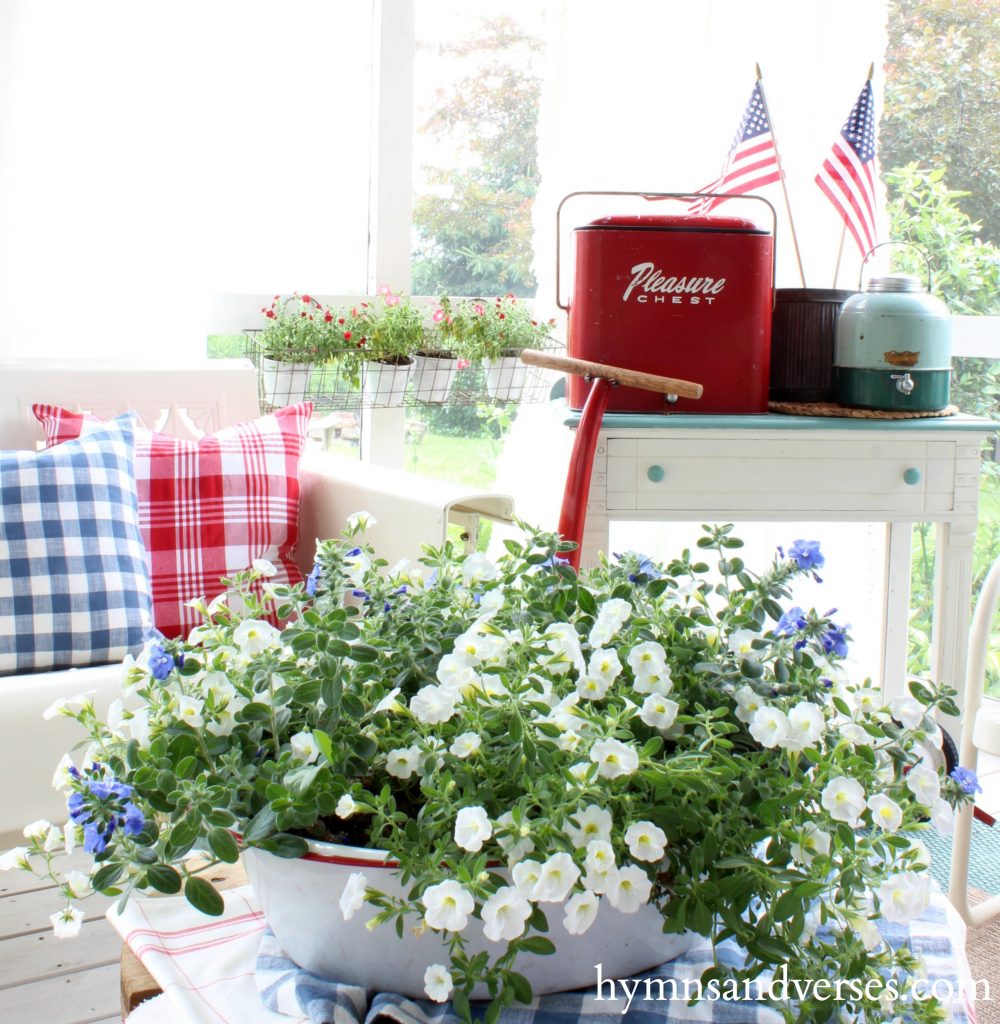 I made the checked and plaid pillows on the glider.  For the blue check – I used a Pottery Barn 20 x 20″ napkin.  The fabric for the red and white plaid pillow is a tablecloth from HomeGoods!  If you don't sew your own pillow covers you should!  If you'd like to see a simple sewing tutorial for pillow covers, let me know in the comments below!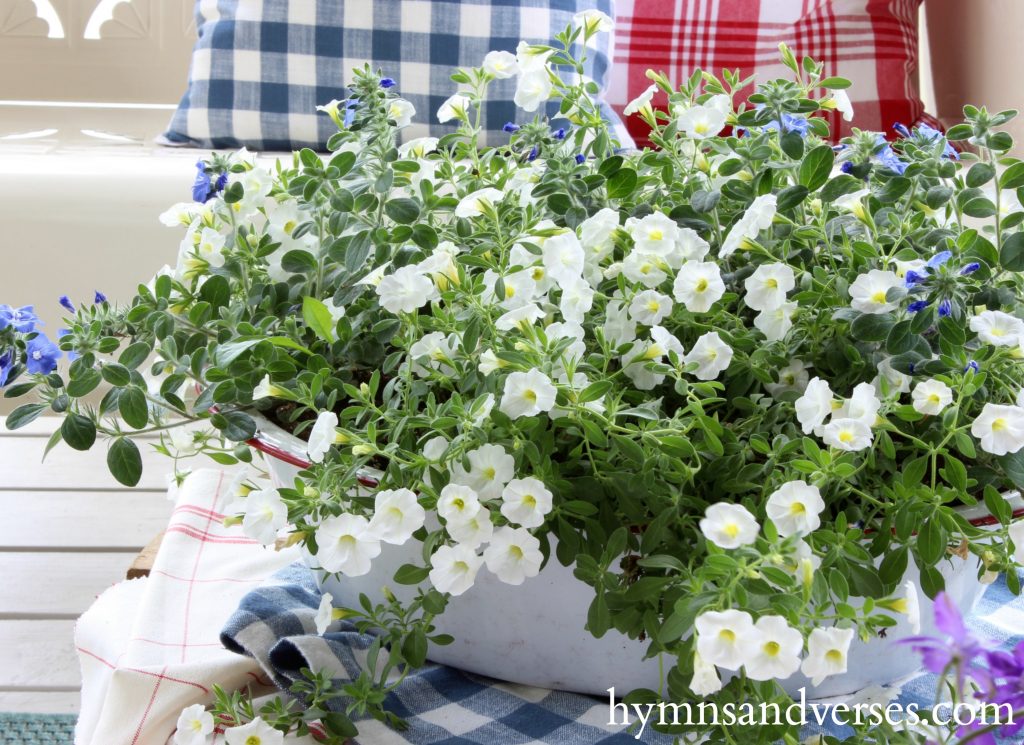 Here's another angle, looking to the other corner of the porch.  You are getting a little sneak peek at, what I call, "my hobbit gate" outside.  I'll be sharing about that treasure soon!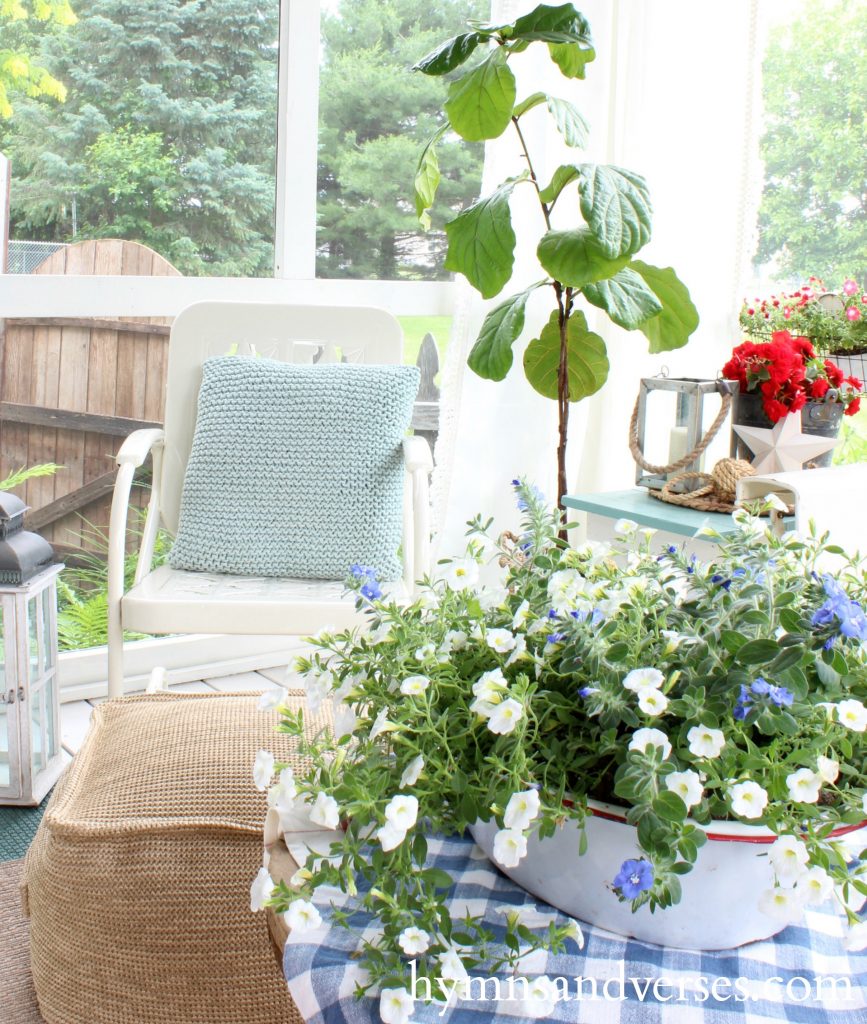 The poof foot stool is from Target.  I got it last summer,  but they have them for sale again this year.  They are sold with their outdoor furniture.  I have to say it's held up amazingly well!  You really can't see my curtains – they got really washed out with the bright sunlight, but I hope to capture better shots of them soon.  They are another easy sewing project.  I filled my white-washed clay pots with red and white flowers to put in the wire window baskets.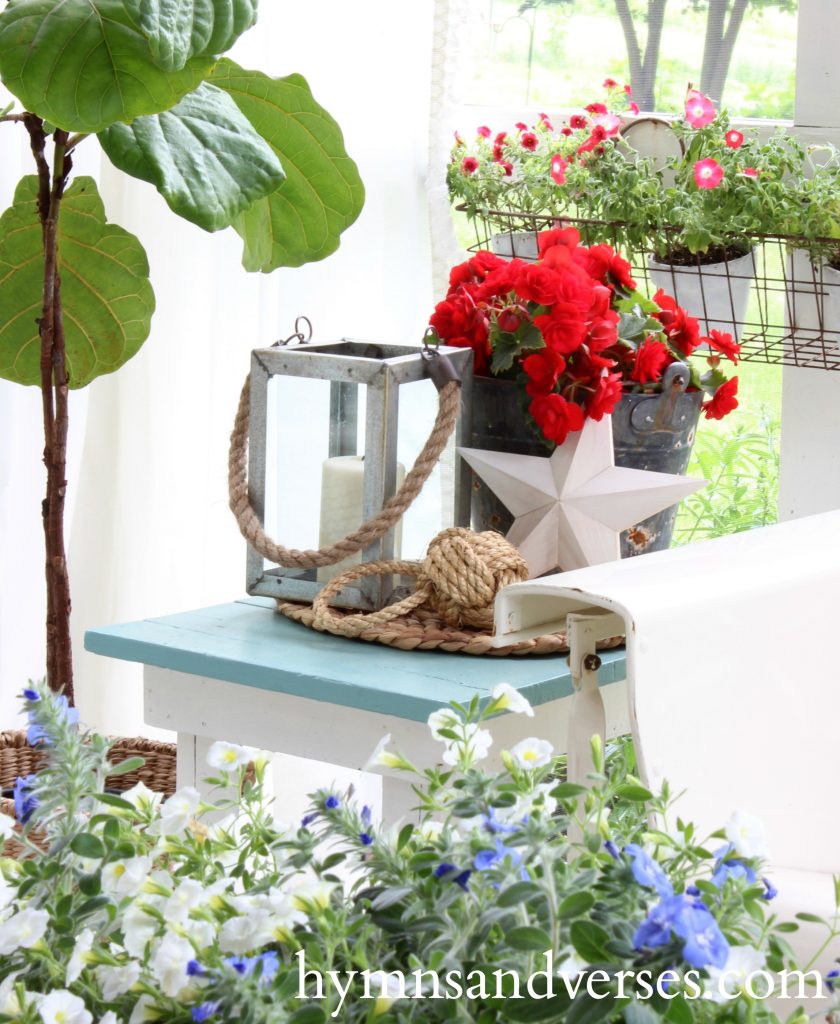 I tried several pots for the bright red begonia before settling on this old, rusty tin bucket.I got the tin lantern at HomeGoods a few years ago, and I have a tutorial for the rope knot HERE.  The white washed wooden star was one I had left over from the star garland on my mantle HERE.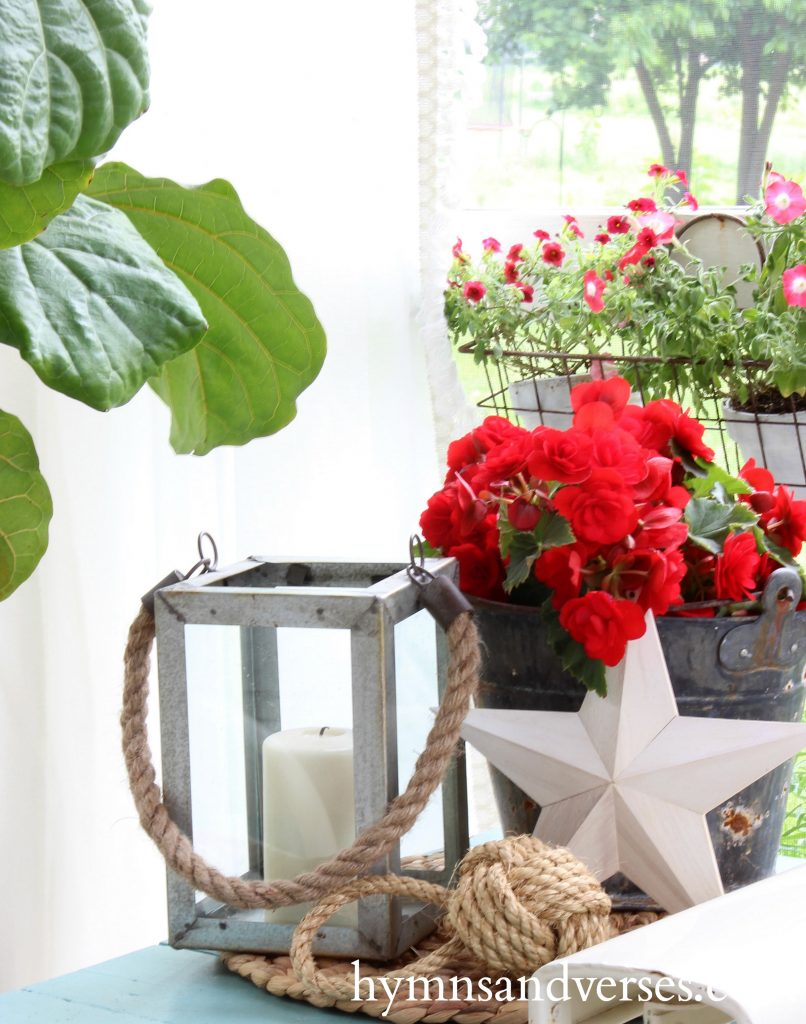 Finally, I brought out a vintage quilt that my great aunt made and threw it over the back of the swing.  I probably won't leave it out in the elements, but it's nice to have a throw outside if it gets cool in the evenings.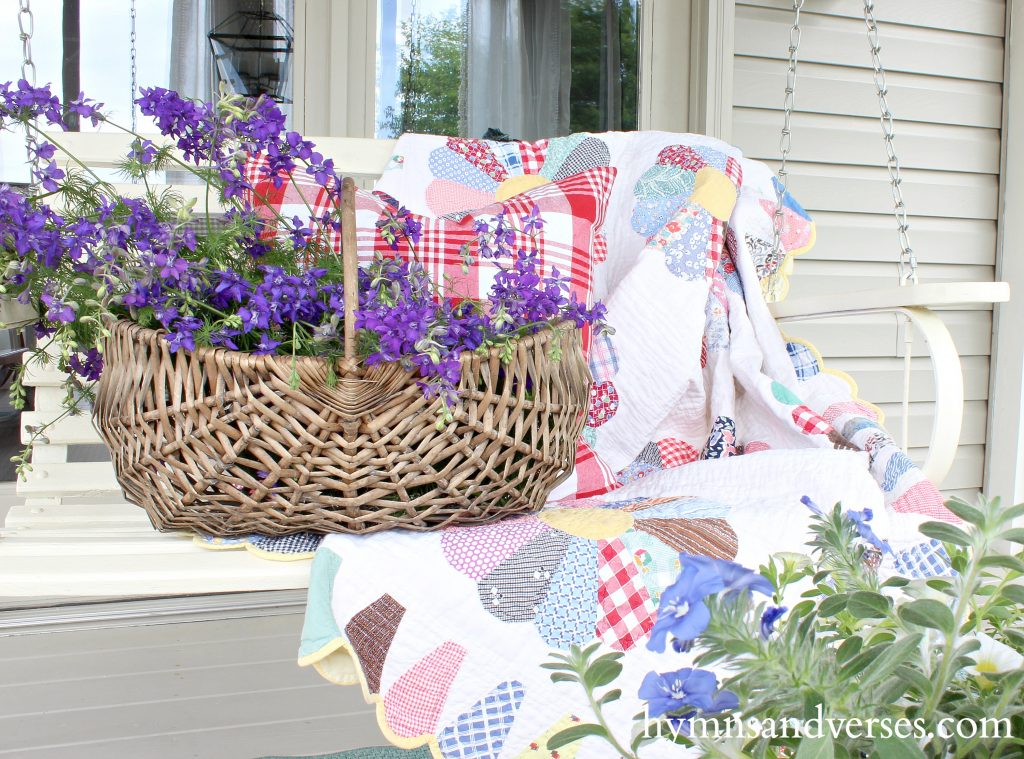 I filled a basket this morning with more larkspur from my flower garden to take in for an arrangement and thought it looked pretty on the swing!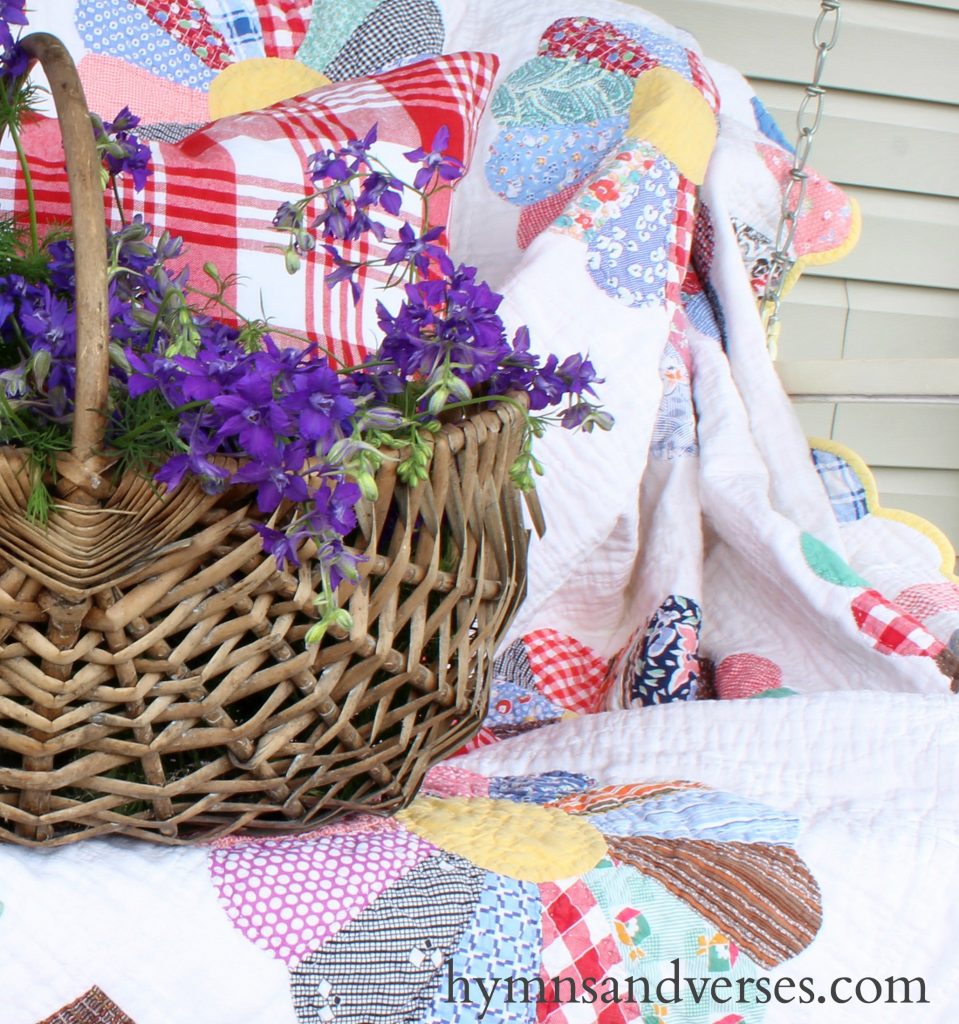 I hope you enjoyed seeing my screen porch for this summer!  Thanks so much for stopping by!  If you don't follow me by email, I'd love it if you would sign up in my sidebar.  It's free and you'll be sure to not miss a thing here at Hymns and Verses!
Speaking of not missing a thing – today, I'm over at Fox Hollow Cottage sharing my potting bench all dressed up for summer!  Since it sits right outside my porch, it is like an extension area that I use when we have guests over for serving beverages!  I hope you'll stop over to Shannon's to see it – HERE.

If you'd like to see my screen porch from last summer – here's a peak.  You can see the full post HERE.