What a difference a week makes! Last week it was hazy, hot and humid, but the weather today was absolutely perfect with sunshine and low humidity! And, the days are already getting shorter. It's a sign that fall is not too far away! So, my friends and I thought it was time to begin sharing some fall inspiration with you each Friday for Home and Decor Encore! This week, I'm sharing a pumpkin cupcake recipe!
This is no ordinary pumpkin cupcake recipe! It's so moist and delicious and the secret is browned butter! And, the cupcakes are topped with a yummy buttercream with salted caramel! If you don't think salted caramel and pumpkin go together, trust me, the flavor combination is amazing! Keep this recipe on hand for any upcoming fall events or family gatherings! And, if we still aren't gathering together, whip up a batch and share them with your neighbors!
WELCOME TO HOME & DECOR ENCORE
Today's Home & Decor Encore posts are just the fall inspiration that I'm ready to see this time of year, and I hope you are too! Even if we aren't ready to decorate, it's always fun to get inspired with a few new ideas! This week Lori from The Stonybrook House has an easy wreath project that looks great in the fall months, but could be used year round! Cristina from Remodelacasa is sharing a pretty fall tablescape! Christy from Our Southern Home has all the details to put together a Fall charcuterie board. And, Laura from Duke Manor Farm is showing how you can use a wreath to make a pretty fall flower arrangement. Again, there's really something for everyone! I hope you enjoy them all!
To view each post, just click on the BOLD TITLE above each photo. And, remember to PIN from the original post and not the photos on this page. But, feel free to PIN the image above that includes all of today's Home and Decor Encore posts!
HYMNS & VERSES | PUMPKIN CUPCAKES WITH SEA SALT CARAMEL BUTTERCREAM FROSTING
THE STONYBROOK HOUSE | SUPER FLUFFY RAG WREATH
DUKE MANOR FARM | USE A WREATH TO MAKE A FALL FLOWER ARRANGEMENT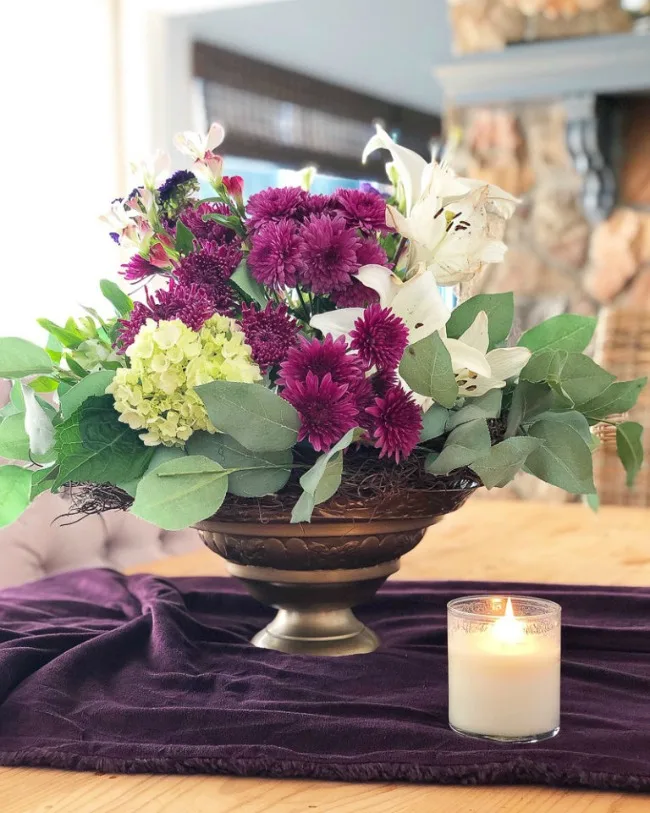 REMODELACASA | SIMPLE FALL TABLESCAPE
OUR SOUTHERN HOME | FALL CHARCUTERIE SPREAD