Happy Monday! I'm finally here to reveal my newly reupholstered French sofa. This project was a huge undertaking, but I'm so glad I did it. Here is the finished sofa!
So, what do you think? I really love the contrast of the dark stained wood frame with the light woven gray fabric. I looked all over for fabric when I was planning this project and finally found exactly what I wanted at Hobby Lobby. Unfortunately, they don't sell it online. (Tip: Hobby Lobby's fabric is always 30% off. But, did you know that you can use a 40% off coupon instead of the 30% off! I didn't! But, the nice fabric counter lady told me and I'm so glad she did!) The fabric is a woven gray that works perfectly with my existing charcoal gray chairs. As you know, gray can be tricky because grays have varying undertones. So, I brought home a lot of sample fabric swatches before making my final choice and I would highly recommend you do that when considering fabric for upholstery or even when making your own curtains or pillow covers. You may think it will look great, but it's best to be sure and bring home a swatch to hold up to any existing fabric in your space.
This post contains some affiliate links for your convenience. Please see my full disclosure at the bottom of this page.
Some reupholstery projects don't require any sewing, but this one did. I don't think I would have attempted a project like this if I didn't have sewing experience. I've been sewing since I was 8 years old, and that was helpful because I had to make the cushion cover from scratch with no pattern. Normally, I would have taken the existing cushion cover apart to cut the new fabric around those existing pieces – like a pattern. But, this cushion isn't filled with foam. It's filled with down! Can you imagine trying to remove all of those tiny feathers and then somehow getting them back into a new cover! Nope, that wasn't going to happen! So, I made a cover to go over the existing velvet cover. Kind of like a slipcover. There was a lot of measuring and praying (just ask my hubs who was trying to watch TV while I had fabric all over the family room floor and was crawling around on all fours!) when I was working on this cover, and I'm so relieved that it all came together as planned.
Reupholstery is something I've wanted to try for quite a few years. I've been so inspired by other bloggers who have reupholstered pieces, especially Miss Mustard Seed. Before I even began my own blog, I read her posts featuring pieces that she had transformed and knew it was something that I wanted to try. I even purchased the upholstery staple gun that she recommended. That was almost five years ago! Recently, Marian created step-by-step video tutorials on reupholstering a French chair. These videos were so helpful and I highly recommended them. I'm sharing the links to the videos for your convenience.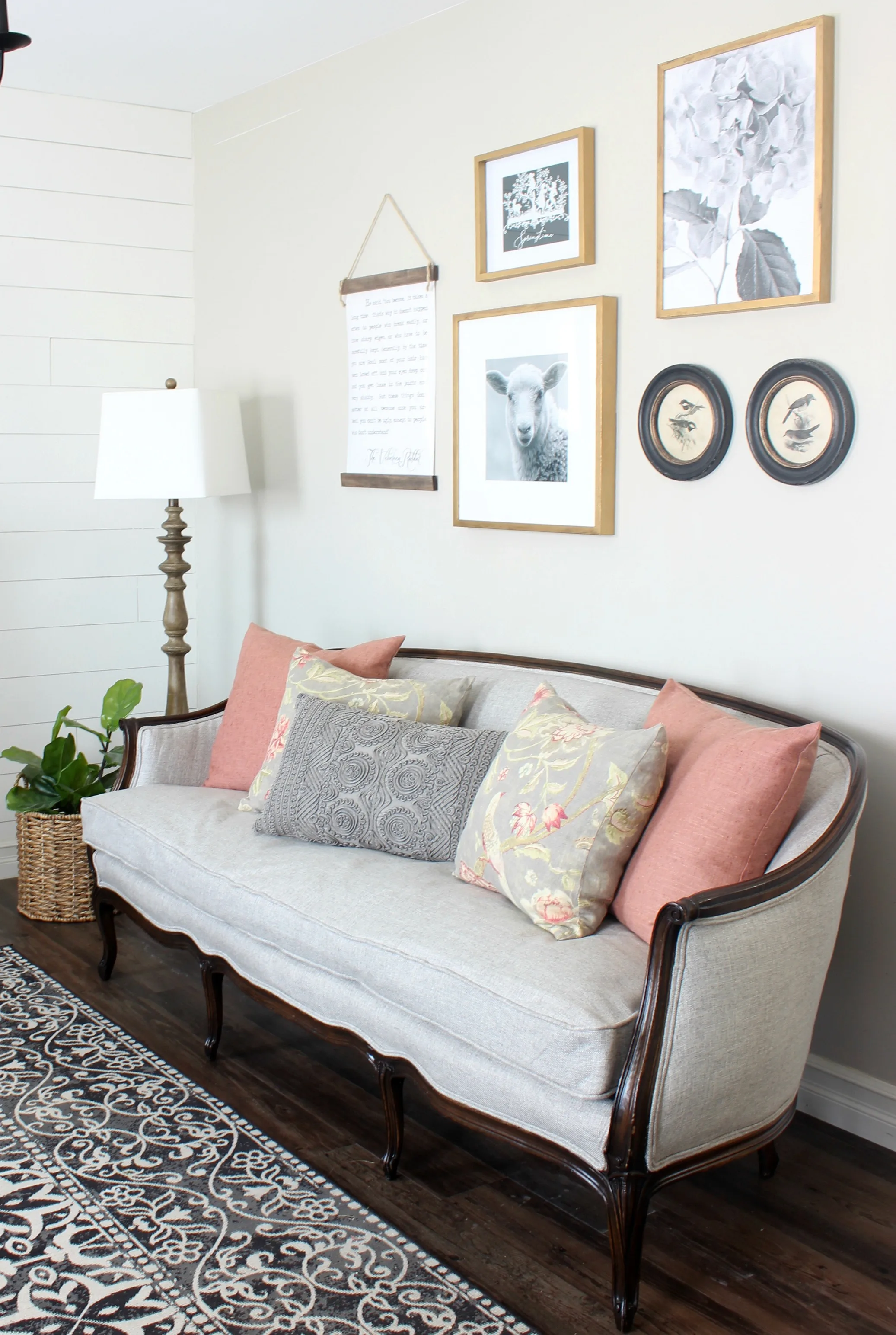 Reupholstering a French chair – Stripping old upholstery
Reupholstering a French chair – Selecting and cutting the fabric
Reupholstering a French chair – Upholstering the chair
Reupholstering a French chair – Attaching the trim
Here's one more look at the reupholstered French sofa without the pillows! Overall, I'm super happy with the outcome. I'm sure a professional upholsterer would find plenty of things that could have been done better, but I'm not likely to have a professional upholsterer come for a visit, so who cares! I did it and feel a huge sense of accomplishment! It's kind of a "bucket list" type project for a DIY'er! Was it easy – NOPE! It took me a long time and a lot of patience. But, it is doable and I don't want to scare you away from an upholstery project! If I can do it, you can too!
And, what's better than a good before and after! Here you go!
The week of Spring home tours with my blogging friends begins today, and I'll be back on Friday to share my tour! You can follow along all week by beginning HERE today.
If you missed my post on how I gave the wood frame an update, click HERE.
To see last year's Spring home tour, click HERE.
Sharing today at: