Yesterday we had a snow day here in the Northeast and there's a nice, fresh coating of white snow! It was just enough to make everything pretty! Right after taking down the Christmas decor, things can look pretty bare. But, I'm not quite ready to bring out "all things spring". So I decided to do a few easy projects to work through January and February. The first thing I made was this Silver White Winters Glitter Canvas to display on my winter mantel.
*This post contains some affiliate links for your convenience. Please see my full disclosure statement HERE.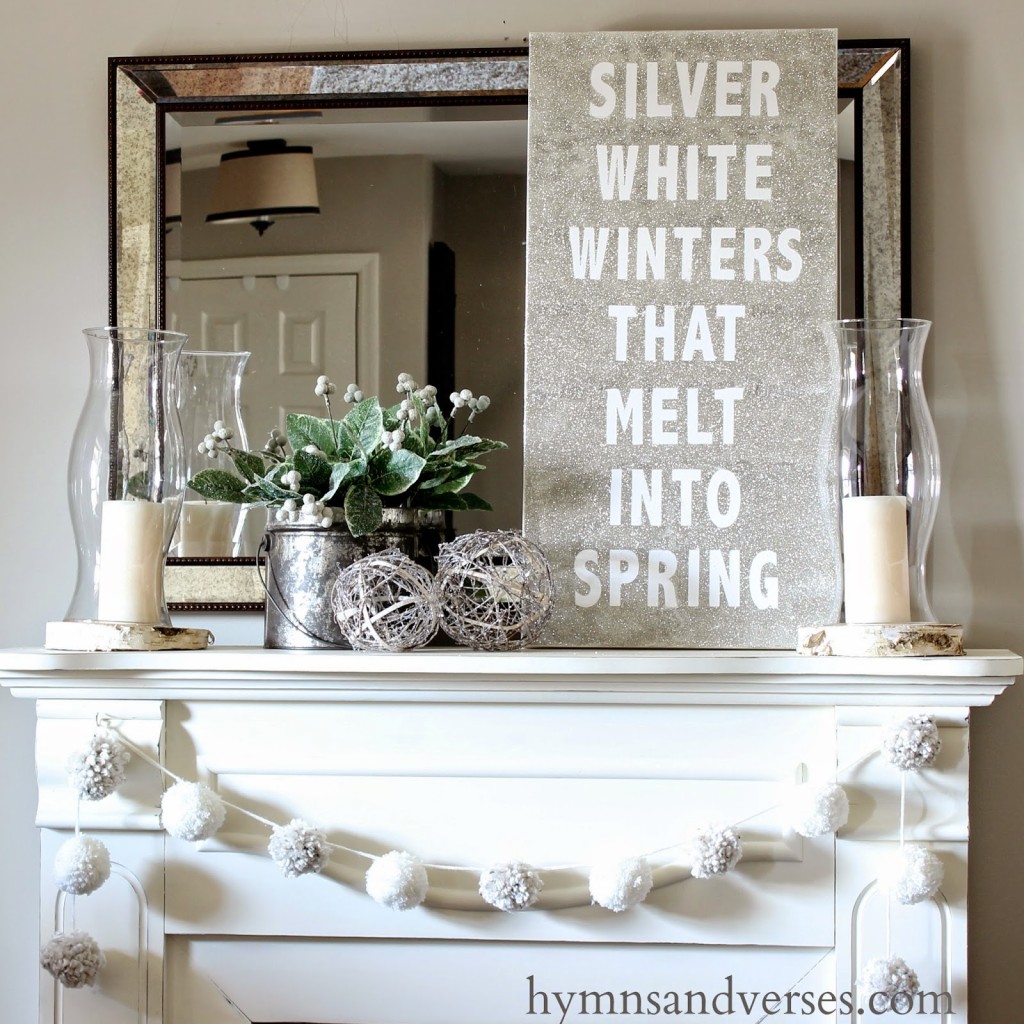 Here's what you will need to make this Silver White Winters Glitter Canvas:
* 15 x 30″ canvas (purchased at 50% off at Michaels)
* Martha Stewart Brand White Gold Glitter (sold at Michaels) I really like the look of the White Gold, MS also has a Sterling Silver Glitter that you may prefer.
* Letter stickers or if you have a Silhouette or Cricut cutting machine, you can cut your own. I used my
Silhouette Cameo
to cut out my letters from Contact paper. Each letter is 2 3/4″ tall.
Place your letters on the canvas. I drew straight lines across the canvas in pencil to keep my lettering straight – one word at a time. Once you have all your words in place, use a foam brush to apply Modge Podge over the entire canvas and sprinkle immediately with the White Gold glitter. Let the glitter stand on the surface until the Modge Podge has had a chance to dry. That way, most of the glitter will end up staying on the canvas. Now, carefully remove the sticker letters to reveal a crisp, white background.
A trick I found to removing the letters is to stick a straight pin into the top of each sticker letter – the pin will help you know where the stickers are once the entire canvas is covered with glitter. And, pulling on the pins helped to lift the sticker up a bit so I could grab and remove it.
Of course, you could choose to make this project in a different size – I just wanted to make a BIG glittery statement on my mantel! Let's embrace the winter and make the most of the season!!! You might also like this
FREE printable sign
with the same lyrics!