St. Patrick's Day will soon be here! And, today I have a new St Patricks Day Printable collection for you! It's been a number of years since I created a St. Patrick's Day print. So, I thought it was time to add some here for you! I hope you like them!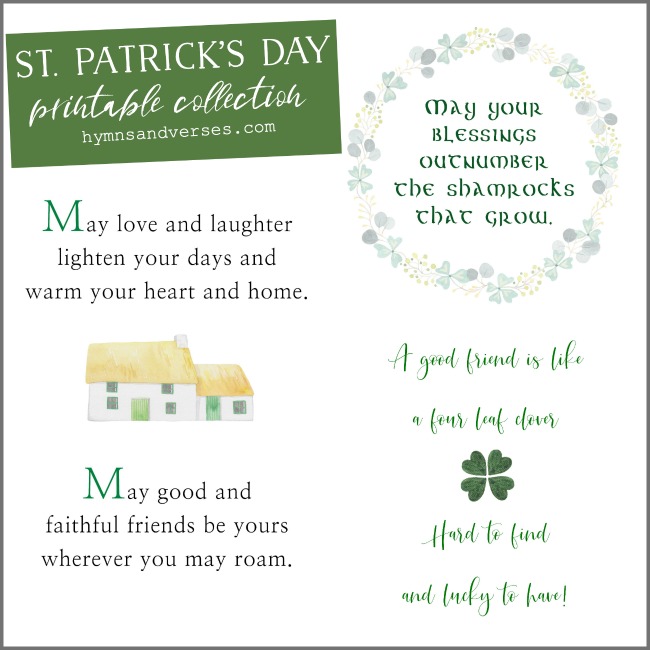 St Patricks Day Printable Collection
First, is this Irish Blessing – "May Your Blessings Outnumber the Shamrocks that Grow". It's the same blessing that I used for this chalkboard printable years ago. But, I thought it went perfectly with the pretty watercolor wreath around it.
Next, is another Irish Blessing – "May Love and Laughter Light Your Days and Warm your Heart and Home. May Good and Faithful Friends Be Yours Wherever You May Roam". This one is so sweet with the little watercolor cottage at the center and would look so good framed.
The third printable in the collection is one that you could print as a 5 x 7 or 4 x 6 and use it as a card. It reads – "A Good Friend is Like a Four Leaf Clover – Hard to Find and Lucky to Have"! I'd rather say, a Good Friend is a Blessing – but, this quote is so fun for St. Patrick's Day! And, I pared it with a four leaf clover. You could even pop this one into a frame and gift it to a friend for St. Patrick's Day!
How to get these Printables
I hope you like this new St Patricks Day Printable Collection and will use one or more in the coming week to celebrate the holiday! As always, these printables are available to download and print in my Free Printable Library. You can access the Library with a password when you sign up to receive my posts by email. Just click the button below to sign up. You will receive an email asking you to confirm your subscription. Once you do that, you will receive a second email from me with the printable password. If you don't receive the second email, please check your SPAM or junk email folder. Sometimes the second email ends up there. If you find it there, please move it to your email inbox. That will let your email provider know that you want to get my emails. Because, you don't want to miss a thing! I'll have more printables coming up for spring and Easter! Thanks so much for following me here!