It's summertime and it's time to let the sunshine into our homes with fresh decor that reflects the season! When I change out my decor, I like to go to some of my favorite shops for inspiration. And, of course, I usually come home with a few new things for my home. But, this year, that wasn't possible. So, I had to "shop my home" and be more creative with what I already had. So, I thought I would pass along some of my summer decor tips that might help you to freshen up your home for the season!
If you are new here, I'm Doreen and welcome to my home! Thanks so much to Marty from A Stroll Thru Life for hosting this seasonal event! And, if you are visiting from Grace in My Space, wasn't Sarah's home gorgeous! And, that leads me to the first of my summer decor tips! Get inspiration from others. If you need inspiration for your home decor, check out some of the summer home tours that are being shared this week! There are 30 homes on this tour with a variety of styles! Look at the details – how pillows are arranged, how art is hung on a wall, furniture placement, etc. I also like to browse home decor books, magazines, Pinterest, and Instagram for inspiration. Now, let's take a look around my home and how I decorated for summer. We'll start in the living room.
*This post contains some affiliate links for your convenience. Please see my full disclosure statement.
Living Room
For me, decorating a space usually begins with one idea and then I build on that. This year my main inspiration for this space was a set of vintage botanicals by Karl Bossfeldt (1865-1932). These botanicals are not your traditional botanicals. Karl Bossfeldt was never formally trained as a photographer, but he used a homemade camera and lens to magnify plant life up to 30 times their natural size. These vintage botanical macro photographs are from a collection in Archetypes of Art (1928) and are public domain pieces.
As soon as I saw them, I knew I had to use them in my home. Now, for framing, I would typically drive to Ikea because you can't beat their prices for a quality frame with a mat. But, that wasn't possible this year. So, I went to Walmart and found these 16 x 20 large format frames and then purchased mats from JoAnne that had an 11 x 14 opening. I had the macro photography botanicals printed at Office Max as ledger size (11 x 17) on 110 lb. cardstock. And, here's the result!
Aren't these prints amazing!!! I love how they are vintage, yet are a bit modern looking! If you'd like to have these prints for your home, you might want to come back next week! And, those Walmart frames – I love them!!! They have glass, not thin plastic, and and are well made for the low price point! As you can see, I brought some bright color into this space with pillows. I love to change up my decor with pillows! But, once again, I couldn't just pop into HomeGoods to pick up a few new pillows. So, instead, I shopped at JoAnn and other local fabric stores that were open and made my own pillow covers! It's so easy to sew a pillow cover! It's just straight line sewing!
I first spotted the chartreuse velvet and knew I wanted to use it. I paired it with mainly black and white prints and one teal velvet. You need less than one yard of fabric to make a 20″ pillow cover. So, this is really the most economical way to bring new pillows into your home! The most expensive fabric I used was $12 a yard.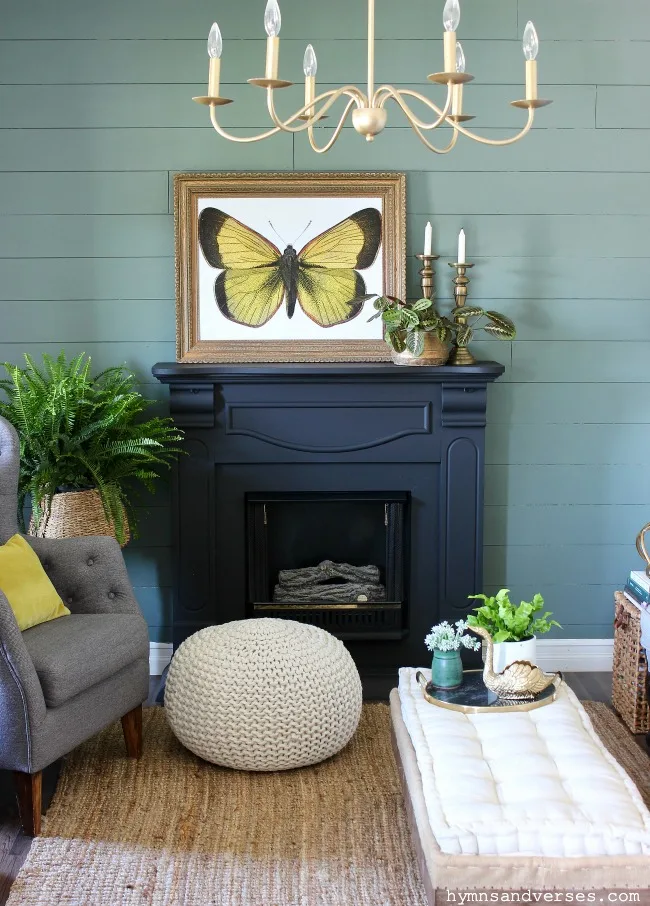 The chartreuse butterfly print is another vintage print that I had enlarged and framed. I have to be careful with what colors I bring into this space because of the green planked accent wall, but I love how the chartreuse looks against the green. You can get this vintage butterfly print in my Free Printable Library !
And, chartreuse lumbar pillows continue that color theme around the room. The larger pillow covers on the chair are from H&M years ago that I had in my collection! The next of my summer decor tips is to bring in fresh or faux plants! I picked up this large Kimberly Queen fern at Wegman's for $12.99! It's so lush and full and you can't beat that price! Place your plants into a basket or other planter, but keep it in it's original grow pot. The plant stand is vintage and I found it on Facebook Marketplace for $5! Because I haven't been able to visit my favorite antique shops, I have been looking at Facebook Marketplace and have found a few bargains. Sellers are accepting online payments and contactless pickups! It's been a great way to look for antiques during the shutdown.
Here you can see both chairs with the library table in between. I also have to be careful with color in this room because of the print on these curtains that I made earlier this year. I love the Ballard Designs fabric and don't want to change out the curtains any time soon. On the library table is a basket of Queen Anne's Lace from the side of the road! It's that time of year when it's blooming all over Lancaster County, and I love it in a bunch like this! I used a clear vase with water inside the basket.
My small entryway, got a little update. I switched out the coat rack that we made to a vintage style accordion rack. The vintage hats and bamboo cane were my grandfather's. I've had this "Goods & Provisions" market tote for a while and it's perfect for taking to the farmer's market! And, the bench is another Facebook Marketplace vintage find!
Here's a few more looks at the living room.
Dining Room and Kitchen
In these spaces, I didn't make any big changes. I just changed out the accessories to reflect the season. Let's take a look.
My next tip is to shop your yard for fresh greens!!! I trimmed some Solomon's Seal for this arrangement! And, the gold vase is one I've had for years. The black and white ribbon adds some interest and ties into all the other black and white in the space.
All of the accessories you see in my post today are just ones that I had, but hadn't used in a while. Although, I do like to bring out this concrete bird in the spring and summer months! I found it a few years ago at HomeGoods. When you do shop for decor, think about how a piece will stand the test of time.
I took my dishes out of the corner cabinet and decided to style it with elements found in nature. Here's a close up look. Don't be afraid of being unconventional!
And, here's a look into my kitchen space.
I kept the kitchen simple with just a few accessories I picked up at the farmer's market!
An ironstone bowl of fresh strawberries and yummy homemade strawberry danish on the countertop says summer to me!!! Then, I clipped some roses from my Knockout Rose bushes that are full of pink blooms! Don't they look pretty in the white pitcher!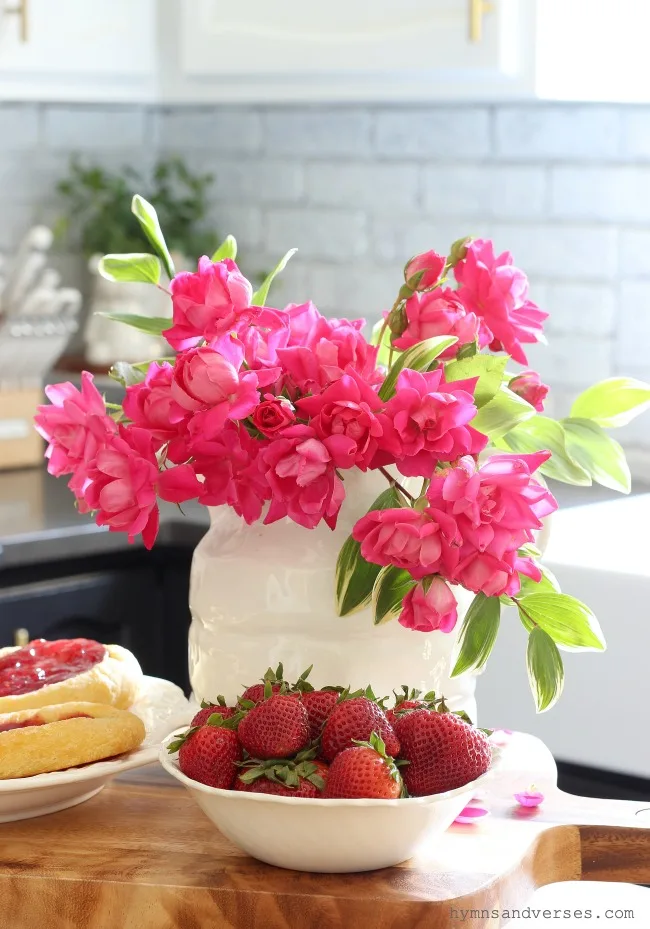 And, I added this black and white botanical print that I had to the kitchen peg rail shelf that we made.

Screen Porch
Now, let's go out to my favorite space – the screened in porch! I used more fabrics out here to make pillow covers and a floor pouf! I'll be sharing details about how to make the pouf soon! I do have a new rug in this space that I purchased earlier in the season at Target. It's neutral with a pretty floral pattern. This rug also comes in blue and I was really tempted to get it. But, let's be honest, I'm not going to decorate this space in blue and white more than this season. I like to change this space out differently each season. So, choosing the neutral color is best for me in the long run! And, this rug is so pretty that I can see me moving it indoors down the road!
I left the old scale on the porch! And, I picked up a wire vine hanging basket at a local nursery and placed it inside this galvanized basket. As the vine grows, I hope I can train it up and around the top of the scale.
I hung up my straw hats here! A actually wear these hats, so I'll be pulling them down from time to time (ha, ha)! I treat all of my porch textiles with Scotchguard Water and Sun Shield, and I always make my porch curtains with a sheer fabric that blows with the breeze and is light enough that it dries quickly to reduce mildew!
Blue and white is very "on trend" in decor right now! I don't typically decorate with blue and white, but do love to see it in other friends' homes! But, this year I decided to use it on my porch and I love the different patterns and shades of blue I was able to find for this space.
I did pick up this inexpensive print at Hobby Lobby at 50% off before everything shut down. I knew it would be a great piece on the porch! And, the wire basket was a $2 find on Facebook marketplace! I planted the purple flowers inside a plastic container with holes and filled in around it with sheet moss that I picked up at Walmart.
I added more plants and some blue glazed pottery on the baker's rack shelves. The small piece of pottery on the top shelf is one that one of my boys made in a high school pottery class!
Thanks so much for visiting my home today. I hope you took away some summer decor tips that will help you decorate your home for the summer months! If you have any questions about something you see, please feel free to ask! And, don't forget to visit the other tours this week for more inspiration! The full schedule is linked below! But, next up on today's schedule is Ashley from Modern Glam! You will love seeing her summer bungalow tour!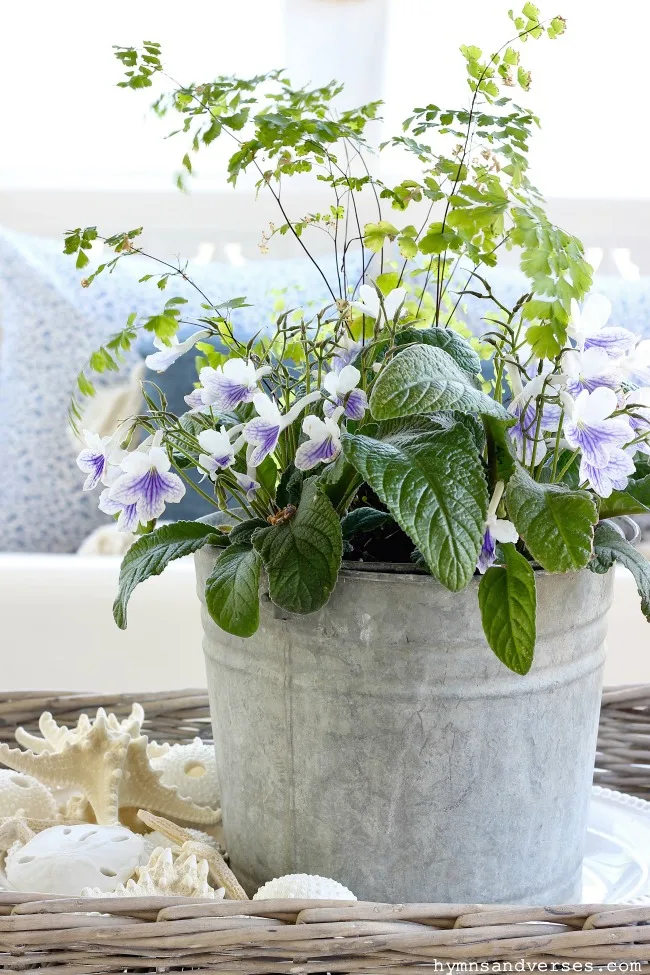 30 Summer Home Tours
Monday
A Stroll Thru Life , Clean & Scentsible , Far Above Rubies , Remodelando La Casa , It All Started With Paint , Life On Virginia Street
Tuesday
Setting For Four, Duke Manor Farm, Decor To Adore. House By Hoff , Inspiration For Moms, Pink Peppermint Design
Wednesday
Modern Glam , Fox Hollow Cottage , Thrifty & Chic , 11 Magnolia Lane , Grace In My Space , Hymns and Verses
Thursday
Seeking Lavender Lane , StoneGable , Designing Vibes , CITIRINELIVING , Our Southern Home , Southern State Of Mind
Friday
The Woodgrain Cottage , Life On Cedar Lane, Thistlewood Farms , White Arrows Home, Follow The Yellow Brick Home