I've caught the wallpaper bug! It started by looking for a wallpaper for my dining room. I've been thinking about making a change to my stenciled feature wall. I painted the damask stencil wall about five years ago and I'm ready for a change. You can see my stenciled wall HERE. I looked at other wall stencils and, honestly, decided that I'd rather wallpaper than stencil a wall again. I think wallpaper has gotten a bad rap in design. The wallpaper of days gone by is sooooooo hard to remove and we have all either personally experienced this nightmare or heard about it from a friend or family member! But, like all things with time, wallpaper has been improved and you can now purchase easy strip wallpaper or even temporary wallpaper that peals right off! Even the traditional wallpaper with paste is now formulated to remove in large pieces. As I looked at all of the wallpaper choices, I was finding more and more patterns that I loved! And, I haven't told you about this yet, but I'm gaining a new office space and I'm so excited! This will be my own little space to create and work and I'm so excited to make it beautiful! So, in addition to looking for a wallpaper for the dining room feature wall, I was also looking at wallpaper for my new office! So, today, I've narrowed down my choices and here are my Top 10 Favorite Wallpaper Designs.
This post contains affiliate links for your convenience! Please see my full disclosure at the bottom of this page.
I love that it is a vintage design by Morris and the color hues are perfect for my home! The design on this paper is dimensional with a subtle textural beading against a distressed background. This is the silver/stone colourway.
This is an allover floral damask in a Scandinavian folk art style. I am finding that I really love this Scandinavian folk art style. I think it lends itself to a cottage style home. The colourway shown is black.
3 – Arosa Prestigious Icon Wallpaper Collection
Bold floral papers are so popular right now! I was drawn to this hand-painted effect, floral wallpaper because the colors are perfect for my home. I would not paper a whole room with this one, but wouldn't it be a pretty feature wall – say, in an office???
You all know that I love buffalo check and this paper stole my heart! You mostly see this paper in black and white on Pinterest, but this gray and white check is perfect for my home!
Here's another allover floral that I love. It's a sure classic in the subtle gray and white tones and could easily work in a full room.
This classic black and white pattern is just beautiful. I think it compliments a wide range of decor styles – from traditional to farmhouse.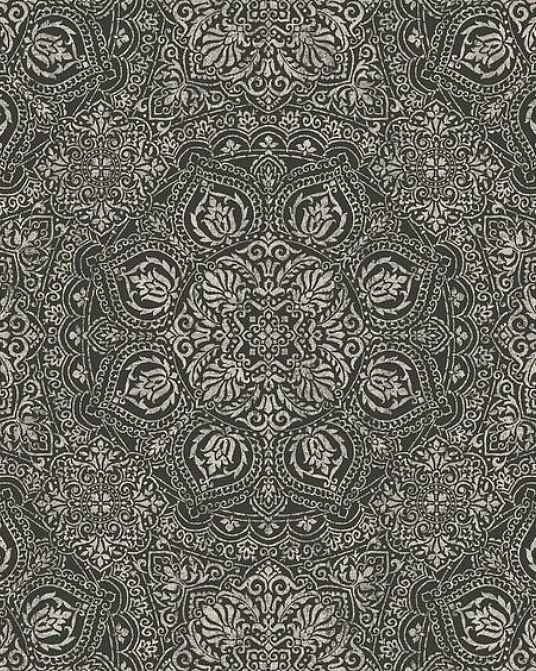 This is a departure from the light and bright papers above, but I was drawn to this subtle tile pattern in the darker hues. Dark wall color is "trending" in home decor for 2018. Do I plan to paint or wallpaper a lot of dark walls in my home – no. But, I've seen it work and look very classic. My favorite blogger, Dear Lillie, has incorporated this darker wall style beautifully in her home.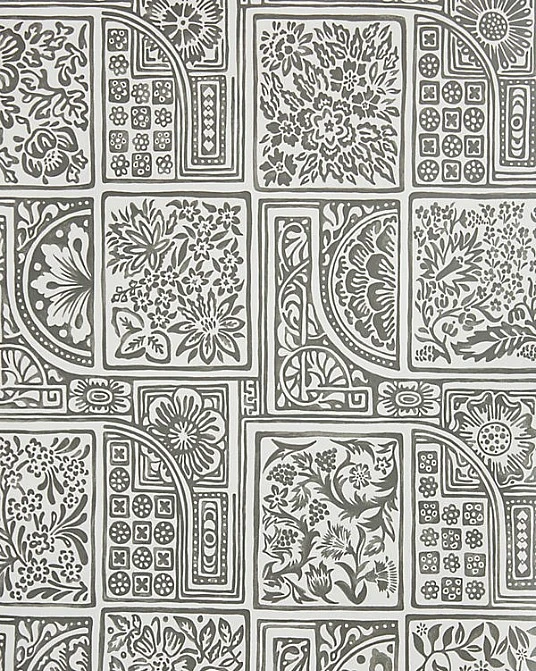 This graphic tile wallpaper is so fun. Tile is so popular in decor right now, but it's also a classic. I think this paper would be awesome in a bath or powder room.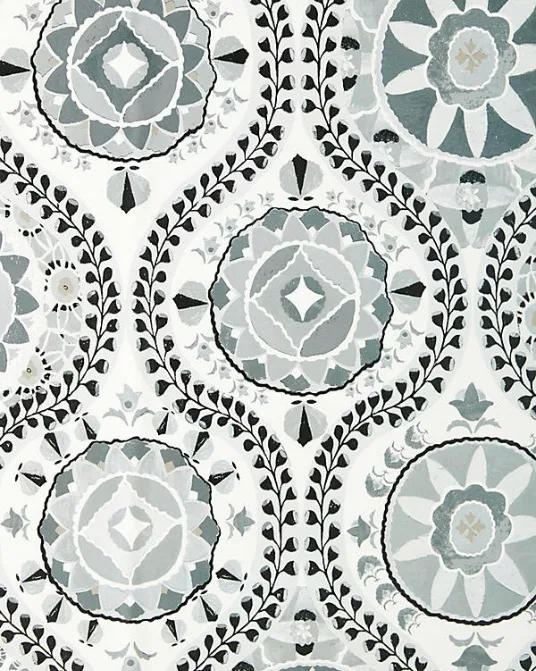 Okay, this one had me at "hello"! I know it says the colors are black and white, but there is also subtle blue gray and green gray hues that are so hot right now! It really makes me want to add these colors into my own home!
For my blue-loving friends, here's one for you! This design also comes in a gray colourway, but I think I like it more in the indigo! I know, can you even believe it! Blue and white is a classic and is also very popular in design right now! This design is subtle and would work in an entire room.

I'd love to hear what you think about my Top 10 Wallpaper Designs. Do you like any of them? Have you thought about wallpapering a room or feature wall? Would you like to see more posts on wallpaper? I love hearing your feedback! Here are the spaces in my home where I've used wallpaper!