This is a post from my archives, but one that most of my newer readers have never seen!  It's a tutorial to make this pretty Tulip and Asparagus Centerpiece.  You can use any flowers you choose.  I just happen to love tulips, so that's what I used.  But, a lovely mixed spring flower arrangement would be gorgeous too.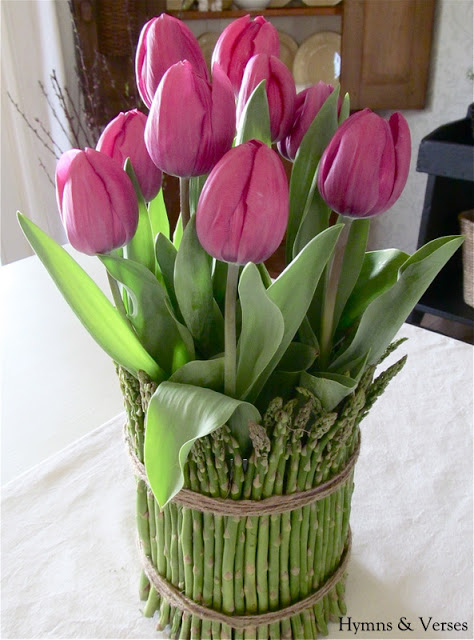 I used this simple glass cylinder vase that I purchased at Walmart a few years ago.  I have used it for so many things like my
Tulips and Egg arrangement
.   Because the sides of the container are straight, it's perfect for this arrangement too.  You could also use a wide can or other container with straight sides.
The asparagus that I purchased had thick rubber bands around the bunch.  Place the two rubber bands over the glass vase – one near the top and one near the bottom.  Take a stalk of asparagus and tuck it under each rubber band so that it stands up against the glass vase.  Now continue on around the vase adding asparagus stalks placed tightly against one another until the entire vase is covered.  Near the end, I needed to add some smaller cut pieces for the top section to fill in a few gaps.
To cover up the purple rubber bands, I used jute twine and wrapped it around and over the rubber bands several times until they were covered.  Tie a simple knot and tuck the ends under the wrapped jute twine.

Because these were potted tulips and I knew I was going to replant them for next spring, I carefully removed the tulips from the pot so they were basically individual stems and shook the dirt off the bulb.  I arranged the tulips in the asparagus container and filled with fresh water.  If I were to do this any other time of year, I would get fresh cut flowers from the grocer or florist.

I hope you enjoyed this little taste of spring for your dining table!