Our first official day in Texas was spent in Waco and at the very top of our list of things to do was brunch at Magnolia Table. The very first thing that I learned, after doing some research, is you really should try to visit The Silos on a weekday because it's not as busy. So, Thursday, we headed to Waco and our first stop was Magnolia Table. Please excuse the not-so-great cell phone pics!
First, Magnolia Table is not located in The Silos District, but in the center of town, about 7 miles from The Silos. We got there at 10 a.m. and had a little trouble finding parking. There is a parking lot across the street with a shuttle. The restaurant is on a busy circle intersection and they don't want people crossing the street there. There was a short line outside to put our name on the list and the hostess took our cell phone number to text us when our table was ready. We had about an hour wait – not bad at all! And, Jo thought of every detail to give us things to do while waiting!
This striped awning covers the Takeaway section of the restaurant and it provides some shade from the Texas sun and also some fun photo ops for visitors. The hostess was so nice to take pics for us!
Near this area are Chip and Jo's handprints in the walkway!
There's a beautiful courtyard to the left of the restaurant with an outdoor cafe where you can order coffee (and other beverages) and pastries if you have a long wait. With music playing in the background and a gorgeous environment, who cares if you have to wait a bit!
There is a lot of seating in this area and places for kids to play – big ones too!!! Marble Tic Tac Toe games were scattered around to pass the time.
Sweet smelling jasmine filled the trellises and it smelled amazing!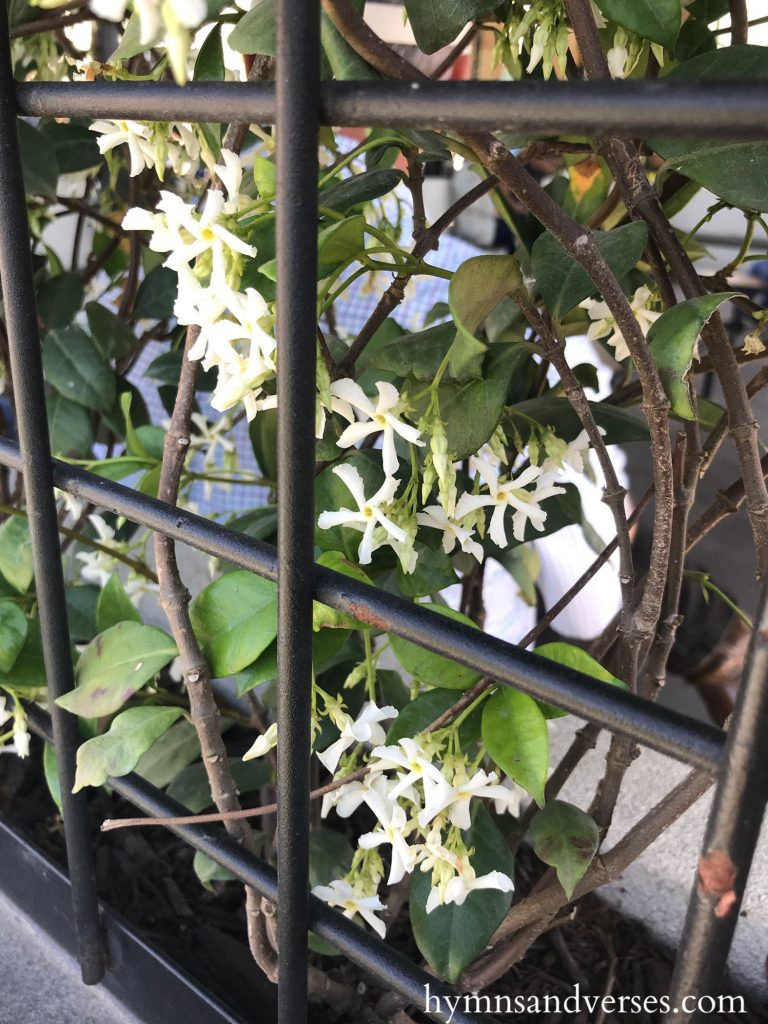 It was almost an hour when we were paged and seated. The mosaic tiles on the floor were amazing. But, it was really hard to take photos inside the restaurant. HERE'S a link to a Country Living article with loads of photos and history of Magnolia Table.
We had a chance to look at the menu outside, so we knew what we wanted!
I got the Farm Breakfast with peppered bacon. On the menu, it looks very ordinary – like most diner food! But, let me tell you, this isn't most diner food! A few things that make it special! Jo's buttermilk biscuits – warm melt-in-your mouth goodness with strawberry butter! YUM! And, the housemade tater tots served in their own mini cast iron skillet with fresh parmesan cheese and chives – AMAZING! The service was great and Jo's signature style was in every detail!
I loved the coffee mugs and just saw that they now sell them at Magnolia Market online!!! You can get one HERE.
I ordered a Diet Coke near the end of our meal and our waitress brought it to me in a "to go" cup so I could take it with me – how thoughtful! And, we had a visit to our table from a sweet southern lady (I wish I had gotten her name) who took time to chat with us! She was charming and told us a little about what it's like to work for the Gaines'. One thing that we noticed over and over during our visit, Chip and Jo surround themselves with the very best people! The hospitality we received was amazing both at Magnolia Table and at The Silos! And, speaking of The Silos, I'll be back tomorrow to share all about our time there! Until then, remember –
There's always room at the table!
Read more about my trip to Waco:
Visiting the Silos at Magnolia Market