Today, I'd like to introduce you to Mary & Martha!

*This post contains some affiliate links for your convenience. Please see my full disclosure statement HERE.
THE MARY & MARTHA MOTTO
Meaningful Entertaining . . . Made Simple.
Over 2000 years ago Mary & Martha began serving in their home. They learned through their experiences that having people in your home isn't about the act of entertaining, but it is the method by which we invite guests into our homes to Love On Them. (In fact, the greatest Guest felt so welcomed in their home that He was entertained there many times).
Fast forward 2,000 years and Mary & Martha pick up on their story – Love God & Love Others. Meaningful Entertaining . . . Made Simple.
I decided to join the Mary & Martha team as a consultant because 1. The products are beautiful! 2. Because I love the message behind the products. 3. Because they offer online shopping for the convenience of their customer. Mary & Martha does specialize in hostess home gatherings & I love to gather with my friends for a party, but at this stage in my life, I have a hard time finding the time for everything! Can you relate? So, my goal as a consultant is to introduce my readers to this great product line and offer the convenience of online shopping.
If you would really like to host a gathering in your home, you can go to my website and find a consultant in your area. Anything you order from my Mary & Martha website will be shipped directly to you – so there's no middle man. You don't have to wait for me to receive the order and then ship it to you!
Before introducing you to the Mary & Martha line, I felt I needed to purchase a few items myself so I could genuinely share the quality of the product with you. I certainly would not try to sell you something that I wouldn't use in my own home! So here are a few of the Mary & Martha products I've purchased. This Vintage Announcement Board has to be my favorite Mary and Martha purchase! It comes with changeable tiles to display four different hymn/song lyrics. The photo below shows it with the Easter tiles that are a separate purchase for $25.
This pretty pitcher is part of the Mary & Martha Grace & Gratitude line. It features a beautiful Queen Anne's Lace pattern along with the words grace & gratitude.
The last item I want to share with you today is the Acts 2:46 tea towel. I thought it was too pretty to just dry dishes, so I decided to make it into an art piece for the kitchen. I purchased a basic artist canvas at AC Moore with a 50% off coupon. Then I used a general purpose spray adhesive to attach the tea towel to the canvas. I made a simple frame and painted it black to frame out the piece. It's now hanging in my kitchen. You can see the full tutorial
HERE
.
Mary and Martha Giveaway (Giveaway Closed)
Today I'm offering a giveaway for the Praise Tray and 4 Grace & Gratitude Mugs – a $104 value. I shared the Praise Tray with you yesterday HERE. It's the perfect size to hold mason jars, Granny Smith Apples, baby boo pumpkins, a french baguette, and of course – the four Grace & Gratitude mugs that will come with it. Here's a close up shot of one of the Grace & Gratitude Mugs.
I tried to make this giveaway one that is easy for everyone to enter! I hope you'll help me spread the word about the giveaway and these beautiful products!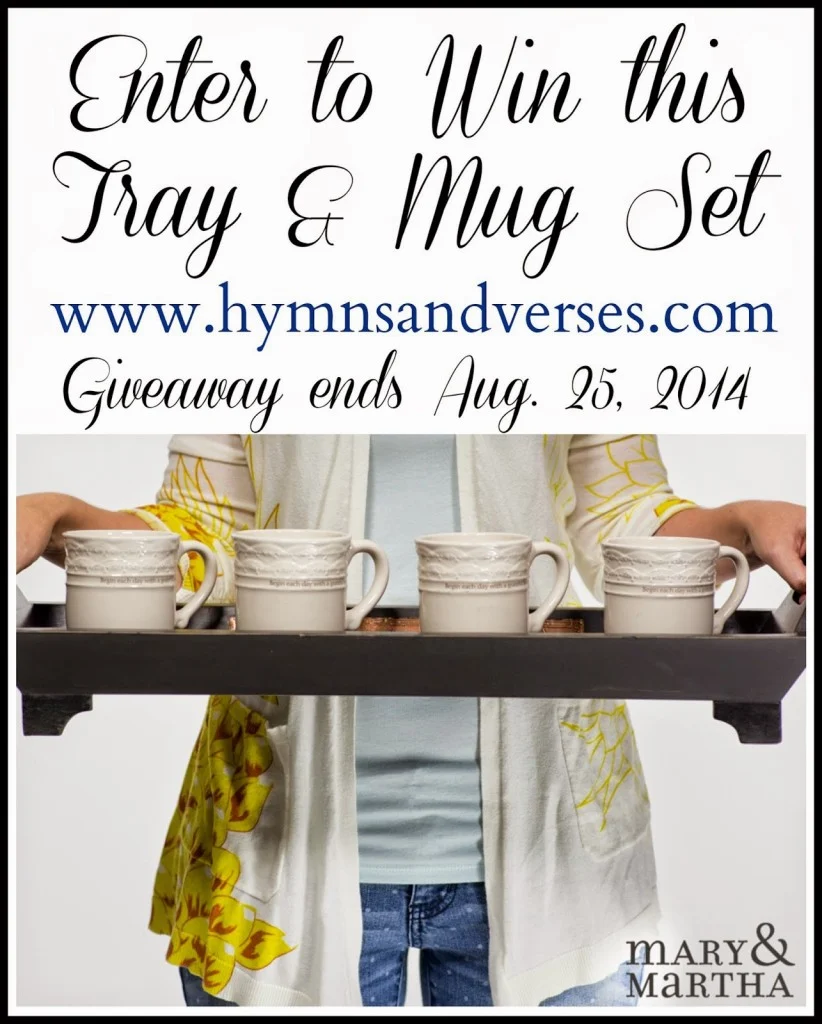 Let me know what you think of Mary & Martha! And, CLICK HERE, to shop the current Mary and Martha products!