I know we are all ready for spring and lighter and brighter decorating with pops of color, but, let's face it – it's still winter! So, I've decided to embrace it! I'm going to have a cozy, wintery home with a fire crackling in the fireplace and a few wintery accents here and there. Here's an easy project that can be done in just a few hours to bring some winter decor inside. They would also look great on your front porch.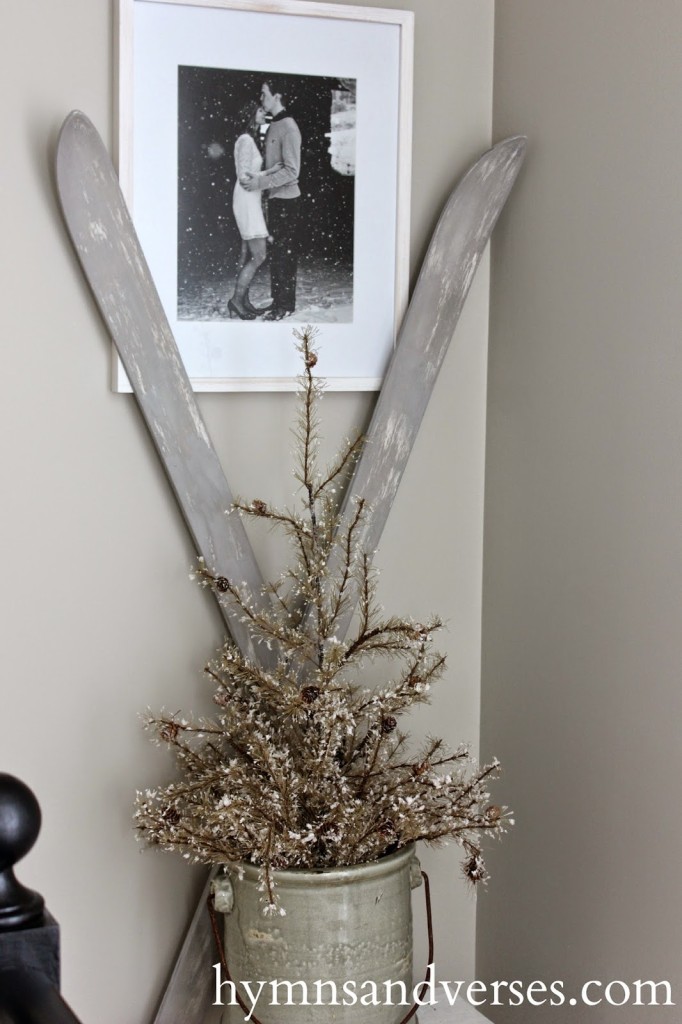 I picked up a cheap pair of skis at my local thrift store for $10. If you ski and have an old pair, then you could use those. I brought them home and removed the bindings. The skis were bright pink and purple – Yikes! But, with a few coats of Maison Blanche La Chaux french lime paint, they look perfect in my wintery home. The beauty of Maison Blanche paint is that you don't need to do any prep work. No sanding or roughing up your surface – even with the most slick surface, like these skis. I just painted right over that shiny pink and purple with a base coat of La Chaux Lord Anson – a cool blue shade. Then I added a coat of La Chaux Petite Chateaux – a warm gray. Finally, I dry brushed the skis with a coat of Maison Blanch Oyster – an off white.
Gone is the bright pink and purple and now these skis look like they were purchased as a decor piece! I used them in a little vignette at the top of our stairs. If you are interested in trying the Maison Blanche brand of paint, stop by
HERE
to enter a painter's dream giveaway full of Maison Blanche products and more!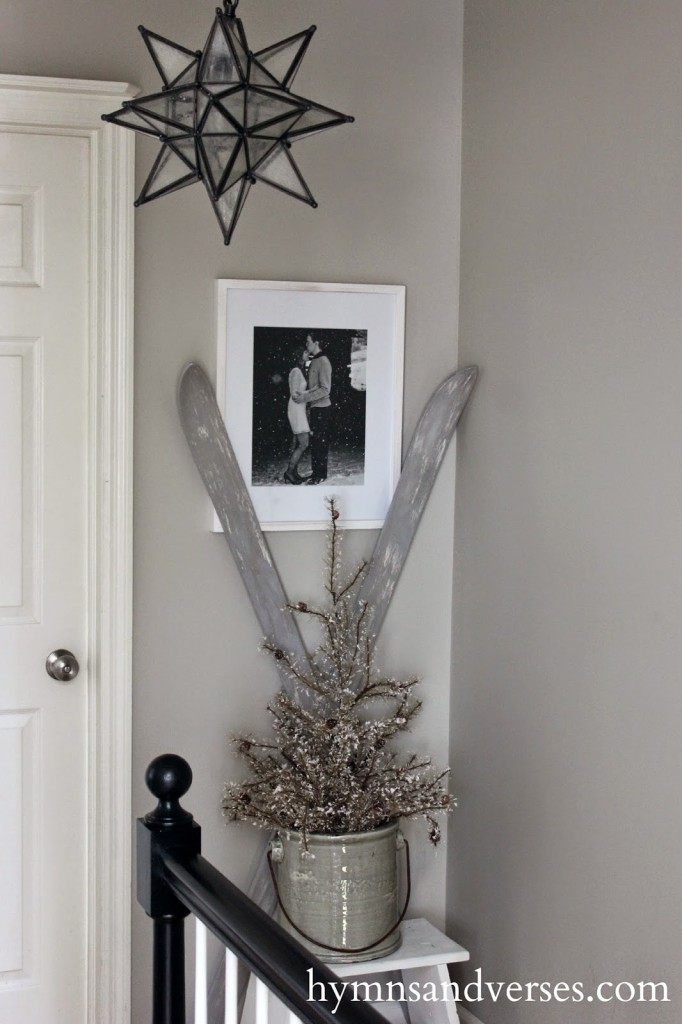 In the photo above you can see my latest Pottery Barn Outlet find that I've been excited to share with you – the Olivia Star Pendant. We live in an area rich in the history of the Moravian Church and each year most homes have a lighted Moravian Star hanging on their front porch. Since I first saw the Olivia Star Pendant, I knew it was the light fixture I wanted in my upstairs hallway. I went shopping a week after my surgery – yes, one week after my surgery, with my good friend, Cindy. It was so good to get out of the house and walk around a few stores. We went to the Pottery Barn Outlet and there it was – the Olivia Star Pendant – for $49.99!!! I was sooo excited! I wish I could capture the patterns it casts on the ceiling and walls when lit at night – it's just beautiful!
I hope you are having a wonderful Tuesday!
Sharing today at: