As soon as I pulled up, I spotted this piece. As you can see, it's in pretty rough shape – as are most things I find at this particular shop – but sometimes they can be redeemed with just a little elbow grease. I looked it over and it seemed to be a well made piece and worth saving! I continued to look around a bit and the shop owner came out to greet me. I asked him what this piece of furniture was or what was it used for. As he often does, he laughed at me like -"can you believe she doesn't know what this is"! He told me "It's a victrola! You know, there was a handle that you turned and it played music" (I guess he didn't know that I DID know what a victrola was!). He said they used to have one in his school classroom when he was young and if it was a rainy day, the students got to take turns playing music.
I asked him the price and after some debate, we agreed on my price. I brought the victrola cabinet home that day. As you can see in the picture, someone along the way removed the phonograph parts. I looked on the internet to find the age of this particular model and found that it dates to 1920. Here's what it would have looked like in it's original condition.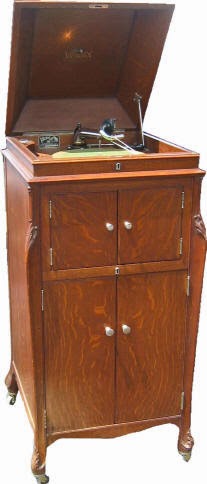 Source: http://www.victor-victrola.com/XIV.htm
I do have the lid, but actually liked the look of the piece better without the dome-shaped lid. I made a new top for the cabinet from plywood cut to size. After a really good cleaning, it was time to make this victrola cabinet into something that can be used today!
One thing you should know about the La Chaux paint – it always looks darker when wet or in the can. The first time I used this product, I was afraid I received the wrong color, because it looked so much darker than what was on the paint color chart. But, trust me, when you choose a color from the color chart, that is the color you will get when the paint dries! I painted the inside and entire outside of the cabinet with the La Chaux paint.
I really liked the idea of hand painting some detail on the cabinet doors, but ended up picking up a lace stencil at AC Moore (Stencil Ease – Milanese Lace) to use instead of hand painting – so much less stress!
Finally, I used Maison Blanche Lime Wax in "Chalk White" for the finishing touch. Oh my, this was the first time I used the Lime Wax and I love the result! It works the same as a regular clear wax, but has white chalk in it. It adds almost a veil-like
Now, if you'd like to see more paint transformations, stop over and visit my friends to see their fabulous projects!
Sharing today at: