I have a confession – I love to shop! For me, it used to be a clothing thing (and still is to some degree), but since beginning this blog, I'd say I now mostly shop for things home related. And, like most women, I have my favorite places to shop! At one of my go-to shops they don't have cash registers and only deal in cash. If you don't have cash, the nice shop owner will just write sold on the item you wish to buy and wait for you to come back another day to claim it. There are handmade treasures to be found there – treasures made without a Kreg jig or Ryobi drill – no power tools are used there. Last week I stopped by to see what the inventory was like. And, look what I found – a vintage Victrola cabinet!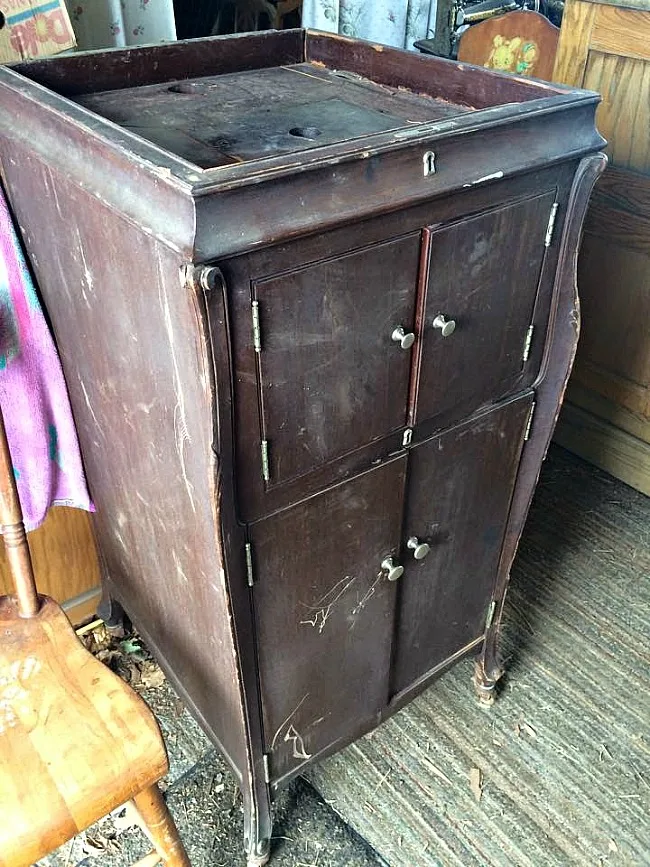 This is a sponsored post. That means I have been compensated with product and/or payment to review and share my opinion with you. I will always give you my honest opinion and won't share anything with you that I wouldn't use in my own home. See my disclosure statement HERE.
As you can see, it's in pretty rough shape – as are most things I find at this particular shop – but sometimes they can be redeemed with just a little elbow grease and paint. I brought the victrola cabinet home that day. As you can see in the picture, someone along the way removed the phonograph parts. I looked on the internet to find the age of this particular model and found that it dates to 1920. Here's what it would have looked like in it's original condition.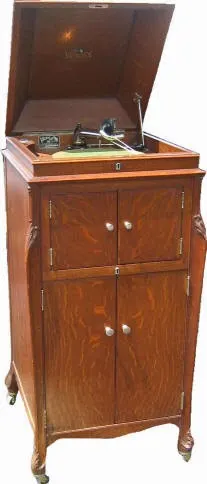 Source: http://www.victor-victrola.com/XIV.htm
Victrola Cabinet Painting Process
I do have the lid, but I liked the look of the piece better without the dome-shaped lid. I made a new top for the cabinet from plywood that was cut to size. After a really good cleaning, it was time to make this victrola cabinet into something that can be used today!
Since this piece was in pretty rough shape with some surface scratches, I decided to use Maison Blanche La Chaux French Lime Paint – it is a thicker consistency than normal paint or chalk type paint and one coat covers a lot of those imperfections – plus, no sanding or priming is required! I took a small step out of my gray and white comfort zone and chose the color Lord Anson – a cool blue shade.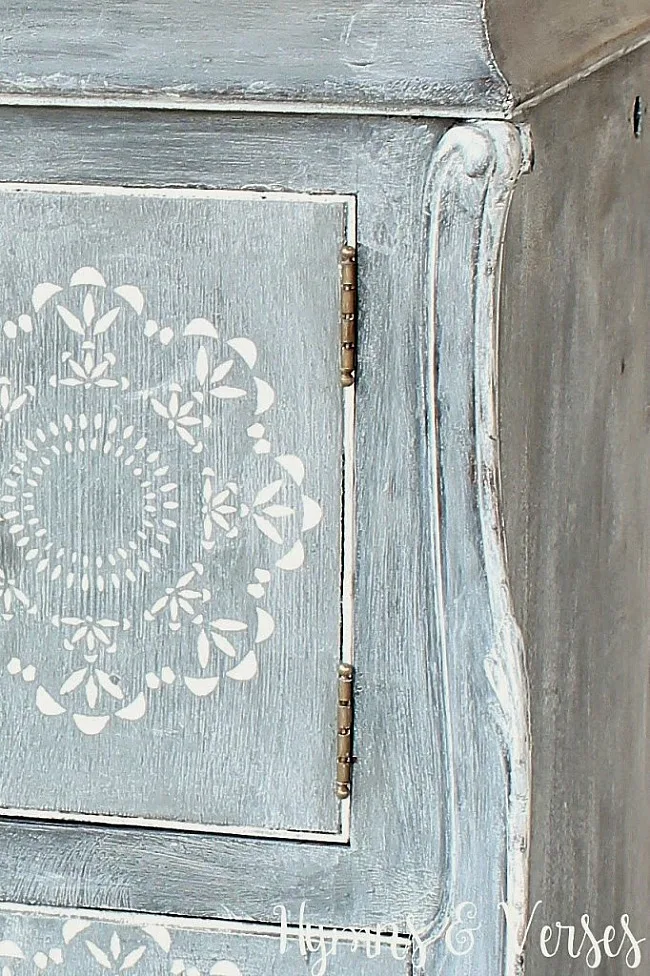 One thing you should know about the La Chaux paint – it always looks darker when wet or in the can. The first time I used this product, I was afraid I had received the wrong color, because it looked so much darker than what was on the paint color chart. But, trust me, when you choose a color from the color chart, that is the color you will get when the paint dries! I painted the inside and entire outside of the cabinet with the La Chaux paint.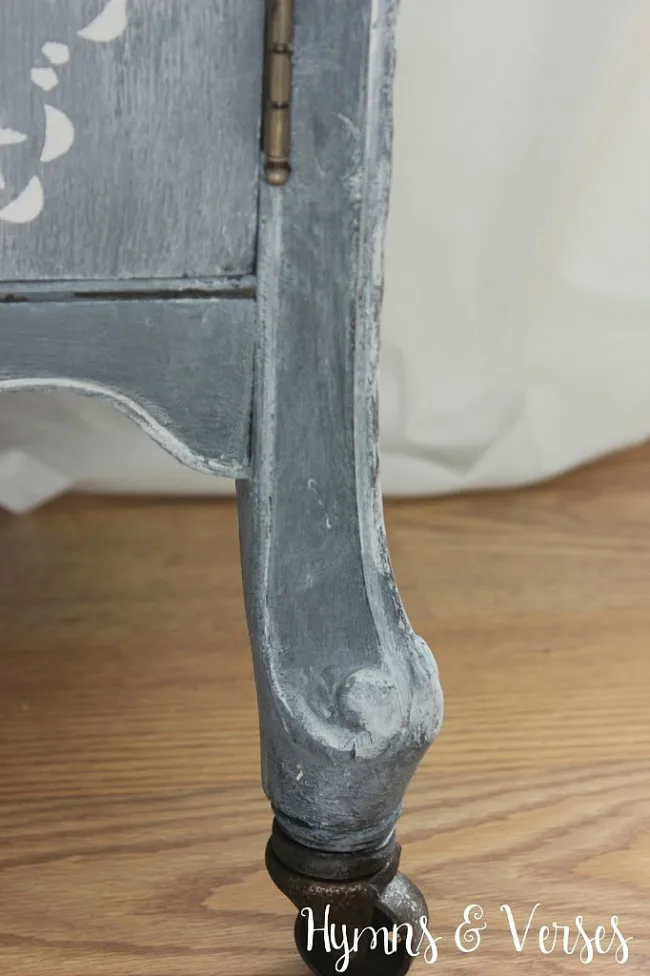 Then, I decided to highlight the cabinet's curves with white – for this I used Maison Blanche Vintage Furniture Paint in the color Magnolia.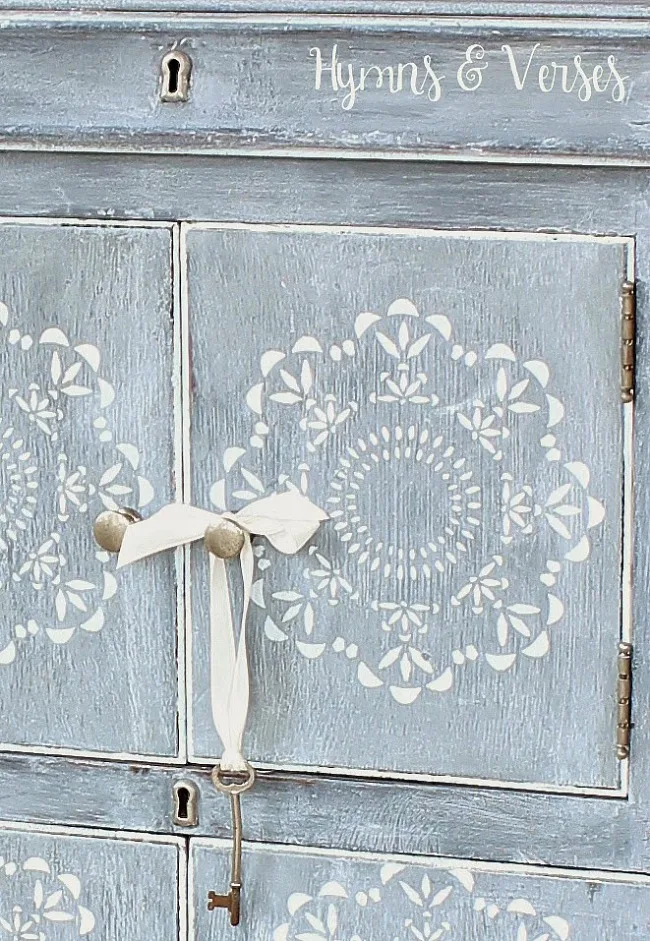 I really liked the idea of hand painting some detail on the cabinet doors, but ended up picking up a lace stencil at AC Moore (Stencil Ease – Milanese Lace) to use instead of hand painting – so much less stress!
Victrola Cabinet Paint Top Coat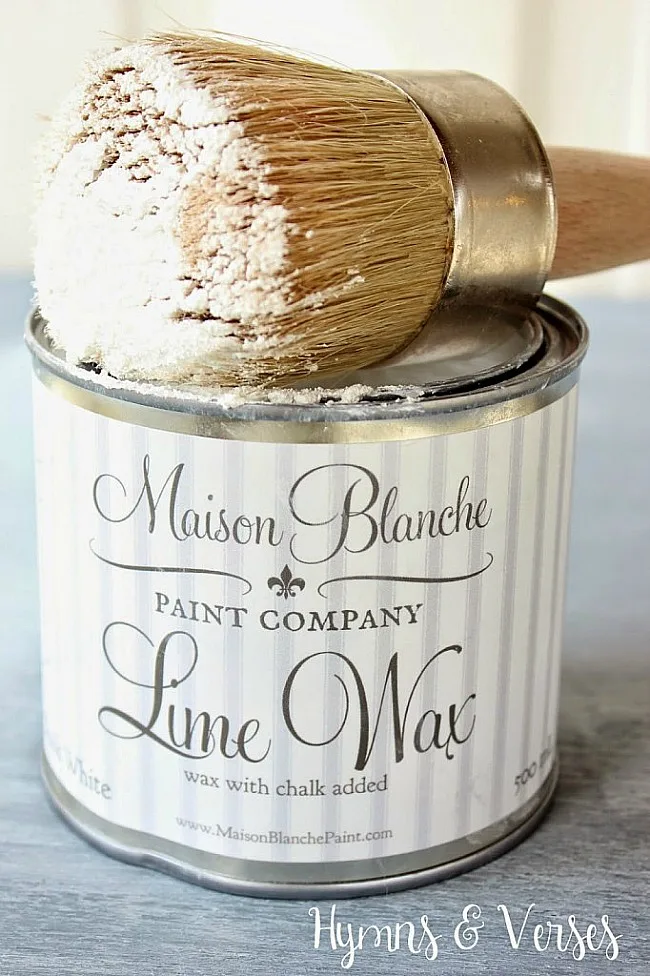 Finally, I used Maison Blanche Lime Wax in "Chalk White" for the finishing touch. Oh my, this was the first time I used the Lime Wax and I love the result! It works the same as a regular clear wax, but has white chalk in it. It adds almost a veil-like finish!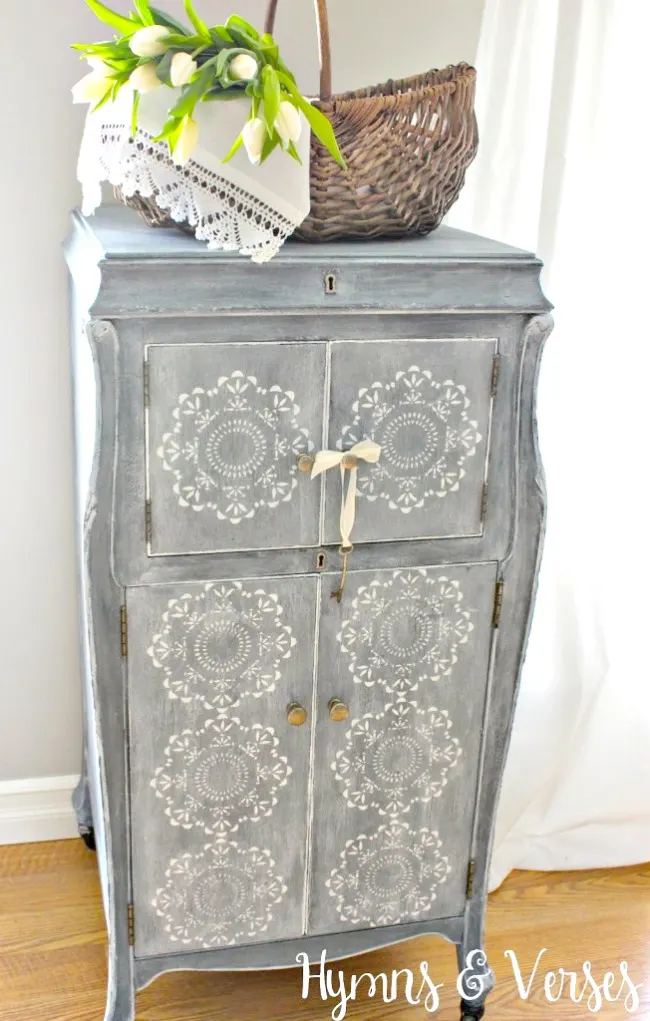 I'm so happy with how this makeover turned out with the help of the Maison Blanche Paint Company. If you'd like to see more of their product line, you can visit their website
HERE
.