You know how ready for spring we all are! It's been a long and brutal winter! It's a gorgeous sunny day here, so I decided to snap a few pics of some spring going on in my house with this cottage style spring vignette. As I sit here at my computer typing this, I'm listening to the radio and heard the weather forecast that we are going to get 3 – 4 inches of snow tomorrow – agh! Really – on the first day of Spring! Well, one thing that we do know for sure –
"No winter lasts forever . . .
No spring skips it's turn"
Hal Borland
Cottage Style Spring Vignette
I brought in my old windowpane mirror and hung a daisy wreath from it with some jute cord.
Inside the wire cloche is a little white tulip and some speckled eggs.
I picked up the cute little bunny this year! I just couldn't pass him up! This primitive look is a favorite of mine.
This vintage wicker handbag/purse makes the perfect Easter Basket for this spring vignette! I found it last year a local antique shop.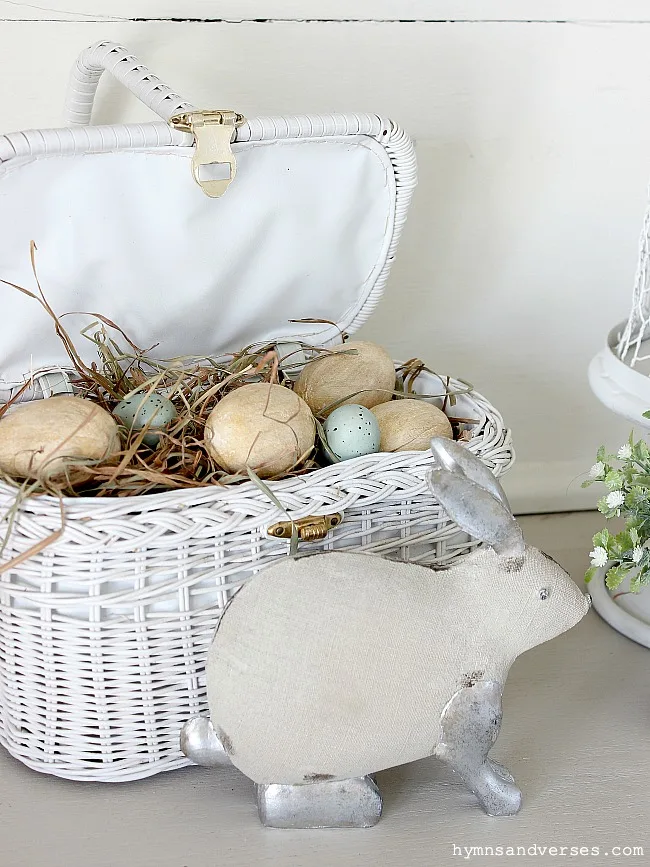 When I saw it, it brought back memories from my childhood when I carried a tiny white wicker handbag on Easter Sunday with little white gloves, white patent leather Mary Jane shoes and, of course, an Easter bonnet!
I hope this little spring vignette inspires you to do a little decorating for spring! Because, it really doesn't matter what the weather is outside – tomorrow IS the first day of spring!
The little, cottage style dresser is one of my favorite makeovers! And, if you haven't seen how this little dresser looked before, you can see it
HERE
! The transformation is truly amazing!!!
And, if you don't get my posts in your email inbox, you are missing out! Email subscribers have access to my FREE Printable Library with lots of prints you can download and frame for instant artwork for your home! Click the button below to sign up today!