I'm so excited to be here sharing with some of my favorite blog friends for the 2016 Christmas Tour of Homes sponsored by Marty at A Stroll Thru Life.
Today is Day One and there are 30 inspiring holiday homes on this tour! At the end of the post is the entire schedule with links to each blog post! So, please, stop by and visit the other homes on today's lineup! If you are here from Haneen's, "Welcome"! I'm so glad to have you here!
This year, I've decided to spread my home tour out over the entire week! It's just way too many photos for one post. So, for today, I'm sharing my newly updated master bedroom and my dining room.
So, here's what I've been teasing you about for the past month! A little update in the master, that I absolutely love! The buffalo check on the headboard is my favorite thing – no wait, the wood bead chandelier is my favorite thing – wait, the faux wood plank wallpaper is my favorite thing!
I have way to many favorites in this space and I'll be sharing them in detail with you in a separate post, but today's let's focus on Christmas! The Noel sign above the headboard is a sign I made a few years ago. It's simple and I thought it looked great with all of the warm grays in the room.
The toile pillow covers are from Pottery Barn. My youngest got me a gift card to Pottery Barn for my birthday and I used it to purchase these gorgeous covers. They are reversible to a pretty gray and red plaid!
Here is one of two nightstands that began as basic Ikea Rast dressers – you can see the transformation HERE. I purchased the wooden stockings a few years ago. The cuff part is chalkboard and I used a chalk paint pen to write our names on them. I just tied them onto the lamp bases on the nightstands.
The tree in the corner is vintage! I picked it up at a local thrift shop. At one time it was white, but now it has a pretty patina that had me at HELLO when I saw it! I won't tell you what Mark said about it, but it really wasn't complimentary! I think it's charming with white lights, paper banner, gray and white ornaments, and silhouette cutouts that I sell in my Etsy shop.
Here's a little vignette on the dresser. A sheet music wreath, vintage style light up house from TJ Maxx and a framed piece of vintage Christmas sheet music – all blend well with the vintage Christmas tree.
Here's a better look at the tree! Can you believe I got the wood star ornament from an Ace Hardware Store! You never know where you'll find great Christmas decor!
Now let's move on to my Christmas dining room!
You may notice my rug is missing! We moved it out for the holidays. When my dad comes over, it's easier to push his wheelchair right up to the table without a sisal rug!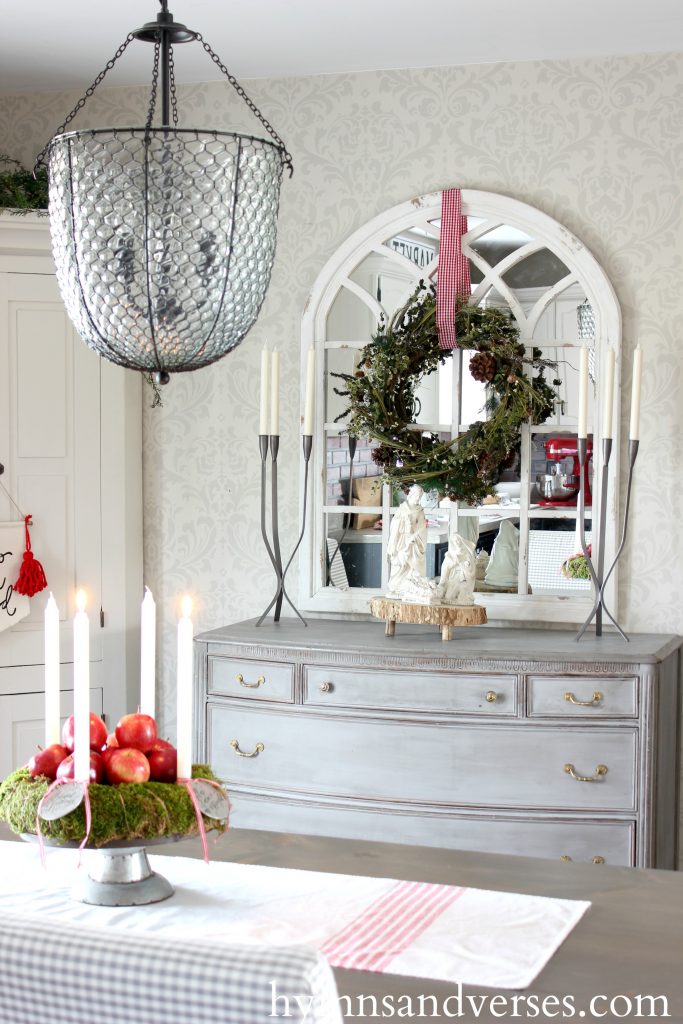 One of my favorite things in this room is the moss advent wreath that I made for the table. I set it on a tin cake stand and filled the center with red apples.
I tied Lindsay Letters pewter ornaments from Mary & Martha to each candle. You can purchase them HERE. There are four different ornaments and are sold separately.
Here's a closer look at the nativity on my dresser/sideboard. I picked up this simple nativity set last year at Costco of all places! The tall, branched candlesticks are from HomeGoods. They are simple, yet dramatic!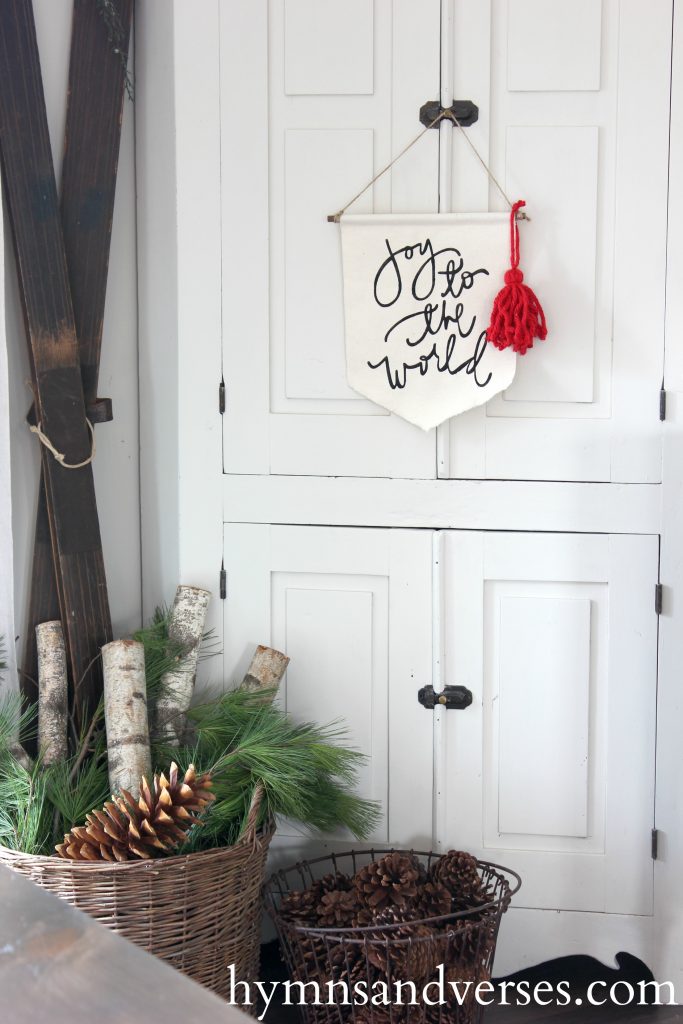 The ladies at our church had a craft night a few weeks ago and I taught them to make these little "Joy to the World" banners! I hung mine on the latch to the corner cupboard.
The next photos are some detail shots of the shelves and bar cart that you saw in the first dining room shot. This arrangement is something I did a few Christmas's ago – three mini cyprus trees and red apples in a vintage enamelware basin. The little cowboy boots were my son's when he was little.
It's such a little thing, but I love this pinecone! It was an ornament one of my boys made in Sunday School when he was a toddler! I got a package of the red "wish" gift tags at Marshall's.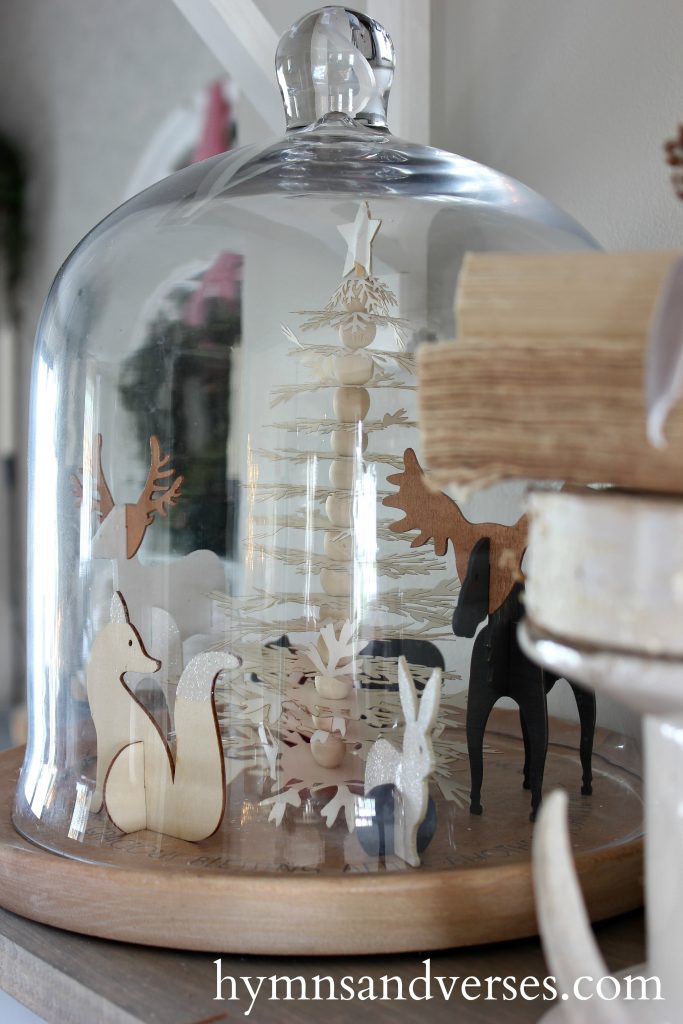 These little woodland animals were just a few dollars at Target! I paired them with a tiered paper snowflake Christmas tree and tucked them all under a glass cloche!
Thanks so much for stopping by today to see part one of my Christmas home tour. Tomorrow, I'll be back to share my Christmas living room and kitchen! Then, on Wednesday I'll be sharing my Christmas Screen Porch! So, I hope you'll stop back! Here's a sneak peek of my living room –
The next stop for today's Tour of Homes is Nesting With Grace! I love Brooke's style and I know you will too! And, below is the full Christmas Home Tour Schedule! A special thanks to Marty for putting this tour together – xoxo!