Welcome to Hymns & Verses! If you are visiting from The House of Silver Lining, I'm so glad you're here today to see my home all dressed up for summertime! Let's start my 2016 summer home tour in the living room.
Living Room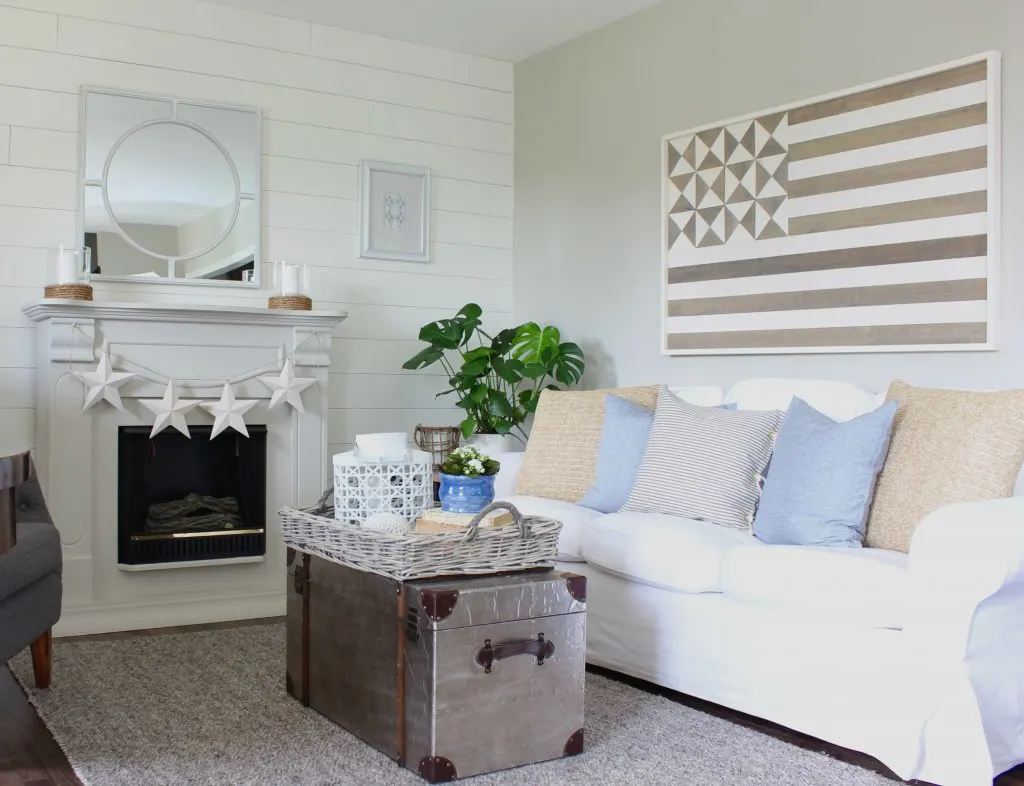 My summer living room features a DIY knock-off of Pottery Barn's Hermosa Planked Flag Wall Art. The moment I laid eyes on this quilt style flag sign in the Pottery Barn catalog, I was in loooooove! I showed it to Mark and asked if he thought we could make this for less – the Pottery Barn original price was $299 (it's currently on sale for $179). We used the dimensions of the PB original and ours came in around $50. I love how it turned out!!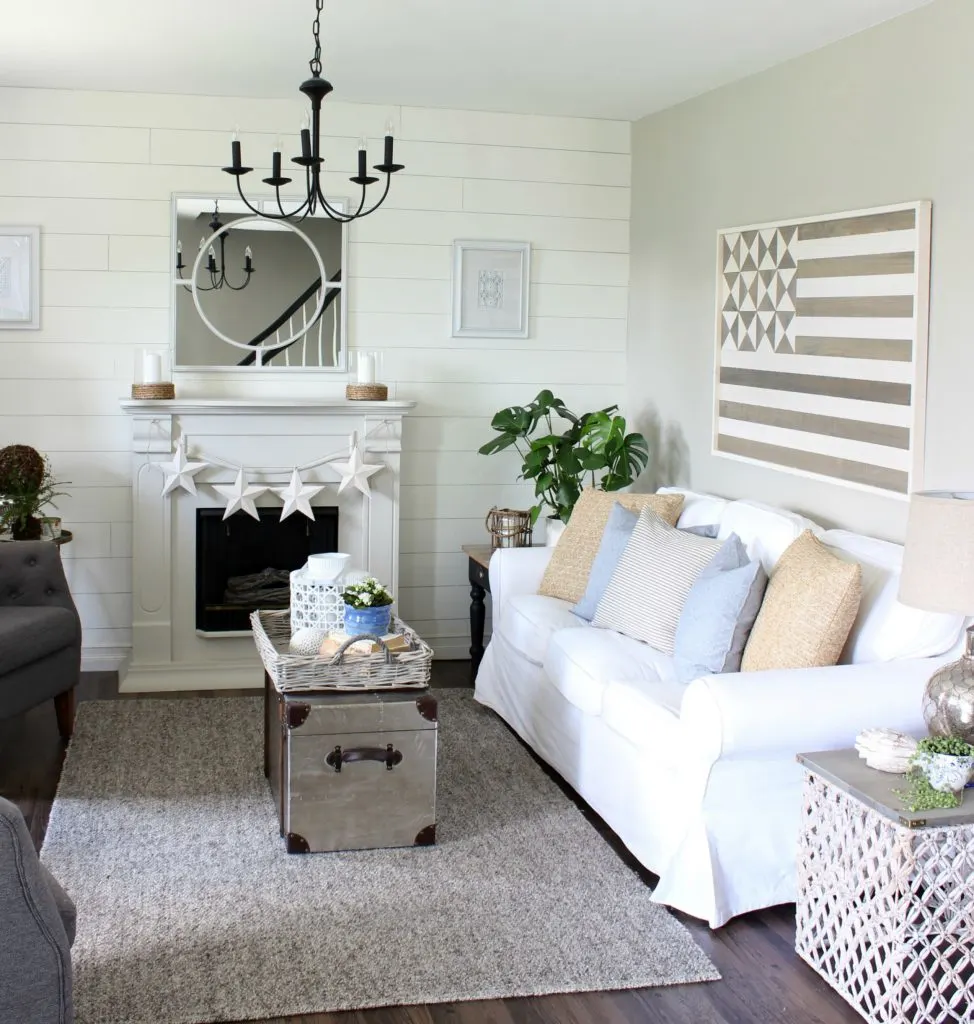 I strayed from the colors I tend to gravitate toward, and brought in some chambray blue. I have to say, why has it taken me so long to like blue! The blue pottery piece below was made by one of my boys in a high school pottery class – (when I was in school, we didn't have pottery class! We had wood shop and home economics!). Not fair! I'm so glad I held on to all those pots of many colors the boys brought home – this blue one was just the "POP" of color I was looking for.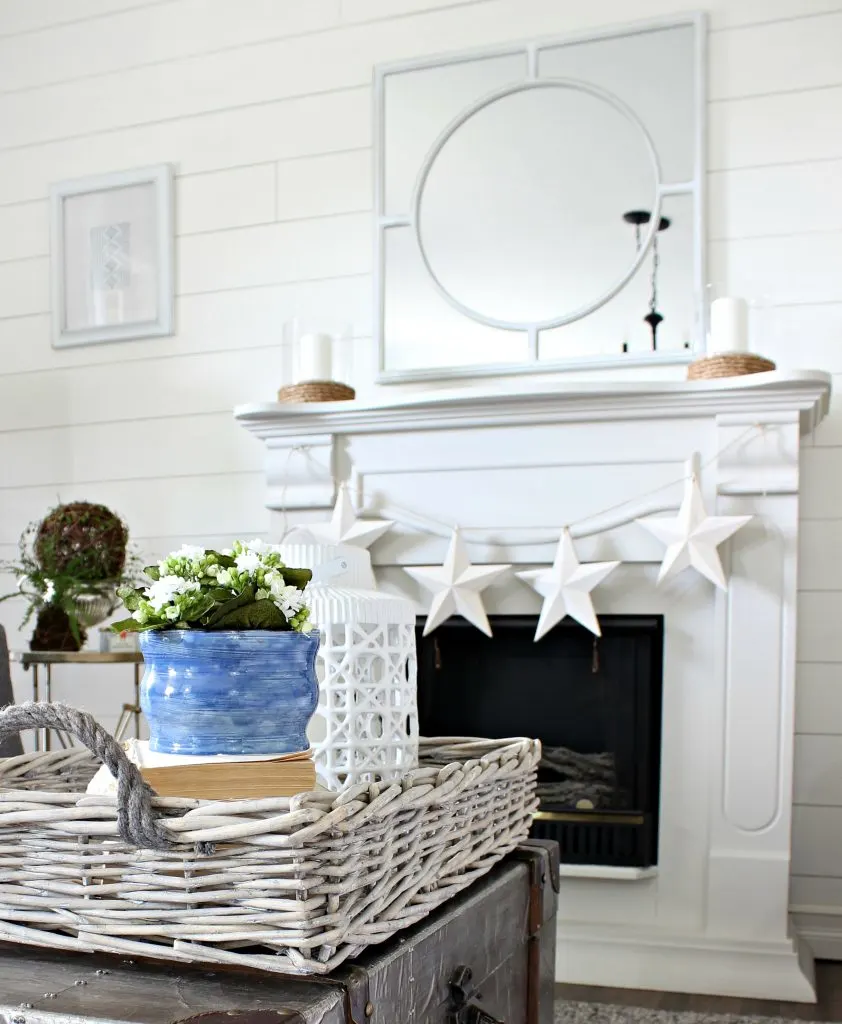 Those wooden stars have been in my attic for about three years. I got them at an amazing after Christmas sale at Michael's, but didn't have a clue what I would use them for. I gave them a simple white wash and used them to make a fun garland and also used them on the shelf above the library table.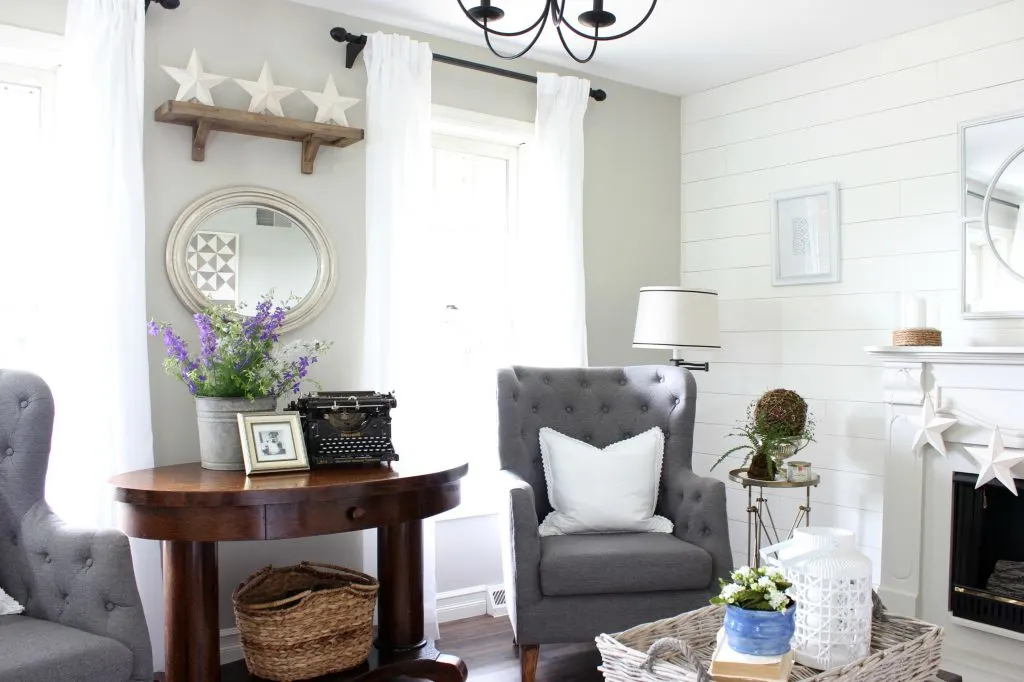 The Americana elements made me feel a little nostalgic, so I brought out my vintage Underwood. I paired it with an old tin bucket and filled it with larkspur from my garden. The vintage vignette was completed with a picture of my Mom on her wedding day.
The white linen pillows were made from pretty napkins I found on clearance. A pack of four 20″ napkins make the perfect pair of pillows!
Our little entryway got a bit of an update. Nothing earth shattering, but a simple coat rack and a bench that Mark made for me. I made the sign – it's one of my favorite lyrics and is perfect to see as you head out the door!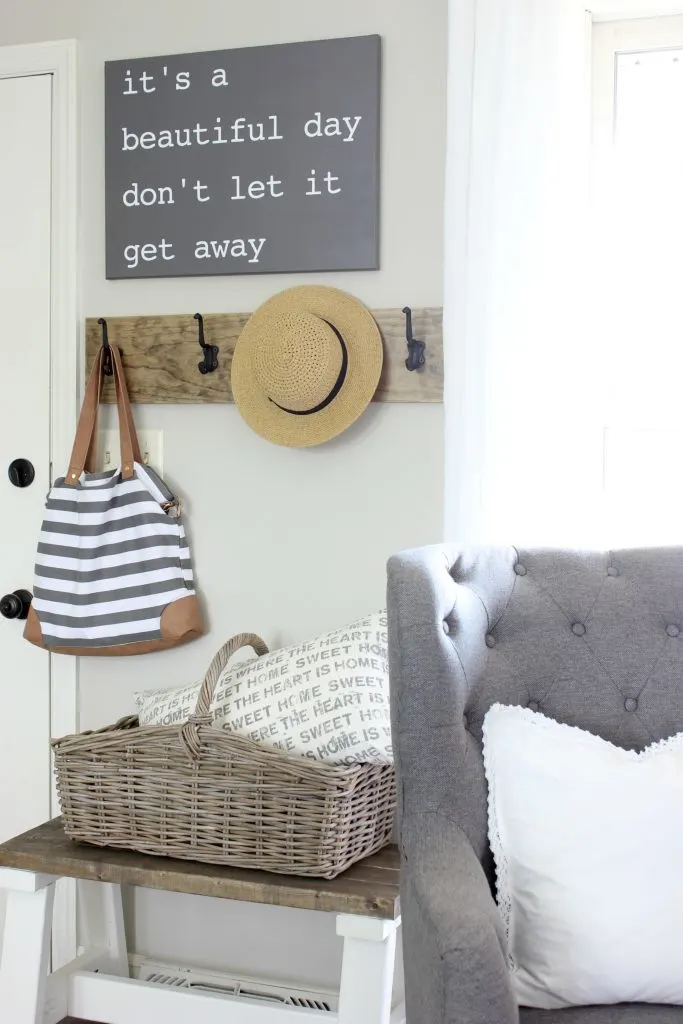 I've been adding more plants indoors. I picked up this small "String of Pearls" plant, but for the life of me, couldn't find a planter that I liked that was small enough for it's petite size. So, I ended up planting it in this pretty mug.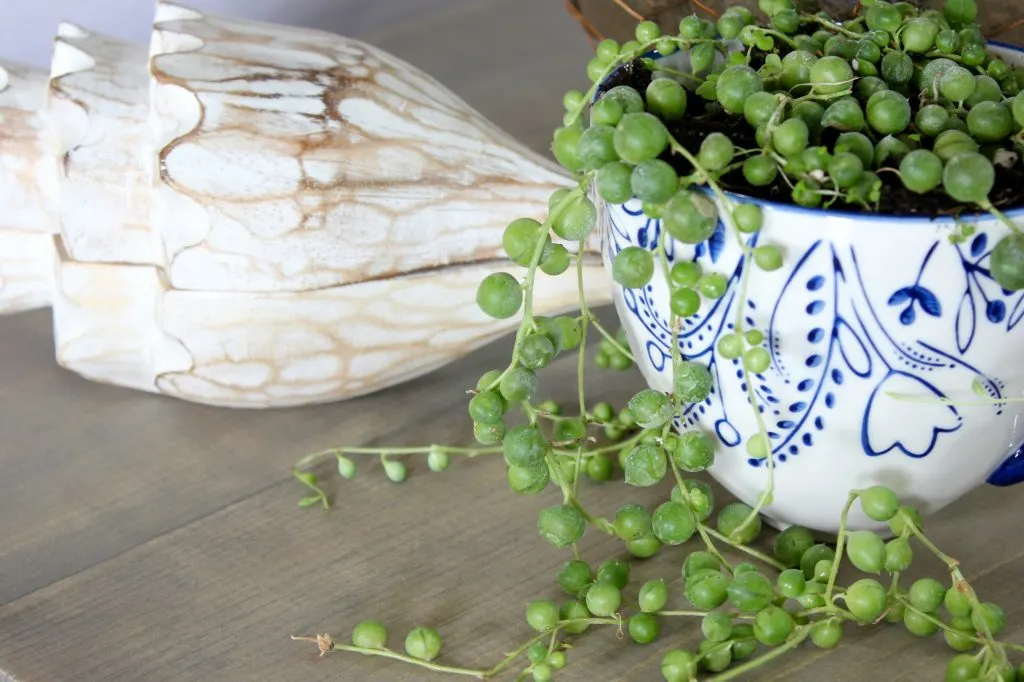 Dining Room
Now let's head into the dining room. We added some shelves above the bar cart to give me some extra storage – and for display (of course).
My favorite thing on the shelves – those vintage wooden berry baskets I found recently at an antique shop!
Speaking of berries, we're into full summer strawberry season here in Pennsylvania! One of our favorite summertime treats is a simple angel food cake with fresh strawberries – Yum!!!
What do you do when your peony centerpiece falls apart – literally – before your photoshoot? Head out for a drive with your garden sheers and fill your trunk with some Queen Anne's Lace from along the side of the road!
I picked up this pretty tray at Target earlier this spring and used it to hold my vase of flowers. I tucked some starfish, shells, and the vintage green glass bottles I found at a barn sale around the base.
Here's a look at my corner cupboard. I kept it pretty simple with mostly vintage white dishes.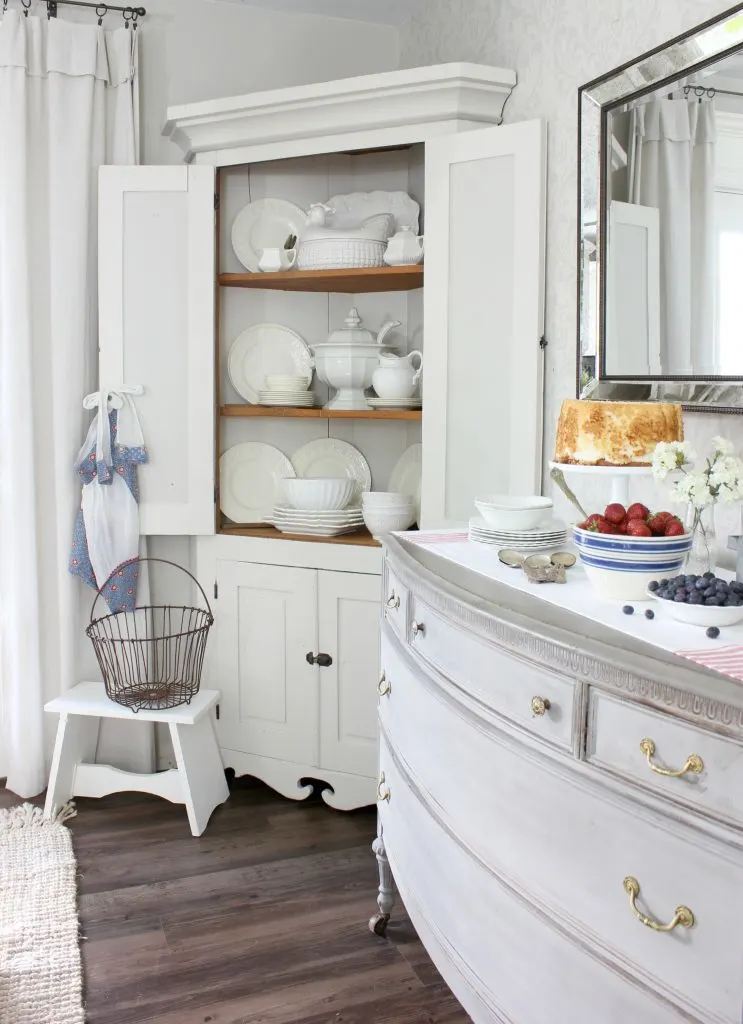 I couldn't resist this little vintage apron! It's so delicate – and that print!!!!
Kitchen
I brought in a few red and white items to accessorize the kitchen. In fact, I almost always have a bit of red in my mainly neutral kitchen. The bright white and crisp red really brights up the space.
I'm saving my screen porch and bedroom for a later date! Be sure to follow me by email so you don't miss them! My summer screen porch is one of my favorite spaces to decorate and I can't wait for you to see it! Here's just a sneak peek!
Thanks for stopping by and taking my summer tour!
Here's the line up for tomorrow's tours! You'll be starting at Jennifer's home- Dimples & Tangles!
Wednesday – June 8
Dimples & Tangles -Jennifer
Our Southern Home – Christy
Simple Details – Pam
Decor To Adore – Laura
A Thoughtful Place – Courtney
21 Rosemary Lane -Barbara
Sharing today at: