Are you a winter person? I admit, I don't really love this time of year. I'm not crazy about the cold, northeast winter weather. And, boy, I miss the sunshine (give me all the vitamin D!!). But, over the years, I've learned to embrace this time and make the most of it with some simple things to brighten up the cold winter months after Christmas. So, today, I thought I would share this post with 30+ Winter Hygge Ideas to show you some easy activities that can brighten your winter days.
WINTER HYGGE IDEAS
I originally shared this post in 2020, just two years ago, but I thought that it was a good time to remind myself and you of some things to brighten even the dreariest of winter days! For me, working on a home projects or a DIY help me on these wintery days. And, if its not too cold and blustery, it always helps me to get outside for some fresh air.
I also enjoy cooking and baking so much more this time of year! In the spring and summer months, it seems there are so many things pulling me in different directions. But, with the slower pace of winter, I like to try new recipes and also bring out those favorite cold-weather recipes for dinners.
You can visit my original post with more winter hygge ideas by clicking on the BOLD TITLE above the photo below. And, be sure to see what my friends are sharing for this week's Home and Decor Encore! As always, there's such a great variety from recipes to DIY projects to decor updates. And, if you'd like to Pin an idea to Pinterest, be sure to do that on the original blog post and not on this page! Thanks so much for sharing!
WELCOME TO HOME AND DECOR ENCORE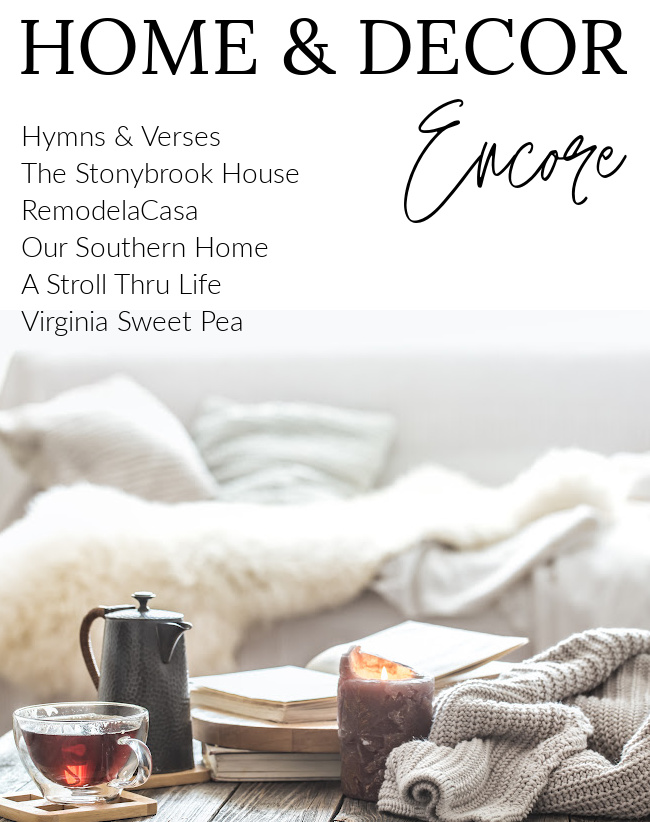 HYMNS AND VERSES | 30+ WINTER SEASON HYGGE IDEAS
THE STONYBROOK HOUSE | WHOLE 30 ITALIAN TURKEY SAUSAGE
REMODELACASA | DIY BUILT INS WITH CABINET DOORS
SWEET PEA | DIY FROSTED BRANCHES