Hygge is the new decor buzz word, but hygge isn't really about home decor. Hygge is a way of life. It's about simplifying and enjoying the everyday, slowing down and spending time with family and friends. . . and it's about a cozy home. Today, I want to share some winter season hygge ideas that will help us to slow down and embrace this time of year.
It's the first Saturday of the new year and new decade and that means it's time for Cozy Living Saturday, where I join some of my blogging friends to bring you ideas to make your homes more cozy and incorporate a hygge lifestyle. At the end of today's post, you'll find links to my cozy living friends' ideas for January! For the past two months we've all been hustling, bustling, wrapping, baking, entertaining, going here and there . . . and we all need a break! The winter season is the perfect time to slow down. So, today I have 30 winter season hygge ideas that might help us all to embrace this special time!
*This post contains some affiliate links for your convenience. Please see my full disclosure statement HERE.
30 winter season hygge ideas
Play a Board Game
When is the last time you played a game with your spouse, friend, or kids? As a family, we love to play games around the table! When Mark and I were first married, we enjoyed playing backgammon! I think it's time to find that backgammon game!
Make a pot of comfort – soup!
There's not much more comforting on a cold winter day than a bowl of hot soup! I have a few family favorites here on the blog: baked potato soup and healthy chicken tortilla soup.
Listen to music
I tend to listen to music mainly when I'm in my car. Why, I don't know! So, if you're like me, play some tunes around the house more often!
Write a letter
Find some pretty stationary and write a letter to a friend you haven't seen in a long time. Yes, we can email, text and facetime; but a handwritten letter on pretty stationery would be such a sweet surprise to receive!
Wear Cozy
Wear those cozy slippers or socks you got for Christmas! These are my new favorite cozy slippers!
Buy a new plant for your home
When we take down the Christmas tree, our homes can seem lifeless. So, bring in some fresh life with a new house plant! It doesn't have to be expensive, just a small plant can brighten up a room!

Make pancakes (or waffles) for breakfast
We got our sons and their wives these waffle makers for Christmas! We love ours and hope they will enjoy using theirs this winter too! Warm waffles with fruit or syrup is the best on a cold winter morning!
Bring the Outdoors In
Use natural elements found outdoors in your wintertime home decor: pinecones, tree branches, seed pods, and more!

put together a jigsaw puzzle
Old fashioned fun at it's finest! This is something that I've been wanting to do lately! And, this weekend, I'm gonna clear the table for one!
Read a book
Or, visit your local library and borrow a book to read. I haven't been to the library in so long! There's just something about borrowing the book, reading it, and taking it back for the next person to enjoy that can't compare with reading a book on a kindle or ipad.

Watch a classic movie
If you saw my post about classic Christmas movies, you won't be surprised that I love to cozy up on the couch with a bowl of popcorn and watch an old classic movie!
Enjoy a hot beverage
Skip Starbucks and make your own hot beverage at home to savor. Here are two recipes I like to make and keep on hand in the wintertime: Chi Latte and Hot Cocoa.

Buy some fresh flowers for your home
Pick up a bunch of grocery store flowers and arrange them in a pretty vase. Take your time making the arrangement and enjoy the process!
Layer your bed with cozy pillows and linens
I like to use a quilt on our bed in the winter months. But, I do keep a duvet at the foot of the bed if it's a colder winter night. And, I also keep a blanket or two near the bed in case I just want to read in bed during the day!

Invite your neighbor over
It doesn't have to be a big dinner or occasion to invite you neighbor! If you don't know your neighbors, get to know them! Take them some cookies or something else you bake!
Bake a cake from scratch
Dig through your old recipe cards and cookbooks and bake a cake! This cinnamon roll cake is perfect for a cold, winter day!

Look through old photos
Spend some time looking through old photo albums or loose photos. And, if you have old video, gather your family together for a "home movie" night!
Toast Marshmallows by the fire
Have a fire, either outdoors or inside if you have a fireplace; and toast some marshmallows or make s'mores!

Draw or paint something
Even if you just use a pencil, sit and draw or doodle something! Or, pick up an inexpensive watercolor set. It's good to take time to be creative!
Bake a pie
Just like baking a cake, it can be relaxing and fun to make a pie for no reason. Plus, there's no pressure if it's not perfect!

Have a spa day at home
Take time to pamper yourself at home with a relaxing bath, facial and manicure!
Take a nap
Sadie has the right idea! Winter is the purrr-fect time to snuggle under the covers for a nap!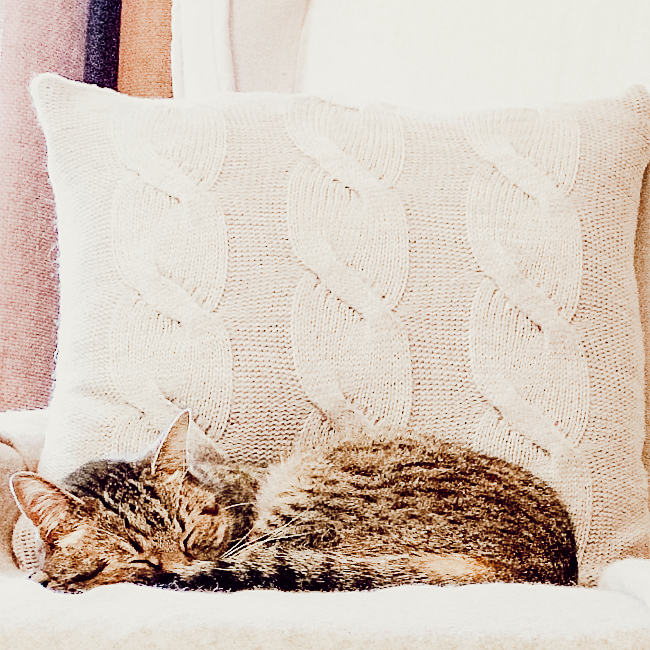 Make a gratitude list
Take a few minutes to write down things you are grateful for. Add to your list daily to create a gratitude journal!
Buy or bake some fresh bread
I admit, I'm not a bread baker. But, I have fond memories of my grandmother baking bread and there's nothing like the smell of freshly baked bread!!! Do you bake your own bread? If not, pick up a special

Feed the birds
Pick up a bird feeder and some bird food for our feathered friends this winter. Then you (and your cat) can bird watch together!!!
Plan your spring and summer flower garden
This is the perfect time to dream and plan for your spring and summer landscape!

Visit an elderly relative
When my dad was still alive, he loved getting visitors. It can be very lonely for the elderly this time of year. So, take some time to visit them!
Try some kind of needlework
Crochet, knitting, quilting, embroidery. . . If you don't know how, check out some online tutorials! With youtube videos, it's so easy to learn something new!

Put a charcuterie board together as a snack or meal
These "grazing boards" have become so popular and I love it! It's easy to put together a board of healthy snacks: cheese, fruit, nuts . . . there are endless possibilities. Check out Pinterest for lots of charcuterie board ideas!
Light some candles
The glow of candlelight makes your whole house feel cozy! And, if you don't like to burn candles in your home, use battery operated candles to get the same glow! Some of the new battery operated candles have such a lifelike flame – like these that were on my piano at Christmastime!

Take a walk outside
Even if there is snow on the ground, put on your snow boots and bundle up for a walk! There's nothing better!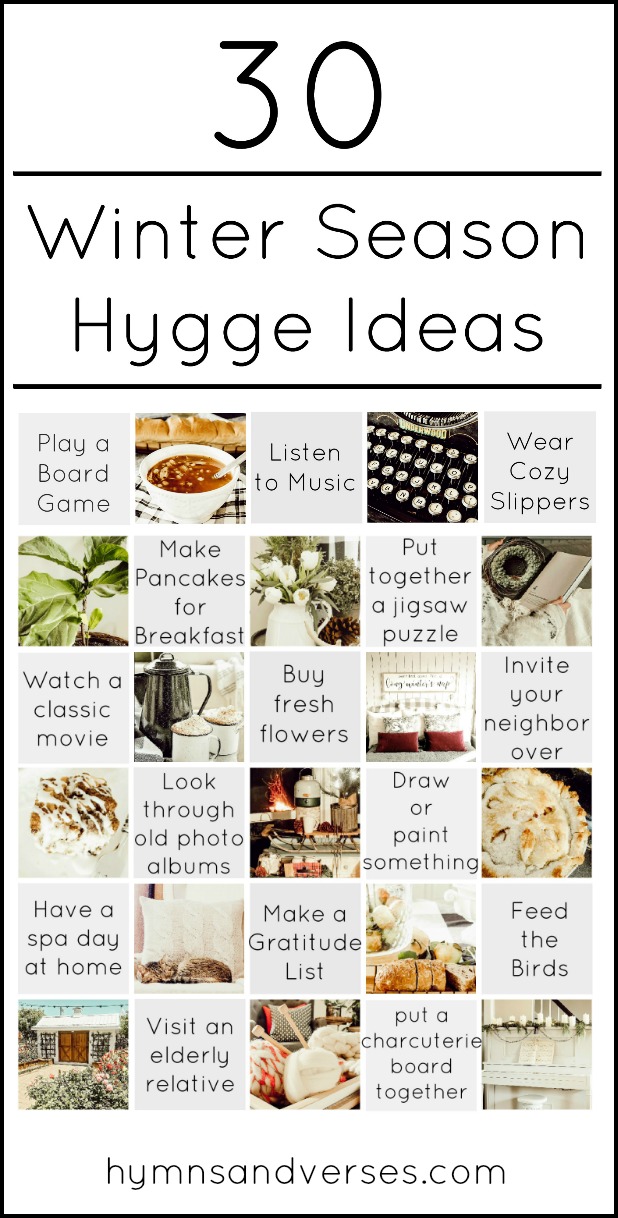 I hope you enjoyed all of these winter season Hygge ideas! And, below are the links to all of the other cozy living posts for January! I hope you'll grab a cup of your favorite winter beverage and visit each one!

Cozy Living Tips by Duke Manor Farm / Cozy Entryway by Town and Country Living / Cozy Home After Christmas by Making It in the Mountains

Kitchen Drawer Organization by Creative Cain Cabin / Cozy Christmas by Vinyet Etc. / Winter Hygge Ideas by Hymns and Verses