He is Risen! He is Risen, Indeed! Happy Easter my friends! Our Easter celebration today will be quite different than most years. But, let's remember why we celebrate. It isn't about the ham dinner with the family, the egg hunts, and all the candy! It's about a risen Savior who conquered the grave! So, I created a new printable for you with the words to the most popular Easter Hymn – Christ the Lord is Risen Today!
Christ the Lord is Risen Today Printables
One of the very first printables that I created for the blog was a chalkboard print with the same words – Christ the Lord is Risen Today – Alleluia. You can see it in this post from 2013. And, you can still find that printable in my Free Printable Library. But, my style has evolved, and I decided it was time for a new print featuring the words to this Easter Hymn. So, this is what I came up with.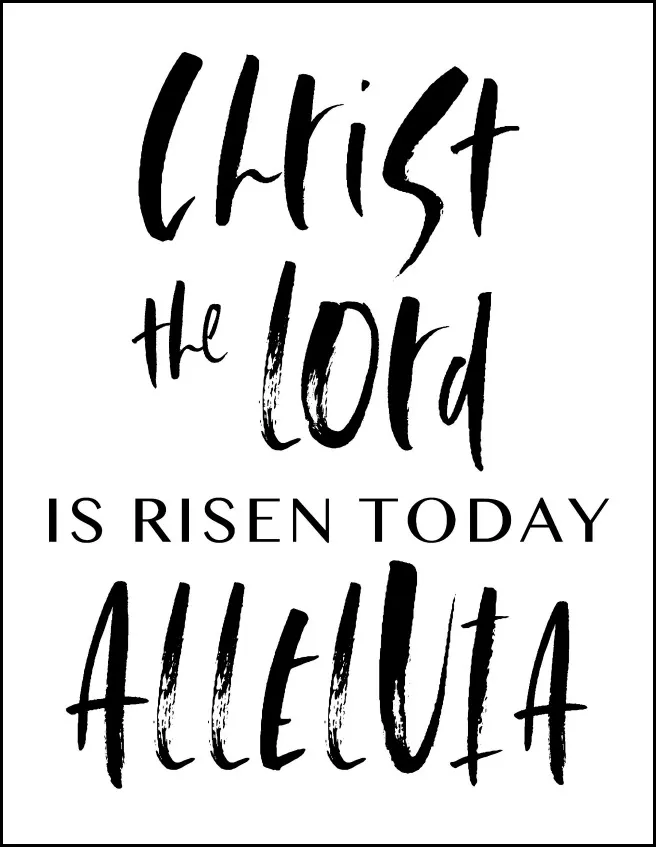 I really liked this black and white version, but decided to also make this as a chalkboard print. If you frame the chalkboard version, remove the glass from the frame! Without the glare of the glass, it looks a bit more like a real chalkboard.
This hymn was written by Charles Wesley, cofounder of the Methodist Church. It was first published in 1739, but the original title was "A Hymn for Easter Day". The hymn originally had eleven verses, but they have been reduced to six. Sometime in the early 19th century, the word "Alleluia" was added to the end of each line. And, the hymn has become well known for the "Alleluia" sung as a melisma (vocal run) at the end of each line. I grew up in the church singing this song each Easter Sunday! And, I have many fond memories of sunrise services on Easter morning singing this hymn outdoors as the sun came up!
I hope you have a blessed Easter! Christ the Lord is Risen Today, Alleluia!