Today I wanted to share a perennial that I've had in my flower bed for a few years – Helleborus orientalis or Hellebore. I have always known this perennial as the "Lenten Rose". But, it's not a rose at all. A Hellebore is actually in the buttercup family.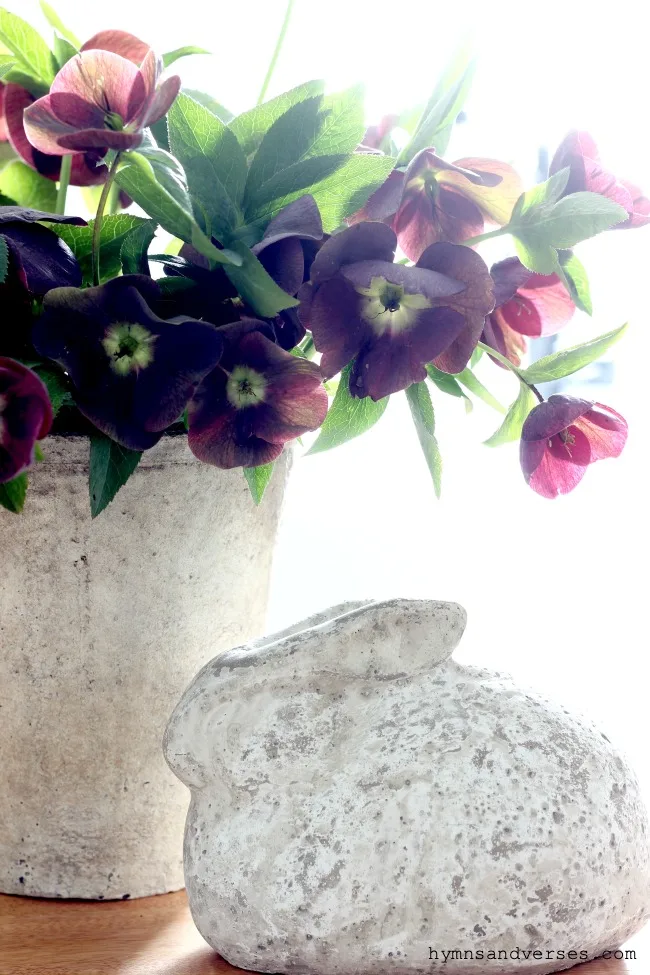 Why are Hellebores Called Lenten Rose
First, why the names Lenten Rose? Because, if you live in the northeast, like me, a Hellebore will bloom in February or March (the time of Lent). In the Northeast, it's typically the first perennial to bloom in the garden (another early bloomer are Snowdrops). I love seeing the dark purple petals of my Lenten Rose when there is snow on the ground!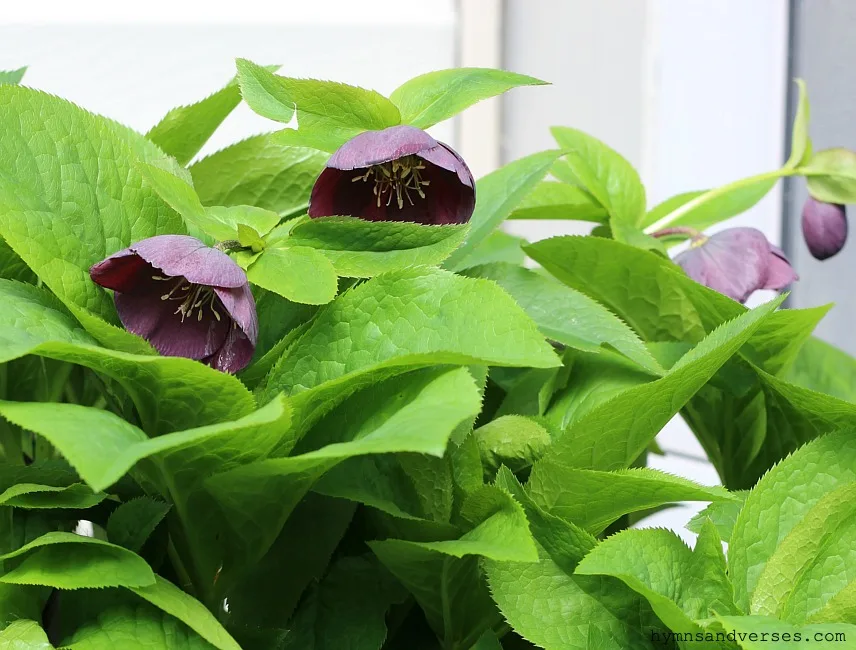 My Lenten Rose is a dark purple color, but I don't remember the actual variety name. And, the actual "flower" is not the purple petals. The petals are in fact, sepals. And, the flower portion is the stamen. A Lenten Rose is a very hardy perennial. Their sturdy, palm-shaped leaves stay green year round here in Pennsylvania. So, even after the flowers have faded, the plant itself is still attractive. The leaves do tend to get darker after the are finished flowers blooming. The flowers typically tend to arch and droop on the plant. There are some newer varieties where the flowers are more upright.
On one of my last trips to the greenhouse in early March, I spotted three new varieties of Lenten Rose. They are all quite pretty, but I ended up bringing home the Penny's Pink. I'm definitely more drawn to the purple shades. I still haven't decided where I'm going to plant this one? But, it's been doing great for several weeks still in the grower's pot.
Lenten Rose in the Garden
Hellebores prefer shade and are common in woodland gardens. Mine is tucked in a corner between the back of our garage and the screened in porch. Our outdoor cat loves to lay behind it in the summer months since it's tall enough to provide some shade. It gets dappled sun here and has done well. A Hellebore is a SLOW grower. I've had mine for about 10 years and it's the size of a small shrub now. And, they don't really need to be divided. The Lenten Rose grows in clump and mine has not naturalized to other areas of my garden. As far as pruning, the time to prune is when you begin to see the flowers. Then, you can prune off any brown or broken branches that may. have happened over the harsh winter months.
Hellebore Floral Bouquets
Recently, this perennial has gained popularity with brides for their bouquets. Below is a beautiful bouquet I found on Pinterest with Hellebores. Isn't it gorgeous!!! The stems are very sturdy and work well in a bouquet.
The Lenten Rose flowers can be cut and brought inside and make a beautiful cut flower arrangement! There are some that say they last longer if the bottoms of the stem are dipped into boiling water for a few seconds before placing them in your vase of water. I just cut mine, brought them inside, and gave them a fresh, angled cut before placing them in the water. I did read that some of the lighter "flower" varieties don't last as long in a cut flower arrangement as the darker varieties. Since I don't have any of the lighter varieties, I can't say for sure. You can also cut the stems off and float the flower heads in a shallow bowl of water. I'm going press some of the "flowers" using the microwave method I shared in THIS post.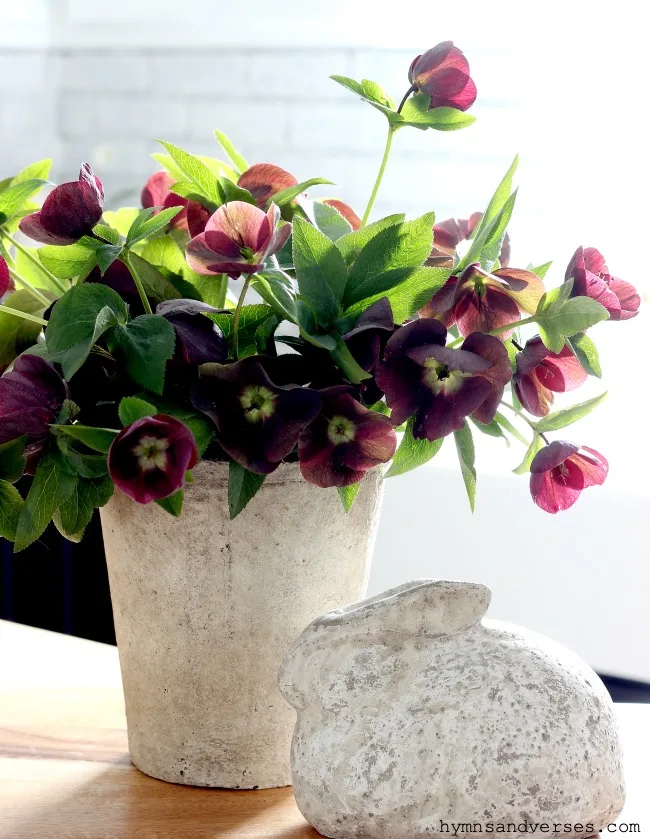 I hope you've enjoyed this little gardening segment! I love to get outside and dig in the dirt! I'm by no means a master gardener! But, I've learned a lot over the years by trial and error and from friends and neighbors who also love to garden! I'll be sharing more of my flower beds and perennials this spring as things begin to bloom! Below are a few more posts from my garden you might enjoy!
Easy to Grow Cottage Garden Perennials
When to Prune a Lacecap Hydrangea