Christmas in LItitz is the quintiscential hometown celebration that could be straight out of a Hallmark Christmas movie! The whole town gets decked out to celebrate the season and today I want to share a bit of it with you!
Today, I"m joining some blogging friends from all over the country for a Spirit of Christmas Tour hosted by Jennifer at Town and Country Living. We're going out into our neighborhoods and hometowns to give you a look Christmas where we live! Each stop is linked at the end of today's post, and you can find Tuesday's lineup at Town and Country Living tomorrow. Now, let me tell you a bit about Christmas in Lititz.
Christmas in Lititz, Pennsylvania
Nothing warms the heart more at Christmastime than a hometown Christmas celebration! A time when people from all walks of life join together with their community and sing Christmas carols by candlelight and have a tree lighting countdown just like at Rockefeller Center! And, that's how Lititz, Pennsylvania kicks off the holiday season each year!
It all takes place at Lititz Springs Park – the hub of this historic Pennsylvania community. The local high school share some songs from their upcoming Christmas performances and the Moravian Trombone Choir also shares a few numbers. Then it's time for the tree lighting!
The two choirs then join together to lead the crowd in some old fashioned Christmas carols by candlelight.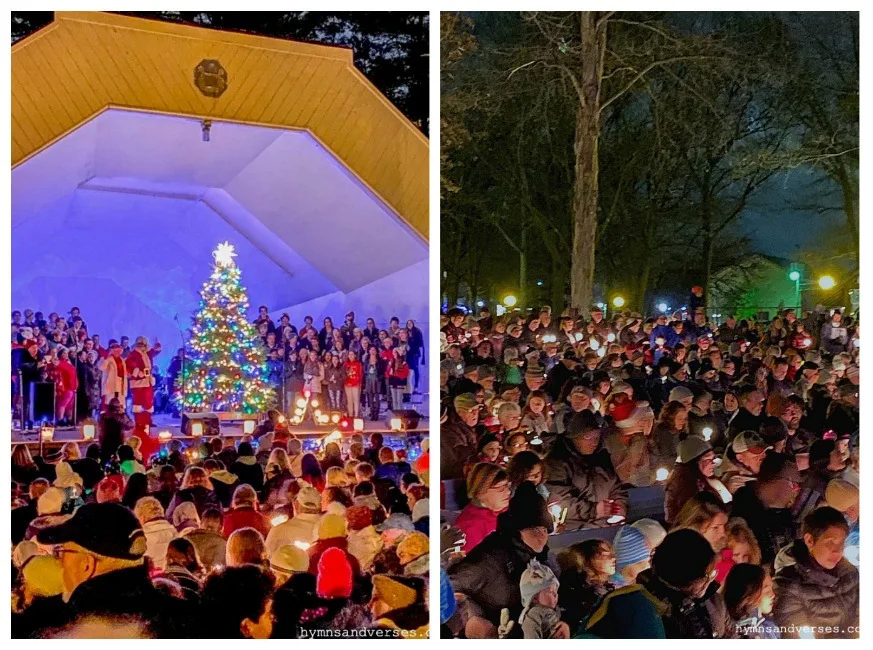 It was the perfect evening for the outdoor event this year! Cold, but not too cold! Following the program, Mark and I walked downtown and had some dinner. After we had warmed up, we then walked down Main Street to visit some of the local shops. Here are a few of the special Christmas window displays we spotted.
The lighted wood star on display in the window display above is one of the original stars that adorned the streetlights of Lititz at Christmastime for many years. The old stars were made of wood and were retired last year for a newer model! But, they are still the same classic design!
And, here are a few of the historic homes decorated for Christmas.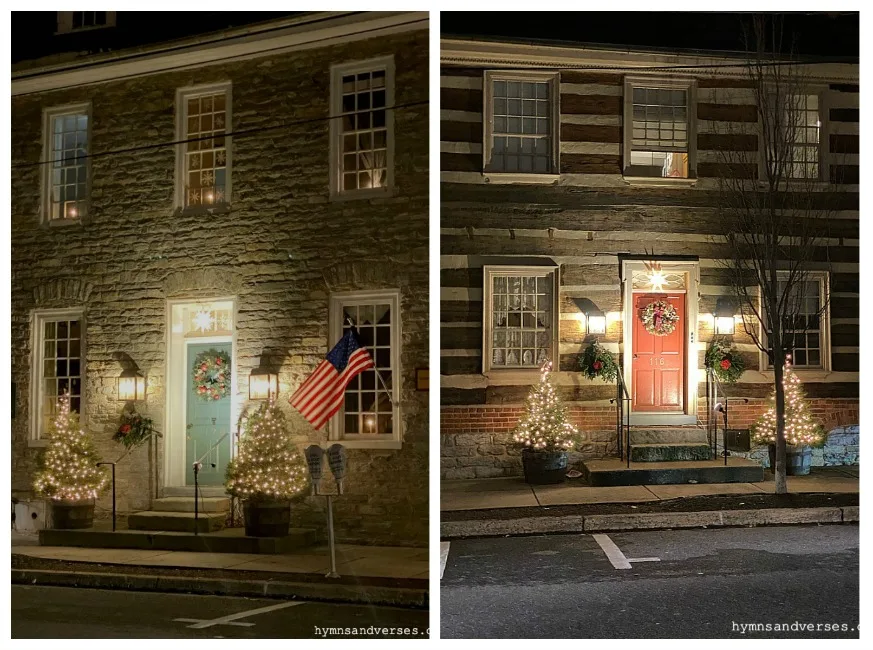 The festivities didn't end on Friday evening! On Saturday, there were visits to Santa and activities for families in many of the local shops and restaurants! Here are a few photos of my friend, Cindy, and her grandkids! I can't wait to share these fun events with my own grandchildren some day!!!
MORE FROM THE SPIRIT OF CHRISTMAS TOUR
I hope you enjoyed seeing a little bit of Christmas in Lititz! And, now join me as I visit some of my friends and see how they celebrate Christmas in their towns and neighborhoods! It's such a fun look at Christmas all over the United States!
MONDAY
Town and Country Living / My Sweet Savannah / Finding Silver Pennies
Hymns and Verses / Duke Manor Farm
TUESDAY
Saw Nail and Paint / It All Started with Paint / Maison de Cinq / Southern Hospitality