Today, I'm joining some blog friends for the annual Christmas Tour of Homes hosted by Marty of a Stroll Thru Life. This years tour features 30 homes all decked out for Christmas! So, grab your favorite morning beverage and let's tour some beautiful Christmas homes together!
Welcome to Hymns and Verses Christmas Tour for 2019! I'm so glad that you are here! If you are visiting from Dixie Delights, Welcome! Wasn't Amanda's home beautiful!!! This year I wasn't sure I was going to pull this tour together! My house had some major water damage in October, and we are still dealing with the aftermath! But, I'm so glad that I was able to piece together some spaces around missing trim, etc.!
*This post contains some affiliate links for your convenience. Please see my full disclosure statement HERE.
christmas living room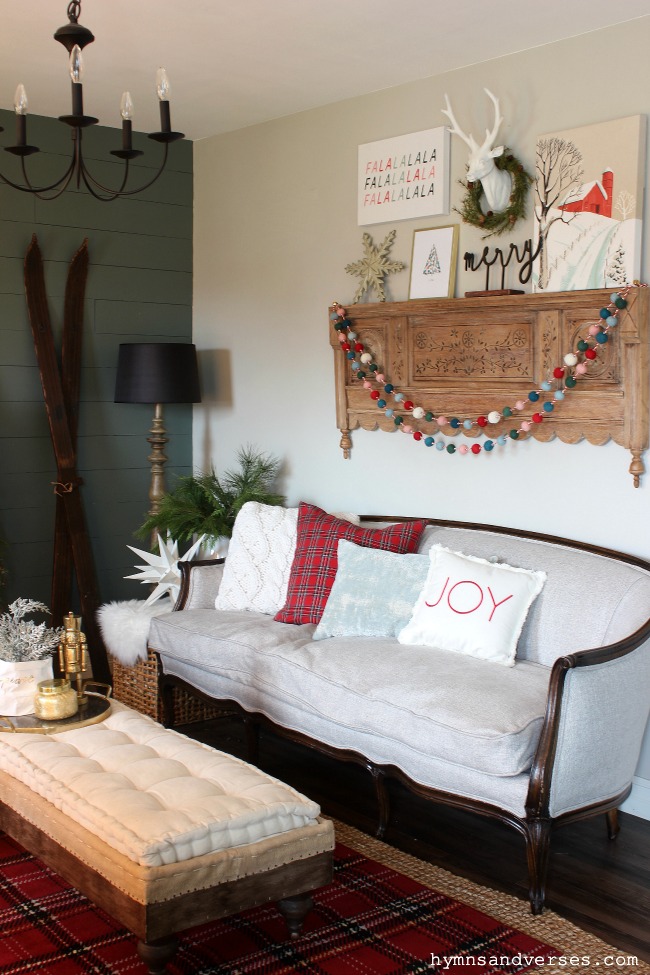 I changed up my gallery wall for Christmas with two pieces of art that I purchased from Lindsey Letters. I saw these pieces in her 2019 Holiday Collection and fell in love with the colors! The Red Barn Against Hazelnut Sky and FaLaLaLa art really influenced my decor choices this year!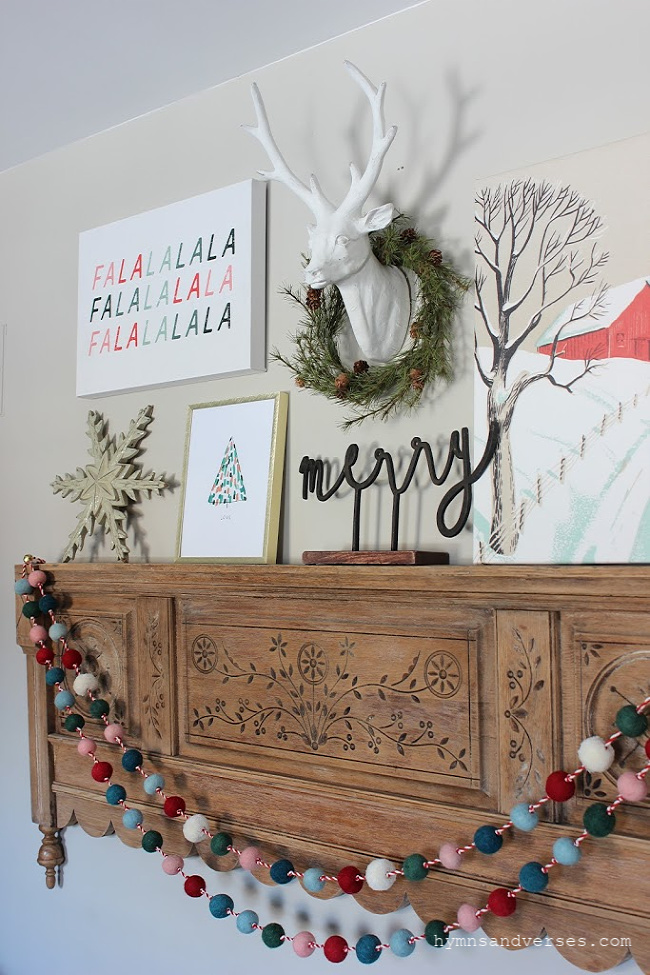 The other gallery wall elements – the white stag head, wooden snowflake, and "merry" are things I already had in my collection! I did purchase a small tree print from Etsy to pull everything together. And, I picked up the pom pom garland at Target and it works perfectly with the new art! The Joy pillow is also from Target and is part of the Hearth and Hand line for Christmas. All of the other pillows are ones that I already had.

To decorate the mantel, I combined two evergreen garlands together to create one full garland that I hung on the front of the mantel. I added some red pom poms to my knit stockings so they would fit better with the rest of my decor. They have faux fur pom poms that I just tucked down into the stocking so you don't see them. I share my easy technique to make pom poms and how to make a pom pom garland HERE.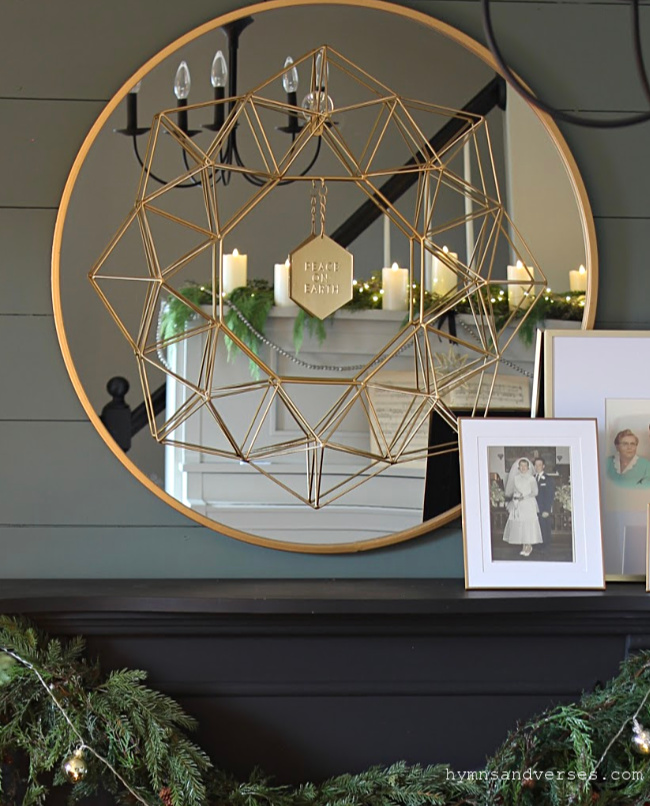 I layered the Mary and Martha geometric wreath on top of my round brass mirror and love how it looks. The photos on the mantel are of my parents and grandparents who are no longer with us here on earth. They loved Christmas and I have so many wonderful memories of Christmas with them. Having their photos here is a way to have them here with me this year.

This brass-look nutcracker is another Target find! I brought out my vintage skis again this year and my Moravian Star is always somewhere to be found in my Christmas decor. This year I sat it on a wicker basket beside the sofa with a crock full of fresh winter greens.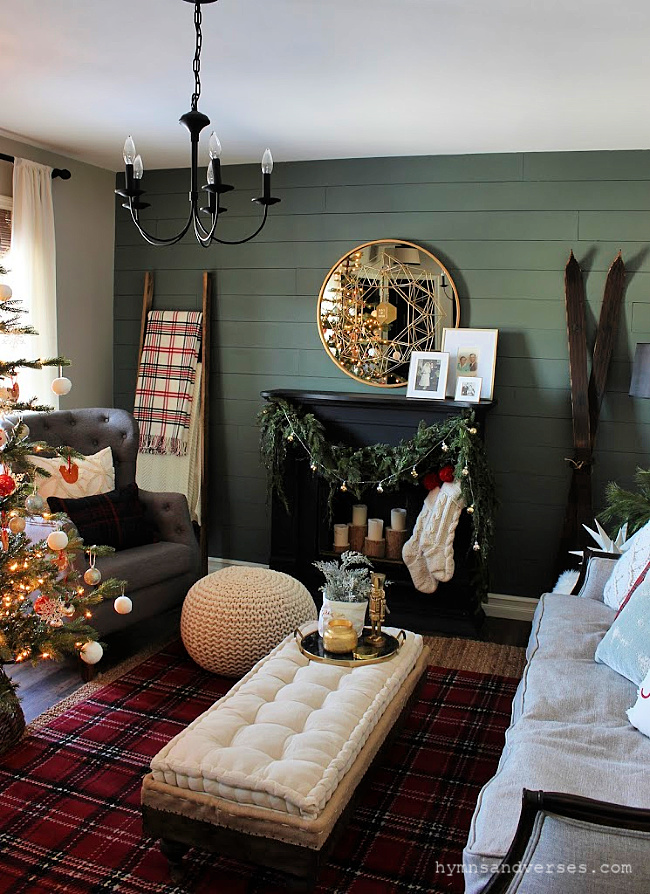 In this photo you can really see the red plaid rug that I layered over a chunky jute rug. I fell in love with this rug when my sweet blogger friend, KariAnne from Thistlewood Farms shared it on Instagram! This is the 5 x 8 size and you won't believe how inexpensive it is!!! It instantly makes the room festive, and I will be able to use this size rug in multiple areas of my home over the years!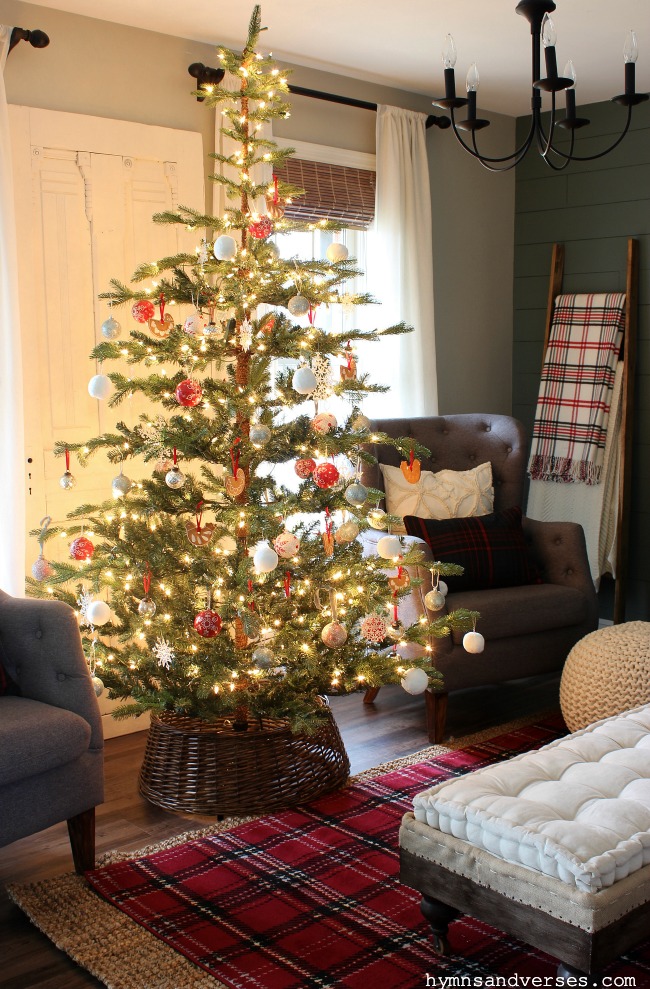 My Christmas tree was a purchase last year! I love the sparse look of this tree! The tree collar is from Target last season, but I think they have a similar one this year.

The ornaments on my tree are mix of ornaments from my collection. There are some mercury glass ornaments, red and white Scandinavian-style ornaments, white snowballs, gingerbread birds from Ikea, and paper snowflakes.

The entryway features a chalkboard sign that I made and a hanging basket with more fresh greens. And, you can find the deer pillow HERE. I purchased it last year, but I think it was so popular that they brought it back!

And, the red and cream mittens are a treasure that my son and wife brought back from their trip to Iceland a few years ago!

My antique player piano got the holiday treatment with some fresh greens and lots of candles and twinkle lights! I love the small led lights on wire! They are magical!

I draped these mercury glass beads and added the star ornament from Mary and Martha at the center point.
christmas dining room and kitchen

Here you can see the antique doll house that I purchased at an auction this summer! I gave it a fresh coat of paint and draped it with a wool garland and bottle brush tree garland. I knew I would love it at Christmastime! And, here's a closer look at my antique corner cabinet with some festive Christmas touches!

The dresser/buffet in my dining room holds a little sled that I've had for years and a wood Christmas tree that my friend, Cindy, gave me for my birthday! She knows I love my Christmas decor!!!

And, here's a look into the kitchen. Can you spot anything new in this photo? I finally have a new range! And, I couldn't be happier! It looks so good with my dark lower cabinets.

After the new year, we'll be working on new countertops and sink! That will seem like Christmas to me!!!

On the other side of the kitchen is my kitchen cart with everything I need for baking.


CHRISTMAS BEDROOM

As you can see, Sadie was taking a nap when I shot these photos! She was staring me down, like "how dare you interrupt my nap"! But, what do you think of this star quilt! It was a splurge for me to purchase a "Christmas only" quilt, but I loved the bold graphic design and it is so well made. The reverse is a soft jersey material and it's quite heavy for a quilt.
It's paired with red plaid pillows from Pottery Barn that I've had for years and the white pom pom pillow is from West Elm. I have the matching pom pom throw blanket, but it was in the wash when I took this photo. It's normally at the bottom of the bed.

I hung the barn wood framed mirror that Mark made several years ago over our bed. I draped some fresh cedar garland, a knit garland from Crate and Barrel that I had, and a mercury glass garland that I made by tying mercury glass ornaments to a piece of jute twine.

And, here's a little Christmas vignette on the dresser. You can find the "Little Drummer Boy" printable in my FREE Printable Library for email subscribers. I didn't put up a full size tree this year in our bedroom. I put it in my office instead and I'll be sharing that complete space soon! But, here's a peak.
CHRISTMAS HOME OFFICE

I made the printable star ornaments with the Names of Jesus as a Christmas Countdown. There are 25 and each one has the name of Jesus and the scripture reference. So, you can hang one on your tree each day of December leading up to Christmas. And, these printable stars are also available in my FREE Printable Library.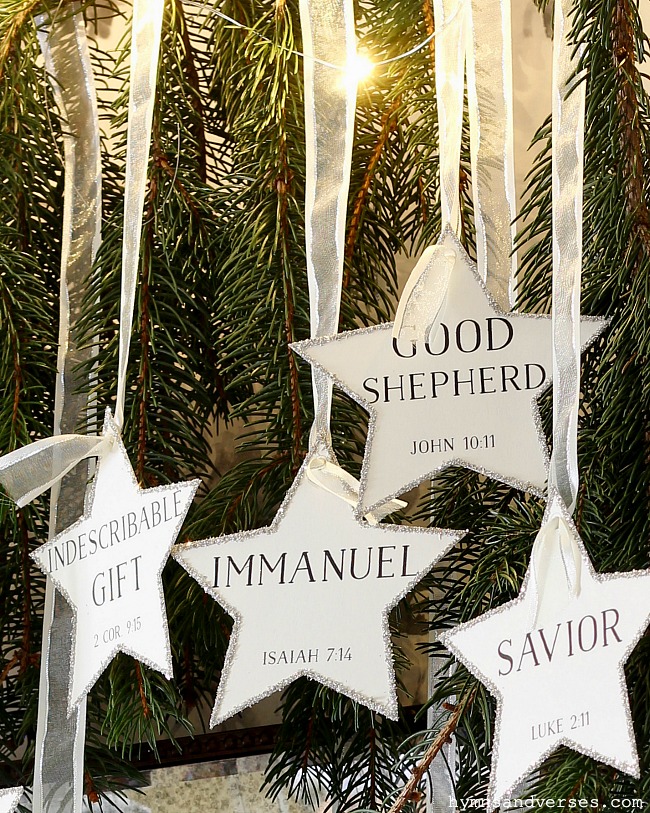 That's all for today! Thanks so much for taking my Christmas tour! I'll be back soon to share the rest of my office and the screen porch decorated for Christmas! Next up on today's tour schedule is Ashley from Modern Glam! I can't wait to tour her lovely home this year! And, the complete tour schedule with links are below! I hope you'll take some time to visit each one!
2019 Christmas Tour
Monday December 9th

A Stroll Thru Life, Remodelando La Casa , Cuckoo4Design , Far Above Rubies , Southern Hospitality , Pink Peppermint Design
Tuesday December 10th

House By Hoff, Duke Manor Farm , ZDesign At Home , Taryn Whiteaker ,Inspiration For Moms ,Decor To Adore
Wednesday December 11

Cassie Bustamante , Follow The Yellow Brick Home ,Dixie Delights , Hymns & Verses , Modern Glam , Thrifty & Chic
Thursday December 12

Our Fifth Home , 11 Magnolia Lane , Our Southern Home , Seeking Lavender Lane , Setting for Four , Southern State Of Mind
Friday December 13

Grace In My Space , White Arrows Home, The Woodgrain Cottage , Designing Vibes , Thistlewood Farms , Life On Cedar Lane,
You can see more of my Christmas decor thru the years HERE. If you don't already follow my blog, sign up today!
Linking to Jennifer Rizzo's Holiday Housewalk Link Party