Welcome to Part 1 of my Home Tour featuring my Christmas Living Room! If you are here visiting from Claire Brody Designs, thanks for popping over! Wasn't Claire's home fabulous! Before we begin, I want to say "thank you" to Marty from A Stroll Thru Life for putting this tour together!
When you come in our front door, this winter gallery wall in our living room is what greets you! I had so much fun creating this gallery wall. It all started with a pair of skis from the 1920's that I found on Ebay. I'll be sharing a detailed post about the gallery wall later this week.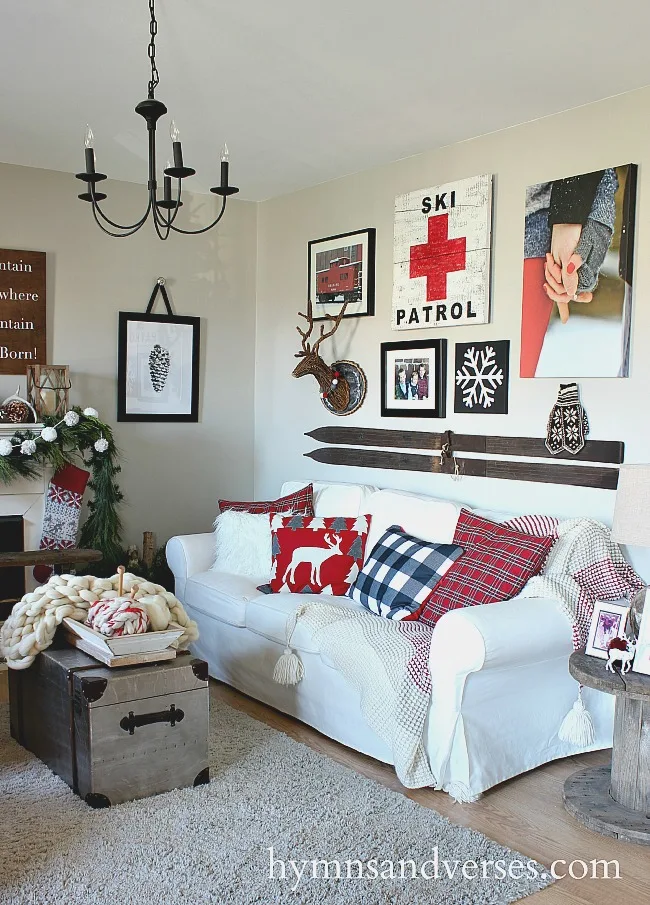 Another fun piece is the DIY wooden sign hanging above the fireplace. I wanted to create a statement piece for that spot with lyrics from a Christmas carol or song. "Go Tell it on the Mountain" brings the true message of Christmas into my lodge style decor. I love how the wood grain from the sign warms up the room.
In front of the fireplace is a primitive bench that I purchased two years ago. It was covered in an ugly green paint and has been up in our attic waiting for the right time to be made over. When I first saw the wooden skis in person, I decided to add more rich wood tones to my Christmas living room. I stripped the green paint off the bench to reveal the gorgeous worn wood underneath.
Could these stockings be any more perfect? I found them at the Pottery Barn Outlet. The funny thing is, I didn't even notice the ski motif until I hung them up on my mantel! I just liked the gray, red and white Scandinavian style. It was a surprising bonus that they actually have skiers on them! A real trend this year is plaid, plaid, and more plaid! I decided to really mix it up with black and white buffalo check curtains and bright red plaids. This year we had fun picking out a freshly cut tree. There's nothing like the scent from a freshly cut pine tree at Christmastime.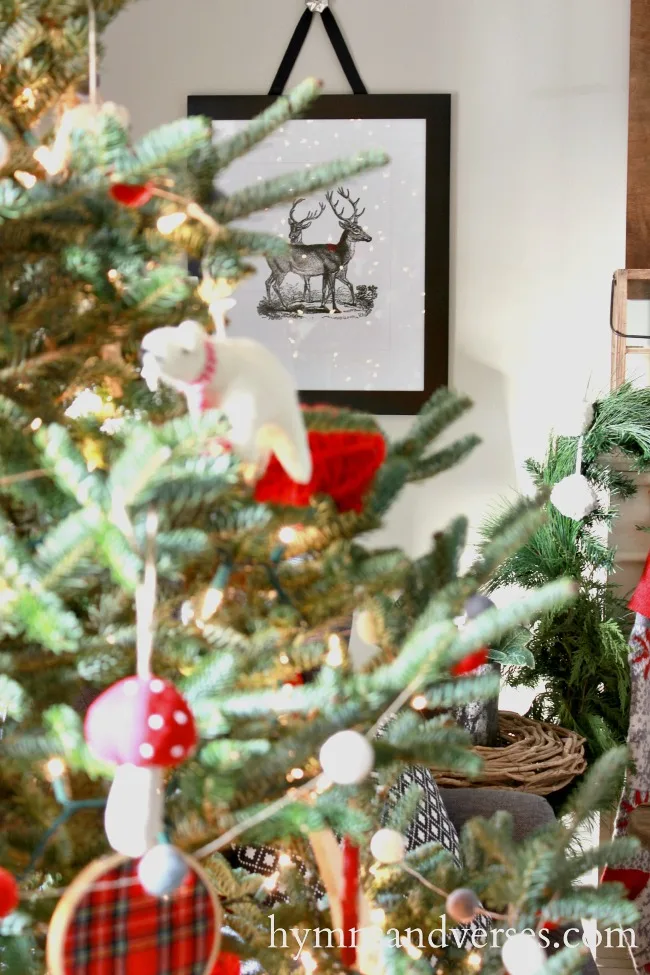 The black and white deer and pinecone artwork are vintage etchings that I found over at The Graphics Fairy. The copies came to a total of $.75 at Staples. Simple, classic – super inexpensive art! The prints are available in my FREE Printable Library for email subscribers. If you don't already receive my posts in your email inbox, you can sign up HERE. Once you sign up, you will receive a password to access the printable library.
Another element you will see repeated in my Christmas living room is wool. The large, wooly throw I knit from wool roving and many of the tree ornaments are also wool – woolen reindeer, polar bears, a felted wool ball garland, and yarn balls.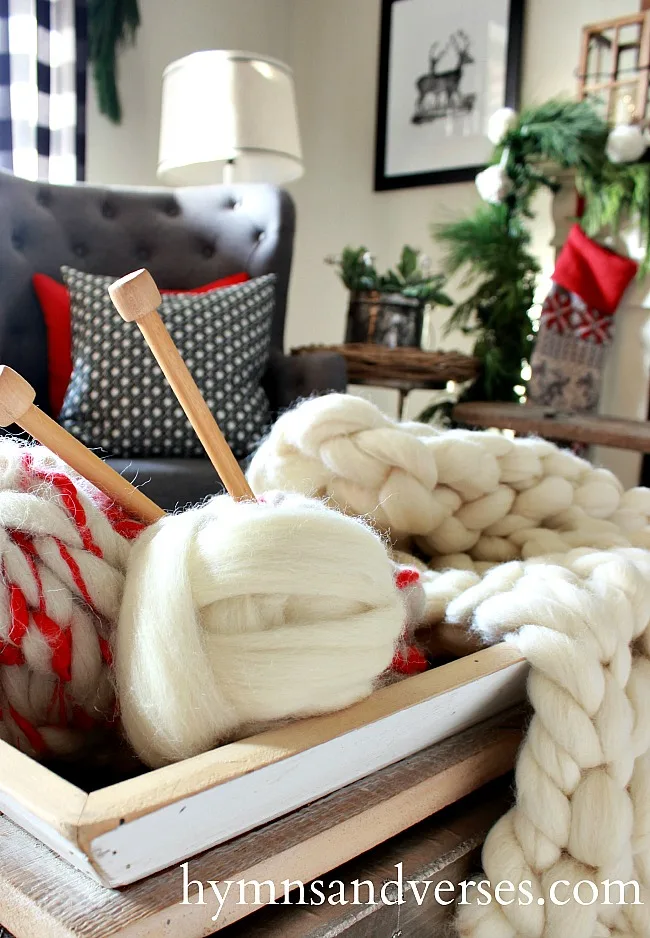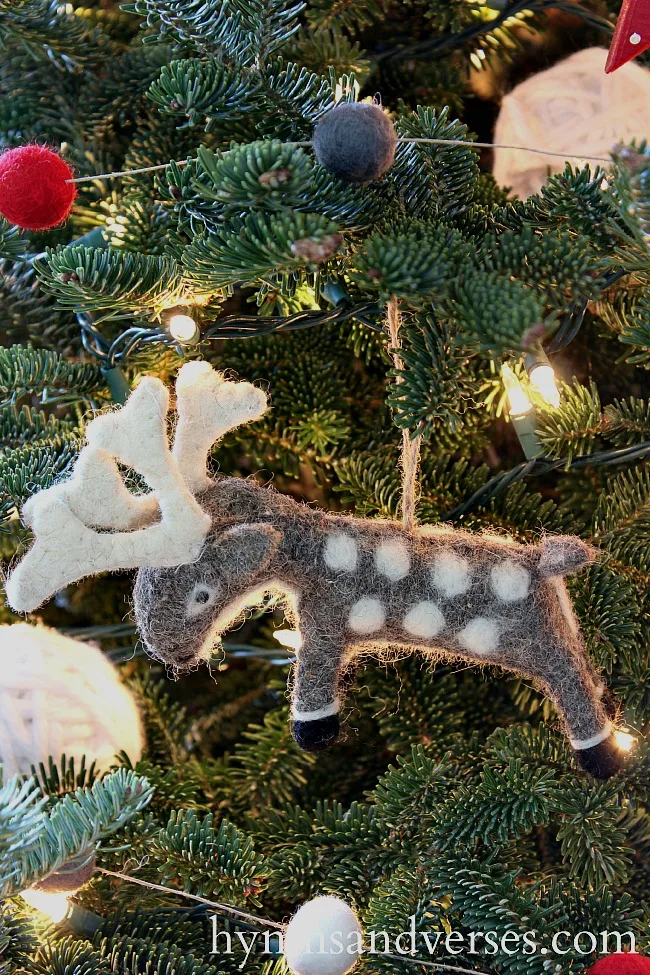 Pine and cedar roping was draped over each window in the living room – adding more of that fresh pine scent.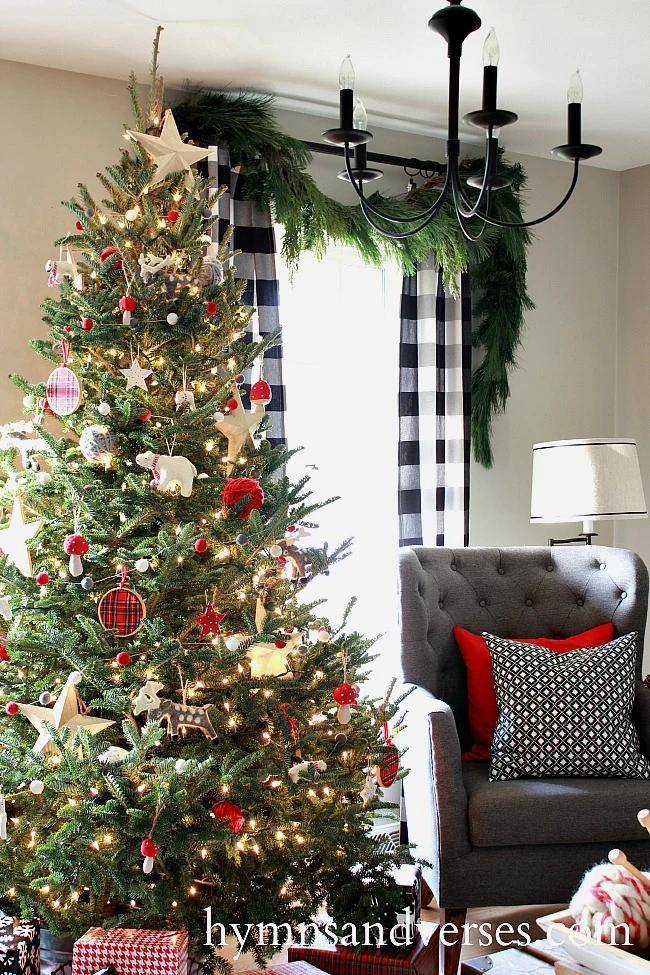 The library table was moved over by the staircase to make room for the Christmas tree. I used a large glass jar of white pine branches with some white reindeer and simple white house silhouettes to dress up the table.
Last evening I shared my screen porch with s'more and hot cocoa station! You can see more HERE.
Thanks for stopping by for Part 1 of my Christmas tour! Part 2 is tomorrow featuring my dining room and kitchen. Next up on the today's tour is Jenna from Rain on a Tin Roof!
Here are the other stops on this week's tour!