You all know how much I love to add vintage items into my decor. Since we're getting ready to decorate for the holidays, I thought I'd share some Christmas vintage decor ideas that I've used through the years!
Christmas Vintage Decor Ideas
VINTAGE SILVER
Introduce some vintage silver into your Christmas decor! I've repurposed some vintage silver trays that I found at the thrift store into unique Christmas signs to display, like this one shown on the plate rack. This is such an easy project using simple craft paint and a stencil. You could also use chalkboard paint and chalk to write a message.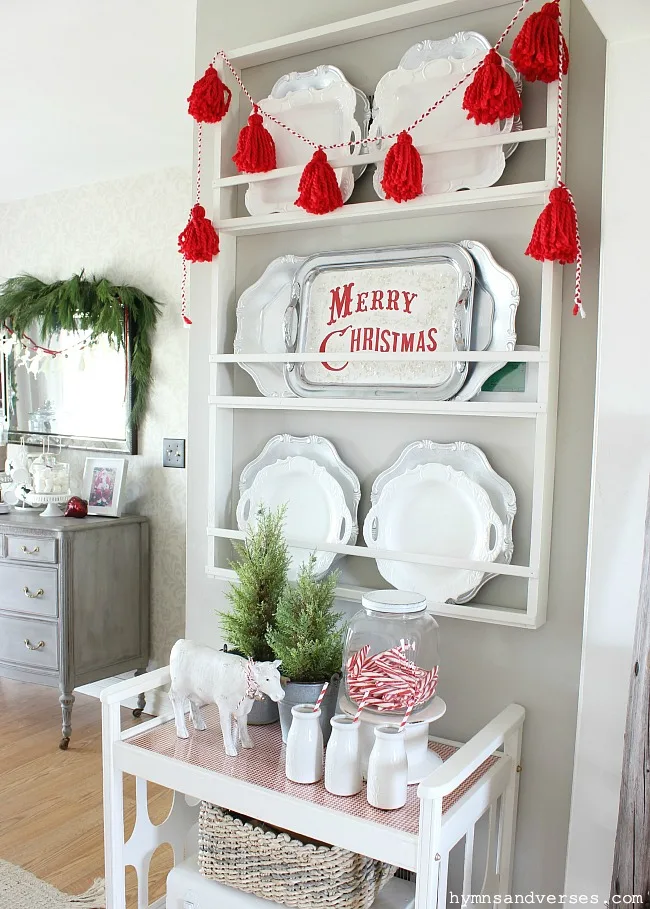 This vintage silver nutcracker is another Goodwill find. I believe it had been a candleholder, because the hat is hollow. Regardless, I love to bring it out at Christmastime.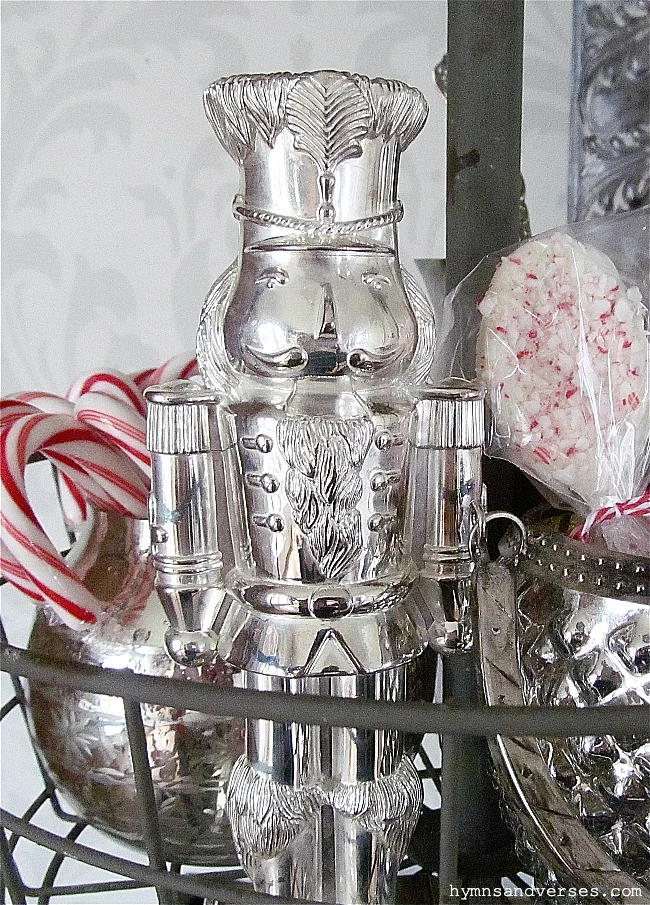 VINTAGE TOYS
It doesn't have to be an "antique" to have vintage charm! The red tricycle was mine when I was young and the red Radio Flyer wagon belonged to my boys. Even though the wagon isn't really vintage, it has that classic look and paired perfectly with my tricycle. Other items that would work great in a Christmas display, vintage jack-in-the box, rocking horse, a set of jacks, teddy bear, dominos, marbles, etc. Vintage toys and Christmas = happiness!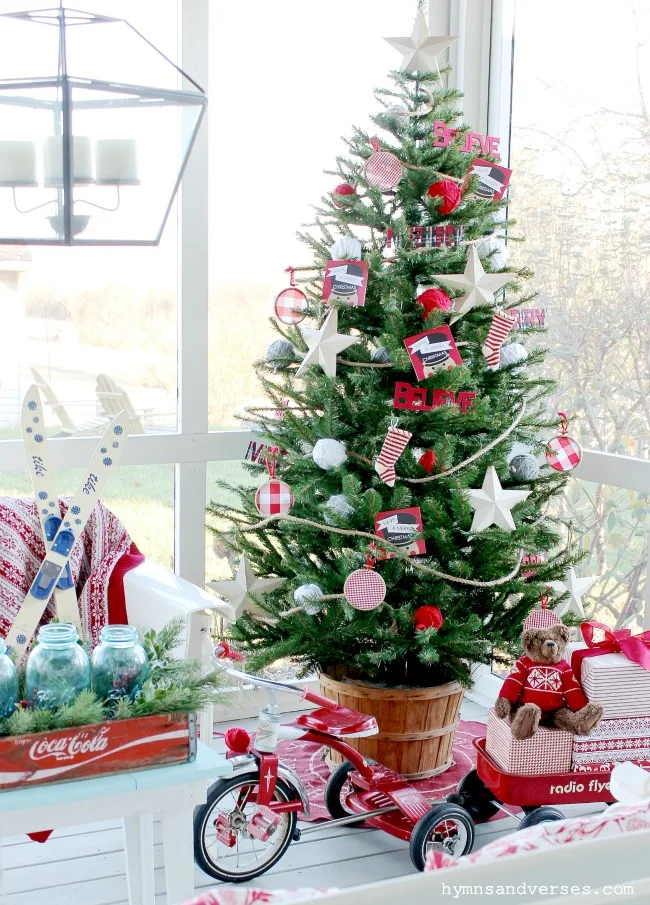 Vintage ice skates are great! Because I have three boys, I couldn't resist these little black skates when I saw them at a thrift store years ago! Also in this photo, I used a vintage ironstone soup tureen to hold a small, flocked Christmas tree!
Here are the same black skates from 2012 looped over a vintage sled.
And, here's that same sled used in a completely different way in my 2016 Christmas living Room.
VINTAGE SCARVES, HATS, MITTENS
I found these mittens several years ago at an antique shop! You don't find workmanship like this anymore!
VINTAGE ENAMELWARE
White enamelware with a red accent is perfect for Christmas. Here I used an enamelware basin with small cedar trees and apples as a table centerpiece.
VINTAGE JARS
These vintage blue Ball jars pair perfectly as candleholders with my vintage Coke crate. I also like to use clear vintage jars to hold candy canes! Or, you could create a snowy scene inside a vintage jar to display! There are so many ways you can use vintage jars at Christmastime!
Vintage Christmas TreE
Years ago, I had the great luck to find a vintage Christmas tree at a thrift store that was aged to perfection! I loved this tree, but used it for just one year because it was shedding its needles so badly that I ended up throwing it away! I wish I could find another one to replace it because I loved the ivory color!
And, even though this little tree isn't vintage, it is a replica of a classic Victorian feather tree. I made this tree many years ago and keep telling myself that I'll put together a tutorial for you on how to make one! And, you can't miss the vintage skeleton keys that I used as ornaments.
And, sometimes the unconventional vintage item can be a highlight in your decor. A vintage typewriter holds a special place in my heart – my mother was a typing teacher. I've used this vintage typewriter over the years in my Christmas decor. Here it is in my home office last year at Christmastime!
winter sports
And, don't forget winter sports. I already mentioned sleds and skates. But, skis, snowshoes, and wooden toboggans are also great editions to look for when shopping for vintage items to use in your Christmas decor. I have a pair of vintage wooden skis from Paris that I love to bring out at Christmastime. And, these items can stay out into the winter months as well!
Here's another look at the skis displayed in a completely different way!
I feel like I could go on and on with this post because using vintage Christmas decor is one of my favorite things! But, I'll close for now by saying – I hope you'll take some time this year to check out the thrift stores and antique shops to find something vintage to incorporate into your holiday decor! And, if you do find something fantastic, I'd love to hear about it!