Today I'm here to share all the details of the Bride to Bee themed bridal shower that I hosted for Sarah this weekend.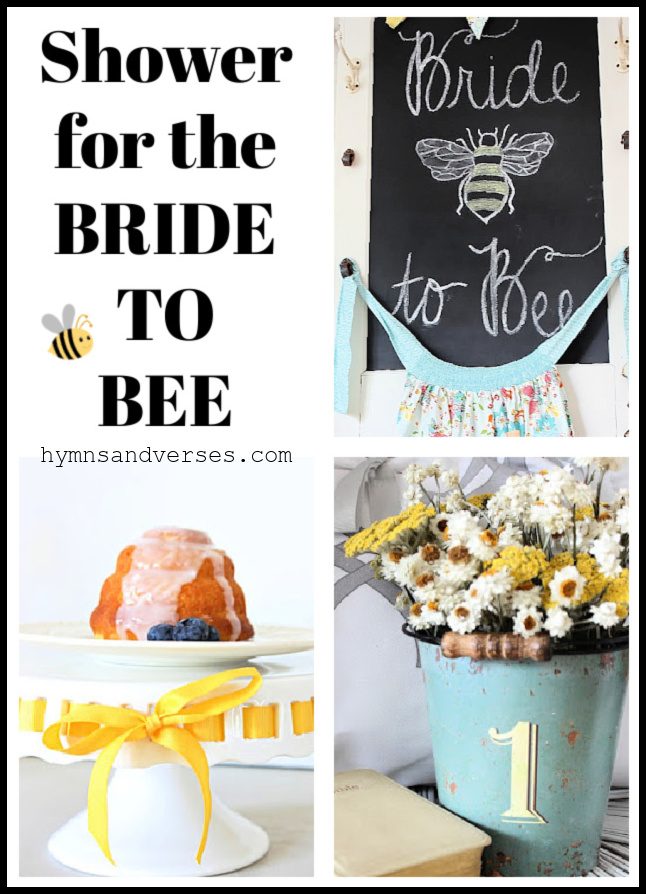 Let's start out with some of the decor. I used my old door chalkboard to do a little bee chalk art! I found the cute, vintage style apron at Marshall's and tied it to the hooks on the door. Not only did it add a bit of whimsy to the decor, but it was an additional gift for the bride!
*This post contains affiliate links. Please see my full disclosure statement.
The fabric bunting was so easy to make using patterned quilt fabric. I love that this colorful bunting doesn't scream bridal shower so it can be used for other parties!
I had several of Josh and Sarah's engagement photos enlarged to 18″ x 24″ black and white poster prints at Staples. Then I purchased sheets of foam core board at The Dollar Tree and wrapped the prints around the foam core board and taped them on the reverse. We placed the prints around the space and it made a big impact for a small price!

We had a little candy and snack bar with yellow gum balls, yellow butter mints, lemon drops, and a Honey Crunch Snack Mix.
ingredients for the Honey Crunch Snack Mix
1 box Honey Comb cereal
1 can butter toffee peanuts
1 bag vanilla yogurt covered raisins
Of course, we had other typical shower foods, in addition to all of the sweets snacks. And, for dessert I made these adorable bee hive cupcakes. I used a lemon cake recipe with a lemon glaze. Aren't they so cute!

Here's a similar pan to the one that I used to make them.
Another thing that I just had to purchase for the shower is this bee hive shaped beverage dispenser! I saw it at TJ Maxx one day and quickly put it in my cart! I used it to serve water with fresh lemon slices.

I've never been able to find another one like this in green glass. But, here is a similar dispenser with clear glass.
The "Bride to Bee" sat in this vintage wicker peacock chair as she opened her gifts! I found this vintage eyelet dress at a local antique store and thought it would be great to incorporate into the decor for the shower!

I used these dried wildflowers to make a bouquet and also an arrangement in this painted tin bucket. The little, white Bible is the one that my Mom carried the day she was married.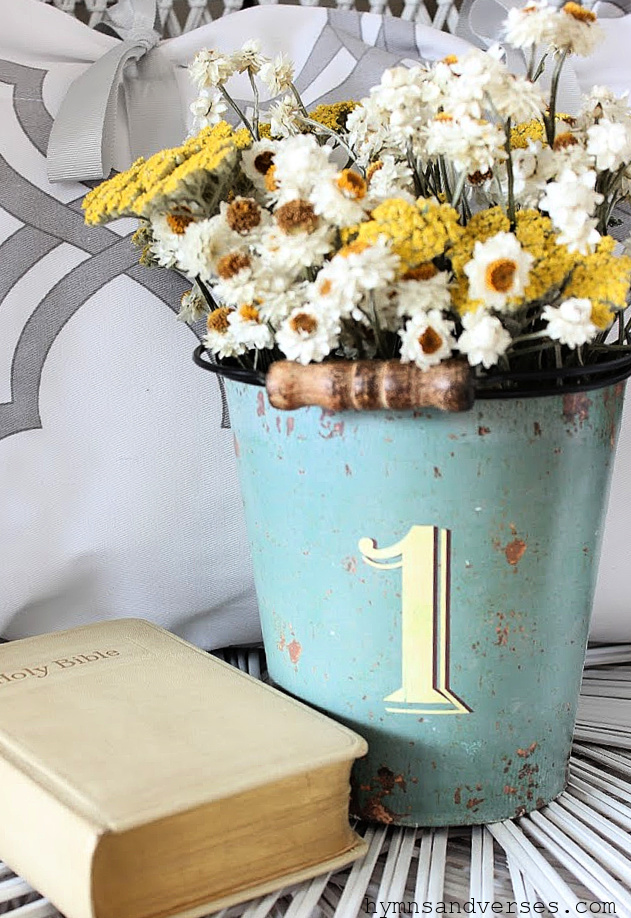 'love is sweet' candy bar game
And, what's a bridal shower without games? We played a fun game called "Love is Sweet". Because we didn't use tables at the shower, I needed something that guests could write on. So, I purchased 12 x 12 pieces of kraft paper chipboard at Michaels (found with the other 12 x 12 scrapbook paper). I cut each one into fours. Then, I attached my game paper to each piece with a paper clip. And, you can see that I folded the game sheet up so no one could get a head start!

I purchased the candy on the answer sheet below and arranged it on a wicker tray. I had the "Bride to Bee" tell the guests what candies were on the tray and then I walked the tray around the room a few times, so the guests could get more looks at the different candies.

Everyone seemed to really like this game and then I left the candy for the groom! Here are the game sheets that you can download and print.

And, lastly, I had a few close friends help me with this shower. To show my appreciation, I purchased a large yellow mum for each of them (the shower was held in the fall). And, then attached this "Thank You" tag to a dowel rod that I inserted into the plant's soil.

What can I saw, I'm a details person! I hope you can use some of these "Bride to Bee" themed shower ideas for a shower you might want to host!