Happy Monday! Today begins the Fall Tour of Homes hosted by Marty at A Stroll Thru Life. My home tour is on Thursday, but you can catch today's tours by starting HERE. Today, I want to tell you about a recent Craigslist find – a French style sofa.
photo via Craigslist
I found this velvet French Bergere sofa on Craigslist and had to have it! It was an amazing price and is in really great condition! Now, it is not going to stay this way. Even though the tobacco velvet is pretty, it doesn't really work with my colors! But, I did want to show it to you as it is because it will be shown like this in my fall home tour later this week and I didn't want it to be a big shocker when you see it! ha, ha! When I have more time, I'll be reupholstering it in an upholstery weight, nubby linen fabric and will likely paint the wood frame. So, I've been looking for inspiration for this makeover and found some amazing French style sofas online. The sources and links for each one are below each photo.
This post contains affiliate links for your convenience. Please see full disclosure at the button of this page.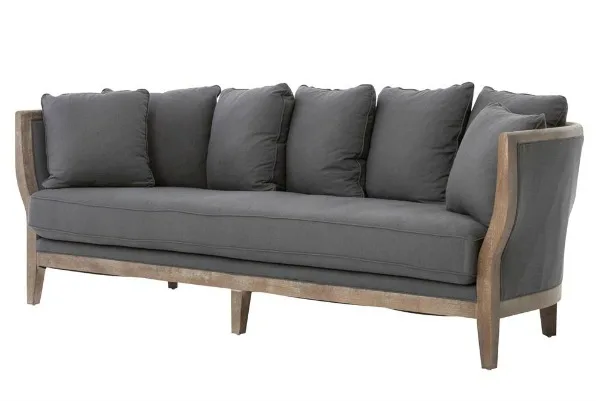 Kathy Kuo Home Deanne Rustic Charcoal Gray Exposed Frame Sofa
Soft Surroundings Adreanna Bergere Settee
Miss Mustard Seed – Tufted Sofa Makeover
Right now, I'm leaning towards a warm gray linen with a distressing or wash over the wood. I think I still want the wood finish, but I may give it a sand and distress it with a wash? I'll be looking into DIY techniques to get the look I want and will share the process with you. You may be wondering what I am going to do with my white slipcovered Ektorp sofa from the living room. Well, we are in the process of a huge family room makeover and decided to get a new dark gray slipcover for that sofa and put it in the family room. Then, we are going to get a matching dark gray Ektorp sofa with chaise for the family room to give us lots of seating for watching TV and family gatherings. I haven't shared much of this makeover yet, but will be very soon.
Right now I'm not sure about the sofa and my gray tufted chairs in the living room. I'm hoping that once I transform the look of the sofa that it will work with my gray tufted chairs. If not, those chairs will likely move to the family room too and I'll probably look for some smaller French style chairs for the living room. I do want to keep my style somewhere in the country cottage/farmhouse style and need to be careful with what I choose. I do think that the French style furniture pieces, if upholstered in more utilitarian fabrics – like linen or hemp, work well with this style. So, what do you think of the new/old sofa? Do you like this style?
I'll be back tomorrow with my Fall screen porch and look forward to sharing it with you!