Today I'm hoping to inspire you to skip the store bought wreath and make your own! Below are 10 DIY Fall Wreath Ideas that have step-by-step tutorials that are easy to follow! The link to corresponding post is in BOLD below each photo. I know I'm going to try a few of these ideas in my fall decor this year!
10 DIY Fall Wreath Ideas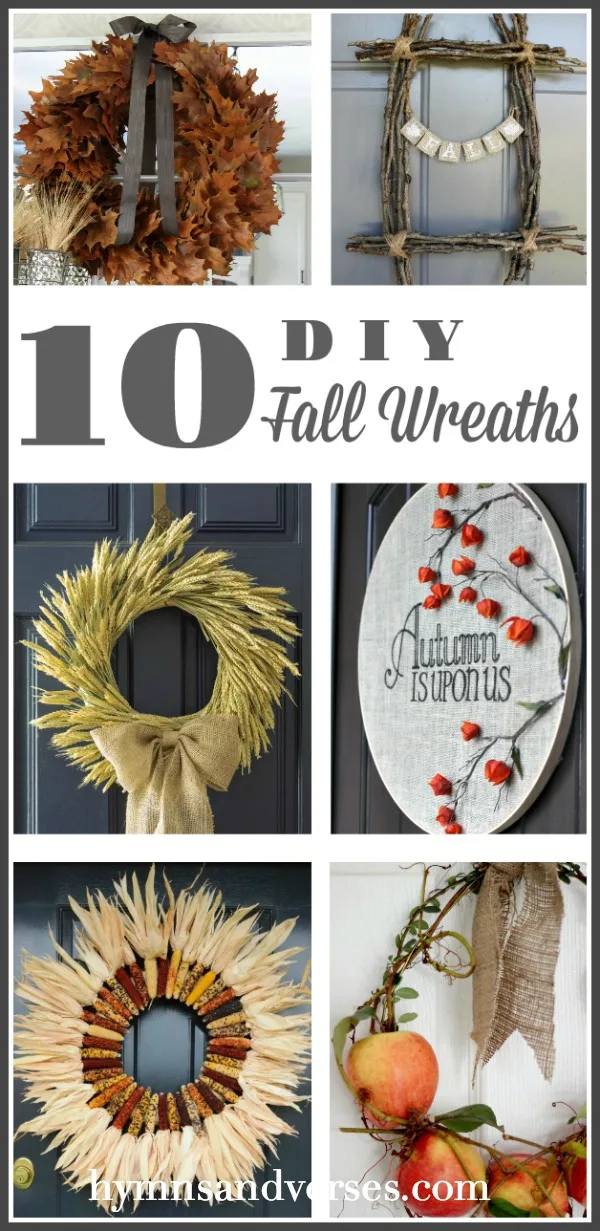 DIY Wheat Wreath
This is a gorgeous wheat wreath by Ann from On Sutton Place. You would never know this isn't a store-bought wreath! I love it! I actually made a wheat wreath once, but it didn't hold it's round shape very well. I think I'm going to give it a try again this year using Ann's fabulous tutorial. If you like this wreath from Ann, she has many more beautiful DIY wreaths on her blog!
DIY Wheat Wreath by On Sutton Place
DIY Indian Corn Wreath
2. On my goodness, doesn't this indian corn wreath look like it belongs on the cover of the best-of-the-best home decor magazine! Yvonne at Stone Gable never disappoints. Her tutorial for this indian corn DIY fall wreath is easy to follow! She also has many fall wreath tutorials on her blog.
Indian Corn Wreath – Stone Gable
DIY Embroidery Hoop Fall Wreath
3. This is a totally different take on a wreath using a simple embroidery hoop. Kelly at The Lily Pad Cottage got creative and made this amazing embroidery hoop design for her front door! It's unique and beautiful! Kelly shares a tutorial to make your own and it's an inexpensive option! Again, I may have to give this a try with my own spin this fall!
Embroidery Hoop Wreath – The Lily Pad Cottage
DIY Apple Wreath
4. This strung apple wreath with grapevine and a rustic burlap tie had me at HELLO! Lucy at Craftberry Bush always inspires! If you don't follow her, you need to! She is a very talented artist and her decor and photography is always swoon worthy!
Fresh Apple Wreath – Craftberry Bush
DIY Cotton Wreath
5. This is another wreath using natural elements – a DIY Cotton Wreath. This one could be year round! I recently purchased a cotton wreath that I love, but I also love the twiggy open style of this one by Alicia of A Burst of Beautiful.
DIY Cotton Wreath – A Burst of Beautiful
DIY Twig Fall Wreath
6. This is another inexpensive and creative idea from Taryn of Design, Dining & Diapers. Just go out into your yard and gather up some twigs to make this unique fall wreath with a fun burlap banner.
Fall Twig Wreath – Design, Dining + Diapers
DIY Wood Slice Wreath – 3 Ways
7. Talk about creative – this post by KariAnn of Thistlewood Farms shows you how to use a simple wood slice in the center of a wreath to add a custom element to your store bought wreath! She actually gives you three different ways to use the wood slice in the center of the same wreath! I love each and every one!
Wood Slice Wreath – Thistlewood Farms
DIY Dried Hydrangea Wreath
8. Oh, dried hydrangea, I love you so much in the Fall! This colorful dried hydrangea wreath by Stephanie of Garden Therapy is stunning!
Dried Hydrangea Wreath – garden therapy
DIY Corn Husk Wreath
9. Here is a DIY cornhusk fall wreath that is a knock off of a wreath from Anthropologie. The corn husks are purchased at your local grocery store and it is so easy to make. My post includes a step-by-step tutorial.
Corn Husk Wreath – Hymns & Verses
DIY Real Leaf Wreath
10. This is another wreath I made last year using real oak leaves from my in-law's yard! It's so easy and looked great, even after the leaves had dried.
DIY Real Leaf Wreath – Hymns & Verses
I hope that I've inspired you to make your own DIY Fall Wreath. Use this post as inspiration and then put your own spin on your favorite! Why not have a wreath making evening and invite your girl friends! Sounds like fun to me!