Hi, Friends! Let's begin this week early with some Farmhouse Fall Accents! Today, I've joined seven of my blogging friends to share how we add fall accents into our own individual farmhouse style! So, are you ready to see a little bit of autumn and farmhouse on the porch?
When I think about my own farmhouse style, I can see how it correlates with my own memories. Days spent with my grandmother on the farm, in her "real" farmhouse, and I got to live right next door! Grandma had a small, screened-in porch with a glider – that was not vintage at the time!
Oh, the days I spent gathering up walnuts from the huge walnut trees. Grandpa loved those walnuts! He would sit in his chair, after a hard day's work, and crack walnuts to eat.
I don't care much for them, except in cookies!! But, don't they look pretty with the vintage nut cracker!
I'm so glad I have a milk can from the farm. I don't use it all the time in my decor, but I decided to bring it on the porch for fall this year. The lid makes a great holder for some hydrangea and seed pods.
For the milk can itself, I filled it with corn shocks from the farmer's field – well, actually, I bought them!! I had to cut quite a bit off the corn shocks, because they were so tall! But, like my grandmother always said – let nothing go to waste! So, I used pieces of corn husks and the ears of corn to fill in my wire window baskets.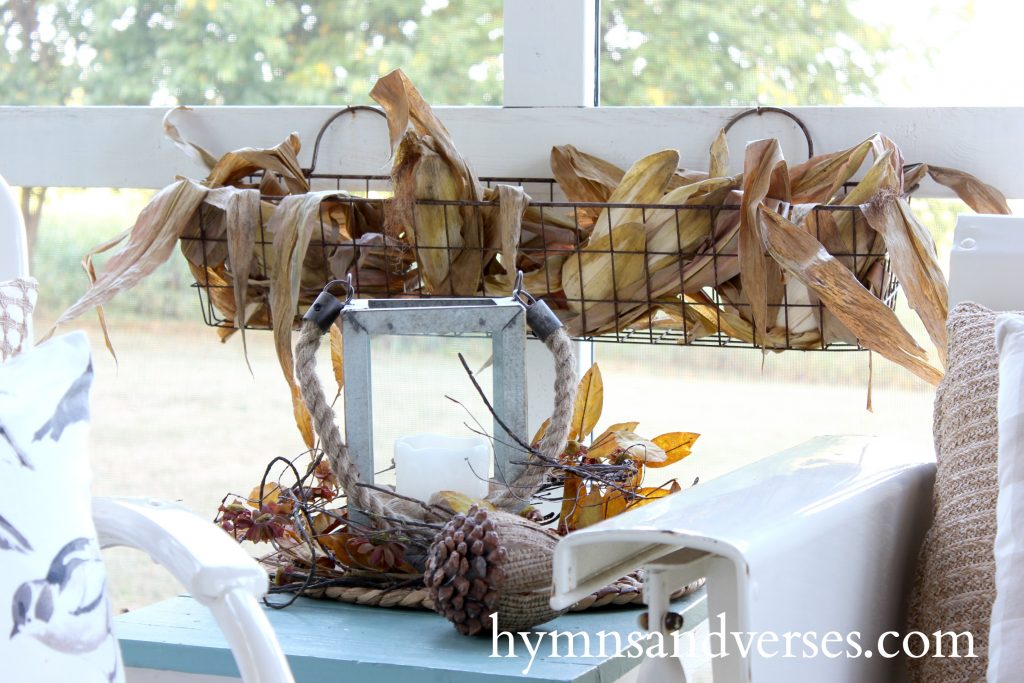 When you live on a dairy farm, one of your main crops is usually field corn. It's a staple of a dairy cow's diet! We didn't have corn mazes back then, but oh the fun we had chasing each other in the rows upon rows of corn.
Of course, there were always apples picked from the tree and pumpkins from the garden that were made into the most delicious pies by grandma!
And, colorful mums planted in grandma's flower beds.
Autumn is a season to slow down. Why not dig out your family albums and reminisce a bit, like I did today! I hope you've enjoyed hanging out with me today on the porch!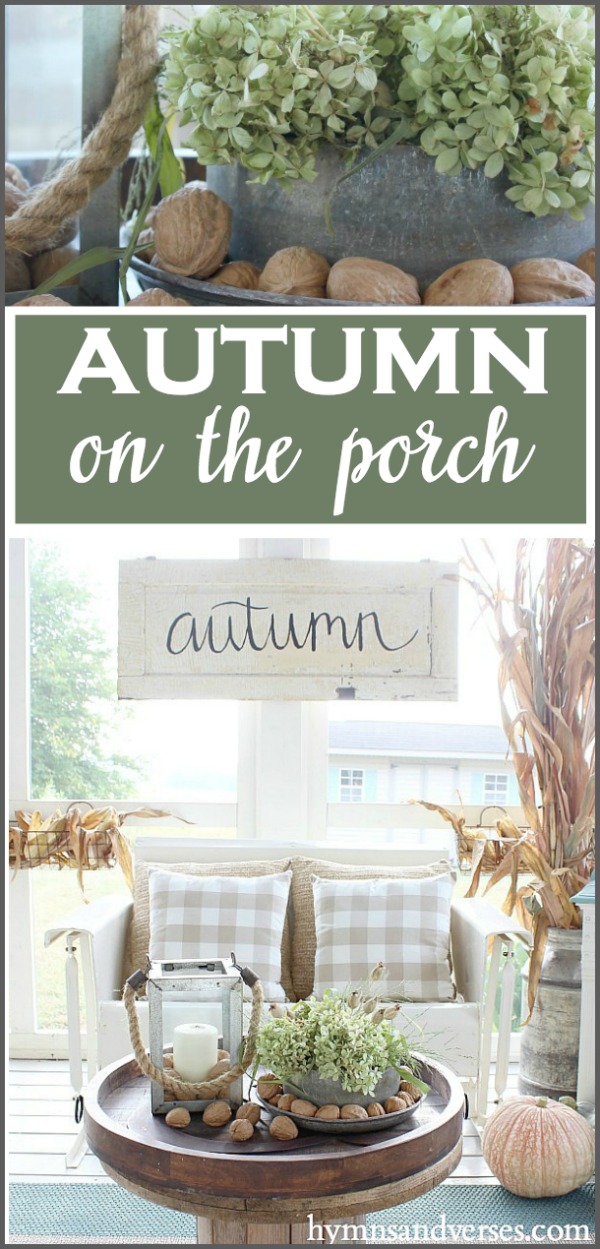 Below are the links that will take you to see more farmhouse fall accents by some of my favorite bloggers! Give them a big farmhouse hello from me while you are there!
Decorating on a Budget for Autumn @ Knick of Time
Books and Pages Fall Farmhouse @ Hunt & Host
Fall in My Farmhouse Dining Room @ Worthing Court
Fall Open Shelves @ Stone Gable
Fall Wreath Update Using Floral Picks @ The Everyday Home
How to Make Velvet Pumpkins @ She Holds Dearly
Farmhouse Fall Decorating @ Seeking Lavender Lane